Could X2's skin patch detect concussions?
January, 7, 2013
1/07/13
11:30
AM ET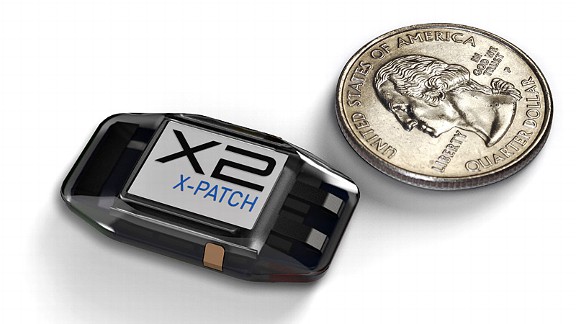 Courtesy of X2 BiosystemsThe X Patch, worn behind the ear, can gauge the impact of a hit and inform trainers of possible concussions.
Editor's note: The Consumer Electronics Show (CES) is in Las Vegas this week. We'll be offering a daily look at the best sports-related tech from the show.
The CES is for tech geeks what NBA All-Star Weekend is for the hard-partying elite. And this week, as the iPhone 5-toting masses descend on Las Vegas for the 2013 edition, I'll be there -- with at least four different pairs of glasses.
Attendees will see more than 20,000 gadgets in a gigantic convention space that measures more than 35 football fields. This year's unofficial theme is smarter TVs, but expect to see everything under the sun, from smarter forks (yes, smarter forks) to new auto technologies.
But you're probably wondering about the top gadgets for sports fans (keep checking back, because I'll be blogging about those all week). One gadget that should be on sports fans' radars is the X2 sensor module.
Concussions have been one of the most talked-about topics in the NFL in the past year -- and rightfully so. I've discussed the company X2 Biosystems (which makes X2 sensor modules)
before
, and I was surprised to see them in the CES mix. This is my pick of the day.
[+] Enlarge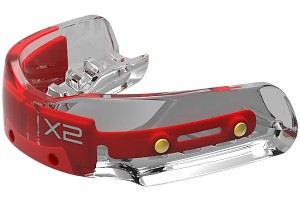 Courtesy of X2 BiosystemsThe X2 mouthguard has embedded sensors that store data on player hits.
The Seattle-based company focuses on preventing head injuries by monitoring the impact of hits in real time using built-in sensors. Since 2010, the company has recorded more than 250,000 impacts and 24 concussions across a wide range of sports. It speaks volumes that UCLA coach Jim Mora is an early investor and is chairman of the Sports Advisory Board.
In the past, I've showcased X2's high-tech mouth guard, X Guard, which the company created with Microsoft. When a player wearing an X Guard is hit with high impact, an alert is wirelessly sent to the team trainer or doctor, who can then test the player -- using an X2 app -- to determine the severity of the injury.
[+] Enlarge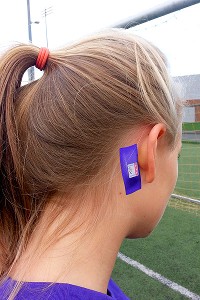 Courtesy of X2 BiosystemsThe X Patch weighs less than two grams.
Now, in comparable fashion but in a different format, comes the X Patch, a skin patch worn behind the ear that is the size of a quarter and weighs two grams. Like the X Guard, this tiny patch is able to actually sense the amount of impact, notifying coaches, trainers and team doctors in real time when they should be concerned about a player.
The lacrosse, soccer and football teams at Stanford University, along with the football teams at the University of Washington and University of Michigan, all use the patch in full-contact practices and games. And the X Patch will be available to additional teams via X2 Biosystems' website. Note: It is not available for retail.
In addition, 12 NFL teams currently use X2's concussion-management software and all teams will adopt the technology in 2013.
Dear NFL, if this is a company you like, why not adopt the mouth guard and patch, as well?
Stay tuned daily as I spotlight more noteworthy gadgets from the convention floor that sports fans and even pro franchises should watch.
ESPN ARCADE
The sequel to our most popular game is here. How's your return?

Run timed routes, beat DB's to the end zone and score.

Hit your receivers, dodge defenders and rack up TDs.