March, 4, 2015
Mar 4
11:58
AM ET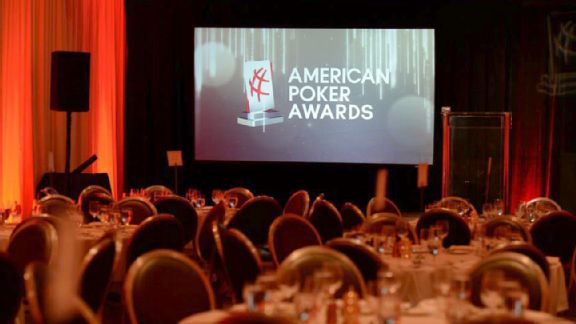 RevolutionPix for GPI The inaugural American Poker Awards were held in Beverly Hills, Calif., on Feb. 27.
Alex Dreyfus, CEO of the Global Poker Index, envisioned the day when he purchased the European Poker Awards two years ago. While the Europeans have had an annual awards celebration for over a decade, America has never seen a poker awards experience before. Last week, Dreyfus' dream became a reality.
Prior to the celebration, Dreyfus organized the American Poker Conference. The daylong event brought together approximately 100 of the most influential and powerful people in the poker world, including industry personnel, casino representatives, media and players. In his introduction, Dreyfus stated that his goal was to "sportify poker," which is an "old game, but a young industry."
The conference used five critical and relevant topics for discussion as they related to the future of poker. Each session had a three to four panelists, led by a discussion leader. The topics were:
1) Live poker in a digital era
2) The future of poker -- live poker leaders
3) Live & online poker: two industries in harmony (or "disharmony," as the session's moderator, Nolan Dalla, halfheartedly joked)
4) Online poker snapshot: the current state of online poker in the U.S.
5) Players' perspective
After a two-hour respite, the nominees, earlier participants and additional guests reassembled for the inaugural American Poker Awards ceremony. More than 200 people filled the ballroom of the SLS Beverly Hills Hotel to witness the first American Poker Awards presentations and recipients.
Some of the winners were already calculated via the Global Poker Index (GPI). However, the nomination committee (of which I was a member) determined the majority of the awards. The top four nominations in each category were voted upon by an eight-person jury, which was revealed at the beginning of the awards ceremony (these awards are denoted with an asterisk). Jury members were: Kathy Raymond, Alex Dreyfus, Eric Danis, John Caldwell, Donnie Peters, Jen Mastrud, Mohsin Charania and Adam Small.
Here are the winners:
GPI PLAYER OF THE YEAR:
Dan Colman
Not surprisingly, the reticent and controversial player was not present to receive his award. Presenter Ty Stewart said that he would read a prepared statement by Colman. After pulling out Colman's "speech," Stewart facetiously revealed a blank piece of paper. Stewart showed a video of the $1 million One Drop champion traveling to the Honduras and El Salvador to see how the raised money was being spent. A contented Colman actually spent time on camera to discuss the trip where he said he felt "incredibly proud" to be part of this initiative. The video showed a lighter and more positive side to the oft-maligned champion.
BREAKOUT PLAYER OF THE YEAR*:
Brandon Shack-Harris
During an incredible WSOP in 2014, Shack-Harris won a bracelet and almost captured player of the year. Shack-Harris accepted the award and asked everyone to "test yourself with new games." As for players who were already doing this, he asked them to "encourage others to play new games." He also thanked the wait staff, noting that he had performed this role before entering the world of poker.
GPI 300 PLAYER OF THE YEAR: Dan Smith
Smith exemplified consistency, as the award was calculated based on the player's performance over a 36-month period. A thankful Smith said, "Poker has given me almost everything I have in life, so it's really means a lot to be recognized for my achievements."
MEDIA PERSON OF THE YEAR: Chris Grove
Co-founder of the OnlinePokerReport.com, Grove graciously dedicated his win to journalist Diamond Flush, who died in January. "If you see a piece of quality reporting in poker media, you can trace a pretty direct route back to Diamond Flush."
GPI FEMALE PLAYER OF THE YEAR: Vanessa Selbst
Along with her three WSOP bracelets, Selbst is the only woman to have ever been ranked No. 1 on GPI poker rankings. She thanked everyone by stating "It's really inspiring to be around such creative and talented brilliant innovators that are just working every day to make our industry better for us."
EVENT OF THE YEAR (CATEGORY BUY-IN UP TO $2,000)*: WSOP Monster Stack

WSOP executive director Ty Stewart stated that the "Monster Stack touched a nerve this year, and it is really pretty simple. Give the customers what they want. We heard you loud and clear." Stewart stated that WSOP took notice by increasing stack sizes across the board this summer and will to be ready for thousands each day for these events.
POKER MEDIA CONTENT OF THE YEAR: Brad Willis (Never Stop Fighting)
Willis emerged from the pack, but was unfortunately not present to accept his award. Presenter Nolan Dalla implored everyone to read his story about two female poker players battling cancer to understand why Willis deserved this award. Willis tweeted his gratitude.
Based on reports from the other coast, something surprising & gratifying happened. I am humbled. #AmericanPokerAwards pic.twitter.com/rlqmb8Sl7M

— Brad Willis (@BradWillis) February 28, 2015
INDUSTRY PERSON OF THE YEAR*: Adam Pliska, WPT president
Pliska seemed genuinely thrilled to receive the award in front of his WPT colleagues, seated just to the side of the stage. Acknowledging all of them, he emphatically stated, "I just love you guys so much."
POKER INNOVATION OR INITIATIVE OF THE YEAR*: Twitch and Poker
Earlier in the day, PokerStars announced the signing of U.S. player Jason Somerville, primarily on the body of work he has done through Twitch.com. Although Somerville did not win any specific awards, he definitely had a direct hand in the company winning this award. Scott Ball, Twitch's poker partnership lead, accepted the award, thanking the poker community. Ball also stated, "We are pleased to be able to provide a platform that enables a fresh new avenue for the poker community to thrive. ... Our focus is to help poker grow."
TOURNAMENT PERFORMANCE OF THE YEAR*: Mark Newhouse
The odds of Newhouse finishing ninth in back-to-back years in the main event was calculated to be over 42 million to one. Nevertheless, the true magical feat was his back-to-back WSOP main event final tables in an era of thousands of entrants. Hopefully, this award may give Newhouse some consolation after such a tough summer.
"Not very often an event comes along that makes me dress the way I am today," he said, citing his nomination in two categories. "This is not the award I was expecting to win."
CHARITABLE INITIATIVE OF THE YEAR*: "All-In For Kids" poker tournament presented by CHOP & WPT Foundation

The charity, led by poker pro Dan Shak, teamed up with the WPT two years ago. Since this partnership, the tournament has grown 30 percent. Shak stated that if we want to consider poker a sport, "We have to make charity in the forefront." Shak also noted that there were no losers in the category, as they all were helping worthy causes.
EVENT OF THE YEAR (CATEGORY BUY-IN OVER $2,000)*: WSOP main event

"This is a public trust. It defies logic how big it still is. To see these numbers is just a testament to how much you all love it," said Stewart. The WSOP main event is special and will always be a tough event to beat in this category for years to come.
[+] Enlarge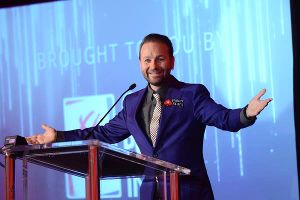 Courtesy of RevolutionPix for GPIDaniel Negreanu won the award for "Poker's Best Ambassador" at the American Poker Awards
POKER'S BEST AMBASSADOR: Daniel Negreanu
"I appreciate this award so much because it's a validation of me sticking for what I believe what is truly best for this poker community," Negreanu said.
This award was voted by the public. Ever gracious, Negreanu first thanked Dreyfus for organizing the entire day, then proceeded to thank his sponsor, PokerStars, with a special mention of Isai Scheinberg. Finally, he thanked his parents, stating that "I won the parent lottery."
He also acknowledged Mike Sexton and all that he had done for poker, and affirmed that Jason Somerville "is a look to the future ... poker is in good hands with Jason Somerville."
JURY AWARD FOR LIFETIME ACHIEVEMENT IN POKER: Steve Lipscomb
This award was determined by the jury and awarded to one of the founders of the WPT.
"It's never just been about poker," Lipscomb said. "It's about the thing that's embodied in competition. It's about making a sport, but it's something that someone sitting watching on their television can show up to next year and can actually, on a particular day, beat those guys. That's the dream. So it's the American dream embodied in a new sport, which has now become the third-most watched sport in the world."
From the poker conference to the awards ceremony, this day was truly a memorable experience. I'm already looking forward to next year's event.