July, 14, 2014
Jul 14
7:37
AM ET
LAS VEGAS -- Martin Jacobson led the WSOP main event after
Day 1A
and nobody batted an eye. Success isn't automatic for the chip leaders of the early days, but Jacobson is looking to follow in the footsteps of Joe Cada and turn a Day 1 chip lead into a world championship. Day 6 concluded with the Swedish professional leading the final 27 players. Jacobson has already won millions over several years of live and online play at the highest stakes, but he understands the potential of surviving just one more day.
[+] Enlarge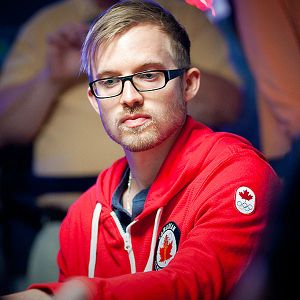 Drew Amato/BLUFFMartin Jacobson leads the final 27 players in the 2014 WSOP main event
"It's amazing to have made it this far in the main event," said Jacobson. "It's such a big tournament and a lot of prestige. I'm very proud of myself right now. "
Players began Day 6 action Sunday at noon PT and wrapped up at nearly 2 a.m. Monday. Fatigue was setting in for a number of players during the final level, including Jacobson.
"I'm not that jacked up, but mostly tired to be honest," he said. "Hopefully I'll be able to get a few hours of good sleep and be ready to go again tomorrow."
His ascension to first was simply impressive and featured a constant climb throughout nearly every level. He's played that style for a few days, never finding himself outside of the top 20 percent of chip stacks, and has demonstrated strong reading ability all along. Jacobson has $4.8 million in live tournament earnings, but is still missing that elusive major tournament victory.
In order to get that opportunity to win, he needs to get through the final day first. His starting table features a number of major obstacles, but it's the player in the seven seat that will be the focus of attention: Mark Newhouse. For the second year in a row, a member of the previous year's final table is looking to make a repeat appearance at the final table (Steve Gee finished 24th). Newhouse demonstrated a year ago that he could play a short stack to perfection on Day 7 and he's prepared to do so once again. He discussed those plans on the Day 5
Poker Edge
.
End of day 6. 6.8 27 left pic.twitter.com/JZXWO27doq

— mark newhouse (@mark_hizzle) July 14, 2014
Newhouse enters Day 7 with more chips than he did a year ago, but will have a challenging seat to start the day with big stack Bruno Politano next to him. Additionally, Politano will have to figure out how to approach his button as Jacobson will be waiting and, strategically, very aggressive given his lead. Considering the November Nine bubble is one of he most important moments of the year, Jacobson should use this beneficial table draw to chip up early by keeping the pressure on.
Other big stacks belong to two-time bracelet winner Luis Velador, tournament regular Dan Sindelar, Spanish online poker phenom Andoni Larrabe and William Pappaconstantinou, who goes by the name of Billy Pappas in the world of foosball, and now poker. Pappas simply considers himself a poker dealer on a heater.
"I still don't think I'm on these guys level," he said. "I'm going to try to stick with the same game plan [on Day 7]. Hopefully nobody picks up cards and I keep raising."
Pappas surged into the top-10 after a big hand with 30 players to go where he picked up aces against the kings of Dong Guo and eights of Robert Campbell. The 6.2 million he added to his stack after that hand gave him 14 million and a free pass to coast for the rest of the night.
The day concluded with the elimination of the Day 4 chip leader Matthew Haugen who ran 10s into the queens of Bryan Devonshire. Haugen began the day as one of the short stacks and turn it into eight figures. His plan unraveled after the first level after dinner and ultimately pushed his pocket tens at the wrong time against Devonshire's Q-Q. Devonshire finished Day 6 with 5.7 million and looks to improve on his 12th place finish in 2012.
"I'm thrilled to be here, but I'm exhausted," he said. "These 14 hour days are brutal. It's so mentally exhausting. I haven't thought that hard about poker that hard for a long time and I'm already tired. I think [fatigue] plays in a lot and I think it's playing in extra in this tournament."
Sound familiar? It's been a grueling battle for everyone and unfortunately for Devonshire and the rest of the field, Monday's schedule won't be any easier as the event must play down to the final nine-handed table. Tournament Director Jack Effel believed that will happen during Level 36 which would mean another 11-13 hours at the felt.
All remaining players have earned at least $286,900. When play resumes the blinds will be 60,000/120,000 with a 15,000 ante. Here are the top 10 chip counts heading into Day 7:
1. Martin Jacobson (22.3 million in chips)
2. Luis Velador (16.6 million)
3. Dan Sindelar (16.3 million)
4. Andoni Larrabe (15.2 million)
5. Billy Pappas (14.6 million)
6. Bruno Politano (11.6 million)
7. Dan Smith (10.3 million)
8. Craig McCorkell (8.7 million)
9. Felix Stephensen (7.7 million)
10. Andrey Zaichenko (7.3 million)
Small blinds:
There are two bracelet winners in the top 10: Velador and Craig McCorkell. Sean Dempsey and Leif Force are the other two left in the field. … Scott Palmer began the day in third and finished in 27th. … Anton Morgenstern led after Day 6 last year and did not make the November Nine. &133; Kyle Keranen was chip leader for a good portion of the day but lost a big pot to Velador to put him in the lead during the final few levels of the night. … Andoni Larribe has two SCOOP titles. … Ten countries are represented in the final 27. … Andrey Zaichenko has made a WSOP final table in three of the past four years. He has $1.3 million in live tournament earnings. … The fourth feature table in the outside section has already been broken down. … Dan Smith and Aaron Kaiser got into it after dinner for what should make very interesting television. Read about that
here
. … Monday will be the final day of play until the field returns to action on November 10. … Brian Hastings was watching the World Cup at the table on Sunday. … Ryan Riess, Phil Hellmuth, Brett Richey, Dani Stern, Mike Matusow all stopped by on Sunday to check out the remaining field.