Poker:

2014 WSOP main event Day 1B
July, 7, 2014
Jul 7
6:26
AM ET
LAS VEGAS -- The second of the three starting flights brought a little bit of spirit back to the 2014 World Series of Poker main event. After a lackluster turnout for Day 1A, the tables were packed on Sunday with a group of players ready to turn their $10,000 into $10 million. Featuring a field of 2,144 hopefuls, a field size nearly three times bigger than that of Day 1A, action began with actor Ray Romano uttering the game's most famous words: "Shuffle up and deal." Spread out among the three rooms in the convention center, five levels of play resulted in a number of familiar faces accumulating some of the top stacks. One of them was Erik Seidel, who, from the very start of the day, had complete control over one of the feature tables.
"I'm happy with the way things went today," said Seidel, who finished with 134,000 in chips. "It was a good table. Lots of decent players, but no supernovas to deal with, which helps. Obviously things went my way."
Seated at an adjacent table to Seidel's was ESPN.com's third-ranked player and
2014 bracelet winner
, Vanessa Selbst. Known for her impressive tendency to accumulate big stacks on Day 1, Selbst struggled early and was down to 3,000 in chips during the first few levels. Looking to survive, she adjusted with a more conservative approach and made it through the day, finishing with 38,000 in chips.
"I made chips on the day," said Selbst. "I've never been so thrilled to have 38,000 at the end of Day 1 of the main. ... There are certain spots that you just need to play tighter because the value is going to come later."
Scott Seiver made a similar comeback, going from 5,000 in chips to 45,000 at the end of the day. Seiver has 32 career WSOP cashes, but has never made it into the money in the main event. Many pros were among the Day 1B survivors, including the leader of the 2014 WSOP Player of the Year race,
Brandon Shack-Harris
,
multitasker
David Williams, Phil Galfond, Matt Affleck, Marvin Rettenmaier, former main-event champions Dan Harrington and Huck Seed, Jeff Madsen, Jonathan Little, actors Romano and
Kevin Pollak
, NASCAR's Jason White and former Liverpool back John Arne Riise. Romano has yet to cash in any of his previous seven WSOP appearances while Pollak looks to match his run from two years ago, when he finished 134th.
"I'm a nit. I'm a cockroach," said Pollak. "You can't kill me. ... I'm nowhere near chip average, but I'm in it."
Others weren't so fortunate. Russell Thomas and Joseph Cheong, two players who are consistently deep in the main event, failed to make it through. Cheong ran kings into aces in the ultimate cooler while Thomas pushed A-K against his opponent's kings. Bertrand Grospellier, Paul Volpe, David Sands, Scott Clements, Chris Moorman and Vivek Rajkumar also had their runs cut short. Elimination from the main event is often the toughest moment of the year for a poker player, and 716 players were left coping with that disappointment on Day 1B.
Here are the unofficial top 10 chip counts from Day 1B:
1. Trey Luxemburger (193,450)
2. Sarkis Hakobian (190,125)
3. Ryan Buckholtz (189,000)
4. Dan Wirgau (173,350)
5. Ryan Julius (165,125)
6. Maxim Panyak (158,425)
7. Jeff Norman (156,625)
8. Julian Stuer (155,200)
9. Steve Ryan (147,500)
10. Richard Moon (146,200)
The 1,428 survivors from Day 1B will return on Tuesday.
Anticipation is at its peak for Day 1C. With more than 3,000 players already registered for the final starting day, it's likely that Day 1C will be the largest single starting day in main-event history. Play is expected to take place all across the Rio, and will not be limited to the convention center. It seems likely that the total field size will hover near the 7,000-player mark, a figure that may signal the re-emergence of poker after a number of challenging years.
Small blinds:
The final non-main-event bracelet of the Series was awarded today to Igor Dubinskyy, champion of Event 62. … Players who attended Matt Stout's Charity Series of Poker event offered rave reviews. The tournament benefited the Three Square food bank. … 2008 November Niners Dennis Phillips, Steven Begleiter and Kevin Schaffel all played on Day 1B. … Day 1C participants will include Phil Hellmuth, Phil Ivey, Daniel Negreanu, Joe Cada, Joseph Hachem and many more, but it won't include Doyle Brunson. In past years there may have been a chance of him showing up, but given his
recent tweet
, it seems very unlikely. … The satellite room remains busy at 3 a.m. No surprise there. … The Pavilion was emptied into Brasilia during the final level of the night. Very doubtful that it clears on Day 1C. … Daniel Negreanu added "Rounders" into the mix of movies he watches before his main event begins. Typically it's just a lengthy "Rocky" marathon. … Many players have been giving away pieces of their main event action on Twitter to their followers. Quite an interesting time to incentivize fans. Someone could get really, really lucky. … I don't believe any former main-event champion has been eliminated yet. … During the final break of the night I was speaking to Ben Lamb when a fan came up and asked to take a picture. Lamb made room with the expectation of taking the picture with the fan, but no, she just wanted to take a picture of him. She was thrilled as he stood there and posed. … After play concluded, the security-led dogs played fetch and performed tricks in the Amazon Room.
July, 7, 2014
Jul 7
1:24
AM ET
LAS VEGAS -- Seven hours of play have been completed on Day 1B and the monotonous post-dinner haze has settled among the tables. Players look glazed as the chips casually fly across the table and fatigue may be setting in. While it sounds comical to those who follow the game from a distance, playing these lengthy sessions at the felt isn't easy. Being seated for hours with aN urgency to focus at all times does take its toll. Go to any poker seminar or talk to any professional and they'll explain that to maximize your efforts at the table, players need to be vigilant to catch any little detail that can help in the long run.
OK, not all players feel that way.
Smartphones have changed the world in general, and poker players, like everyone else, simply can't put them down. The official rules of the WSOP allow players to be on an electronic device as long as the player isn't involved in a hand. When given that opportunity, players will often take advantage. Walking around the playing floor Sunday there's the constant flittering of screens with players looking for anything to keep them occupied as they wait for the next hand to begin. Whether its texting, Facebook or Twitter, players are incessantly seeking something to consume.
Bracelet winner David Bach, seated in Brasilia, along with many others around the three rooms, chose to play on the Open Face Chinese Poker app. As I tweeted Saturday, others are
playing online poker
. Then there's David Williams who is using his time at the felt to catch up on some TV. Seated in Amazon on Sunday, Williams is enjoying a few moments from House of Cards and nobody at his table bats an eye.
Williams, the 2004 WSOP main event runner-up, bracelet winner and three-time casher at the 2014 WSOP, believes that the distraction helps.
"I started watching House of Cards during the $3,000 Omaha eight-or-better event last week because eight-or-better is all about folding. Something I
hate
doing," Williams wrote via text. "So I needed something to keep my active mind at bay."
Williams finished sixth in that event for $49,817.
"Poker is all about patience," Williams wrote. "Especially now the way people play. And I get very bored very easily, and when I do, I play bad hands. I put myself in situations that I know better. So since the main event is a marathon and not a sprint, as they say, folding again is key. But while I'm watching, I'm also keeping an eye on everything at the table. I'm very observant and can multitask."
Whatever he's doing, it's working. Williams has chipped up to 95,000 as the final break of the night approaches.
Small blinds:
A player fainted during the latest level, sparking a bit of concern throughout the Amazon Room. The player quickly got up off the floor and sat back in his seat as security and medics rushed over to the table. While the player stated he was fine, and rationalized it because he didn't sleep much last night, the Rio is clearly keeping an eye on his health at this point. … A total of 2,144 players took their seats on Sunday, making a two-day total of 2,915 and easing any attendance concerns given that the Day 1C total has already surpassed that number on its own. … Recent eliminations include Bertrand Grospellier, Joseph Cheong, Chris Tryba, Ludovic Lacay and Mike Leah. … Ukrainian Igor Dubinskyy won the Little One for One Drop bracelet. Eric Baldwin finished fifth. … Former November Niners playing today include Steve Begleiter, Jason Senti, Michiel Brummelhuis, Ben Lamb, Chino Rheem and Martin Staszko. … Begleiter still plays with his group of friends and nearly a dozen of them are here this year to play. … Jason Somerville is seated with Vanessa Selbst. … The line for registration is beginning to back up into the convention center hallway. This is the first time there's been a significant line since the main event began. … Police dogs have been walking through the Rio over the past two days for training.
July, 6, 2014
Jul 6
9:27
PM ET
There's a fresh feeling at the World Series of Poker main event on Sunday. After a small field on Saturday that would make the average bystander question why people would consider this the most important tournament in the world, all three rooms are packed Sunday with an extensive footprint that offers an appropriate answer. Saturday was the travel day for the majority of these players and with more than 2,000 players currently at the felt, the main event is back on track to topping last year's field.
[+] Enlarge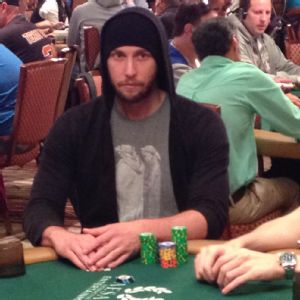 Andrew Feldman/ESPN.comBrandon Shack-Harris leads the 2014 WSOP Player of the Year race entering the main event.
One of the player's in Sunday's field has been in Las Vegas all summer and may be the most popular man at the Rio. Chicago native Brandon Shack-Harris walks the hallways with a smile on his face. Constantly approached by friends, the hoodie-wearing cash game professional is about as relaxed as it gets, providing positive thoughts to all who cross his path. He's willing to talk to everyone and anyone, and as part of the World Series of Hugs, you can't end a conversation without an embrace. Nobody is turning him down.
Shack-Harris captured gold in
Event 3
and followed up his win with five more cashes that included three top-three finishes. He enters the main event as the leader in the 2014 WSOP Player of the Year race, holding a lead that can be erased with one min-cash by double-bracelet winner George Danzer, who is also playing Sunday.
The professional cash-game player has had a summer that every player dreams about and on Sunday he's seated in the Pavilion Room playing in his first WSOP main event. After years of selling smaller packages to his investors that featured small buy-in events, Shack-Harris offered one that included the main event and he's hoping his run can continue.
"It's weird to reflect on it," Shack-Harris said of his current WSOP success. "To see the actual scale of the WSOP, that so many play, and to think that I'm currently at the top, it's surreal to think about."
Shack-Harris has played poker for the past 10 years, and was strongly affected by the Black Friday indictments. His focus has always been on mixed games and the main event is only his third no-limit hold 'em event of the year. Strategies are different and Shack-Harris is trying to keep it all in perspective.
"I'd like to try for a low-variance approach," he said. "But my table is filled with aggression."
Before cards hit the air, friends told him about the weaker play often found in this event. Shack-Harris hasn't seen much of that, understanding that he's drawn a tough starting table. That said, his tablemates haven't all figured out who is seated with them.
"Someone at the table said I won a bracelet in pot-limit Omaha," he said. "That's about it and I'm very happy about that."
Through four hours, Shack-Harris has chipped up above the starting stack. A final table in this event will definitely help his cause in the Player of the Year race, but it seems that he'll be off to WSOP Asia-Pacific regardless as those 10 bracelet events are included in the competition. Traveling seems likely given that Shack-Harris doesn't have a firm home right now. The ability to play online poker enticed him to travel to Montreal and when he decided to return to Chicago, he, as he stated, became "keeper of a recording studio" that one of his friends owns. Friends have always been there for Shack-Harris and it seems he's always there for them.
The main event may not have the glitz and glamor as a result of television coverage not beginning until Day 4, but Shack-Harris finds it refreshing nonetheless. He said his excitement about the event will pick up later in the tournament, but for now, it's all business.
"It's just a game to me," he said of the tournament. "I'm going to focus on winning it right now."
Small Blinds:
Ray Romano performed Sunday's shuffle up and deal and had his son, now 21, come up on stage. Romano paid for his son's entry and offered a drink for anyone who eliminates his kid from contention. … Romano and Kevin Pollak are seated at adjacent tables and there is no stated last longer like last year. … There are a number of players who are pushing for cancer awareness. Do yourself a favor and read
Brad Willis' story
on two of them. … The satellite room continues to churn out winners. A field of 960 participated in Sunday's $1,000 buy-in event. … Russell Thomas, Dan Shak, Chris Moorman, David Sands and Kevin Saul didn't make it through Level 3. … Chris Moneymaker and other 2003 WSOP alums will be doing an autograph signing on Monday. Wonder if Sammy Farha wants a copy of Eric Raskin's new book. … Dan Harrington and Huck Seed are seated together on the feature table set Sunday. This is the second day in a row that two main event champions are at the same table. … The Day 1A Poker Edge daily podcast can be found
here
. … The 2014 WSOP bracelet count by country (with three events left): USA (51), Germany (4), France (2) and Belgium, Italy, Israel, Russia & UK (1). … There are five players left at the Little One for One Drop final table, including bracelet winner Eric Baldwin. … Nationwide driver Jason White is in Sunday's field. … Bertrand Grospellier and Philip Gruissem are seated together.
July, 6, 2014
Jul 6
3:57
PM ET
Actor Kevin Pollak has played in the World Series of Poker since 2012. During his first effort, he made a surprising Day 5 run and put up a 134th-place finish to make him the highest-finishing celebrity in post-boom main event history. He returned last year and exited before the money, disappointed with his result. Pollak loves poker, plays in a home game and loves the main-event experience, but like anyone else, putting up the $10,000 isn't always the easiest thing to do. Yes, he's an actor with a keen eye on his budget.
Pollak's sponsor over the past two years was Hollywood Poker. After some managerial changes at that company, his sponsorship opportunity was no longer on the table. He searched elsewhere for the buy-in and had some small bites and some big leads. Nothing progressed. Just a week before the start of the main event, Pollak was sponsor-less and despite wanting to play more than anything, odds were minimal that he'd find his way back to the Rio this summer.
He made one last-ditch effort. He sent a tweet.
Lost my sponsor for #WSOP Main Event. Any biz that wants a few 100k of tv time w/ me wearing your logo for my 10k buy-in, DM me.

— Kevin Pollak (@kevinpollak) July 2, 2014
Pollak has 336,000 followers. It was a shot in the dark that anyone would respond, and if someone did respond, it was questionable just how serious he'd actually be. He simply hoped that something would pan out.
He received only one response from his Tuesday tweet. Pollak was thrilled.
[+] Enlarge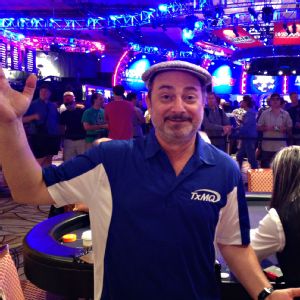 Andrew Feldman/ESPN.comA single tweet from Kevin Pollak paved his way into the 2014 WSOP main event.
It was from Chuck Fried, the president of TxMQ, a premiere business partner with IBM for more than 20 years. The company, located in Buffalo, N.Y., has never advertised on TV. It's never endorsed a celebrity. It doesn't typically use its marketing budget for exposure. Fried doesn't even follow the poker industry. Despite that, Fried replied and the two set up a call.
The following day, Pollak and Fried chatted. Pollak explained the exposure play and the potential for TxMQ getting its logo in front of television cameras and on a wide spectrum of digital media. He told them he'd provide them with live reads during his
Kevin Pollak Chat Show
, a digital interview initiative that features the stars of Hollywood. Then Fried dropped the bomb: They had two hours to finalize the deal as he was heading off on vacation for the long weekend.
"At the start of the call I felt he was hesitant," said Pollak just before the start of Day 1B. "I felt like I had a 10 percent chance of it happening."
Fried said he looked up Pollak and was impressed with his accomplishments. Pollak said he looked up Fried to see whether his company was legitimate. Due diligence was important for both sides, but Fried also had to convince those at his company that this was the right move. That wasn't easy, but over the next two hours everyone was on board and the two worked out a deal. Shirts were shipped, the cash was wired and Pollak's lawyer had written up the contract. Essentially out of nowhere, Pollak was heading to the main event.
The amazing part of the story remains the slim chances of Fried even seeing the tweet. He follows 154 people on the social network, and the odds that a president of a company is scrolling through Twitter at just that time seems like a two-outer.
Pollak is seated inside the Amazon Room at one of the featured tables. He has a rail of fans and a constant flood of other players, including those at his table, coming up to take pictures with him. One tweet did all of this. Now what are you going to post today?
"I feel like I've already won," said Pollak. "This is an exciting day, and I can't thank them enough."