Poker:

2014 WSOP Main Event Day 1C
July, 8, 2014
7/08/14
6:29
AM ET
The last of the World Series of Poker main event's three starting days featured a huge field of 3,768 players that nearly filled the Rio to capacity. From the tables at Buzios near the entrance of the Rio All-Suite Hotel and Casino to the Amazon Room in the convention center, the biggest tournament in the world attracted a ton of attention as the best in the world competed on the green felt.
And the best in the world thrived.
Phil Ivey played at a table in the Pavilion Room that was perfect for him. Far away from the rail and the distractions, Ivey was all business during the five-level session and dominated to bag a top-five stack of 187,025 in chips. After a slow start in which he dropped under 20,000, Ivey picked up a number of big hands, including one in the final moments of the day in which he flopped a straight and successfully faded his opponent's draw. For the second year in a row, Day 1 was kind to Ivey, and for the rest of the field, that's not good news. The 10-time bracelet winner has four top-23 main event finishes since 2002.
Those visiting the Amazon Room today had the privilege of seeing former main event champions everywhere they looked. Joe Cada occupied the feature table and put on a show for the fans, building a 66,935-chip stack at the end of the night. Jonathan Duhamel, Carlos Mortensen, Robert Varkonyi and Joe Hachem fared well, too, and advanced to Day 2 with hopes of a second main event title. Phil Hellmuth arrived after the dinner break, and unlike his typical style, he was extremely active at his table. He was also outwardly friendly to his opponents as he's made a conscious decision to limit his negativity at the table. It was refreshing.
"Winning [the main event] would be amazing," said Hellmuth, who finished the night with 49,425. "I know it's doable."
Hellmuth posed for pictures and made some jokes with a few of his competitors throughout the night. For lack of a better description, it was a new Phil, armed with consideration, but despite that outgoing positivity, he reminded everyone that taking his chips won't be easy.
"It's important that people have fun playing with me," he said. "I live my life as a good guy, and everyone in the poker world knows it. I don't want too much whining or berating to make the world think [otherwise]."
Jamie Gold became the first former champion to bust after all members of that elite fraternity advanced in the first two days. Greg Raymer and Jerry Yang also failed to make it through the day.
While the champs competed in an environment that encouraged spectators, the rail following a non-champion remained the strongest of all. Daniel Negreanu, who is freerolling as part of his prize for winning the 2013 WSOP Player of the Year award, was chatty and smiling all day. From the very first orbit Negreanu was in a groove, and that momentum didn't stop. The six-time champion utilized a small-ball approach all day, focused on limiting the size of pots preflop, and finished the day with 129,250 in chips. Negreanu's focus comes from his dedication to a positive mindset.
[+] Enlarge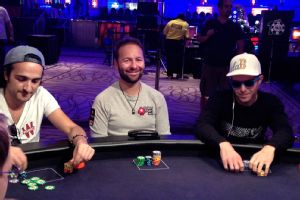 Courtesy of Andrew FeldmanDaniel Negreanu coasted to a six-figure stack on Day 1C of the 2014 WSOP main event.
"I'm a big believer in clear intention, and being clear about what you want to accomplish," said Negreanu after the day. "My intention is to be in great chip position throughout the tournament and win the tournament. ... I'm just playing my game."
Negreanu has cashed in the main event in two out of the past three years.
The three-day total of 6,683 players made the 2014 edition the fifth-largest main event in WSOP history. It's the first time that the event has grown since 2010, and the guaranteed $10 million for first place will be the storyline for not only the next week, but the next few months. Some may debate the substanial
$4.9 million difference
between first and second, but it's going to make for a very interesting final table.
"It encourages more fight for first if the tournament is top heavy," said Cada.
Here are the unofficial top 10 chip counts from Day 1C:
1. Eric Tracey (206,175)
2. Phil Ivey (187,025)
3. Ronnie Pease (181,850)
4. Nick Yunis (171,100)
5. Tom Sarra Jr. (168,100)
6. Martin Hansen (167,250)
7. Konstantin Tolokno (161,550)
8. Justin Lunin-Pack (154,925)
9. Justin Swilling (149,275)
10. Anthony Maio (147,500)
Players who advanced on Day 1C will return on Wednesday. Day 1A and 1B survivors play on Tuesday, but as separate fields. Action resumes at noon PT.
Small Blinds:
Actor Aaron Paul was hanging out at the Rio all day … taking selfies with fans. Paul said he didn't have any interest in the field, but he was on the rail almost all day just watching the action. He told me he plays a lot of poker, but couldn't play the main event due to a conflict with work. … Paul Pierce didn't feel like hanging out until the end of the day to bag his chips. The NBA star left 15 minutes before the end of the final level of the night with his 60,000 in chips on the table. In that situation, a member of the floor staff bags the chips. … Sunday, Binions will host a charity poker event in tribute to Chad Brown, who died at the age of 52 after a long battle with cancer Wednesday. The event is being organized by his ex-wife Vanessa Rousso, who has dedicated her main event to Brown. She advanced to Day 2. … The UFC's Martin Kampmann advanced to Day 2, as did ESPN contributor Bernard Lee. … It's expected that 2013 main-event champion Ryan Riess will announce Wednesday's "Shuffle up and Deal." … Other notable players eliminated: Jesse Sylvia, Tom Dwan, John Racener, Andy Frankenberger, Sam Trickett and Phil Collins. … Notable players who advanced: JC Tran, Jake Balsiger, Matt Salsberg, Haralabos Voulgaris, Greg Mueller, Amir Lehavot and Barry Greenstein.
July, 8, 2014
7/08/14
1:48
AM ET
The largest starting day in World Series of Poker main event history (3,768 players) led to a main event field of 6,683 contestants. The winner, as guaranteed months ago, will win $10 million and every other member of the final table will earn at least $730,725. This is the fifth-largest main event in history and the first time since 2010 that there's an increase in participation. Why? Online satellites,
live satellites
and, of course, a little bit of added money in the poker economy thanks to the repayments of the Full Tilt funds earlier this year.
Regardless of how or why everyone showed up, this is a win for the WSOP.
"With all-time records for both entrants and prize pool and the first main event increase in years, it's got to be the best summer in the 45-year history of the WSOP," said Ty Stewart, executive director of the WSOP. "We all want to have a story. And there's few stories better than heading to Vegas for a shot at 10 million [dollars]."
Stewart is spot on, and with a flawless main event thus far, players are thrilled as well. One of the bigger concerns voiced socially was the potential to play 10-handed, but the event never reached that point. In fact, there were still tables in the Pavilion Room offering cash games that can be closed when the WSOP needs additional space. Looking out a year, there's no reason to think that the magic 4,000 number won't be hit on the final starting day of the 2015 WSOP main event.
"There's a ton of pressure on that closing entrant number," Stewart said. "It's the barometer of the industry. It's the crystal ball. It's sort of like sweating whether Punxsutawney Phil will see his shadow and send poker back to the hole or we can stay happily in the sun."
Stewart's second thoughts echo something I've stated repeatedly on the
Poker Edge
podcast. People look at the WSOP main event as the end-all, be-all. Especially outsiders who don't follow the game at any point besides these two weeks. I've stressed the aspect of growth, and I do that as a reiteration of what most people believe: A healthy main event means a healthy industry. That part is true and incredibly important. I know that when I go back to Bristol, Connecticut, they'll talk about the numbers being up and that poker is making a comeback. This number matters.
What's also true is that there's a big poker world out there besides the WSOP. There are a number of tours around the world that go through the same growth and decline cycles. How the "minors" do is almost as important as the main event, because that dictates those that play the game at a casual level. Then we need to take into consideration online poker, the World Poker Tour, the European Poker Tour, the APPT ... you get the point.
All that said, this is a huge success and nothing should be taken away from that. This is the biggest and best event in the world and there's still a long way to go until someone wins $10 million.
Here are the payouts for the 2014 WSOP main event:
1. $10,000,000
2. $5,145,968
3. $3,806,402
4. $2,848,833
5. $2,143,174
6. $1,622,080
7. $1,235,862
8. $947,077
9. $730,725
10-12: $565,193
13-15: $441,940
16-18: $347,521
19-27: $286,900
28-36: $230,487
37-45: $186,388
46-54: $152,025
55-63: $124,447
64-72: $103,025
73-81: $85,812
82-90: $72,369
91-99: $61,313
100-162: $52,141
163-225: $44,728
226-288: $38,634
289-351: $33,734
352-414: $29,400
415-477: $25,756
478-549: $22,678
550-621: $20,228
622-693: $18,406
The money bubble will burst on Day 4, which will also be the first day of coverage on our ESPN broadcasts this year. Coverage of the main event will begin on Sunday, Sept. 28, at 9 p.m. ET.
Small blinds:
There were a few new faces after the dinner break, including a number of former champions. Phil Hellmuth, Scotty Nguyen and Joseph Hachem began their main events a few levels in and Nguyen hasn't fared well thus far. Other additions include Tom Dwan and Gus Hansen, who were probably crowbarred away from the cash games to get to the Rio. Once here, Dwan continued to seek more action from anyone who wanted to partake. Shocker. Hansen nearly doubled-up in his first two hours. … Then there's the story of Michael Nelson. Standing near the banner of Jonathan Duhamel in the Amazon Room, I hear a bit of commotion. There are two players standing and a member of the floor staff beside them. One of the two players, Sean Winter, takes his seat. The other, Nelson, is escorted to a chair by the floorperson and asked for ID. Nelson hands over his license and the floorperson walks away. He sits down in the chair and begins to rock, either falling asleep or passing out intermittently. Nelson, apparently intoxicated, mumbles a few words about the players who were at his table before and yells as the floorperson returns, telling them they need to stop messing with him. More of the floor staff shows up and escorts him through the Purple section in Amazon, asking him if anything looks familiar. He says yes. They stop by the doors to the side of the room and they continue the discussion. Nelson begins to get frustrated and things aren't going anywhere. I'm actively tweeting about the situation and I receive a tweet from
Matthew Haugen
that says, "@AFeldmanESPN table 309 is missing a drunk player." I show the tweet the staff who escort him into the Pavilion Room and to the tweeted table, which is immediately recognized. Nelson then proceeds to sit in his seat and play, sloppily, and bets out of turn on the first hand. He's given a penalty for doing so, but before he can observe it, his table is broken and he is once again sent to stumble back to the Amazon Room. He makes it to his new table, sits down, falls asleep, wakes up mid-hand and begins to ramble. Long story made even shorter, Nelson didn't make it through the next half hour. … Paul Pierce has a tendency to get up and walk around outside in the hallway during levels. It makes it a slightly harder challenge to figure out if he's eliminated. Which he is not. … Greg Raymer was the second main event champion to fall on Monday. … The last woman standing from 2013, Jackie Glazier, is out, along with Sam Trickett, Phil Collins, Melanie Weisner, Davidi Kitai and Men Nguyen. … There was a Tuan Lam sighting at the WSOP, but it didn't last long. The 2006 WSOP main event runner-up was eliminated early Monday. … A few main event champions that didn't play this year: Pius Heinz, Peter Eastgate and Chris Ferguson.
July, 7, 2014
7/07/14
9:22
PM ET
The World Series of Poker had a big moment earlier today with the announcement of growth in the main event for the first time since 2010. Players continue to file into the registration area at the last minute and essentially enter the main event at no disadvantage given how slow the blinds move on the starting days.
Some of those players are coming from the Pavilion Room, whose tables are occupied by main event players, cash game players and, as mentioned on Day 1,
satellite players
. As Day 1C plays on, there are fewer and fewer tables being utilized for satellite play. There are single-table ones, which are nothing more than turbos with 15-minute blinds, and then ... there are the flips.
And that, my friends, is where the true excitement is on Day 1. In the smallest pocket of that satellite section is one table next to the podium responsible for the madness. The floor staff yells out, "Two seats left in a $1,030! One seat left!" hoping to entice those who surround the section to buy-in. They eventually do get their players, and as 10 players take their seats, they're surrounded by tens of players and railbirds looking to get a glimpse of the ridiculousness. These players are looking for an ounce of luck to go their way, and they're all content with putting their cash on the line.
The dealer shuffles for high card, then gives everyone a hand. Nobody looks at their hand as the dealer runs out a board. One by one, the players look to see if they hit, and in less than 20 seconds, someone wins their seat into the main event.
In a game that likes to preach skill over luck, there is no skill here. There is simply gamble. And there are plenty of people willing to do so.
[+] Enlarge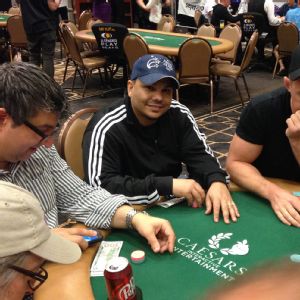 Andrew Feldman/ESPN.comFrankie Flowers attempts to win another satellite seat just hours before registration closes.
Frankie Flowers is one of those players, and
he won his seat in a flip
. Flowers, from Poughkeepsie, New York, plays incessantly on the east coast. The father of three (son Brandon, 20, and daughters Miranda and Lia, 19 and 7) travels back and forth to the casinos in Connecticut and plays $5/$10 for a living, mixing in the occasional tournament. In speaking with him for moments, you understand the gamble in his eye and his true passion for the game. The past month hasn't been great for him on the felt, but the past few days have provided him with a little boost.
"I've played in smaller events but have no scores," Flowers says, anxiously looking for other players to buy satellite lammers off of him. "The satellites have been good, though."
Good, apparently, is relative. When discussing the tens of thousands in satellites he's won, he still admits that he's down. Regardless, the smile never leaves his face.
The table gets the call and the crowd emerges. Players are quickly trading hundred-dollar bills with others, trying to reduce their risk, and among those in attendance is Eric Mizrachi who is currently playing in the main event. Mizrachi is all smiles and flanked with other players from his table in the main event.
"The whole table got excited when we saw the flips," says Mizrachi. "So I asked why don't we all do it. Jokingly. Then we got serious about it and did it. We pooled our money and entered."
As Mizrachi's table stood waiting for the cards to come out, they tipped the dealer, looking for a little bit of karma to line their pockets with another $1,000. The payout for the satellites come in lammers, and they had a buyer ready to go. Unfortunately, the winner of this latest flip, Pavlos Savouidakis, didn't. Savouidakis, who bought into the main event and is in action on Day 1C, now needed to find a buyer for his lammers, something that at this point in the event is tough to do given that the lammers are only used to buy into events. Regardless, he was thrilled with the victory, then rushed back to his table hoping to build up a stack that he had depleted over the first four hours.
Flowers, meanwhile, was already back in another satellite and probably will continue to enter them until the very last minute. Then he'll make his way down the hallway and register for the main event.
"If I win the main, I would call my kids and tell them we're going to Fiji for a month or two," he said.
While the risk is high, some, including Derek Dempsey who advanced to Day 2 already, believe the last-minute satellites still have value. Dempsey has pocketed nearly $7,000 today after winning one of the flips and finding a save in three of his other four. He should probably play the lottery tonight.
Small blinds:
NFL defensive tackle
Richard Seymour
is in today's field. … Jamie Gold is the first former main event champion to find the rail this year. According to his Twitter feed, Gold lost two pair to a bigger two pair. … Phil Hellmuth hasn't taken his seat yet. … Players are in action at Buzios right now which is a 10-minute walk from the Amazon Room. Jennifer Harman is one of the players in that situation. … Joe Cada is on today's feature table set. … Over at the Aria, the WPT 500 is completely destroying their $1M guarantee. … There's a pretty good rail behind Greg Raymer in Amazon. The 2004 main event champion hasn't cashed in the main since 2005.
July, 7, 2014
7/07/14
5:03
PM ET
The final starting day of the 2014 World Series of Poker main event began with the official awarding of the 2013 WSOP Player of the Year award to Daniel Negreanu. Lance Bradley of Bluff, which sponsors the award, introduced the six-time bracelet winner and presented him with his buy-in for the main event, part of his prize for being the most successful player on the WSOP felt last year. Negreanu smiled and posed in front of the massive banner that will hang at the Rio and wasted no time in instructing the dealers to get going.
Negreanu left the stage and moved to a secondary feature table, where a rail waited for him with cellphones at the ready. Photos, autographs and smiles are all part of Negreanu's routine, and those who are ready to face off against him will have to deal with one intimidating view.
Seated at an outside feature today, @RealKidPoker, overlooked by @RealKidPoker pic.twitter.com/57DQ9T7Qgx

— Andrew Feldman (@AFeldmanESPN) July 7, 2014
Negreanu nearly doubled his starting stack during the first level of action.
Registration for Day 1C has already moved the total field size beyond the 2013 field. The line for registration isn't long at the moment, but players are still filing in and are expected to make up the largest single starting day in WSOP main event history. The efforts of Phil Ivey, Phil Hellmuth and Negreanu may dominate the focus of today, but as is customary at the WSOP, it's the surprises that show up that steal the headlines. One of those surprises is NBA star Paul Pierce, who strolled into the Amazon Room with David Gregory an hour into play today.
Pierce played in the main event three years ago and advanced to Day 2 before
busting out
near the end of the day. Before sitting down, he looked at Gregory, gave him a fist bump, and said, "Let's do this." Pierce's road to the $10 million top prize didn't start off well; he lost more than half his stack in the first few minutes after sitting down. Pierce flopped trips, but his opponent turned a straight and earned a number of chips on the hand. Right before the first break, Pierce got back on track with a flopped set turned river full house and doubled up to 38,000 in chips.
Other notables include FC Barcelona's Gerard Piqué, who is making his second consecutive main event appearance, the UFC's Martin Kampmann, Shane Warne, television producer Gavin Polone, and actors James Woods and Justin Henry.
The most missing notable is Doyle Brunson, who will be missing the main event for the first time in quite awhile. The 81-year-old tweeted that it's time to take care of himself, and nobody can argue with that.
Small blinds:
Phil Hellmuth is expected to show up in a few hours. Those seated at his table are simply staring at the open seat, not knowing who will fill it. … Former champions Jonathan Duhamel and Greg Raymer are occupying the secondary feature table area. … There are two very big rails. One near Negreanu, the other near Pierce. Ivey's table isn't easily accessible. … Speaking of Ivey, it appears "60 Minutes" is here to film some footage for a future segment. … Davidi Kitai is seated with Negreanu to start the day. … Also seated together: Andy Frankenberger and Calvin Anderson. … For those who expected Chris Ferguson and Howard Lederer to show up, it doesn't appear that is going to happen this year.