Poker:

2014 WSOP Main Event Day 2AB
July, 9, 2014
7/09/14
6:30
AM ET
LAS VEGAS -- The 1,933 survivors from Day 1A and Day 1B returned to action Tuesday for another five two-hour levels of play. As intended, the fields were kept in separate playing areas with 1A occupying Amazon and 1B in Brasilia and Pavilion. By the end of the fourth level all that remained was the Purple section in Amazon (about a quarter of the room) and three-fourths of Brasilia. Eliminations came rapidly, and a total of 1,115 players were sent home on Day 2AB with 2013 WSOP main event champion Greg Merson being one of the first. Some took it better than others.
Day 1 is all about survival and Day 2 is about accumulation. Players first broke the 250,000 chip barrier before dinner. Then came 300,000. Then four players attained 400,000 (250 big blinds). Tim Stansifer bagged a substantial chip lead for the night, trailed closely by Tom Cannuli, Tony Ruberto and Joe Kuether. Out of that group, Ruberto and Kuether have found a few successes this Series. Ruberto earned three cashes and a third-place finish in the six-handed
Event 15
and Kuether had five cashes, with his best being a 17th-place result in the turbo Event 23. Stansifer, on the other hand, is looking for his first career tournament cash. A Day 2 chip lead doesn't mean much, but it's a strong step on the path toward the money.
Besides Merson, four of the other former main event champions advanced to Day 3. Defending champion Ryan Riess, 1987 and 1988 champion Johnny Chan, 1996 champion Huck Seed and 2003 champion Chris Moneymaker are all looking to make history. Dan Harrington can not. Moneymaker had the best day of the group and finished with 222,000.
"Going in I knew it was going to be a very tough day," Moneymaker said. "I dropped all the way down to 24,000 at my low point. ... But now the tournament really starts. It really starts on Day 3. I'm in a position now where I can hopefully use my experience and grow this stack as we get closer to the money and really put myself in a position to do something. The biggest thing in this tournament is getting to Day 3, with a stack, and using it effectively."
Moneymaker hasn't cashed in the main event since his victory in 2003.
As for the other champs, Riess (84,900) coasted most of the day before having a tough last level. "I made my first mistake," he said during a break in the action. Chan suffered a similar setback, chipping up well above average before ultimately losing a few key pots to finish with 46,600. Seed, who has final tabled this event twice, ended with 96,500.
The other worldwide star stayed silent for the most part in Amazon on Day 2AB. Antonio Esfandiari was focused on the grind for most of the day, but a big hand with aces against A-Q gave him a boost at the end of the night. Finishing with 277,800, he looks to cash for the third time in six years.
"I ran good," he said of his final few hours. "What can I do? When the cards come they come. I ran good, I played pretty good and I'm very fortunate to have a good stack to enter Day 3."
Esfandiari was part of the Day 1A contingent that played in a reserved fashion in the Amazon Room. Across the hall, Brasilia's atmosphere was like a loud party with chatter, smiles and drinks during the final level of the night. Given the smaller space and nearly three times the players, there was a clear emotional distinction between the two rooms. The chip leaders above all built their stacks in Brasilia, as did Erik Seidel, Faraz Jaka, Allen Cunningham, Ole Schemion, Jeff Madsen, Marvin Rettenmaier and Phil Galfond.
Here are the unofficial top 10 chip counts from Day 2AB:
1. Tim Stansifer (481,500)
2. Tom Cannuli (407,800)
3. Tony Ruberto (402,700)
4. Joe Kuether (401,200)
5. Zhen Cai (367,900)
6. John Sacha (364,400)
7. Munir Shahin (361,900)
8. Tom Roupe (349,600)
9. Martin Jacobson (342,700)
10. Jon DeGeorge (342,200)
When the field combines after Day 2C, blinds will begin Day 3 at 800/1,600 with a 200 ante.
Small blinds:
Only 215 of the original 771 Day 1A players remain. …
Jacob Zalewski
advanced to Day 3 with 64,200 in chips. … Actor Kevin Pollak has made Day 3 for the second time in three years. … The media tournament will be held during the dinner break Wednesday night. … Mike Matusow didn't take his elimination too well. He tweeted: "Out if main event this concludes the worst 6 weeks of poker in my life thanks for [all] your support #illbeback." … Vanessa Selbst, Annette Obrestad, Mike Sexton, Dennis Phillips, Josh Arieh, Ray Romano, Yevgeniy Timoshenko and last year's seventh-place finisher Michiel Brummelhuis were eliminated on Day 2AB. … NASCAR's Jason White bagged 157,100.
July, 9, 2014
7/09/14
1:00
AM ET
LAS VEGAS -- Seven hours into Day 2AB and the Amazon Room is beginning to look a little barren. While surviving players from both Day 1A and 1B are both in action on Tuesday, they play as if they are part of two separate tournaments until Day 3 on Thursday. As a result, the Amazon Room has cleared out its largest Orange section with a significant portion of the small Day 1A field hitting the rail during play on Tuesday. Of the 505 players that began the day in Amazon, only about 320 remain.
Scattered throughout the tables in Amazon are three former champions -- Chris Moneymaker, Ryan Riess and Johnny Chan. Moneymaker has been treading water all day, never able to build a stack while seated at the feature table area. Riess eclipsed the six-figure mark before dinner and sits casually at his table with a just a few on his rail. He doesn't seem to mind.
After wearing a black T-shirt with a bright gold emblem on Day 1A, Chan has gone for a more casual, hidden approach on Tuesday. He is sporting a hoodie and doing his best to remain inconspicuous during Day 2AB action. The only problem is that he also has 100,000 stacked in front of him, and keeping a low profile with those chips is going to be hard.
Martin Jacobson began the day as the chip leader and still holds strong with 260,000 in chips. Also scattered at tables throughout the Day 1 contingent is 2013 WSOP main event runner-up Jay Farber, Antoio Esfandiari, David Bach, Mukul Pahuja Brian Hastings, Kyle Cartwright, Annette Obrestad and Ted Forrest.
Jacob Zalewski
, seated with Esfandiari, has nearly quadrupled his stack on the day.
The Day 1B contestants have also been reduced to one room. With the Pavilion emptied, the Brasilia room is nearly filled to capacity and seems to have most of the chip leaders from the day. Joe Kuether, looking for his sixth cash of the 2014 WSOP, is one of five people with more than 300,000 chips. Brasilia also features some big stacks belonging to Marvin Rettenmaier, Kevin MacPhee, Dan Kelly and Erik Seidel.
Small Blinds:
Comedian Kevin Pollak remains in contention and successfully made it through six hours of competition against Phil Galfond, Michael Binger and Matt Vengrin. That table broke shortly after dinner. Pollak does some impersonations of Daniel Negreanu and Phil Hellmuth
here
. … NASCAR's Jason White has just less than 100,000 in chips. … Ryan Riess's dad and girlfriend have pulled up chairs along the defending champion's rail. … Greg Merson was eliminated during the first level on Tuesday. … The two players that lead the WSOP Player of the Year race,
Brandon Shack-Harris
and George Danzer, both fell on Tuesday. With plenty of points for first to the main event champion, along with 10 more bracelet events in WSOP-APAC, the race is far from over. … Michael Binger told me he's happy to be out of the poker world. "I take the subway to work," he said of his "normal" lifestyle. Binger lives in Brooklyn, still pursuing his passion of science. … The WSOP asked first-timers to stand up and be recognized at their table Tuesday to show a similarity to how they could all be like Riess a year ago. Some players stood up. Some players didn't. Some criticized them for making that request, but there's no guarantee that anyone who stood up was actually a first-timer. It's a game of information, so wouldn't you want to take advantage there? … Johnny Chan is taking a quick walk through the Amazon room, listening to something and dancing. Yes, a dancing Johnny Chan. I have no idea what he's listening to, but it's pumping up the two-time champ. … The WSOP had a record-setting 82,360 entries in 65 events. It awarded the largest prize pool in WSOP history: $225,584,873. &133; A total of 107 countries are represented in the 2014 WSOP. … Of the main event participants, 4.2 percent were women. It was 4.7 percent in 2013. … The average age in the main event was 39.2. There average age last year was 38.1.
July, 8, 2014
7/08/14
6:54
PM ET
Tournament Director Jack Effel is walking through the Amazon Room on Day 2A. With a cheery demeanor he looks out at a few members of his staff, hard at work inside the ropes. He gives them a look and a nod. They respond with a smile. Effel continues to make his way through the room and assists a player. He heads my direction.
"Happy Day 2," I say to Effel, attempting to acknowledge the baby steps taken thus far in the main event.
"Day 2 was May 28th," he replies without hesitation.
He's right.
The main event is the cap of the World Series, but since May 27, Effel has been on the floor day in and day out doing his best to make sure every event goes off without a hitch. Of course the spotlight is on the main event, but when it comes to the World Series of Poker, every hand that is dealt is important and the planning that goes into it begins even before the previous edition's conclusion.
[+] Enlarge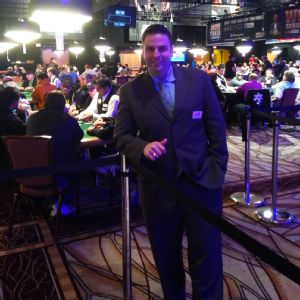 Andrew Feldman/ESPNTournament Director Jack Effel stands in front of the action on Day 2AB
"The WSOP comes together nicely. It's a year-round project," Effel said during a break in action. "Everyone does their part. We're cognizant of timelines and we always have the sense of urgency so that the show can open."
Before play begins each day, either Executive Director Ty Stewart or Effel takes the microphone with a goal of providing instruction or hype for the field in attendance. Effel has become the front man, but he's the first to admit that it's those by his side who constantly make a difference. The team organizes everything from table service to payouts to the floor plan and aims to make the players' experience as optimal as possible.
"All of us are standing up there at once," Effel says about the times he's talking to the masses. "I may be the voice representing us, but the whole team is standing up there together making it happen. ... But it's the players' event."
The focus on the players is a common theme since Effel joined the WSOP as tournament director in 2005. Always looking to fill the next niche and satisfy a need, Effel has worked with players both in person and through social media to create the right opportunities that will lead the event to greater success.
"This event belongs to the players," he said. "As long as we keep giving them the best competition and the best experience, the WSOP will continue to be successful."
While there were many, two of the biggest successes of the 2014 WSOP were Effel's innovations: the Monster Stack and the Dealer's Choice events. The Monster Stack offered players the ability to buy into a $1,500 event and receive 15,000 in starting chips, far more than the 4,500 that they would receive in another similar buy-in event. It was a way to provide players the opportunity to compete in a different structure, similar to the depth of the main event, and play for a huge prize pool. It was a stunt that Effel and team expected to work and attract a field of around 4,000-5,000. Then 7,862 players showed up. Effel was floored.
"I wasn't doing a dance when everyone showed up," he said when I asked if he was excited by the incredible field. "I tried to get everyone in."
The structure wasn't conducive to the alternate system since players weren't busting out quick enough, so Effel decided to add a second starting flight that began at 5 p.m. that day. By the end of the sixth level, every player had been seated and a new record for a field on a single starting day had been set.
"I thought it would be popular, but I had no idea it would do what it did. We had one extreme with the turbo event, so we needed one on the other extreme. There were lots of players and lots of chips. When they all showed up I had no idea what I was going to do with them."
The thing is, the more you talk to Effel, the more you realize that his determination and creativity are what make him tick. He knew exactly what he wanted to do and figured out a solution that could handle it. His vision also led to what some players have called the best event of all time: Dealer's Choice.
"Players could try all of the 16 games for a small buy-in," he said. "It was a way to introduce new games into the mix and gauge what would be most popular. It also gave mixed-game specialists the poker game of poker games."
The item that scared many prior to the start of the event was the capabilities of the dealers. However, Effel and his staff handpicked the crew for this event and said those dealers loved having the opportunity.
"This is all you are going to be doing for the next three days," Effel said he told his crew. "They were all good and they were role models who looked forward to this event. They were all excited and it was an honor for them to be part of this being dealt for the first time."
Dealer's Choice went off without a hitch and was another notch in the belt of a very successful summer. With only a week left of the main event, Effel knows that more time with his wife and kids is just around the corner. He also knows that the magnifying glass is in place on the main event and that any mistake in the main can overshadow the success of the past six weeks. The truth is that Effel is ready for anything, and ready to handle anything that may come his way. He believes he needs to, and that with every passing day, he's still building the legacy of the WSOP.
"The train stopped to pick us up and we're all on it for a ride," he said. "Poker is a great game. We know what it means to us and want to do all we can to get everyone in the seats and keep them here for years to come. We want to inspire new players and have people say that they're glad these guys did what they did. I'm proud of where the WSOP is, and where it's going."
In a week the Amazon Room will be empty. The players will have moved on and the media will have left the city, but Effel will be back in his office. More innovation is coming for 2015, and for his team, there's plenty of work to do.