July, 14, 2014
Jul 14
6:43
PM ET
Bryan Devonshire: Gone.
Leif Force: Gone.
Kyle Keranen: Gone.
Dan Smith: Gone.
Scott Palmer: Gone

The familiar faces are quickly leaving the Amazon Room, and only 18 players remain in the 2014 World Series of Poker main event. Smith's shocking elimination on the final hand of the level in 20th placed the field on a significant money bubble, but even that couldn't slow down the fast pace of eliminations on Day 7.

The deck didn't treat Devonshire well over the past two days, and despite getting it in good once again, ahead in a race with 10-10 versus A-J, he headed home in 25th, just three years after his 12th-place run.

Moments later, Keranen picked a bad time to five-bet shove on Bruno Politano as his K-Q was crushed by the Brazilian's K-K. Similar to Devonshire, Keranen has had two strong runs over the past three years, 38th and now 24th.

Yorane Kerignard's contingent left everywhere, including media row, after his elimination in 23rd. He dropped a good portion of his stack in a lost race against Chris Greaves (K-Q < J-J) then lost the rest to the jacks of Andoni Larrabe holding J-7. This was Kerignard's fifth six-figure score of his career.

Dan Sindelar expanded his chip lead as he knocked out Iaron Lightbourne (A-Q over Q-Q), but it was a great run for the British player, who earned a career-best cash with his 22nd-place finish.

In 2006, Jamie Gold won the biggest prize in WSOP history. Force finished 11th in that event for $1.1 million and hoped to make the final table that eluded him eight years ago. He was one of the shorter stacks left and put his chips in a 40-60 situation with K-Q against Greaves' A-10. The entire Amazon Room knew what happened next. Force yelled out something that is sure to be beeped on television later this year as Greaves hit trips, leaving Force drawing to a gutshot miracle. It didn't come, and the North Carolina resident finished 21st.

Then came the most shocking elimination of the level. Smith is one of the game's best with a history of big win after big win. With more than $8 million in earnings, he said there was no pressure on that front. On his final hand, he opened and Jorryt van Hoof three-bet to 900,000. Smith made it 1.8 million, and van Hoof moved all in, forcing Smith to make a decision about the rest of his 6.4 million-chip stack. The decision didn't take that long, and the two would be flipping for 13 million with Smith holding As-Ks against van Hoof's 4-4. No help came for Smith, resulting in his elimination in 20th.

Players went on a quick 20-minute break, and it would have seemed that with a substantial pay jump approaching, the final 19 would have slowed down a bit. Maybe not. Palmer went out in 19th, shoving 2-2 into Greaves' A-A, and the final 18 players are only nine eliminations away from the biggest final table of the year.

If play stopped now, the November Nine would be:
1. Dan Sindelar (22.8 million)
2. Bruno Politano (19.6 million)
3. Martin Jacobson (17.9 million)
4. Luis Velador (14.4 million)
5. Tom Sarra (13.9 million)
6. Jorryt van Hoof (13.6 million)
7. Mark Newhouse (12.3 million)
8. Felix Stephensen (10.5 million)
9. William Pappaconstantinou (10.0 million)
July, 14, 2014
Jul 14
2:03
AM ET
There's a pretty substantial pay jump at 36 and for the first time in this tournament, the players seem to recognize it. After a flurry of eliminations during the first half hour after the dinner break, the play slowed dramatically and some quasi-excessive tanking was found at each and every table. Especially by Aaron Kaiser, who just became the talk of many in the Amazon Room.
Kaiser has been on the short stack for a while and with a $44,099 pay jump, waiting out one more spot was clearly on Kaiser's mind. On the hand that may have secured him a spot into a higher pay scale, Dan Smith called the clock on Kaiser immediately as the cards were dealt. The floor allowed Kaiser two minutes to think about it before the countdown and once the countdown started, Kaiser put nearly his entire stack in the center. Smith called and the two saw a flop of Ac-Qc-6s. Kaiser, with only a few hundred thousand in chips behind, tanked for his maximum time before checking. Smith placed a big enough bet that would force Kaiser all-in and Kaiser took about 20 seconds before committing his chips with ... top set.
The room roared as Smith, who held Jc-Jd, was in bad shape. The 10c on the turn gave him a royal flush draw, but no help came on the river, allowing Kaiser to double up.
Doubled in an absurd spot w AA vs JJ. 2.2 mil w 36 left

— Aaron Kaiser (@ManchildDC) July 14, 2014
Moments later at the feature table, nearly two hours after Shahen Matirosian's exit in 38th place, Gal Erlichmann committed all his chips postflop on a board of 9-8-3. He showed kings, Dan Sindelar showed aces and he was knocked out after turn and river blanks in 37th. All players are guaranteed at least $230,487. The next pay jump occurs at 18th place. Post-dinner eliminations included Clayton Maguire, David Tuthill, Michael Finstein, Adam Lamphere, Michael Kamran, Paul Senter, Martirosian and Erlichmann.
Small Blinds:
Luis Velador took over the chip lead from Kyle Keranen early in Level 29. Velador is a two-time bracelet winner. … Bryan Devonshire got a little unlucky, losing K-K to A-J early in the new level, but rebounded quickly to get back to 5.8 million. … The Brazilian crowds are getting loud cheering on Bruno Politano. If he makes the final table, there is going to be a very large and excited contingent. … Humberto Brenes is here. Chewing gum as always. … Ryan Riess showed up earlier to catch some of the action. Phil Hellmuth too. … Someone in the stands is cheering every time Bryan Devonshire folds and telling the pro "Good fold! Good fold!" … Blinds are 50,000/100,000 with a 10,000 ante. … Listen to all the main event Poker Edge daily podcasts
here
. … The Daily DeepStack event is still being played in the Amazon Room. Brett Richey
wasn't a fan
of that. … Mike Matusow was on the rail for a bit and said he thinks Keranen is a great player. … Martin Jacobson is third in chips and has been consistently at the top of the chip counts for this entire tournament. Pretty impressive.
July, 12, 2014
Jul 12
5:59
AM ET
The smiles turned back to stares throughout the course of Day 4 of the World Series of Poker main event. After a
raucous celebration
rocked the Amazon Room when the remaining players made the money, the field returned to seriousness as positioning for the final stretch became the utmost priority. Matthew Haugen emerged with the lead after Day 4, a familiar situation for the professional poker player from Chicago.
"I'm feeling great," said Haugen. "Being chip leader going into Day 5 of the main event, I can't complain about that."
Haugen began to take the game seriously after he graduated from college. Like many other of the game's rising stars, he started online.
"After I graduated from college, I had a little bit of money and put it online," he said. "I started playing, kept winning and never looked back."
[+] Enlarge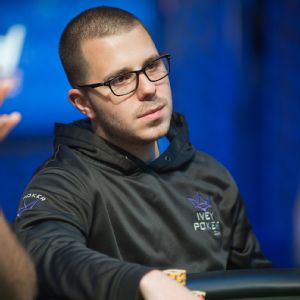 Drew Amato/BLUFFDan Smith is sixth in chips after Day 4
In a post-Black Friday world Haugen travels often to play and has found some great success on both the WPT and EPT. He also has twin 18th-place finishes so far this WSOP.
"I'm just going to keep playing my game and see what opportunities present themselves," said Haugen. "$10 million would mean a lot. It would be pretty amazing."
Behind Haugen is a stacked crew of professionals who have been waiting for this opportunity. Griffin Benger, Dan Smith and Kyle Keranen are all part of a strong top 10 at this stage of the event. Keranen has been here before and was the chip leader after Day 5 in 2012. After fizzling out then, he's not ready to let this second opportunity go.
"I just feel so much more in control than I did two years ago," said Keranen. "I was still pretty new to high-stakes tournaments back then and I got a bit nervous on Day 6. ... This year I feel totally composed and ready for it."
Keranen enters Day 5 eighth in chips.
The remaining field includes many players who should feel at home during Day 5 action. Among that group Keranen (38, 2012), Leif Force (11th, 2006), Pat Madden (64, 2005), Maria Ho (38th, 2007), Alex Outhred (54, 2008), Roland Israelashvili (25, 2012), Isaac Baron (85th, 2012), Farzad Bonyadi (27th and 41st, 1998 and 2005), David Einhorn (18th, 2006), Ali Eslami (49th, 2004), Ryan Fair (31st, 2009), Mike Wattel (95th, 2005), Kyle Bowker (37th and 84th, 2007 and 2012), Bryan Devonshire (12th, 2011) and most recently Rep Porter (12, 2013) and Mark Newhouse (ninth, 2013) have all made it to the final stages before.
With 291 players remaining, here are the top 10 chip counts after Day 4:
1. Matthew Haugen (2.80 million in chips)
2. Zach Jiganti (2.36 million)
3. Griffin Benger (2.32 million)
4. Michael Finstein (2.31 million)
5. Bruno Politano (2.28 million)
6. Dan Smith (2.22 million)
7. Andoni Larrabe (2.19 million)
8. Kyle Keranen (2.15 million)
9. Farid Fattin (2.12 million)
10. Pakinai Lisawad (2.08 million)
The eliminations came at a rapid pace throughout the action on Friday, but the only one that was truly acknowledged by all players was the 430th-place finisher: Phil Ivey. The 10-time bracelet winner began the day in a strong position at the feature table, but started to run cold after he lost a quarter of his stack to Kyle Keranen. The bleeding continued until the dinner break, but still, with 340,000 in chips, Ivey was not in dire straights. Almost immediately after the dinner break, Ivey found himself in a hand against two-time WSOP champion John Kabbaj and made an ill-timed all-in on the turn of a 9-9-2-2 board. The shock and frustration came over Ivey's face immediately as his A-K trailed Kabbaj's J-J. Down to his final card, the cameras came over and Ivey's tournament ended with a blank on the river and a sprint to the back doors of the Amazon Room.
Hours before Ivey's departure, Ronnie Bardah's exit marked the end of a historic run. Bardah has cashed in each of the past five WSOP main events, a new record.
Thx for all the support guys and girls.Love you all and I'll be back next year for number 6 and maybe nov 9:) living the Dream

— Ronnie Bardah (@RonnieBardah) July 12, 2014
Other notable Day 4 eliminations include John Juanda (293rd), NASCAR's Jason White (348th), Michael Binger (353rd) and Jonathan Little (490th).
Action resumes at noon PT and will most likely continue for five levels or until the field is down to 72 players. The minimum cash for all those who remain is $33,734.
Small blinds:
The pre-money elimination of Huck Seed marked the first year since 2002 that a former champion did not make the money. It has happened nine times in the total history of the event. … I've followed "Rainbow Hat Guy" around the WSOP for the past few years and today he had his chance at the feature table. Zach Hall sat directly across from Ivey, who looked at him and said
"Are you serious?"
Hall was eliminated on the final hand of the night. … Alex Outhred started Day 2 of the main event with 12,000. He bagged 714,000 on Day 4. … Blake Cahail played the last level in one of the $230
Zooop suits
that is being sold at the Rio. He didn't buy it, but said if his friend bought it, he'd wear it. … In 2012, Keranen was the chip leader after
Day 5
. … Take a look at
the bracelet
. … Plenty of drinks were ordered toward the end of the day. Relatively surprising at this point. That usually ends on Day 2. … David Einhorn is donating his winnings to Robin Hood NYC. … Sam Jaddi and John Kabaaj are the two remaining 2014 bracelet winners in the field. … The highest chipped woman in the field is Mikiyo Aoki, who has 1.5 million in 21st place. She was the runner-up in the 2014 WSOP Ladies championship. … There are five multiple-bracelet winners remaining in the field: Jeff Madsen, Farzad Bonyadi, John Monnette, John Kabbaj and Rep Porter. … Including the main event, Roland Israelashvili now has 10 cashes this WSOP.
July, 11, 2014
Jul 11
9:37
PM ET
The flood of players out the door continued during Level 17 and all remaining players have locked up a pay day of at least $25,756. After a period of constant all-ins, the pace has slowed of late as players are now taking this time to position themselves for a deeper run.
Michael Finstein is looking to make his first WSOP main event cash count. The Bright, Mass. native was the first player over two million in chips and has played the role of eliminator throughout the day. He seized the lead when he won a big pot against Rocky McNatt with his 10-10 connecting on a 10-9-3-9-9 board against McNatt's K-K. He added a bit more shortly after knocking out Lisa Tehan, Joe's wife, who just missed her largest career tournament cash by a few hundred dollars.
Dan Smith, now seated at a secondary feature table, has 1.9 million in chips which is good enough for a second-place stack. At the main feature table, Phil Ivey has struggled to gain any momentum since his latest table joined the feature set. His three-bets haven't been getting through and he's now playing with a sub-370,000 stack. Ivey's table broke for the second time today right before the dinner break and a new table, featuring Maria Ho and Jared Bleznick, will take their seats when action resumes
Kenny Tran's elimination represents many of the bustouts right now. With players so deep, it takes real coolers to get all the chips in the center and Tran was unlucky enough to run kings into the aces of Pete Kaemmerlen for all of his stack. Other notable eliminations include Jonathan Little, Abe Mosseri, JJ Liu, Bryan Yoon, Phil Galfond, Daniel Alaei and the five-time consecutive casher, Ronnie Bardah.
Thx for all the support guys and girls.Love you all and I'll be back next year for number 6 and maybe nov 9:) living the Dream

— Ronnie Bardah (@RonnieBardah) July 12, 2014
Here are the top 10 stacks at the break:
1. Michael Finstein (2.0 million)
2. Dan Smith (1.9 million)
3. Andoni Larrabe (1.7 million)
4. Danny Yousefzadeh (1.7 million)
5. Zach Jiganti (1.6 million)
6. Matthew Leecy (1.4 million)
7. John Gorsuch (1.3 million)
8. Jing Wang (1.3 million)
9. Griffin Benger (1.2 million)
10. Mark Herm (1.2 million)
When players return, blinds will be 4,000/8,000 with a 1,000 ante.
Small blinds:
NASCAR driver Jason White doubled towards the end of the level. He has 250,000 and was the recipient of a Phil Hellmuth pep talk in the Orange section. They met last night at Haze. … Leif Force is looking to make a second deep run in the main event to add to his 11th-place finish in 2006. … Two more levels (four more hours) are planned for Friday. … Players received bags of chips at their table this morning courtesy of Ruffles. Players utilized those far more than the stress relief pucks from another WSOP sponsor, Dough. … The WSOP staff did a great job today with the bubble and payouts. I've seen years where it hasn't been so smooth, but this operation was run perfectly.