July, 5, 2014
Jul 5
5:40
PM ET
After all the build up and excitement at Rio All-Suite Hotel and Casino in Las Vegas, the WSOP main event is finally underway. Registration is still open for the day, but as of now, it appears that Day 1A will follow the pattern of the past few years and be the smallest starting day of the three. Last year's turnout of 843 players may seem high once the final numbers are tallied, but WSOP Executive Director Ty Stewart believes that given the amount of satellites already completed and scheduled for the next two days, attaining last year's number is a reasonable expectation.
The 2014 WSOP main event marks the 10th year of the WSOP being held at the Rio, and to honor that milestone, 2005 champion Joseph Hachem performed the "shuffle up and deal" to begin the event. Hachem, who remains a strong ambassador for both the WSOP and Australian poker, also teased the 10 bracelets that will be up for grabs at WSOP APAC this fall.
For a good amount of the first two-hour level of the tournament, many tables were playing shorthanded. Not like six- or seven-handed, but three-handed, far from the standard nine-handed play typically seen here. Tables were broken and combined, and while it appears that the field is far full, at least some of those who spent $10,000 won't be playing at a disadvantage with blinds constantly eating away at their stack.
[+] Enlarge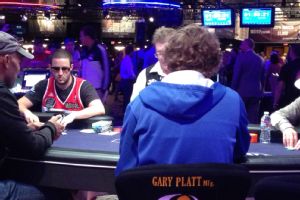 Courtesy Andrew Feldman2013 WSOP main event champion Ryan Riess and 2012 WSOP main event champion Greg Merson are seated together on Day 1A.
One of the more entertaining five-handed tables for most of the level was the feature table. Traditionally, the WSOP selects the defending main event champion and places his table on the feature stage so that fans can sit and watch with ease. However, this year's table selection of Ryan Riess had a slight twist. Joining Riess was 2012 main event champion Greg Merson. The last two champs sat on stage laughing as those who joined them, including high-roller enthusiast Bill Perkins, sat wondering how they could've been placed at one of the worst tables in the entire tournament.
"It's a good table," said Merson, who has finished 167th and first during the past two main events, respectively. "[Ryan and I] aren't going to get involved too much given our seats across the table."
Merson, who specialized in short-handed play, believed he had a small advantage given that aspect during the first level, but as the table filled out, that's no longer the case. Riess, who will be recognized on Monday by the WSOP, is happy to be back and ready to defend his title.
"I had chills when I walked back in here this morning," Riess said. "The table is fun. I've played with Greg a bit at the National Championship. He's tough."
Day 1 is all about survival and the past two main event champions know that today will be a grind. The feature table, which unfortunately will not be part of the ESPN broadcast, is definitely the one to watch all day.
Small blinds:
Antonio Esfandiari began the day in Brasilia and was moved into Amazon. Before going to his table, he ran over to the feature table to yell at Perkins, asking him how unlucky he is to get that table. Perkins smiled, and Esfandiari turned away, but before returning to his table, he was happy to take a few photos with fans. … There's a number of sponsorship/marketing initiatives in place at the WSOP this year, but none stand out more than the large throne placed next to the feature table. … The WSOP had the UFC's official DJ playing music before the start of the tournament. Each day they'll offer trivia to spectators, as well, and give away prizes. … Phil Laak is
wearing goggles
. … The WSOP is now doing promotional reads during play. … Jason Mercier is below 10,000 in chips and told me during the break that he's ready to get out of Vegas and back to Florida. Mercier has $1.7 million in tournament earnings over the past two months and has cashed in the main event twice in the past four years. … There are two other bracelet events in action today besides the main, the $10,000 pot-limit Omaha world championship and the Little One for One Drop.
July, 7, 2013
7/07/13
5:13
AM ET
The anticipation built as noon approached in Las Vegas. The biggest moment of the poker calendar was rapidly approaching and all eyes were on defending champion Greg Merson as he delivered poker's most famous words -- "Shuffle up and deal!" -- from the center of the Amazon Room to kick off the 2013 World Series of Poker main event. The $10,000 no-limit hold 'em tournament is the game's defining event, and the winner will walk away with at least $8 million and the title of world champion.
Day 1A featured many familiar faces to those who follow the game, and as a result, many tough tables were formed, creating an unexpected dynamic. It seemed that the amateurs were few and far between while Mike Sexton, Mike Matusow, Matt Glantz and other pros joined Merson on Saturday in a small but elite field. Merson thrived early on Day 1A and navigated through a table that included J.J. Liu with ease over the 10 hours of play. He finished the day with 81,600 in chips and is one step closer to making the money once again.
"I was able to open a bunch and take advantage of my table that was playing pretty tight," said Merson. "I feel like people were playing pretty timid against me today."
While his opponents may have been timid, the fans around the Rio were anything but as Merson was approached time after time for photos, handshakes, autographs and the occasional hug.
"Today was the most outrageous thing of my life. I was like a movie star. So weird," said Merson. "I just rolled in with my boys and I figured it was a normal day, walking in with them. I've been coming over here a bit over the past few weeks and it's been nothing like that. ... There was no way that I could ever imagine it would be like that."
Joe Cada and Pius Heinz were the other former world champions in the field on Saturday. Cada finished with 26,000, but he felt that even though he had a tough time, his day was a success since he's moving on.
"The day was a nightmare," said Cada. "But like Willy Wonka, we've got a ticket."
Heinz fell victim to an unfortunate river card and was sent home during the fourth level of play.
Significant eliminations were few and far between on Day 1A, but a few of the celebrities in the field were among them. Jason Alexander had played in the main event in each of the past seven years and although he's never cashed, he also never busted as early as he did on Saturday. "The Sopranos" star Robert Iler finished 275th in 2011, but was denied a repeat appearance in the money this year with a Level 5 elimination. Mike McDonald, Gavin Smith, Lee Childs, 2013 bracelet winner Dana Castaneda, T.J. Cloutier and former November Niners Chino Rheem and Soi Nguyen were also eliminated on Day 1A. Actor Kevin Pollak had an above-average starting stack for most of the day, but finished with 16,000. He finished 134th last year.
The room was a bit quiet throughout the day and most of the talk at night was dominated with discussion of the turnout. The 943 players from Day 1A is down from last year (1,066), but the WSOP staff still remains optimistic it'll see a 7,000-player event. The satellite rooms were packed all day, and while that's a great sign, there haven't been any lines to register, and that's equally a bad sign for those looking for growth.
A total of 584 players advanced to Day 2A. Here's a look at the official chip leaders:
1. Evan Panesis (190,975)
2. Nick Crisp (184,075)
3. Abdulaziz Almashal (180,575)
4. Sergio Castelluccio (175,825)
5. Michael Wehner (170,325)
6. Jason Manger (158,150)
7. Yucel Eminoglu (147,425)
8. Gal Erlichman (146,875)
9. Jonathan Lane (137,075)
10. Scott Wesley (137,075)
All surviving players will return for Day 2 on Tuesday. While both survivors from Day 1A and Day 1B will return on Tuesday, the fields will play in separate rooms.
Small blinds:
The highlight of the day came during the final level, when a five-way all-in hand erupted.
The hand
featured Q-Q (the winner), J-J, A-K, A-10 and ... wait for it ... 4-3. ... Chamath Palihapitiya had his struggles early on during the day, and when he got back to the starting stack, he stood up and celebrated. The Amazon Room reacted with a small laugh, but really it seemed many players were annoyed. Yup, the good old days of poker and fun on Day 1 are gone for good. ... Paul Pierce busted out of the pot-limit Omaha event on Saturday. Many expect him to play the main event as well. ... The main event bracelet is valued at $500,000. ... Phil Ivey is expected to play on Day 1B.
July, 7, 2013
7/07/13
2:06
AM ET
Day 1A continues to roll on, and fatigue is starting to settle in. The coffees and Red Bulls are flowing at the Rio as players complete their eighth hour of competition on the day. Keeping focused on each day of the main event is a priority for all players, but for the poker veterans around the room, these final few hours are when they'll settle in and build their stacks.

"Players get the feeling that they need to chip up during the last level of the day," said Lee Childs, seventh-place finisher in the 2007 WSOP main event. "You just have to remember to play according to your stack and not panic to get chips. It's a long tournament."

Russell Thomas acknowledged the fatigue of the players and said, "There's a lot of money on the line. Why would you not do everything possible to stay focused?" Thomas finished in fourth place last year and has started off strong this year with an above-average stack heading into the final level.

The first former main event champion has been eliminated from the 2013 World Series of Poker main event. Pius Heinz, sporting his customary gray hoodie, had his trips rivered by a straight early in Level 4 to be sent to the rail. The 2011 WSOP main event champion has played less poker of late and notched only one cash during the 2013 Series. Actor Jason Alexander also failed to make it through Day 1 for the first time in his seven years of WSOP participation.

The rail in the room is sparse, but a slow, steady stream of tourists have been catching the action and providing the room with a little more life. There's a very serious tone on Day 1A, but given the evolution of the strategy and general composition of players here in Vegas, there's no surprise that the fanfare and comedy that once graced Day 1 have disappeared. The main event is all business.

Small Blinds: The tables in the orange section are being broken at this time. ... Faraz Jaka made a strong lay down of the final hand of Level 4 to keep his main event hopes alive. After flopping top two, he folded to an all-in river bet and was rewarded as his opponent showed a flush. ... Tables are starting to order drinks together. Rounds of beers and shots will be common throughout the rest of the night. ... Paul Pierce was eliminated in the $10,000 pot-limit Omaha world championship. He missed out on the money by about 30 spots. That event is currently on dinner break with 61 players remaining. ... There are 12 players remaining in the Little One for One Drop. First place in that event is worth $663,727. ... There are at least 3,200 players registered for the main event. That number will continue to grow significantly. ... Lee Childs and Dan Fleyshman are seated together, as is Justin Bonomo and Phil Galfond. ... Many former November Niners are in today's field, including Steve Begleiter and Scott Montgomery. ... Phil Hellmuth found his way into the dunk tank and into the water at the WSOP's "Block Party" tonight. Those who donated money toward One Drop were able to try to sink Hellmuth.

July, 6, 2013
7/06/13
6:41
PM ET
I'd love to say that the first level of Day 1A was filled with tremendous moments that have defined a tournament that lives up to the main event billing, but thus far, the first day has been relatively calm with only a few eliminations.

After the first two-hour level of the tournament, it seems that the main event is simply missing something. The field today is sparse, and at times there were tables playing five- or six-handed. The shuffling of chips that typically deafens the Amazon Room is limited, and as an observer of the industry, it's relatively unsettling. The fans aren't really lining the rails, the hallways are easy to navigate, and after years of watching the WSOP squeeze players into 10-handed tables, Day 1A is anything but reassuring.

Take this with a grain of salt since official numbers for the day aren't in and it is only the first level of the main event but the lack of attendance today sends me one distinct message: The amateurs aren't here. Note that it's not that they aren't coming, but they just aren't here ... yet.

Walking around the rooms today, I've seen a lot of familiar faces. Such players as Mike Sexton and Matt Glantz along with recent champs Pius Heinz, Joe Cada and Greg Merson are in Day 1A action. It was hard to walk through a section of tables where I didn't recognize a player, and that isn't the norm. Day 1A usually features a strong mix of amateurs and pros, but this year, the field is pro-heavy.

The WSOP began to offer the first starting days of the main event on the weekend as a way to give players who have other jobs an opportunity to play. They could play Day 1A and, if they lose, are back to work on Monday.

Before I get ahead of myself and send a doomsday message way too early, there are a number of other possibilities as to why this is a small field today. First, Day 1A is always the smallest. As we know, poker players often wait until the last minute to register, and as a result, Day 1C is always the biggest. Players may wait as they are trying to satellite in, are flying into Vegas today or woke up just not feeling like playing. The satellite room was completely packed this morning and probably will be for the next two days. Without the online poker effort, the WSOP reacted intelligently and made these a big part of their plans. Thus far, they have been successful.

Nolan Dalla, the WSOP's media director, offered that amateurs will begin on Day 1B or 1C to limit their time in Vegas. Hotel rooms are definitely more expensive on Friday or Saturday night than Sunday or Monday, so if they're looking to save some money, that may be part of the strategy. Players that survive today will wait two days to play again compared to only one day in between for Day 1B and 1C.

On top of all of this, there are still other bracelet events being played out, which reduce the potential player pool on Day 1A.

The jury is still out, but if I'm the WSOP and I'm looking at empty registration lines on what should be one of the biggest days of the Series, I might not sleep too well tonight. In all honesty, I hope I'm way off on this one.

Small blinds: When players arrived at their tables today, there was a bag of Ruffles chips waiting for them. Considering they are one of the sponsors of the event, it makes sense. ... Joe Cada is seated at the feature table with a limited audience. ... Actors Jason Alexander, Kevin Pollak and Robert Iler are in today's field. ... The WSOP should do a banner-raising ceremony next year for the previous main event champion. Or maybe it should do that for the Hall of Fame. Just an idea. ... The calls of "seat open" are few and far between today. Those will pick up later. ... Congratulations to Flaminio Malaguti, who won the Bluff-sponsored Deepstacks Player of the Series award, which provides him with a seat into the WSOP main event. He won four events and had eight final tables throughout the WSOP Deepstacks. ... Paul Pierce is in action once again at the WSOP, but this time it's in the $10,000 pot-limit Omaha event. ... The final table of the Little One for One Drop will stream on ESPN3 later tonight.
July, 6, 2013
7/06/13
8:36
AM ET
LAS VEGAS - As I sit at the Rio and wait for poker's most famous words to be spoken in front of the Day 1A field, all I can see is the faces. The faces filled with tears of devastation. The faces of those that watched their $10,000 buy-in go up in flames with the turn of a card and the faces of those whose hopes have been crushed by a cruel game that can reward you for doing everything right with an unexpected elimination. I've seen thousands of those faces, searching for a quick exit and a way to forget the worst day of their year.
But those aren't the only faces.
I'll also see the faces filled with elation. The faces of Joseph Hachem screaming "Aussie Aussie Aussie! Oi! Oi! Oi!", Jamie Gold smiling with bricks of cash, Jerry Yang telling his miraculous tale of survival, Peter Eastgate's business-like nature as he calmly positioned himself behind millions, Joe Cada with his friends wearing maize and blue, Jonathan Duhamel being mobbed with flags draped over him, Pius Heinz listening to his serenade and Greg Merson realizing his dreams had come true. These are the faces of those who celebrated their accomplishment in the one tournament in poker that can change a life forever.
Those are the faces the world remembers ... and it's time to add another one to that list.
For the past eight years, I've had a front row seat for the World Series of Poker main event and starting on Saturday, it begins once again. During the 2013 World Series of Poker we've seen record-setting fields, the biggest high roller event in the history of the game, an astounding number of repeat final table appearances and a nail-biting player of the year race. It's been an incredible five weeks on the action-filled WSOP felt, but now it's time for lives to change.
Joe Giron/WSOPWho will follow in Greg Merson's footsteps as WSOP main event champion?
On Saturday, the quest for the biggest bracelet of them all begins at the Rio. Every player that takes his or her seat over the next three starting days shares only one goal: win the main event. While the dreams are the same, the destinies will not be. Only nine players from among the masses will survive the upcoming 10 days of grueling competition and come one step closer toward seeing their picture on the walls of the Amazon Room. From there, only one will follow in the footsteps of Greg Merson and become the next world champion and ambassador of the game.
For me, the best part is the journey. It's the discovery of the next big star and how their life has brought them to a moment on the precipice of glory. From the professionals simply looking to add another notch into their belts, to the amateurs with $10,000 and a dream, the main event is the ultimate reality show with intriguing "characters" from all walks of life. Poker remains the only international game where the amateur of all amateurs can sit with the pros on any given day, and the best part is, in that one given moment, anyone can win.
Chris Moneymaker validated that idea 10 years ago and started a boom that not many engrained among the industry believed would be possible. He changed the game forever with a mistake (he thought he was entering a cash tournament, not a satellite), and now, we stare at a tournament that occupies most of one of the largest convention centers in Vegas. Moneymaker said recently that the game had evolved so much that he didn't think a true amateur could win ever again. There will be thousands out there this weekend hoping to prove him wrong.
Here's a look at the breakdown of this year's main event:
For the second consecutive year there will be three starting days (Days 1A, 1B and 1C) from Saturday to Monday. Those that make it through Days 1A and 1B will remain separate for their Day 2 on Tuesday, July 9. Day 1C survivors play on Day 2C (July 10) and finally, on July 11, the field will come together and compete as one until the final nine are determined most likely during the early hours of July 16. The nine players will then collect ninth-place prize money and head home for the next few months to prepare for the biggest final table of their lives on November 4. Coverage of the main event will air on ESPN every Tuesday night and yes, the main event will be broadcast "live" this fall.
This blog is my home to share the stories and faces that will determine the next stage of the poker industry. If there's someone you want to hear more about, post it in the comments section. Not getting enough coverage? Head to my
Twitter feed
and get more rapid updates. There will also be daily Poker Edge podcasts complete with recaps and interviews with the chip leaders and chats at SportsNation each weekday.
Whose face will we remember from 2013? It's time to shuffle up and deal.