July, 14, 2013
7/14/13
5:28
AM ET
LAS VEGAS -- Day 5 was moving day at the 2013 World Series of Poker main event as players tried to build their stacks and gain an edge heading into the final few days. Greg Merson's title defense
ended early on Day 5
, as did the hopes of Greg Mueller, Annette Obrestad, Marvin Rettenmaier, Vivek Rajkumar, Max Steinberg, Ronnie Bardah and Day 4 chip leader Jon Lane.
While 2012 ninth-place finisher Steven Gee continues his quest for back-to-back final-table appearances, it was Sami Rustom's time to shine and he'll lead the final 68 players who will continue their quest Sunday for the bracelet and the $8.3 million grand prize.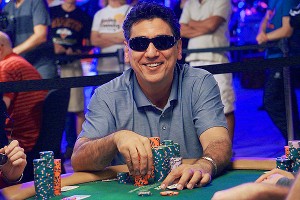 Jay Newnum/BLUFFChip leader Sami Rustom is all smiles as he competes on Day 5 of the WSOP main event.
Rustom began the day second in chips and maintained a spot in the top 10 nearly all day, finishing with 7 million. He edged out Canadian Marc McLaughlin for the lead by just a few big blinds, and it was McLaughlin who received a vote of confidence at the end of the night in the form of a tweet from the reigning champ.
"For those who want a great player to root for in the main its @Go_Irish_Go, very talented online cash game player. Gl man," said Merson.
McLaughlin had six career WSOP cashes prior to this main event, including one final table and two in the main event.
Ryan Riess, runner-up in the 2012 WSOP Circuit Hammond main event, made the biggest move at the end of the night and finished in seventh with an eye on the final table. The Michigan State alum was pleased with his play and felt that his timing was great on such a critical day.
"I ran really good today," said Riess. "It's amazing [to be among the leaders]. I'm honestly speechless. All I wanted to do since I was 14 is play poker, and after the Circuit main event in Hammond last year, it gave me enough money to travel and play, and we're still in it."
Carlos Mortensen's quest for a second main event title continued with a strong upswing late in the night. Mortensen entered the day with 302,000 in chips and put them to use quickly and efficiently all day. His best level came after dinner and at the expense of a cooler to Rettenmaier (K-K against Q-Q), and he was able to turn on the aggression to finish the night with 2.6 million in chips. With this cash, Mortensen will have at least $11 million in lifetime career earnings.
The last woman standing is Australian Jackie Glazier, who was all smiles as she left for the night with 4 million in chips thanks to one key river card. Glazier moved all-in on a board of 8d-6c-2d-8s for just over a pot-sized bet of 1.5 million. Chris Johnson thought for minutes as Glazier anxiously awaited his decision with a stare at the felt. Johnson called with 7-7, which was ahead at the moment. Glazier showed Ad-10d and needed an ace, 10 or diamond, and as the dealer placed the 10h on the river, Glazier's rail erupted in an "Aussie! Aussie! Aussie!" chant that made the entire room turn and wonder if Joe Hachem had returned. Glazier, a member of Team Ivey, now has six career WSOP cashes, including one final table.
"I actually didn't think he was going to call there, " she said. "It was a very ballsy call, but the hero call doesn't always pay off. ... [If I make the final table], there will be one big party in Melbourne."
Some notes on the strength of the remaining field:
There are five World Poker Tour champions left (Mortensen, Noah Schwartz, Yevgeniy Timoshenko, JC Tran, Mark Newhouse)
Marc McLaughlin has made the top 100 in the WSOP main event in three of the past five years
Yevgeniy Timoshenko has won the WCOOP main event and the WPT Championship
There are seven bracelet winners remaining (Mortensen, Tran, Amir Lehavot, Rep Porter, Steven Gee, Vitaly Lunkin, Jim Collopy)
There is one EPT champion, Vladimir Geshkenbein.
Here are the chip leaders after Day 5:
1. Sami Rustom (7 million in chips)
2. Marc McLaughlin (6.6 million)
3. Jason Mann (6.5 million)
4. Maxx Coleman (6.2 million)
5. George Wong (5.7 million)
6. Sylvain Loosli (5.6 million)
7. Ryan Riess (5.6 million)
8. Keanu Tabali (5.4 million)
9. Matthew Reed (5.2 million)
10. Chris Lindh (4 million)
Small blinds:
Steven Gee peaked at 3.3 million and ended the night at 1.4 million. He was not happy with his play at the end of the night, but was happy he still has a chance. ... 2013 bracelet winner Jesse Martin was live tweeting at the feature table with an eye on Rep Porter and JC Tran. ... While some players planned on leaving for the night and going to bed, others planned on heading to the craps tables. Or at least that was the plan. ... When action resumes Sunday, the blinds will be 25,000/50,000 with a 5,000 ante. ... The average stack is 2.8 million. ... There are nine players who are returning Sunday with fewer than 20 big blinds. ... Amazon table No. 440 tomorrow features Mortensen, Tran and Timoshenko. Translation: You'll see this table on TV. ... The Day 5 Poker Edge includes interviews with Merson, Glazier, Riess, Schwartz and Gee.
July, 13, 2013
7/13/13
6:48
PM ET
LAS VEGAS -- Greg Merson's bid for a back-to-back main event title has ended. The 2012 world champion was short all day and moved all-in with A-2 midway through Level 22. Brett Richey called, showed A-K and held as the board ran K-3-2-9-4. Merson received a warm ovation from the crowd as he exited in 167th place, earning him $42,990. While the result wasn't exactly how he envisioned this tournament playing out, he still was a bit satisfied and relieved.
"It's a relief that someone else is going to win," said Merson after his elimination "I mean, I was trying to win, but I don't like this whole media stuff. ... Honestly, during this main event, every break wasn't a break. My breaks were when I was playing poker. It was hard to get privacy to relax, but it is what it is."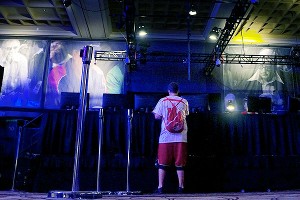 Jay Newnum/BLUFFGreg Merson confirms his elimination with the tournament staff on Day 5.
Merson, who has a close relationship with Phil Ivey, believed that the idea of getting a trailer outside of the Rio, like Ivey did, is the right thing to do to avoid the attention. That said, Merson did his best as an ambassador for the game, even if he didn't want the spotlight.
"I wanted to represent the game as well as I can," said Merson. "It's just that a lot has changed since online poker shut down, and the opportunities for myself are much different than the previous nine winners. It's a lot easier to do five interviews a day when you have a seven-figure contract, but I pretty much represent Ivey Poker and myself. I never went into poker to be this big famous person, and if I'm not getting paid for it, I could care less. I don't care about the glamour or anything."
Regardless of his feeling toward interviews and everything that comes with being the man with the most prestigious bracelet in the game, Merson played a phenomenal main event with a patient approach that, for the second consecutive year, was essentially flawless. He let others get involved in the major confrontations and avoided big variance spots, and that led him past more than 12,000 players in the main event over the past two years.
From here, Merson, who said he found a great life experience from all the traveling he's done over the past year, will go on vacation, then back to Macau for the biggest cash games in the world. He's also looking forward to relaxing at home a bit, which he said would make his parents very happy.
Small blinds:
Lots of screams around the Amazon Room today as the friends and family of the players have started to arrive and are cheering loudly from the rail. ... Chris Lindh is the first player with more than 4 million in chips. He has taken over the lead from Jon Lane. ... One hundred forty-nine players remain in the main event. ... Annette Obrestad has 2.6 million in chips. She leads the final four women in the field. ... A guy who was recently eliminated has been staring at the tournament clock for two minutes. He doesn't want to leave. Wait, he just left. And walked over to another one. ... At one of the outer feature tables the players are talking about making the final table. Steve Gee chimes in saying that he made it, and one of the players asks him when. He says last year and it was shrugged off. Guess there's no respect for the final remaining member of last year's final table. ... Carlos Mortensen is the last remaining WSOP main event champion.
July, 13, 2013
7/13/13
5:14
PM ET
LAS VEGAS -- It's cold in here. The Amazon Room at the Rio All-Suite Hotel & Casino is home to the world's biggest poker tournament, but after the removal of most of the tables and 97 percent of the field, the vast open space is simply being filled by emptiness and one strong air conditioner. Only 239 players returned on Day 5, and that field was reduced in a hurry with more than 50 eliminations coming in the first level of play.
Greg Mueller made three final tables at the 2013 WSOP and two in 2012 and is a two-time bracelet winner from an incredible run in 2009. He has found success in all variations of the game but said after Day 4 that things just haven't gone right for him in the main event. Mueller did make the money in the main for the first time in his career this year, but Day 5 resulted in a walk out the doors and frustration all over his face.
Mueller opened the pot with J-J and, after a call from the big blind, flopped a set on a K-J-5 board. Mueller's opponent decided to put his chips in with a flush draw and hit, sending the former professional hockey player out in 226th.
"Soooooo crushed!!!," said Mueller on Twitter. "Played my heart out flopped middle set and lose to a flush... Thx for all the support!!! This one stings baaaad!! :("
Deep runs:
The effort of defending champion Greg Merson is one of the most significant storylines remaining, but he's joined in good company by a number of players who have found their way deep in the game's biggest event before. In fact, this year is becoming eerily similar to Peter Eastgate's 2009 main event (78th) when the third-place finisher in 2008, Dennis Phillips, finished 45th. Merson and Steven Gee are playing those roles this year, and both continue to grind with below-average stacks.
More stats about a few of the 180 remaining players:
Although they didn't make the final table, Amit Makhija and Roland Israelashvilli both made Day 7 last year. Both were eliminated during this past level.
Chip leader Jon Lane finished 88th in 2005 and added another 500,000 to his stack during the first two hours today. His poise is really something that stands out, and above all, he's clearly having fun. That's great to see.
Brandon Steven bubbled the main event final table in 2009. With his lucky masseuse by his side, he's already chipped up to 1.6 million today.
JC Tran is deep once again. Look at this: 2004 (117th), 2005 (117th), 2007 (493rd), 2008 (108th), 2012 (561st), 2013 (??). Simply impressive.
Grayson Ramage finished 35th in 2009.
2001 WSOP main event champion Carlos Mortensen is making his third cash in this year's event. He finished 217th in 2007.
Small blinds:
Only four women remain in the field after the eliminations of Estelle Denis and Kristy Gazes. ... Merson is seated at the feature table with Brett Richey. Chip leader Jon Lane is sitting at an outside feature table. ... The plan is for five levels today, but we might be down to the final 27 by then at the rate this is going. ... Regarding my note about Nauru: Apparently the registration desk confused the Netherlands with Nauru. Nobody in the main event field is from Nauru. Unfortunately. That would have been a crazy story. ... The shuffle machines will now be used. That should speed up play a bit, which I'm not sure is needed. ... Eliminations during this past level include Scott Freeman, Vivek Rajkumar and Josh Field. For many online poker fans, the elimination of "JJ Prodigy" is probably of significant interest due to his troublesome past.
July, 13, 2013
7/13/13
6:26
AM ET
LAS VEGAS -- The Amazon Room feels more spacious than ever after a fast-moving Day 4 of the World Series of Poker main event. Only 239 players remain in contention for the $8.3 million top prize, and Jonathan Lane will lead the field into Day 5 action Saturday. Day 4 featured some dramatic moments, especially the elimination of Doyle Brunson, but began with a quick money bubble and the eruption of the room in applause after the
elimination of Farzad Bonyadi
. All players who made the money earned at least $19,106.
Lane finished Day 4 with 2.8 million in chips, a third of which came in a big pot against Nicholas Immekus late in the night when he made a strong call on a seven-high board postflop with his A-K to eliminate Immekus and his A-4. He was able to chip up slowly throughout the rest of the day, avoiding the major confrontations.
"I pretty much played solid poker, had some good fortune and ran it up," said Lane who is playing in his sixth main event. "This is what it's all about. This is the dream. I've been working to this for a long time, and I just want to take it home."
The Wisconsin native played online a lot before Black Friday but hasn't been playing all that much recently. He's played 20 events this WSOP with one small cash, but he can't help but think about the fact that the main event is an altogether different beast and an event where he's already found success. Lane finished 88th in the 2005 WSOP and was chip leader.
"It would mean a lot," Lane said about making the final table. "I've always dreamed about it, and I'm just trying to focus and, through willpower and determination, get through the field. You only get so many chances to go through the main."
Lane, Grayson Ramage, Ami Alibay, Vladimir Geshkenbein, Victor Cianelli and Vincent Robert were the only players to bag more than 2 million in chips, but there's a long way to go until the final table. Only a handful of players in this room understand what it takes to make it there, especially defending champion Greg Merson, 2001 champion Carlos Mortensen and Steven Gee, ninth-place finisher in the 2012 main event. It was a roller-coaster ride for Merson's stack for the second straight day. He peaked near 1 million, was as low as 350,000 and left for the night with 635,000 after a two-level stint of playing very conservatively. He preached patience throughout his run last year, and that's what has led him here once again.
Although Merson, Mortensen, Gee, 2007 WSOP Europe main-event champion Annette Obrestad, Marvin Rettenmaier, JC Tran, Brett Richey, Max Steinberg, Yevgeniy Timoshenko, Vivek Rajkumar, Brandon Steven and Greg Mueller all made it through and carry with them results that stand out from the rest of the field, the star power in the main event was greatly affected with the
elimination of Brunson
in Level 18. The 10-time WSOP main-event bracelet holder battled greatly for the past four days, but ultimately pushed at the wrong time and ran his K-10 into the 10-10 of Sergei Stazhkov. Brunson received an incredible ovation as he left the Amazon Room, but -- just like every other year -- he was disappointed with his result. Brunson finished 409th and earned $28,063. Michael Mizrachi, Marcel Luske, Matt Stout, Bertrand Grospellier, Allen Cunningham and two members of last year's final table, Russell Thomas and Rob Salaburu, were among the 427 eliminations.
Here are the chip leaders after Day 4:
1. Jon Lane (2.8 million in chips)
2. Sami Rustom (2.4 million)
3. Grayson Ramage (2.4 million)
4. Victor Cianelli (2.1 million)
5. Seaver Kyaw (2.0 million)
6. Yann Dion (2.0 million)
7. Vincent Robert (1.9 million)
8. Marc Emond (1.9 million)
9. Robert Sichelstiel (1.9 million)
10. Ami Alibay (1.8 million)
Day 5 begins at noon PT on Saturday, with the blinds at 8,000/16,000 with a 2,000 ante.
Small blinds:
Five players at Jon Lane's starting table on Day 5 have more than 1 million in chips. ... Tables are incredibly spaced out now in their setup for Day 5. Lots of room for camera crews to maneuver and a big rail for fans. ... JC Tran was down to just six big blinds on Day 3. Now he has 1.1 million in chips. ... The hallway that leads to the Amazon Room is turning back into a regular hallway and not a major poker-retail center. ... Farzad Bonyadi not only bubbled the main event but then finished 17th in the event at the Bellagio where 15 paid. ... Friends and family have started to arrive at the Rio. ... One player seated at an outside feature table didn't return from the final break until about 20 minutes into the last level of the night. He told his table he fell asleep and his friends had to wake him up. ... Day 5 used to play down to 72, but I'm not sure that's the plan for Saturday. They might play a full five levels again. ... The payout system was really organized this year. No crazy lines or angry players. It seemed as if the WSOP has perfected this process. ... Apparently, the player ninth in chips, Robert Sichelstiel, is a big fan of the Poker Edge. Cool. ... The TV production team put a mike on Umang Dattani, who told us he had never been on TV before. On his very first hand, he gets dealt a royal flush. ... The massage therapist staffers might need to start cutting back. There were way too many masseuses without work, although I did see a guy on the rail getting a massage. ... There are still two players in the main event representing the Republic of Nauru. According to Google, in 2010, the population was only 9,322.
July, 12, 2013
7/12/13
8:27
PM ET
LAS VEGAS -- The bustouts continued at a rapid rate on Day 4, and only 430 players are returning from the Level 17 break. Jay Farber has moved into the lead after a stellar start and, most recently, gathered more chips as an opponent moved all-in against him after he flopped a full house. He began the day with 604,000 in chips and now has 1.6 million. He's currently seated with Marcel Luske and has been moved to one of the featured tables.
Farber might hold the edge, but Max Steinberg continues to maintain his strong position. Steinberg owns a top-five stack (1.4 million in chips) at the moment and has remained rather stoic at the outside feature table on a day when the Amazon Room is simply hectic. Players and tables are being shuffled in and out, but Steinberg's towers just simply continue to grow as he focuses on getting the job done. Coincidentally, Steinberg has worked with mindset coach Jared Tendler in the past.
The fact that four members of last year's final table remain in contention has created some fun table dynamics on Day 4. Doyle Brunson, with 260,000 in chips at the break, spent the first level next to Steven Gee, and when that table broke, the seat next to him was filled by Rob Salaburu. Defending champion Greg Merson (644,000) is now seated next to Gee, and at the table next to them is Russell Thomas, who had a railbird named Jake Balsiger looking on for a while.
While he didn't make the final table last year, Roland Israelashvilli did last to Day 7 in 2012 and is in great position for another run with one million in chips. 2006 Main Event final table member and five-time bracelet winner Allen Cunningham has also made a good move in the chip counts, having started the day with 268,000 and now approaching 550,000. All four guests on the
Day 3 Poker Edge podcast
, Yevgeniy Timoshenko, Amit Makhija, Melanie Weisner and Steinberg remain in contention. Timoshenko has chipped up most out of that group at a tough secondary feature table that features 2007 WSOP Europe Main Event champion Annette Obrestad.
Day 1C and 2C chip leader Mark Kroon, Michael Mizrachi, Erik Seidel, James Bord, Isaac Haxton, Paul Wasicka, Stephen Chidwick, Bryn Kenney, Rupert Elder and Blair Rodman were among the eliminations during the past level. Mizrachi's run ended with a gradual downswing throughout the day, and, ultimately, King-Jack failed to overcome Ace-King all-in preflop. This was Mizrachi's third WSOP cash this summer, with one final table appearance.
Blinds are now 4,000/8,000 chips with a 1,000-chip ante. There will be one more level before the dinner break.
Small blinds:
Thomas is the first former November Niner to approach one million in chips. Guess that Jason Somerville coaching thing worked. … Tables are starting to be removed from the Amazon Room as soon as the tournament staff breaks them. There's more open space on the floor, which helps camera teams get in better positions to cover the action. … Former "Nuts" panelist Court Harrington has been at one of the outside feature tables all day and has 500,000 in chips. Harrington owns a few businesses in North Carolina in addition to playing poker. … According to the WSOP's Jess Welman, 14 women made the money in this year's event, and 12 remain in contention.
July, 12, 2013
7/12/13
6:19
AM ET
If you're a short stack right now in the 2013 World Series of Poker main event, getting to sleep after Day 3 isn't going to be very easy. Another five levels of play concluded early Friday morning with 666 players remaining in the biggest tournament of the world. The field sits just 18 spots from the money, and when players return at noon PT on Friday, one of the biggest moments of the year will arrive with a significant amount of excitement and anxiety for all who sit at the WSOP's felt.
The bubble dynamic is always fantastic. The short stacks do anything to try to hold on for as long as they can, and the big stacks love it as they try to punish the scared money. The opportunity to build a stack presents itself only at a few key junctures of the event, with the bubble being the first. The pros also will be active as the
$19,106 (the minimum cash)
isn't what they're searching for. As professional rounders, the goal is always the final table, and that approach is only magnified in the main event.
Max Steinberg won't be worried at all on the bubble. Neither will chips leader Maxx Coleman, legend Doyle Brunson, defending champion Greg Merson or Michael Mizrachi.
Steinberg ended Day 3 third in chips and with a smile on his face.
"I started out with 39,000 and now I have 987,000," he said. "I would say this day went much better than expected. ... I'm just happy that I had a day that players dream of, from going from such a short stack to such a big stack."
Steinberg's status in the main event changed when he
eliminated Phil Ivey
in a set-over-set situation. Armed with 1 million in chips at that point, he coasted for the rest of the day and finished with 987,500 in chips. Some in the Amazon Room, stunned by the result, debated whether Ivey could've saved his stack so early in the tournament.
"I don't think he can really get away from the hand," Steinberg said of Ivey's elimination. "When I called I thought he could've had a combo draw ... I don't think there's anything wrong with the way he played it."
Steinberg,
a bracelet winner in 2012
, had two runner-up finishes in bracelet events this year. He has $1.8 million in career tournament earnings.
After Steinberg's table was moved off feature, he sat next to the player who attracted a strong rail pretty much the entire day: Brunson.
Earlier this week, Ty Stewart unveiled a bronze bust of Brunson as a way to honor his illustrious career. What he didn't realize was that Brunson had no intentions for his career to end anytime soon. For the third day in a row, Brunson put on a clinic. The 79-year-old looked tired during the fourth level of play, but when he returned for the final session, he looked like a young kid with a big grin as he knocked out two players in the first half hour to increase his stack and ultimately end the night with 626,000 in chips. Attempting to get a little bit of extra rest, Brunson did leave with 18 minutes left in the level.
"I have so much respect for Doyle," Steinberg said. "He was the poker player who before there were coaching sites, he figured out how to play poker well, by himself. He created ideas that lasted years and years. He didn't have computer programs to tell him anything, like hard math. I have all the respect in the world for him. He has a lot of chips. If I get out, I'm cheering for Doyle."
Brunson is one of three main event champions remaining after Day 3, and while it's nice that Carlos Mortensen is still in contention, Merson, deservingly, is getting the most attention. Merson sat in front of the cameras all day, and his stack fluctuated greatly until the final level of the night when he settled down as the action around him escalated. He finished with 390,500, and if he's able to last through the bubble, he'd be the first main event champion to cash in the year after winning since Peter Eastgate in 2009.
Merson is one of four members of last year's final table to make Day 4 (Russell Thomas, Steven Gee and Rob Salaburu are the others), and the trend of former November Niners making deep runs once again is something to watch. In addition to the four from 2012, Ivan Demidov and Michael Mizrachi are representing their final tables. Before the November Nine format, Day 3 survivors Paul Wasicka, Russell Rosenbloom and Allen Cunningham made the final table of the big one.
Among the 1,087 eliminations on Day 3 were many of the game's stars.
Phil Hellmuth exited
quietly before dinner, as did Johnny Chan, Ivey, Daniel Cates and Liv Boeree. Jean-Robert Bellande's elimination just 40 minutes into the day was the most surprising one of all given his 21st-place chip count at the end of Day 2, and his result simply displayed the unpredictability of the game. Actor Kevin Pollak, Elisabeth Hille, Kenny Tran, Andy Frankenberger, Scott Seiver, Phil Collins, Jason Senti, Sam Holden, Jeremy Ausmus and Eoghan O'Dea also fell short of a main event cash.
Day 4 will begin with the blinds at 2,500/5,000 with a 500 ante.
Here are the unofficial chip leaders after Day 3:
1. Maxx Coleman (1.0 million)
2. Joshua Prager (993,000)
3. Max Steinberg (987,500)
4. Dick van Luijk (940,000)
5. Vladimir Geshkenbein (900,000)
6. Nick Schwarmann (893,000)
7. Matthew Huey (885,500)
8. Chris Johnson (862,000)
9. Umang Dattani (848,000)
10. Kevin Williams (808,500)
Small blinds:
Tournament director Jack Effel announced to the field late on Day 3 that the champion was in the Amazon Room since all the players were finally in one place. There was a lack of an ovation, but the players did take to Twitter to share the news. ... Eliminations came at a rate of 1.81 players per minute. ... Greg Merson finished Day 3 in 2013 with 24,500 more than what he had at the end of Day 3 last year. ... Both Brandon Steven and Greg Mueller got massages the entire day. Steven joked he needed to make the final day to break even on the cost. ... Mark Kroon entered the day with 507,000 and finished with 343,000. ... Mike McClain spent time with Doyle Brunson and Humberto Brenes during the last level. If that name sounds familiar, he was "agony of defeat" guy in our WSOP broadcasts in 2004 or 2005. Oh, and he also has $1.1 million in tournament earnings. ... Third-place Max Steinberg and fourth-place Dirk von Luijk are seated together to start Day 4. ... There was no way the players were going to make the money Thursday night. Even if the number got closer, the WSOP staff would've stopped the action. ... The Day 3 Poker Edge podcast features Steinberg, Amit Makhija, Yevgeniy Timoshenko and Melanie Weisner. ... Bubble day is probably my favorite day of the main event. If you're in Vegas, come by around noon for one of the most fun/intense moments of the entire WSOP.
July, 12, 2013
7/12/13
1:48
AM ET
LAS VEGAS -- Call it a cooler or a sick spot or whatever you want. Phil Ivey's elimination was one of the most shocking hands we've seen so far in the main event, and Max Steinberg is thrilled that in the biggest pot so far this WSOP, the cards ran in his favor.
Seated at the final table, Ivey opened and was called by Olaoluwa Okelola, Max Steinberg and Anthony Gregg. The flop came As-10h-3s, and Ivey bet 16,000. Okelola raised to 41,000 and Steinberg called. Gregg folded, and with the action back to Ivey, he moved all in for 416,000. He was called instantly by Steinberg, who showed middle set (10-10), completely dominating Ivey's bottom set (3-3). With one out and two cards to come, Ivey collected himself and watched as the turn and river couldn't save his main event hopes. He walked out of the Amazon Room quickly with his head down as Steinberg smiled in front of the biggest stack in the room.
There were only 783 players left in the main event as players left for their final break of the night. Doyle Brunson is one of them, but it's clear that the 79-year-old legend is fatigued at the moment. Sitting at one of the outside feature tables, Brunson is seated at a table that gives him an unbelievable amount of respect, not just in life, but at the table. He's been able to chip up without major confrontations essentially all day and has a strong stack of 400,000 entering the final two hours. Brunson told the WSOP's Nolan Dalla that he might leave a little bit early to get some extra sleep. Tom McEvoy was eliminated during the last level, leaving only three former champs in search of another championship bracelet (Brunson, Merson, Mortensen).
The money bubble bursts at 648 players, and as much as I'd like to say this would be the level at which play slows down, I just can't imagine it playing out like that. Just as I've probably said every year since I started covering poker, the aggression level is at an all-time high this year. Compared to a similar starting field on Day 3 in 2012 when 720 players advanced to Day 4, we're going to be well beneath that number. If the final two hours play out anywhere near what we've seen all day, the bubble will be ready to burst during the first level of tomorrow's action.
Small blinds:
The main event bracelet is currently placed outside of the feature table area. Ridiculously shiny isn't the best description, but that's what I'll go with.
It's valued at $500,000
. ... 2010 WSOP main event bubble boy Brandon Steven lost more than half his stack in the last level, essentially in one key hand in which he folded aces face up on the turn. ... Michael Mizrachi said that the play at the feature table is too slow. He was getting up and walking around in between hands to keep himself occupied. He also stopped and looked at the bracelet, held out his wrist and said it would look good there. ... The Brasilia Room is almost empty. It's always special when all the players are in one room and someone makes the announcement that the main event champion is actually in Amazon. ... The rail is quite substantial tonight. Guess everyone just got into town. ... Recent eliminations include Andy Frankenberger, Sorel Mizzi, Jared Hamby, Anthony Gregg, Haralabos Voulgaris, Philipp Gruissem and Shannon Shorr.
July, 10, 2013
7/10/13
5:58
AM ET
LAS VEGAS -- New year. Same story.
Greg Merson arrived in the Amazon Room Tuesday morning with a smile on his face as he greeted the fans who went out of their way for a moment of the champ's time. After unbagging his well-above average stack, he settled in at his table in the Amazon Room, put on his headphones and went to work. Merson quietly picked up a couple of pots to start the day and broke six figures in a hurry. The trend continued with a little luck (A-Q>Q-Q) and he was over 150,000. After the first break his table broke and he found himself at a stacked table that included Dan Fleyschman, Olivier Busquet and a very familiar face: Wilfried Harig.
It was Merson's elimination of Harig on Day 7 of the 2012 WSOP main event that sparked his momentum last year and the two sat side-by-side for only an orbit before Merson took out the German once again. However, unlike last time when Merson trapped his opponent for his tournament life on the river, he needed to hit a two-outer. The defending champ did just that, eliminated Harig and began his surge to the top of the chip counts.
"I went up every single level today," said Merson. "It's very rare and I'm very happy with it. … Against Harig [that hand] is just insane. ... Honestly I was really surprised that he shook my hand. I don't think I would've been able to do that. I would've just frustratingly got up and left, especially with what happened last year."
Merson and the other survivors of Day 2 A/B will have a day off Wednesday before returning for Day 3 action Thursday. The defending champion is prepared to savor every moment during the off day as he is one of just a few who knows what it will take to make it through the following five consecutive days of competition.
"If anyone's gone to Day 5 or Day 6 [in this tournament], they understand how you have to play. How they have to shrug off losing big pots, understanding not to give up when you get down to 15 or 20 big [blinds] when you're playing two-hour levels."
Merson, Jason DeWitt and Kenny Tran highlighted the big stacks from Day 2A, but in Pavilion (Day 2B), even though he wasn't the chip leader at the end of the day, everyone took notice that Doyle Brunson was bagging a big stack once again.
"I feel like a truck ran over me," said a tired Brunson after the 10-hour day. "I don't even know any of these kids, but they're all really good players. I'm really impressed with the quality of the play."
The 79-year-old member of the Poker Hall of Fame finished the day seated next to another poker legend, Dewey Tomko, and will bring 224,000 into Thursday's action. His focus remains on the next day, but he couldn't help but imagine what would happen if everything goes his way.
"Another win for me in the main event would really be a climax to a long career. It's very unlikely, there are a lot of good players left, but I appreciate the chance."
Three former main event champions -- Merson, Brunson and Dan Harrington -- have kept their quest alive for a second title. However, 2009 WSOP champion Joe Cada and 2003 champ Chris Moneymaker could not and they were joined on the rail with Mike Matusow, Dan Smith, Mike Sexton, John Juanda, Matt Salsberg, Eugene Katchalov and Steve O'Dwyer. Three members of last year's final table, Russell Thomas, Steven Gee and Merson, advanced as well. Gee finished the night 14th overall.
Nick Schwarmann ended the day as the chip leader and was the only player over 400,000 in chips. The Florida native has four career WSOP cashes, including a runner-up finish earlier this WSOP in
Event 38
. A total of 800 players from the Day 2 A/B fields advanced to Day 3.
Here's a look at the chip leaders after Day 2A/B:
1. Nick Schwarmann (413,600)
2. Jason DeWitt (382,900)
3. Aage Ravn (370,900)
4. Sergio Castelluccio (360,500)
5. Rupert Elder (342,500)
6. Mikhail Petrov (328,000)
7. Felix Kurmayr (324,800)
8. Ian Gordon (324,600)
9. Nick Guagenti (322,600)
10. Raj Vohra (322,200)
Other notables moving on include 2013 bracelet winners Anthony Gregg, Cliff Josephy, Miguel Proulx, Jared Hamby and Jonathan Taylor, online icons Phil Galfond, Annette Obrestad and Daniel Cates, and former November Niners Matt Jarvis, Steve Begleiter, Kevin Schaffel, Ivan Demidov and Eoghan O'Dea.
The Rio will be full once again on Day 2C. Phil Ivey, Phil Hellmuth, Daniel Negreanu and Michael Mizrachi highlight the 2,000-plus player field that begins at noon PT Wednesday. Those who survive the day will join the players who made it through Day 2 A/B Thursday when the field comes together for the first time.
Small blinds:
A good majority of Kenny Tran's chips came at the end of the night when he made a good call with bottom set against his opponent's top pair. Mike Matusow turned to him and asked why it took so long for him to call. Tran answered and Matusow sat back down at his table, where he'd be eliminated on the next hand. ... Actors Ray Romano and Kevin Pollak both advanced. Romano, with 90,000 in chips, had never made Day 3 prior to this effort. Pollak, with 36,000, made Day 5 last year. ... Wednesday's Poker Edge podcast features Brunson, Merson and Pollak. ... There was a much more lively feeling in the Brasilia Room compared to the Amazon Room. ... Former November Niner Matt Jarvis is getting married a few weeks after the main event. ... Kevin Schaffel told me today that tournaments just aren't fun to him anymore. He has stepped away from poker almost completely and spends his time playing golf and traveling the world. ... Eric Mizrachi was the only Mizrachi brother to play on Day 2 A/B and was eliminated. Michael and Rob return to action on Day 2C. ... There were only a couple of loud outbursts today at the tables. As the days go on, the emotions get higher and those become more common. While it may rub some players the wrong way, at least some players care about winning and losing, and they aren't just non-emotional robots at all times. I've seen players win seven figures and barely crack a smile. There's something about that sort of attitude that's frustrating to me as an observer. ... I'm constantly tweeting pictures from the WSOP floor. You can check them all out
here
.
July, 10, 2013
7/10/13
12:34
AM ET
Remember everything I wrote in the last blog? It's time to turn the tables. The younger generation of poker players has played in thousands more tournaments than the old guard. They've studied the game and taken strategy to a new level to the point at which they believe they have every situation analyzed in their mind before it happens on the felt.
Doyle Brunson and Erik Seidel are still coasting through Day 2, but they aren't leading the way anymore. Midway thorough the fourth level of the day, the top 10 chip leaders look like what you'd see if someone were to craft a list of the game's young rising stars.
Raj Vohra leads the field and has for most of the afternoon. The former tennis pro turned to poker after seeing Joseph Hachem's victory in 2005 and hasn't looked back since. He's won major online tournaments, finished fifth in a WSOP event in 2008 and cashed in the Main Event two years ago. So far on Day 2A/B, he's positioned himself for a deep run and appears to like his table as he sits in the Brasilia Room.
Also in the top 10 is some guy named Greg Merson. Yes, the defending champion. Merson has gained chips in each level on Day 2A/B, most recently due to his river-found elimination of Wilfried Harig. That might sound familiar to most as -- if you caught any of the Day 8 action during last year's Main Event -- Merson put a similar beat on the German then to eliminate him from contention. With 250,000 in chips, Merson is the talk of the Amazon Room and will be if he's able to bag a leading stack later tonight.
If you're at all familiar with the online poker scene, "OMGClayAiken" is perhaps one of the most famous handles in the world. The owner of that handle, Phil Galfond, revolutionized the online game and has become a vocal leader for the younger generation of professional poker players. He's founded online training sites and competed in the game's nosebleed cash games in which he found tremendous success. Unlike some other online stars, Galfond's online success has always translated to the live game. In 2008, he won his first bracelet and, just weeks ago, he was the runner-up in the $25,000 six-handed event. He made a deep run in the 2010 WSOP Main Event, finishing 141st, and is on his way to another one, thanks to a big hand before dinner in which he flopped a set and enticed his opponent to put his 40,000-chip stack into the center.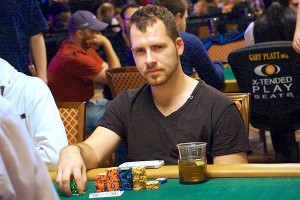 Jay NewnumDaniel "Jungleman" Cates is among the leaders on Day 2 A/B.
Then there's Daniel "Jungleman" Cates. His handle is synonymous to a swingy, aggressive player who had major bankroll issues prior to Black Friday. He never truly found his comfort zone in live tournaments, and that's why his presence in the top 10 is that significant after nearly two days. While the confidence level is high for the other three on this list, Cates' past doesn't allow for me to make that claim just yet.
Blinds are now 500/1,000 chips with a 100-chip ante.
Small blinds:
Legends Doyle Brunson and Dewey Tomko are seated together. … Former Main Event champion Joe Cada was eliminated shortly before the dinner break. … Dan Harrington is wearing his customary green hat in Brasilia today. You just can't miss him. … Third-place finisher in the 2012 WSOP Main Event, Jake Balsiger, was eliminated after dinner. Merson and Russell Thomas are the only two remaining players from last year's final table in action today. … Dinner? Not for everyone. It's always funny when you walk to dinner break with the players and instead of going into the restaurants, they go right to the craps table. … The WSOP hosted a screening tonight of the poker documentary "Bet. Raise. Fold." … Has anyone seen the list of Team Ivey pros these days? Who are these people? … The world's former No. 1 online poker player, Chris Moorman, was eliminated during Level 9. … Ray Romano was spared Erik Seidel's aggression as their table recently broke. … There are five tables left in the Orange section of Amazon, which means there are a total of 36 tables left from the Day 1A field. … Matt Glantz defeated Greg Mueller in the World Series of Board Games during dinner. Mueller was tilted over his loss in "Guess Who," with the board featuring only poker players. I am 1-0 in it. Take that, Lance Bradley. … Rob Salaburu was looking for sponsorship from Ultimate Poker on Twitter. Do we think they bite? … There is a huge rail around Merson's table, which also features Olivier Busquet and Dan Fleyschman. … Annette Obrestad, the youngest "main event" champion in history (she won WSOP Europe in 2007), is also one of online poker's biggest stars and recently moved into the top 10 as well. She's definitely part of the conversation discussed above.