July, 10, 2014
7/10/14
6:50
AM ET
Three starting flights and two Day 2s have left 1,864 players in contention for the 2014 World Series of Poker main event title and $10 million.
And everyone is chasing Phil Ivey.
Ivey had a main event day that every poker player in the world dreams of. The 10-time bracelet winner started the day among the leaders, but separated himself from the pack to become the biggest stack in the room just a few hours in. The hand that padded Ivey's stack featured a three-way all-in after a flop of 10-9-6. Ivey flopped bottom set and trailed the flopped straight of Lazaro Hernandez. As the table stared at the 300,000-chip pot, Hernandez, holding the best hand, said "good game" and Ivey asked him why. His reply: "You're Phil Ivey."
Hernandez was right. Ivey made a full house on the river to knock out his opponents and move into the chip lead. The Amazon Room began to buzz with talk of Ivey's chip count and while the comments weren't filled with desperation, the acknowledgement of Ivey in this position was comical to many.
#HaveFunCounting @philivey's chips on the last break of the night pic.twitter.com/AJTXAx0Pvv

— Andrew Feldman (@AFeldmanESPN) July 10, 2014
"I'm feeling pretty good. I had a pretty big day," said Ivey at the end of Day 2C. "This is the most chips I've ever had after Day 2."
Ivey was the first and only player to have more than 500,000 in chips. He peaked at approximately 520,000 and loosened up at the end of the night, which resulted in a small setback. Still, Ivey was in command of a table whose total chips of the other eight players may not have equaled Ivey's stack.
"$10 million means a lot. It's a lot of money. I'm trying to win it, but more importantly I want to win the main event," Ivey said in an interview for the
Day 2C Poker Edge podcast
. "It's been my dream since I first started watching poker. As you get older you and start playing more tournaments, and you start thinking about your place in poker history. To win the main event would be a big part [of my legacy]. Hopefully I get it done this year."
Despite the chip lead, it's Day 3 and we can't crown Ivey just yet. A number of other players had some big success on Day 2C, including Raul Mestre, who finished the day with 477,900, good for second overall.
"It's obviously been an incredibly good day for me. I haven't won many huge pots, it's just when I've been bluffing, they've worked -- I've been lucky they didn't have a strong hand," Mestre said to BLUFF. "I just managed to win almost every medium pot, which is crazy. I understand I've been running like a demon here."
Mestre finished 427th in 2009, the same year Ivey made the final table.
Others advancing to Day 3 with above-average stacks include
Poker Players Championship
winner John Hennigan, Griffin Benger, Daniel Alaei, Tom Marchese and Greg Mueller.
"The main event is a roller coaster mentally and emotionally and you have to stay composed," Mueller said. "You can't get too rattled ... You just have to try and plug away. The main event is the sickest tournament ever."
Mueller finished 226th in 2013 and after that event he spent nine months trying to get himself back into mental and physical shape for the WSOP. Five cashes and numerous cash game successes later, he's happy with his progress.
On the opposite end of the spectrum, it was a rough day to be a world champion. Phil Hellmuth, Joe Cada, Jonathan Duhamel, Joseph Hachem, Berry Johnston, Carlos Mortensen and Scotty Nguyen all busted, leaving Robert Varkonyi as the sole former champ survivor on the day. Hellmuth's elimination was the result of a few questionable plays and as he said on Twitter, he "Busted myself in #WSOPMainEvent."
Here are the unofficial top 10 chip counts from Day 2C:
1. Phil Ivey (505,000)
2. Raul Mestre (477,900)
3. Morgan Popham (407,600)
4. Peter Neff (389,200)
5. Isaac Baron (387,200)
6. Steve Tripp (380,400)
7. Brian Townsend (361,700)
8. Horacio Chaves Cortes (350,300)
9. Paul Bennett (343,700)
10. John Hennigan (342,700)
The entire field resumes as one beginning at noon PT Thursday. Another 10 hours will leave a field ready to make the money Friday and get one stop closer to winning the $10 million first-place prize.
Small blinds:
Paul Pierce survived the day with 48,600 in chips. …
Touching story
by BLUFF about Phil Hui and his dedication of the main event. … Both Gerard Pique and Martin Kampmann busted during the last level of the night. The UFC fighter and soccer star sat next to each other for a few hours Wednesday. … The outside feature tables aren't drawing too many fans. Players were complaining about the depth of the rail, which is understandable given the different table dimensions that are necessary for the television broadcast. … This year,
693 players
make the money. … Beers were flowing at Ivey's table at the end of the night. Corona was the beer of choice. … Congrats to Gaelle Baumann, the last woman standing from the 2012 WSOP, for winning the media tournament. Yup, a pro won the media event. Again. A few pros played with bounties on their heads, and they crushed us. My Q-Q lost to Q-J all-in preflop. Fun game. … The grinder of the day award goes to David Baker, who fought for most of the day under 20,000 before finally getting chips later in the the night. … Kareem Marshall leads Sean Yu, Christian Harder and Scott Clements in the final four of the WPT 500. The event, held at Aria, had a $1 million guarantee that was crushed to the tune of $1.8 million. … Last year's final table is down to just defending champion Ryan Riess, Jay Farber and Mark Newhouse. … Daniel Negreanu had a "horrendous last level of day 2 WSOP main event. Down to 39,800..." … ESPN.com's Bernard Lee finished with 118,400.
July, 13, 2013
7/13/13
5:14
PM ET
LAS VEGAS -- It's cold in here. The Amazon Room at the Rio All-Suite Hotel & Casino is home to the world's biggest poker tournament, but after the removal of most of the tables and 97 percent of the field, the vast open space is simply being filled by emptiness and one strong air conditioner. Only 239 players returned on Day 5, and that field was reduced in a hurry with more than 50 eliminations coming in the first level of play.
Greg Mueller made three final tables at the 2013 WSOP and two in 2012 and is a two-time bracelet winner from an incredible run in 2009. He has found success in all variations of the game but said after Day 4 that things just haven't gone right for him in the main event. Mueller did make the money in the main for the first time in his career this year, but Day 5 resulted in a walk out the doors and frustration all over his face.
Mueller opened the pot with J-J and, after a call from the big blind, flopped a set on a K-J-5 board. Mueller's opponent decided to put his chips in with a flush draw and hit, sending the former professional hockey player out in 226th.
"Soooooo crushed!!!," said Mueller on Twitter. "Played my heart out flopped middle set and lose to a flush... Thx for all the support!!! This one stings baaaad!! :("
Deep runs:
The effort of defending champion Greg Merson is one of the most significant storylines remaining, but he's joined in good company by a number of players who have found their way deep in the game's biggest event before. In fact, this year is becoming eerily similar to Peter Eastgate's 2009 main event (78th) when the third-place finisher in 2008, Dennis Phillips, finished 45th. Merson and Steven Gee are playing those roles this year, and both continue to grind with below-average stacks.
More stats about a few of the 180 remaining players:
Although they didn't make the final table, Amit Makhija and Roland Israelashvilli both made Day 7 last year. Both were eliminated during this past level.
Chip leader Jon Lane finished 88th in 2005 and added another 500,000 to his stack during the first two hours today. His poise is really something that stands out, and above all, he's clearly having fun. That's great to see.
Brandon Steven bubbled the main event final table in 2009. With his lucky masseuse by his side, he's already chipped up to 1.6 million today.
JC Tran is deep once again. Look at this: 2004 (117th), 2005 (117th), 2007 (493rd), 2008 (108th), 2012 (561st), 2013 (??). Simply impressive.
Grayson Ramage finished 35th in 2009.
2001 WSOP main event champion Carlos Mortensen is making his third cash in this year's event. He finished 217th in 2007.
Small blinds:
Only four women remain in the field after the eliminations of Estelle Denis and Kristy Gazes. ... Merson is seated at the feature table with Brett Richey. Chip leader Jon Lane is sitting at an outside feature table. ... The plan is for five levels today, but we might be down to the final 27 by then at the rate this is going. ... Regarding my note about Nauru: Apparently the registration desk confused the Netherlands with Nauru. Nobody in the main event field is from Nauru. Unfortunately. That would have been a crazy story. ... The shuffle machines will now be used. That should speed up play a bit, which I'm not sure is needed. ... Eliminations during this past level include Scott Freeman, Vivek Rajkumar and Josh Field. For many online poker fans, the elimination of "JJ Prodigy" is probably of significant interest due to his troublesome past.
July, 10, 2013
7/10/13
12:34
AM ET
Remember everything I wrote in the last blog? It's time to turn the tables. The younger generation of poker players has played in thousands more tournaments than the old guard. They've studied the game and taken strategy to a new level to the point at which they believe they have every situation analyzed in their mind before it happens on the felt.
Doyle Brunson and Erik Seidel are still coasting through Day 2, but they aren't leading the way anymore. Midway thorough the fourth level of the day, the top 10 chip leaders look like what you'd see if someone were to craft a list of the game's young rising stars.
Raj Vohra leads the field and has for most of the afternoon. The former tennis pro turned to poker after seeing Joseph Hachem's victory in 2005 and hasn't looked back since. He's won major online tournaments, finished fifth in a WSOP event in 2008 and cashed in the Main Event two years ago. So far on Day 2A/B, he's positioned himself for a deep run and appears to like his table as he sits in the Brasilia Room.
Also in the top 10 is some guy named Greg Merson. Yes, the defending champion. Merson has gained chips in each level on Day 2A/B, most recently due to his river-found elimination of Wilfried Harig. That might sound familiar to most as -- if you caught any of the Day 8 action during last year's Main Event -- Merson put a similar beat on the German then to eliminate him from contention. With 250,000 in chips, Merson is the talk of the Amazon Room and will be if he's able to bag a leading stack later tonight.
If you're at all familiar with the online poker scene, "OMGClayAiken" is perhaps one of the most famous handles in the world. The owner of that handle, Phil Galfond, revolutionized the online game and has become a vocal leader for the younger generation of professional poker players. He's founded online training sites and competed in the game's nosebleed cash games in which he found tremendous success. Unlike some other online stars, Galfond's online success has always translated to the live game. In 2008, he won his first bracelet and, just weeks ago, he was the runner-up in the $25,000 six-handed event. He made a deep run in the 2010 WSOP Main Event, finishing 141st, and is on his way to another one, thanks to a big hand before dinner in which he flopped a set and enticed his opponent to put his 40,000-chip stack into the center.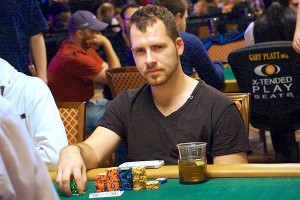 Jay NewnumDaniel "Jungleman" Cates is among the leaders on Day 2 A/B.
Then there's Daniel "Jungleman" Cates. His handle is synonymous to a swingy, aggressive player who had major bankroll issues prior to Black Friday. He never truly found his comfort zone in live tournaments, and that's why his presence in the top 10 is that significant after nearly two days. While the confidence level is high for the other three on this list, Cates' past doesn't allow for me to make that claim just yet.
Blinds are now 500/1,000 chips with a 100-chip ante.
Small blinds:
Legends Doyle Brunson and Dewey Tomko are seated together. … Former Main Event champion Joe Cada was eliminated shortly before the dinner break. … Dan Harrington is wearing his customary green hat in Brasilia today. You just can't miss him. … Third-place finisher in the 2012 WSOP Main Event, Jake Balsiger, was eliminated after dinner. Merson and Russell Thomas are the only two remaining players from last year's final table in action today. … Dinner? Not for everyone. It's always funny when you walk to dinner break with the players and instead of going into the restaurants, they go right to the craps table. … The WSOP hosted a screening tonight of the poker documentary "Bet. Raise. Fold." … Has anyone seen the list of Team Ivey pros these days? Who are these people? … The world's former No. 1 online poker player, Chris Moorman, was eliminated during Level 9. … Ray Romano was spared Erik Seidel's aggression as their table recently broke. … There are five tables left in the Orange section of Amazon, which means there are a total of 36 tables left from the Day 1A field. … Matt Glantz defeated Greg Mueller in the World Series of Board Games during dinner. Mueller was tilted over his loss in "Guess Who," with the board featuring only poker players. I am 1-0 in it. Take that, Lance Bradley. … Rob Salaburu was looking for sponsorship from Ultimate Poker on Twitter. Do we think they bite? … There is a huge rail around Merson's table, which also features Olivier Busquet and Dan Fleyschman. … Annette Obrestad, the youngest "main event" champion in history (she won WSOP Europe in 2007), is also one of online poker's biggest stars and recently moved into the top 10 as well. She's definitely part of the conversation discussed above.