August, 29, 2013
8/29/13
10:53
AM ET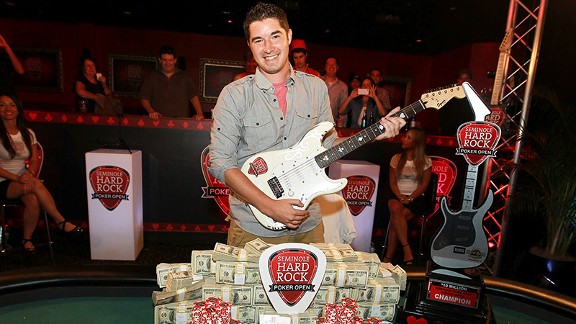 Ralph NotaroBlair Hinkle poses with his cash, trophy and guitar after his victory in the Seminole Hard Rock Poker Open Championship.
The past month has been filled with good times for Blair Hinkle. First, after waiting more than two years, the wheels are finally in motion for him to reclaim his seven figures stuck on Full Tilt since Black Friday. The Garden City Group, the organization that is assisting the asset forfeiture unit of the United States Attorney's Office for the Southern District of New York and the asset forfeiture and money laundering section of the United States Department of Justice, will start accepting
petitions for remission
on Sept. 16. At the time of his repayment, Hinkle would become a millionaire once again.
The only problem was that Hinkle didn't want to wait any longer to fill his bank account and, conveniently, one of the largest main events ever was about to kick off the new poker season.
The Seminole Hard Rock Poker Open Championship boasted a guarantee that is essentially unheard of these days: $10 million. Now, there are only a handful of events that get close to that number throughout the year, and putting it in August right after the WSOP seemed like a real challenge. With a $5,300 buy-in ($300 in fees), event organizers needed to hit the magic number of 2,000. With re-entries, it seemed possible to achieve, and with growing buzz surrounding the event for months, the players came through and all expectations were exceeded. A total of 2,384 entries created an $11.9 million prize pool, and it was Hinkle who outlasted them all to earn $1.7 million, his first career seven-figure live score.
According to the Seminole Hard Rock, the final table began with four eliminations in the first 58 hands. Greg Lehn (sixth), Samuel Bernabeau Guilabert (fifth), Ray Qartomy (fourth) and Mukul Pahuja (third) each turned their investments into at least $378,138, and once Pahuja was sent home, Hinkle and Justin Bonomo would settle in for a five-hour, 165-hand heads-up battle with a total of $2.9 million still up for grabs.
Hinkle began the match with a few million-chip edge, but given that the two had played extensively against each other in the past, that advantage was far from comforting. Once the cards were back in the air it was all Bonomo. He earned the lead quickly and peaked near a 5:1 edge. From that point, it seemed like a rinse and repeat. Hinkle would chip away to nearly even through smart, timely aggression and just when he was about to seize control, Bonomo would put the hammer down and take the lead once again.
Each time around it seemed that Bonomo's lead was simply insurmountable … but Hinkle never gave up. He earned his first double up with A-A against Q-9 to get back into it after 120 hands, but once again Bonomo was relentless and moved closer and closer to victory. After 200 hands, Hinkle's turning point finally arrived and at the perfect time with the blinds creeping higher. Down 3:1, Hinkle's 6-6 held all-in against Bonomo's 2-2 and just hands later, he had the lead. After a few hours of Bonomo's aggression rewarding him, Hinkle began to add pressure postflop to win some big pots and earn a little bit of breathing room. A 3:2 lead became a 6:1 lead in eight hands and Hinkle would score the win on the 223rd hand of the night as Bonomo moved all-in with Q-8 on a Q-9-5-J board and was drawing dead against Hinkle's K-10.
"It's a grind, especially with Justin being so good," Hinkle said of the heads-up match to the Seminole Hard Rock. "He just kept on putting pressure on me, and I kept waiting, and eventually the cards turned my way."
Hinkle,
a bracelet winner in 2008
, was supported by his friends and family, who continue to be amazed by his accomplishments.
"I am so proud of Blair for his win at SHRPO, but moreso for the character he's shown the last few years while dealing with a tough situation that was out of his control. He's shown nothing but class and has battled back without taking any shortcuts," said Blair's brother and
bracelet winner Grant Hinkle
to ESPN via Twitter. "The win was just the icing on the cake and validation of all the work he's put into the game of poker."
Bonomo, who initially wasn't planning on playing this event, just the $100,000 Alpha8, earned $1,163,500 to give him $7.1 million in career tournament earnings. "TY so much tweeps!! This is the biggest score of my poker career!," Bonomo tweeted as his timeline was flooded with messages of congratulations.
Here are the final table results from the Seminole Hard Rock Poker Open Championship Event:
1. Blair Hinkle ($1,745,245)
2. Justin Bonomo ($1,163,500)
3. Mukul Pahuja ($872,625)
4. Ray Qartomy ($639,925)
5. Samuel Bernabeau Guilabert ($494,490)
6. Greg Lehn ($378,138)
Small blinds:
November Niners offered a strong performance at the Seminole Hard Rock Poker Open. In the $5,300 event, Amir Lehavot finished 16th for $69,810 and in the $100,000 World Poker Tour Alpha8 debut, JC Tran finished second to Steven Silverman for $526,890. Silverman topped the 21-entry field for $891,660. Jeff Gross and Matt Glantz finished third and fourth. … Poker legend Bobby "The Wizard" Hoff died Sunday at age 73. "So sad to hear about Bobby Hoff. He was a true NL artist + always such a pleasure to see at + away from the tables. #RIPwizard," Erik Seidel said on Twitter. … The poker room at Maryland Live casino is
buzzing after opening
. … Real money online poker is coming to Delaware in October. … Promotion for Runner Runner has begun, and the AGA is hoping to use the movie as a motivator for legalizing the online game. … The World Championship of Online Poker begins on Sept. 8. … And finally... sorry Carter Gill, but you have replaced Mike McClain as the new face of WSOP agony.
July, 16, 2013
7/16/13
8:05
AM ET
The dreams of 6,352 have been reduced to only nine. The World Series of Poker main event final table is set with superstar JC Tran in the lead with 38 million in chips. He battled through a tough Day 7 to emerge with the biggest stack, mostly because of his relentless aggression as the final table bubble approached.
Day 7 began with 27 players and Anton Morgenstern in complete control. He spoke after play on Day 6 about his patience and many of the game's best told me before the day that they expected him to coast into the final table. Unfortunately the cards wouldn't oblige. Morgenstern made an interesting call and was dealt a major cooler during the second level to Mark Newhouse, flopping trip aces to Newhouse's full house. Morgenstern lost more than half his stack on that hand and shortly after he'd run into aces with A-J to fall in 20th.
The chip lead changed continually early as Newhouse and James Alexander couldn't hold on to their edges. Alexander had an
epic blow-up before dinner
and that opened the door for Amir Lehavot to take control and for most of the night, there was little doubt that Lehavot would be a November Niner. Once only two tables remained, the short stacks tried to find the right spots with timely three- and four-bets all-in. For some, such as Ryan Riess, it worked. For others, such as Rep Porter (12th), it did not.
Tran eliminated Matt Reed in 11th to create the unofficial final table. Seated on the main stage in front of hundreds of cheering and screaming friends and family, Newhouse walked up to the table with six big blinds and an agenda. He said he was going to make the final table and after a double up with A-6 over Q-4, that was absolutely the case.
With Newhouse slightly out of danger, Tran began to pressure the other stacks and ran into some interference. Riess capitalized most, moving from one of the short stacks to the middle of the pack.
Nobody in the Amazon Room expected to see what happened next: 2001 World Series of Poker main event champion Carlos Mortensen bubbled the final table. Mortensen didn't sit back and blind away, but got involved in few hands, which had onlookers stunned. Tran eventually captured Mortensen's chips after the Spaniard called all-in with Ac-9h on the turn of a 10c-6c-3s-9c board. Tran showed 8c-7s for a straight and Mortensen needed to find another club on the river to keep his dreams of a second title alive. With the 2d placed on the felt, the entire room erupted. The players headed to their rails to celebrate as Mortensen stood in the center of the stage just wondering how it all went wrong. For his 10th-place finish, Mortensen earned $573,204, his fifth-highest career cash.
Here are the 2013 November Nine:
JC Tran (38.0 million in chips):
The poker world wanted a star at the final table and in JC Tran, they definitely have one. He has won two WSOP bracelets, a WPT title and has $8.3 million career tournament earnings. This is his sixth cash of the 2013 WSOP and his sixth main event cash over the past 10 years. He had no fear of putting millions in the pot late and that's what boosted him into the final table as the chip leader. Tran said that the final table is just one of two great things to happen in November as his wife is due with their second child.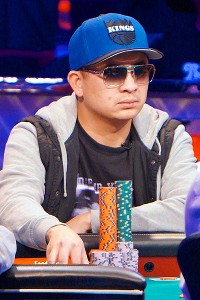 Jay Newnum/BLUFFJC Tran leads the 2013 main event final table.
"It's all for them now, it's not about myself anymore," said Tran. "I go out there for them and play for my family. ... The one guy that I really respected the most was the guy I just busted, Carlos Mortensen. I've played with him for many years and him and I have had some really good battles. ... I like the guy a lot, it's sad to see him go, but at the same time, I'm happy he's gone because he was the one I respected the most at that final table."
Amir Lehavot (29.7 mllion):
Talk about flying under the radar. The
winner of the $10,000 pot-limit hold 'em event
in 2011 was one of the shortest stacks to begin the day, but he capitalized most off of James Alexander's blow up during the third level on Day 7. This is the 38-year-old's 13th career WSOP cash and he will be the oldest player at the final table, where he'll try to become the first Israeli to win the main event. He's a professional poker player by trade, but also has a degree in engineering.
Marc-Etienne McLaughlin (26.5 million):
It has been quite a year for Canada at the World Series of Poker and McLaughlin is looking to continue that trend. This is his seventh career WSOP cash and more impressive, his third top-86 main event cash over the past five years. He has made one WSOP final table, finishing third in a $1,500 event in 2011.
"It's a wonderful feeling, and I don't think I fully realize it right now," McLaughlin said. "Three months of party and joy. That's what I'm thinking about. And some sleep."
Jay Farber (25.9 million):
The 28-year-old nightclub promoter played a lot of poker before Black Friday and just recently turned to having a, as he said, "real job." He plays the cash games in Vegas and decided to enter some satellites because he believed there was added value. Farber won his way in and as far as his November Nine preparation, two players on his rail were none other than former November Niners Ben Lamb and Michael Mizrachi. This is his first career WSOP cash and second main event.
"I'm amazed I made it," said Farber. "You just think you're going to show up and see what happens. I just stuck with my style of poker and played the way I thought would be the most effective with the least amount of variance and it worked out well."
Ryan Riess (25.8 million):
You're going to hear a lot about "Riess The Beast." The Michigan State grad found poker and has been motivated since a second-place finish at a WSOP Circuit main event to find greatness. Well, now he's here. Riess had one of the most vocal rails on the day, but he battled from the short stack with perfect aggression to make it this far. Expect the same heartfelt effort to show in November.
"I'm so happy, time to win this tournament in November," said Riess. "When we were short-handed, five-handed and six-handed, I feel like everyone was playing a little soft and I had the chance to run over them. I think they were all just really excited to make the November Nine and so I decided to start mashing."
Sylvain Loosli (19.6 million in chips):
The 26-year-old Frenchman is making his first career World Series of Poker cash and has only one tiny score on the EPT as part of his tournament resume. That said, he plays $25/$50 no-limit cash games online and if we look back at last year, some guy named Merson had those same credentials. Loosli likes being underestimated and hopes that he can exploit that image come November. More than anything, he wants to win this for France.
"I've very proud to represent my country," said Loosli. "I will do my best to prove that French players can be as good as American ones. ... [For the next four months] I'm planning on going on vacation and playing more live tournaments to keep improving my [live reads], plus work with some coaches."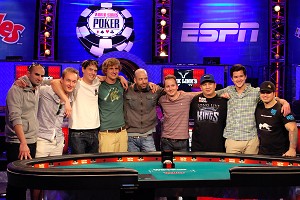 Vin Narayanan/Casino CityThe final table, from left: Sylvain Loosli, Michiel Brummelhuis, Mark Newhouse, Ryan Riess, Amir Lehavot, Marc-Etienne McLaughlin, JC Tran, David Benefield and Jay Farber.
Michiel Brummelhuis (11.2 million):
The Dutch pro has been successful around the world for the past six years and is one of the most respected players in that poker community. He has made WSOP final tables, earned six-figure scores and won side events. Now he has the biggest opportunity of his life and a chance to become the first world champion from the Netherlands. Brummelheis, 32, owes his tournament to a river 7 that gave him a straight with J-9 against Loosli's A-J, and now that he has the second chance, he isn't going to let it go easily. Just like Tran, he's expecting a child this year.
"He's one of the nicest, most well-respected tournament players and down-to-earth players I've ever had the chance to cover," said Remko Rinkema of PokerListings. "He's been winning online tournaments since 2007."
Mark Newhouse (7.3 million)
After his win on the World Poker Tour in 2006, Mark Newhouse fell quickly out of the poker spotlight and fell onto tough times. After the performance he put on during Day 7, many will remember the 28-year-old's determination and even though he's short, you can't count him out at the final table. Newhouse finished 182nd in the 2011 main event. Including ninth-place prize money, he has $2.7 million in career earnings.
"I'm feeling great, it was a crazy day," said Newhouse. "Anyone who knows me and who plays poker with me on a regular basis knows I'm not a patient person, but there's so much on the line [for the final table], you just have to do it sometimes."
David Benefield (6.3 million):
"Raptor" is one of the original online poker superstars in the post-boom era. The 27-year-old Texan was part of the support squad during Craig Marquis' run in 2008 and now he'll have his own shot. According to Brian Hastings, Benefield been active in the Macau cash games as of late while also studying political science and Chinese at Columbia. Prior to the main event, he had only one WSOP cash this Series, but made $115,000 in October with an eighth-place finish at the WSOP's 50,000 euro high roller event. If there was someone who played nearly perfect today, it was Benefield. While he tightened up on the bubble, he deserves this final table bid.
The November Nine leave the Rio with ninth-place prize money and will return to battle for the WSOP bracelet Nov. 4 and 5. The final table will be broadcast by ESPN.
1. $8,359,531
2. $5,173,170
3. $3,727,023
4. $2,791,982
5. $2,106,526
6. $1,600,792
7. $1,225,224
8. $944,593
9. $733,224
July, 16, 2013
7/16/13
1:59
AM ET
The dream has ended for Sergio Castelluccio, Bruno Kawauti, Chris Lindh, Fabian Ortiz and Jan Nakladal. The post-dinner action featured numerous changes in the chip lead and now only 13 remain the 2013 World Series of Poker main event.

The first three eliminations occurred at the secondary table with Nakladal's coming quick after players returned. The last Czech standing was coolered in 18th, running Q-Q into the A-A of Matt Reed. This was his first career WSOP cash. Reed used this momentum to jump into the top 10, but is seated in a tough spot with many big stacks surrounding him.

JC Tran headed to break second overall and his picking off Fabian Ortiz's river bluff is what propelled his run to the top. On a board of Ks-9c-7s-4h-6s, Ortiz moved all-in for 2.6 million and Tran tanked. He thought for a few minutes as his opponent sat back in his chair, avoiding eye contact. Finally, Tran put the chips in and Ortiz threw his A-Q dejectedly into the center of the table. Tran flipped over 9-8 and won the pot.

A few hands later, Chris Lindh three-bet all-in over an Marc McLaughlin open and was dominated as McLaughlin showed A-9. Lindh, with 10-9, flopped a gutshot straight draw (Kd-Qd-4d), but couldn't get there. The Goshen, N.Y., native turned Las Vegas resident was the final player at the $357,655 level.

When the final 15 returned from break, Rep Porter got lucky once again to score the elimination of Kawauti. The Brazilian rail got behind Kawauti's 10-10, but was silenced instantly as a seven-high flop gave Porter a set of sevens. Porter started the day 23rd out of 27 and now sits in ninth.

Castelluccio's exit came a few hands later as he ran A-5 into Amir Lehavot's K-K. Lehavot is now leading the field with 13 remaining.

Here are the chip counts:
1. Amir Lehavot (30.3 million in chips)
2. Sylvain Loosli (28.6 million)
3. Jay Farber (24.9 million)
4. JC Tran (22.9 million)
5. Marc McLaughlin (21.7 million)
6. David Benefield (12.3 million)
7. Matthew Reed (10.8 million)
8. Michiel Brummelhuis (8.5 million)
9. Rep Porter (7.8 million)
10. Carlos Mortensen (7.8 million)
11. Mark Newhouse (6.4 million)
12. Ryan Riess (6.1 million)
13. Alexander Livingston (3.9 million)

July, 15, 2013
7/15/13
5:22
PM ET
LAS VEGAS -- I've had chills since I walked into the Amazon Room this morning. The final day of the WSOP main event -- in July -- is here, and by the end of the night, we'll have our 2013 November Nine and a better idea of who will become the next world champion.

Steven Gee will not be returning to the final table in 2013 after another incredible main event run. The 2012 ninth-place finisher was cruising early with a knockout of Jorn Walthaus (26th place), but he moved all-in at the wrong time against chip leader Anton Morgenstern to finally find the exit. Gee opened from the small blind, Morgenstern three-bet from the big blind and Gee four-bet all-in. Morgenstern called instantly with 8-8 and had Gee in bad shape with 10-7. An eight flopped, and Gee received a warm ovation from the room as his quest for back-to-back final tables ended just short. He earned $285,408 for 24th.

Morgenstern had a first hour of relative inactivity, then became more aggressive as he felt out the dynamics at the feature table. He peaked near 30 million in chips, but gave away nearly four to JC Tran on the final hand of the level to finish with 26 million in chips. Tran was extremely active during the first two hours and is currently second in chips with 17 million.

At the secondary feature table, Chris Lindh benefited from a few key hands against Carlos Mortensen and has a five-million chip edge over his closest competitor at the table, Marc McLaughlin. Jason Mann was the only player eliminated from that table during the first level, moving all-in with 10-10 after a Q-5-5 flop. Lindh showed Q-9 and held to eliminate the one-time chip leader in 25th.

Benjamin Pollak was the other player eliminated during the first level, getting unlucky at the outside feature table as Maxx Coleman hit a straight with A-4 to top Pollak's 9-9.

If the final table were set right now, the players who would make up the November Nine are:

1. Anton Morgenstern (26.4 million in chips)

2. JC Tran (17.0 million)

3. Chris Lindh (15.8 million)

4. Sylvain Loosli (13.6 million)

5. James Alexander (13.1 million)

6. Fabian Ortiz (12.1 million)

7. Marc McLaughlin (10.5 million)

8. Carlos Mortsenen (9.5 million)

9. Sergio Castelluccio (8.6 million)


July, 15, 2013
7/15/13
3:38
AM ET
LAS VEGAS -- The World Series of Poker main event is only 18 eliminations away from reaching the biggest final table of the year. Play was halted after four levels of play on Day 6 and only 27 players remain in the hunt for $8.3 million. Steven Gee's quest for a back-to-back main event final table appearance remains alive, but similar to the past few days, Gee will bring one of the shortest stacks into action Monday. Gee said that the way he went out in 2012 has kept him up nights, and all he wanted to do this year was to just get back to Day 7 and have a chance at redemption.
"I just hoped for one more day," said Gee after play on Day 6. "I'm just taking it one day at a time. ... Anything can happen on Day 7, and I just wanted to get there and give myself a chance to play. I just needed one more day to [prove myself]."
Gee has outlasted 13,095 players over the past two main events, playing for an astounding 14 days total. He bagged 3.1 million in chips and with the blinds 60,000/120,000 with a 15,000 ante, he'll need to be active early. He entered Day 7 last year 22nd in chips. This year he's 23rd.
The man who everyone is chasing after Day 6 is Anton Morgenstern. The cash game player was born in the United States, but moved to Germany and looks to follow in Pius Heinz's footsteps with a November Nine bid. He built a substantial lead Sunday, playing a style that was envied throughout the Amazon Room. He was involved in only a few major hands, but for the most part, he simply chipped away at his opponents to win plenty of small pots. He ended the night with 21.9 million in chips.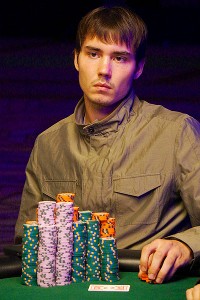 Jay Newnum/BLUFFAnton Morgenstern leads the final 27 in the 2013 WSOP main event.
"I had huge setups in my favor and that gave me the momentum, and with that momentum it's easy to pick up little pots," said Morgenstern to Bluff. "People don't want to mess with you if you always have the nuts at showdown."
Morgenstern may have the lead, but his starting table is anything but easy on Day 7 as it features four of the five top stacks. One of those stacks belongs to JC Tran, who absolutely dominated the feature table on Day 6. Tran, making his sixth cash in the past 10 main events, put on a clinic during the later levels with aggressive play and had no problem chipping up at a table that featured 2001 main event champion Carlos Mortensen and Yevgeniy Timoshenko. Mortensen remained stoic all day and looks to become the first repeat champion since Johnny Chan in 1989. Mortensen seemed confident after play Sunday and
told the Spanish press
, "If you want to make money, you'd bet on me."
Timoshenko was the chip leader for the first two levels, but dropped a bit during the last level to end with 5.3 million in chips.
There were plenty of brutal knockouts throughout the day, but the most dramatic elimination came just moments before play concluded as Jackie Glazier was eliminated in 31st. Glazier had battled on the short stack all day at the feature table. She managed to double up a few times by winning races, but she was unable to chip up naturally without her tournament life on the line. Down to around 2.4 million in chips once again, Glazier moved all-in with A-Q and was called by Sergio Castelluccio's 10-10. The flop of 9-9-9 gave Glazier an additional out, but she couldn't connect on the turn or river. She immediately felt the emotion and headed over to her rail and into the arms of her husband, clearly distraught. She wiped her tears away just long enough to do an interview, but the Australian's elimination was difficult to watch. In a game where keeping emotions in check is everything, her reaction is a simple reminder about what it takes for these players to come so close to their dreams, but miss it ever so slightly. This will be the 18th consecutive year the final nine will consist of all men.
Other Day 6 eliminations included Noah Schwartz, Jonathan Jaffe, Brett Richey, Vitaly Lunkin, Jim Collopy and Vladmir Geshkenbein.
Here are the chip leaders heading into the final day:
1. Anton Morgenstern (21.9 million in chips)
2. Sylvain Loosli (14.1 million)
3. Chris Lindh (12.0 million)
4. JC Tran (11.9 million)
5. Fabian Ortiz (10.8 million)
6. Carlos Mortensen (10.7 million)
7. James Alexander (9.4 million)
8. Jay Farber (8.9 million)
9. Matthew Reed (7.7 million)
10. Jason Mann (7.5 million)
The tournament will resume Monday at noon PT and will continue until the final table is set. The final nine players will then leave the Rio with ninth-place prize money and return for the final table in November.
Small blinds:
The chip leader on Day 6 last year, Marc-Andre Ladoucer, did not make the final table. In fact, only two of the top nine players after Day 6 last year made the final table. Two of the players in the bottom six after Day 6, Gee and Andras Koroknai, did make it. ... There are four WPT Champions remaining: Mortensen, Tran, Timoshenko and Mark Newhouse. ... There are five bracelet winners remaining (Mortensen, Tran, Amir Lehavot, Rep Porter, Gee). ... Similar to last year, the cash game pros are the ones excelling in this year's event. Morgenstern, Jay Farber and Chris Lindh all said they were big cash game players. ... The last chip leader to advance the following day was Mark Kroon on Day 2C. ... The minimum payout is $285,508.
July, 14, 2013
7/14/13
9:59
PM ET
The fun part about Day 6 is that we begin to really learn about the remaining players in the field. It's tough to gauge the caliber of player for most of the tournament, but on these final days with just a few tables left, every face becomes familiar and every player has a story.
We're beginning to know a little bit about Anton Morgenstern, the chip leader at the dinner break of Day 6. Morgenstern is one of three players with more than 10 million in chips, which he gathered mostly during this last level. He took the lead after a pot against Philip Long, then added a few more million without a showdown. He's picking his spots perfectly so far on Sunday and everyone in the Amazon Room has taken notice.
The award for most random Twitter avatar of the remaining players has to go to
Chris Lindh
, but his real story is his re-emergence here on Day 6. Lindh was the chip leader for part of Day 5, but fell out of the top spot in a hurry and ended the night in 10th. He fell further to start the day, but has been able to chip up with ease after that. Picking up aces versus kings also helps. He has knocked out a number of players over the past two levels and has 14 million in chips at the break.
JC Tran is third in chips heading to dinner after a constant clinic on aggression at the feature table. He's opening a ton of pots, three-betting more and putting his opponents to the test all the time. This is trademark Tran, though, and if there's one player whose hands I'm looking forward to seeing on television, it's definitely his.
Some notes:
Carlos Mortensen doubled up A-K over K-K by hitting a broadway on the river (10-J-Q-K-A). He has chipped up since that double to 6.4 million.
Jackie Glazier doubled up a few times during that level, but hasn't been able to top 4 million in chips
Blinds will be 50,000/100,000 with a 10,000 ante when players return
The average stack is 5.1 million in chips
Steven Gee, the ninth-place finisher in last year's main event, has 2.4 million in chips
The main event dream has ended for:
38. Somar Al-Darwich ($185,694)
39. Sami Rustom ($185,694)
40. Christopher Kinane ($185,694)
41. Josh Prager ($185,694)
42. Jonathan Jaffe ($185,694)
43. Phil Mader ($185,694)
44. Bryan Pellegrino ($185,694)
45. David Stephens ($185,694)
46. Vitaly Lunkin ($151,063)
47. Jamie Kaplan ($151,063)
48. Gaetano Preite ($151,063)
49. Oliver Price ($151,063)
50. Sebastian Gohr ($151,063)
The current chip leaders are:
1. Anton Morgenstern (19.0 million in chips)
2. Chris Lindh (14.0 million)
3. JC Tran (10.4 million)
4. Jay Farber (9.7 million)
5. Jason Mann (9.5 million)
July, 14, 2013
7/14/13
6:46
PM ET
The payout confirmation table attendants' heads are drooping in boredom in the far corner of the Amazon Room. With significant money on the line with every pay jump and players showing great patience at this stage in the tournament, eliminations have come sporadically. Only 11 players have been eliminated over the past two hours, including tournament regulars Noah Schwartz and Brett Richey.

Richey had been short stacked all day... actually, for the past three days. He fought incredibly well on Day 5 and just when he was able to chip up over two million, he lost a pot to Alex Bilokur and had trouble getting back on track for the rest of the night. He began Day 6 with a double up against Nicolas Le Floch, but ran K-Q into James Alexander's A-A and was eliminated in 54th place. This was Richey's 18th career WSOP cash and fourth main event cash since 2006.

At an outer feature table, it appeared that just when Schwartz had rebounded from the early cooler, he found yet another one. Bryan Pellegrino min-raised to 120,000 and by the time Schwartz's chips were in the center, so were Pellegrino's. Schwartz showed 7-7 and failed to top aces for the second time in three hours. He finished in 52nd. Pellegrino is known to the online world as "PrimordialAA," but he should be a familiar face to WSOP fans as he's finished in the top 160 in three of the past four years.

On the double-up front, JC Tran found his way into the top 10 by cracking Jorn Walthaus's A-A with 8-8 after the chips went in on a K-8-6 flop. Tran then doubled up the last woman standing, Jackie Glazier, calling her all-in with A-Q against A-K. Glazer now has stack comparable to that of Steven Gee, who also doubled up in the past hour.

The main event dream has ended for:

51. Jim Collopy ($151,063)
52. Noah Schwartz ($151,063)
53. Rachid Ben Cherif ($151,063)
54. Darryl Ronconi ($123,597)
55. Brett Richey ($123,597)
56. Robert Damelian ($123,597)
57. Brendan O'Neal ($123,597)
58. Keanu Tabali ($123,597)
59. Steven Watts ($123,597)
60. Andrea Dato ($123,597)

The current chip leaders are:
1. Yevgeniy Timoshenko (9.6 million in chips)
2. Sylvain Loosli (9.3 million)
3. JC Tran (7.9 million)
4. Marc McLaughlin (7.8 million)
5. Sami Rustom (7.4 million)

Small blinds: The agents have arrived. Not sure what the players are signing for, but at least there are attempts going on. ... It's fun to see what other pros show up to sweat the remaining players. It's about now we start to hear what players have pieces out, swaps, etc. ... The average stack is 3.8 million. The blinds are 30,000/60,000 with a 10,000 ante. ... The minimum payout at this point is $151,063.

July, 13, 2013
7/13/13
5:14
PM ET
LAS VEGAS -- It's cold in here. The Amazon Room at the Rio All-Suite Hotel & Casino is home to the world's biggest poker tournament, but after the removal of most of the tables and 97 percent of the field, the vast open space is simply being filled by emptiness and one strong air conditioner. Only 239 players returned on Day 5, and that field was reduced in a hurry with more than 50 eliminations coming in the first level of play.
Greg Mueller made three final tables at the 2013 WSOP and two in 2012 and is a two-time bracelet winner from an incredible run in 2009. He has found success in all variations of the game but said after Day 4 that things just haven't gone right for him in the main event. Mueller did make the money in the main for the first time in his career this year, but Day 5 resulted in a walk out the doors and frustration all over his face.
Mueller opened the pot with J-J and, after a call from the big blind, flopped a set on a K-J-5 board. Mueller's opponent decided to put his chips in with a flush draw and hit, sending the former professional hockey player out in 226th.
"Soooooo crushed!!!," said Mueller on Twitter. "Played my heart out flopped middle set and lose to a flush... Thx for all the support!!! This one stings baaaad!! :("
Deep runs:
The effort of defending champion Greg Merson is one of the most significant storylines remaining, but he's joined in good company by a number of players who have found their way deep in the game's biggest event before. In fact, this year is becoming eerily similar to Peter Eastgate's 2009 main event (78th) when the third-place finisher in 2008, Dennis Phillips, finished 45th. Merson and Steven Gee are playing those roles this year, and both continue to grind with below-average stacks.
More stats about a few of the 180 remaining players:
Although they didn't make the final table, Amit Makhija and Roland Israelashvilli both made Day 7 last year. Both were eliminated during this past level.
Chip leader Jon Lane finished 88th in 2005 and added another 500,000 to his stack during the first two hours today. His poise is really something that stands out, and above all, he's clearly having fun. That's great to see.
Brandon Steven bubbled the main event final table in 2009. With his lucky masseuse by his side, he's already chipped up to 1.6 million today.
JC Tran is deep once again. Look at this: 2004 (117th), 2005 (117th), 2007 (493rd), 2008 (108th), 2012 (561st), 2013 (??). Simply impressive.
Grayson Ramage finished 35th in 2009.
2001 WSOP main event champion Carlos Mortensen is making his third cash in this year's event. He finished 217th in 2007.
Small blinds:
Only four women remain in the field after the eliminations of Estelle Denis and Kristy Gazes. ... Merson is seated at the feature table with Brett Richey. Chip leader Jon Lane is sitting at an outside feature table. ... The plan is for five levels today, but we might be down to the final 27 by then at the rate this is going. ... Regarding my note about Nauru: Apparently the registration desk confused the Netherlands with Nauru. Nobody in the main event field is from Nauru. Unfortunately. That would have been a crazy story. ... The shuffle machines will now be used. That should speed up play a bit, which I'm not sure is needed. ... Eliminations during this past level include Scott Freeman, Vivek Rajkumar and Josh Field. For many online poker fans, the elimination of "JJ Prodigy" is probably of significant interest due to his troublesome past.