Poker:

Jean-Robert Bellande
July, 11, 2013
Jul 11
5:11
PM ET
LAS VEGAS -- Well, that was surprising. Day 3 began with 1,753 players and over 250 were escorted to the rail during the first level of play. One of those players entered Day 3 with a top 20 stack and had a history of main event success, but for Jean-Robert Bellande, his dreams of another deep run fell apart quickly and left him devastated on his way home.

"There just aren't words to describe this agony," said Bellande on Twitter. "Don't wish this on anyone. #brokedevastation."

Bellande's breakdown began as his A-K lost to his opponent's K-10. On the very next hand, he picked up kings and ran those into aces. Finally, with only 40,000 of his starting 320,000 chips left, he lost a race with 5-5 to A-K. Bellande did not cash in the 2013 WSOP.

Actor Kevin Pollak was equally crushed as his main event ended early during Level II, moving all-in with a flush draw and failing to hit against his opponent's two pair. Pollak made Day 5 a year ago and went out on a brutal Q-Q versus Q-Q bad beat. He was content with that run ending so deep in the money, but this year was altogether different as he felt he made a mistake that ultimately resulted in his exit.

Jeremy Ausmus, Sam Holden, Xuan Liu, Robert Mizrachi and John Racener were among the other eliminations during the first level of play today.

Mark Kroon and Michael Mizrachi continue to set the pace in the main event as they push 600,000 in chips. Former main event champs Carlos Mortensen and Doyle Brunson also had strong starts, while Johnny Chan, Greg Merson and Tom McEvoy lost a bit during early play.

Small blinds: There will be five levels played today. ... There is a bar and radio studio now located in the Amazon Room. The bar is a popular attraction. The radio booth? Not so much. ... Phil Ivey is sitting at the feature table today. Doyle Brunson, Minh Ly and Shawn Sheikhan are at the secondary feature table. ... There is one table in the Amazon Room that began the day with 1.1 million in chips. ... There are no tables in Pavilion left, and the room will no longer be used for main event action. ... The Humphries are here to cheer on Phil Ivey holding their "Go Phil Ivey" sign as always. ... The big stacks seem to all be in Amazon today. ... There are televisions located over each of the secondary feature tables which allows fans to have a better view of the action. ... I say it every year, but man, these guys are relentlessly aggressive. ... Only Greg Merson, Rob Salaburu, Steve Gee and Russell Thomas remain from last year's main event final table. ... Blinds will be 1,000/2,000 with a 300 ante when players return from their first break.




July, 11, 2013
Jul 11
5:47
AM ET
LAS VEGAS -- The biggest stars of poker returned to action on Day 2C, but only a few would bag up their chips at the end of a 10-hour session. Daniel Negreanu, Antonio Esfandiari, Joseph Hachem, Jason Mercier, Vanessa Selbst and Gus Hansen were among the players to walk dejectedly out of the Rio on Wednesday with their 2013 World Series of Poker now put behind them. On a day that began with a long list of notables in the field, the red pen was kept handy in the tournament area as many familiar faces were among the thousand eliminations on 2C.
Mark Kroon's main event is already one for the record books. The Wisconsin native entered and finished the day with the chip lead and owns the overall chip lead as the fields merge on Day 3. For the poker veteran, this run so far is one he'll remember forever.
"It's been unbelievable," said Kroon, who finished the day with 507,300 in chips. "To go back-to-back days as the chip leader after all the years of doing this, and to have the success in a $10,000 main event like this, it's just overwhelming."
The accomplishment so far is nice, but the field is still a full day and a few levels away from the money. Kroon, who believes he has played more hands of poker than the majority of players in this event, said he just needs to continue to stay focused, especially as chip leader.
"We've got so long to go," he said. "[A deep run] would mean the world to me. It's validation after all the years of playing."
Kroon finished the day in Brasilia adjacent to a table that had an unbelievable amount of chips. The two owners of those stacks: Michael Mizrachi and Jean-Robert Bellande. Mizrachi's stack ranged from 100,000 to 600,000 on the day, and he had a tough final level to head home for the night with 394,600 in chips. At one point during the day, he was the clear chip leader.
Bellande, clearly in his comfort zone, finished with 320,900. Not many players have the main event record that Bellande owns. He has cashed in three main events since 2008 and had plans for "survivor mode" on Day 2 given that he was about to face another big stack at his table. However, once that player lost his edge during the first hour, Bellande --
with masseuse in action
-- went to work.
"I'm real happy with today, I would've been content with maintaining," he said. "I've had a couple of very deep runs and I don't think I've had this many chips on Day 2."
Bellande managed to build in just about every level on Day 2C and that added confidence is key as the main event grind begins.
"This is comfortable for me, this is home territory," he said. "Sometimes maybe my opponents may be a little intimidated ... and I'm looking forward to another good day tomorrow."
There's a similar thread between Mizrachi and Bellande and that's keeping their heads on straight during challenging times. Phil Hellmuth, sitting just tables away from the duo, wasn't able to do that during the final level of play.
"Played great poker for 8 [hours], then lost it for a while," Hellmuth said on Twitter.
That "while" was a two-hour downswing that brought his stack from over 150,000 to 49,000 at the end of the night. Hellmuth struggled to win any confrontation against his newly formed nemesis and that repetition started a typical Hellmuth rant, a little bit of steam and a general sense of trouble for the 13-time WSOP champion. The end of the night came at the perfect time for him and he'll need to get in the right mindset quickly if he wants to rebound on Day 3.
Phil Ivey's day played out rather steadily with a positive end result. His stare was felt at three tables throughout the day and when he finally landed in Amazon, he was able to find some good spots late in the night to chip up without confrontation. He'll bring 198,200 into Day 3 and is looking for his first cash in the main event since his final table run in 2009. Players with similar stacks to Ivey include Allen Cunningham, Vivek Rajkumar, Bryn Kenney, Matt Affleck, Chris Tryba and last year's WSOP eighth-place finisher, Rob Salaburu.
"It feels awesome still being in here and have a shot at another run," said Salaburu.
Salaburu will be joined by his fellow final tablemates Greg Merson, Russell Thomas, Steven Gee and Jeremy Ausmus on Day 3.
Here are the unofficial chip leaders from Day 2C:
1. Mark Kroon (507,300)
2. Vladimir Geshkenbein (467,500)
3. Victor Figueroa (460,600)
4. Dirk Van Luijk (455,000)
5. William Reymond (405,000)
6. Michael Mizrachi (394,600)
7. Ryan Olson (364,700)
8. Peter Kamaras (354,400)
9. Yann Dion (348,200)
10. Jean-Robert Bellande (320,900)
Play will resume at noon Thursday with the entire field playing as one. There are approximately 2,000 players remaining in the event at this time.
Small blinds:
The feature tables will be used for the first time Thursday. I'm assuming Doyle Brunson will be the headliner to start the day. ... The husband and wife who were playing at the same table today advanced. ... There's an unfortunate story reported over Twitter and by
PokerListings
that Raj Ajmari was seated at his table on Day 1 when he was made aware of the passing of his father. Ajmari did not show up on Day 2C and was blinded out. ... The top four players in the WSOP Player of the Year race have been eliminated. ... Joseph Cheong was eliminated on Day 2. Since his run in 2010, Cheong has played 22 days of the main event. That is most definitely a record. ... I haven't been outside in five days. Send vitamin D. ... Political predictor Nate Silver and NHL goaltender Roberto Luongo were eliminated on Day 2. ... The only former main event champions remaining are Doyle Brunson, Greg Merson, Carlos Mortensen, Phil Hellmuth, Tom McEvoy and Johnny Chan. ... The busts of Chris Moneymaker and Doyle Brunson are now flanking the entrance way to the feature table area. While I think the premise is great, I'm not sure either one of them actually looks like the person it's trying to represent.
July, 9, 2013
Jul 9
1:54
AM ET
Michael Mizrachi is the most decorated player in the Day 1C field. No, I'm not talking about his three WSOP bracelets, two WPT titles or $14.4 million in tournament earnings; I'm talking about his patches. Over the past few years, perhaps since his November Nine appearance in 2010, "Grinder" has become one of the game's most prolific endorsers, and, today, sitting behind a massive 200,000-chip stack, these companies are going to be getting a heck of a lot of face time.
Observing Mizrachi's table tonight is simply entertaining. In true "Grinder" style, he's playing the majority of hands with limited discretion about what cards he's actually holding. From 3-7 to Queen-4 to Queen-9 to Jack-6, Mizrachi is calling or raising just about everything preflop and then winning the pots by either running good to get there or outplaying his opponents. Players often strategize with a thought process of putting a player on a hand, but against Mizrachi, it's pretty much impossible. That's just the way Mizrachi likes it.
Of course, there's a major concern with this strategy, and that's why Mizrachi most likely won't end the night with 200,000. His hyper-active approach, which he probably won't stop anytime soon, will either result in a significant padding of his stack or a substantial loss. The rest of the players at his table, including tournament veteran Scott Freeman, are probably just waiting for the moment to pounce and take advantage.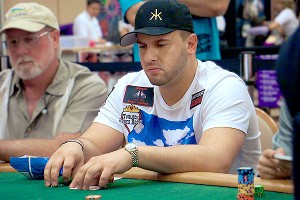 Jay NewnumThrough four levels, Michael Mizrachi is the Day 1C chip leader.
All that said, I'm talking about one of the true stars of the game. He puts in more volume through his travels around the world than 95 percent of his competition here at the WSOP. He's already made the Main Event final table during the post-boom era, and if there's anyone who can figure out a way to exploit his competition and do it again, it's Mizrachi.
As Mizrachi soars, he's joined at the top of the chip counts with a number of familiar faces: Vanessa Selbst, Freddy Deeb, Vivek Rajkumar, Jason Koon and Marvin Rettenmaier have all eclipsed the 100,000-chip mark. Shaun Deeb, Jeff Gross and Jennifer Tilly were eliminated during the last level.
Small blinds:
In the last 20 minutes of the level, Phil Hellmuth's stack went from 14,000 to 59,000. … Joe Hachem has agreed with his table that they'll show one card during each contested pot. That is definitely working out in his favor. He also said they'll celebrate the end of the night together with a round of shots. … At the table next to Hachem, Carlos Mortensen is preparing for a Day 2 chip castle construction. He's easily the leader at his table. … Rob Salaburu is back to his quick-acting ways. It's almost like he just throws a couple chips off the top in pure randomness just to beat his opponent into the pot. … David Sands might be the youngest player at his table by 15 years. … Jean-Robert Bellande and Eric Baldwin are seated together. … Will Failla has taken Jonathan Duhamel's seat in the Blue section. … Tournament director Jack Effel announced the prize pool to the field before the start of Level 5. The $8.3 million first-place prize received just a small round of applause.