July, 13, 2014
7/13/14
9:02
PM ET
A flurry of eliminations in the Amazon Room late in Level 27 left only 44 players in contention for the $10 million first-place prize at the 2014 World Series of Poker. Day 6 is planned for a lengthy 11 hours of play, or until the field reaches 24 players, and Kyle Keranen continues to cruise along. Keranen became the first player to top 12 million during the level, most of which coming at one of the toughest pro-filled tables remaining. Upon changing tables, he gave a bit back and finished the level with 9.6 million in chips.
The Bellagio cash game regular is still firing without hesitation. His ability to casually put out million-chip bets is keeping the pressure on at such a pivotal time in the tournament to position himself for a run at the final table. Still, his 38th-place finish from two years ago must sit in the back of his head as he gets through the day.
Dan Sindelar has chipped up constantly today and holds a slight chip lead over Martin Jacobson to leave the Amazon Room for dinner as the top stack.
At the feature table, Mark Newhouse has played a few big pots and recently eliminated Clayton Hamm with 10-10 over A-10. With 6.9 million in chips, Newhouse is ahead of his Day 6 pace from 2013 when he bagged 5.7 million. The other player to make Day 6 last year was Vitaly Lunkin who, after surviving numerous all-ins, was finally knocked out in 57th. Lunkin finished 46th in 2013.
Other eliminations include:
Matthew Waxman: The WPT and WSOP champion had played the short stack well for the past two days but couldn't run it up on Day 6. On his final hand, he was involved in a three-way all-in with Keranen and Eddy Sabat. Sabat's aces topped both Keranen's 10-10 and Waxman's 9-9 to knock down the chip leader and knock out the Florida Pro in 45th.
Bill Cole: The 70-year-old was probably having more fun at the table than anyone else. He ran nines into the aces of Robert Park to finish 58th.
Issac Baron: An unlucky spot for "WestmenloAA" resulted in his queens losing to Chris Greaves in 52nd.
Ryan Fair: Fair has cashed in each of the past three years and nearly eclipsed his 31st-place finish in 2009. Fair ran eights ran into the kings of Andoni Larrabe to exit in 48th.
Jason Johnson: Ryan Riess' pick to win the main event had his kings cracked and paid off Martin Jacobson's flopped set in a big pot mid-way through the level. Johnson finished 51st for his third six-figure cash of the 2014 WSOP.
Brian Hastings: Right after he finished watching the World Cup on his WatchESPN app, Hastings failed to hit his A-J against Andrey Zaichenko's K-K. He finished 64th.
Busto main 64th for $103k. Wouldn't change a hand I played today, sometimes it's just not meant to be. Thanks for the support!

— Brian Hastings (@brianchastings) July 13, 2014
Bryan Devonshire doesn't have a top-10 stack, but played a few big pots to crack the five-million-chip mark. In 2011, he finished Day 6 with 5.9 million in chips. Matthew Haugen isn't in the top-10 either, but he must be pleased with his comeback. The Day 4 chip leader doubled up on the final hand of Day 5 and needed to get his chips in early on Sunday in order to make a run. He's done just that. Hauten doubled through Newhouse to start (Q-Q > 10-10), then gave a bit back, then doubled through Lunkin and Cole before leaving the feature table. He's again a threat in this tournament with 5 million in chips.
Players are now on a 90-minute dinner break.
July, 13, 2014
7/13/14
5:33
PM ET
The World Series of Poker main event began eight days ago with 6,683 hopefuls looking to earn $10 million. Only 68 players are left chasing that dream.
Day 6 began with everyone following a few key storylines. The first was Maria Ho, who became the last woman standing for the second time in six years. Ho began the day as the short stack and needed to find a spot to double with the blinds rising after the first hour. Seated at the feature table, she moved all-in from under the gun for eight big blinds and was in trouble when Zach Hirst called and showed Q-Q. The flop brought her an eight, but also gave Hirst a set. She picked up a turn flush draw sweat, but didn't get there and was eliminated in 77th.
(1/?) Twitter silence over. Was busy trying to win the @WSOP Main Event but was not meant to be. Eliminated in 77th out of 6,683 players.

— Maria Ho (@MariaHo) July 13, 2014
Mark Newhouse is the also a primary focus of those in attendance as he looks to become the first player to make back-to-back final tables since Dan Harrington in 2003 and 2004. His day has not been productive thus far with him dropping more than two million in chips from his starting stack. While not the case anymore, when his table was moved to the feature table shortly after the break, he was seated with six other players who had less than half his stack.
The big chips remain at an outside feature table where Kyle Keranen is holding court. Keranen entered Day 6 with the chip lead in 2012, but couldn't hold it and went out in 38th place. He's determined not to that that happen again this year and has a two-million chip edge over Scott Palmer in second. Palmer's story is also intriguing as he was one of the world's top online cash game players prior to Black Friday. During the break, he explained that a lot of his money was locked up as a result of the indictments, and he has simply been "relaxing" in Maryland since. He estimates he has played maybe a few months worth of poker over the past few years as a result.
"I should've traveled overseas more," Palmer said. "But now the games are much tougher and less profitable. Everyone knows the math perfectly."
The Michigan poker dominance may also continue again this year.
"Ryan Riess used to deal to me at one of the charity rooms I played at," Jason Johnson said. "I saw him win last year and said if he can do it, why can't I?"
Johnson came out to the WSOP to play just a few events with a very limited bankroll. He quickly found success with a daily DeepStacks chop, a seventh in the millionaire-maker and third at another final table, and is now on his way to earning life changing money. He said he relies on really strict bankroll management and wants to bring the title back to his state for the third time in six years. The main event will be Johnson's third six-figure score over the past five weeks.
Another friend of Riess is Adam Lamphere, who doubled up early on the day to 1.2 million in chips.
Two players who have made deep runs in this event before, Anh Van Nguyen and Kyle Bowker, couldn't make magic happen once again. Van Nguyen secured his third top-106 finish over the past 10 years with his 73rd-place exit. Bowker finished 71st and cashed in the main event five times since 2006.
Small blinds:
Bill Cole has the loudest rail at the moment. … Tournament director Jack Effel announced that play will continue for five and a half levels today or until only 24 players remain. My money is on hitting 24 before the time limit. … The Day 4 and Day 5 Poker Edge podcasts will be posted today. Sorry about the delay. … Players from 12 countries remain in the main event field. … Seven bracelet winners remain in the main event. … Only one player from the top 10 in each of the three starting days remains in the main event: Martin Jacobson. Kyle Keranen was 13th on his starting day. … All remaining players will earn at least $103,025.
July, 13, 2014
7/13/14
7:15
AM ET
The unthinkable is quickly becoming a little more realistic. Mark Newhouse, the ninth-place finisher in 2013, leads the final 79 players after Day 5 of the World Series of Poker main event and looks to become the first November Niner to make it back to the final table. Players have come close before, including Steve Gee and his 24th-place finish a year ago, but Gee never had the chips. Newhouse, who demonstrated incredible patience on the final day last year, has a huge stack and is looking to continue to build it on Day 6.
"I'm trying not to think about it," said Newhouse of his chance to go back-to-back. "Last year I was very excited. This year I feel super relaxed and I'm just playing poker and having fun. I'm trying not to think about anything that will make me feel pressured or anything. Just doing the best I can."
His play was relatively straightforward on the day: find the right spots and get enough chips to punish everyone else.
"I was lucky enough to win some big pots early on and I just got a monster chip lead to the point where I could just raise every hand and nobody could do anything about it," said Newhouse.
The day began with Matthew Hauten in the lead, but the Chicago native couldn't hold the top spot through the first level, and needed a double-up on the last hand of the day to make it through. Bruno Positano then emerged after a shocking
pair of hands
that eliminated one-time big stack Zach Jiganti, but couldn't keep the chips, either. Griffin Benger led too, but he struggled at the feature table and busted with jacks versus queens early in Level 25. Kyle Keranen also had a shot of becoming the chip leader after Day 5 for the second time in three years, but he fell just short and finished second. Keranen received some redemption when he eliminated Curtis Rystadt, a player who had badgered him all day. The two shared verbal blows and it should make for some interesting television this fall.
Scott "urnotindanger2" Palmer finished the day third in chips and was a big beneficiary of a few ill-timed bluffs by Mikiyo Aoki. The start of the day looked promising for Aoki, the runner-up in the 2014 WSOP Ladies Championship, but a 3 million chip stack dwindled after a few called or raised river bluffs, and she ultimately busted out in 83rd place. Shortly before her elimination, Marcia Kunitz was knocked out in 91st and that left Maria Ho to become the last woman standing for the second time in her career. Ho finished 38th in 2008 and will began Day 6 as the short stack.
"It's pretty cool," Ho said about being the final woman in the field. "I think that anything to help bring women into the game is awesome, so having that distinction gives women something to strive for, so that can watch and relate to the fact that women can really do well in the main event, but I've always said I have my eyes on a much, much bigger prize and that's not last woman standing."
A number of players remaining in the field have been past Day 5 before. Two players from the 2013 WSOP main event, Vitaly Lunkin and Newhouse, made it to Day 6 for the second consecutive year. Bryan Devonshire reached this point in 2011 and entered the day with a prime seat at the feature table. With a smile on his face, Devonshire played a relaxed game that made a few people smile along the way. It's his
incredible attitude
that makes him a player to watch every time he's at the felt, and the poker world is a place where he's spent much less time over the past few years. These days he's typically found guiding whitewater boats, living an outdoor life he really enjoys.
"I'm just very relaxed," Devonshire said about this experience. "[In 2011] it was my first time. Money meant a lot more and it was all new and fun and exciting with lights and cameras and all of that sort of stuff. Now, it's like, 'Eh, I've been here.' [Now] I'm having a great time, That's part of why it's extra fun. I get to focus on having fun and loosening the table up and creating smiles instead of creating spots."
Still, Devonshire understands that the game itself has changed.
"The game isn't what it used to be," said Devonshire. "It's not as profitable as it used to be, so my incentive to spend all seven weeks out here is greatly diminished."
Devonshire finished the night 16th with 3.83 million in chips.
Some late-night eliminations took away from the star power of this field. Mukul Pahuja was on the wrong end of a cooler and put his final chips in with A-6 on an A-Q-6 flop. Up against A-Q, the reigning World Poker Tour Player of the Year couldn't hit a miracle and was eliminated in 101st. Bracelet winners Simon Charette, Jon Aguiar and Vladimir Shchemelev also barely missed advancing.
Busto 105th, I left my heart in Vegas. Back to Boston and real life again.

— Jonathan Aguiar (@JonAguiar) July 13, 2014
During the Day 4 recap, I offered some names of those who have run this deep before. Many of those players survived the day and that success is becoming a theme of this tournament. Those who have been there before understand what it takes to go through this grind. Just ask Newhouse, Lunkin Devonshire, Ho, Leif Force, Keranen, Ryan Fair and Anh Van Nguyen.
When play resumes Sunday at noon PT, the blinds will be 20,000/40,000 with a 5,000 ante. Here are the Day 5 chip leaders:
1. Mark Newhouse (7.40 million)
2. Kyle Keranen (6.67 million)
3. Scott Palmer (6.59 million)
4. Bruno Politano (5.47 million)
5. Andoni Larrabe (5.47 million)
6. Dan Smith (5.3 million)
7. Dan Sindelar (5.24 million)
8. Tony Ruberto (5.23 million)
9. Iaron Lightbourne (4.97 million)
10. Leif Force (4.75 million)
Small blinds:
David Tuthill had one incredible day, filled with six successful all-ins. He's still short, but at this point, must feel like he's freerolling. … Force lives in the mountains of North Carolina during the rest of the year. He doesn't like Vegas and can't wait to get home. Obviously he wants to best his 11th-place finish first. … The minimum payout for all remaining players is $85,812. … The final few hands of the night featured a frenzy of all-ins. Eddy Sabat doubled up and eliminated Aoki during a three-way all-in. … Play is expected to continue until 27 remain on Sunday, but to get further within the tournament structure, it wouldn't be that surprising if they played past that point. … Friends and family have started to arrive in town, and at this point, big hands are worth celebrating. Expect lots of excitement on the rail from here on out.
July, 12, 2014
7/12/14
8:30
PM ET
As part of the Amazon Room fills up with players from the $235 Daily Deepstacks (my opinion on that
here
), the main event field has been reduced to fewer than 175 players. Kyle Keranen entered the last level as the chip leader, but it's been a tumultuous level for him, with Curtis Rystadt getting under his skin and causing some interesting conversation and a recent discussion with the floor staff.
"I've never seen him before in my life," said Keranen during the break. "He's just relentlessly berating me. He won't let up."
Rystadt, in the five seat at the feature table, continues to be vocal against the chip leader. The two tangled in one key pot which added to the frustration. After a preflop five-bet raising war, the flop came K-K-4 and both players checked. The turn brought another 4 and again, both players checked. After a river 9, Keranen bet 380,000 and Rystadt quickly called and showed Q-4, which bested Keranen's aces.
Fireworks ensued to the point that Executive Director Ty Stewart, who was watching the feature table closely, said we haven't seen anything like it in years.
During the break, Keranen spoke furiously to the floor staff, trying to explain what was going on. The staff responded that they would address the situation. As the action resumed, the jabbering continued and accelerated after Keranen won a pot off of Rystadt. The two are poised to continue to tangle and this should make for an interesting storyline for a while given that both have more than 2 million in chips.
The other fireworks came in the span of two hands and resulted in the elimination of the player who was in third place during the previous level.
Zach Jiganti entered Level 21 with more than 3 million in chips and was poised for an incredibly deep run. It unraveled quickly, first with a set-over-set confrontation against Bruno Politano (9-9 < K-K) then a cooler with jacks against the queens of Clayton Maguire. Those two hands at the end of the level sent him home just after the field broke 200 players and placed Politano as the overwhelming chip leader with 4.9 million in chips.
Other Level 21 eliminations include Jeff Madsen, Kevin Eyster, Taylor Von Kriegenbergh, Mike Wattel, Raj Vohra and Jared Bleznick.
The average stack is 55 big blinds. Here are the current chip leaders:
1. Bruno Politano (4.96 million in chips)
2. Leif Force (3.54 million)
3. Michael Schwartz (3.32 million)
4. Clayton Hamm (3.23 million)
5. Griffin Benger (2.99 million)
6. Kyle Keranen (2.8 million)
7. Michael Finstein (2.75 million)
8. Martin Jacobson (2.59 million)
9. Andoni Larrabe (2.57 million)
10. Matthew Haugen (2.50 million)
Small blinds:
Jeff Platt ran into Ali Eslami's set of 5s during the past level at the same exact moment that his parents walked into the Amazon Room. … The Ivey eliminator and two-time bracelet winner John Kabbaj didn't make the dinner break. Still a strong summer for him and his elimination means that Brandon Shack-Harris will enter WSOP-APAC as the Player of the Year leader. … Bryan Devonshire was sent to a new table after the latest break, so he went to work looking up his competition. … There are four women left in the field, including the last woman standing from 2008, Maria Ho. … Blake Cahail
wore the onesie
all the way to a 172nd-place finish. … Draft Kings getting into patching as well at this time. Doesn't hurt to have one of its employees, Jon Aguiar, still in contention. … Check out this hand from
Mikiyo Aoki
from earlier in the WSOP. … The only member of the top 10 with a bracelet at this time is Leif Force. … David Einhorn was knocked out in this level. He'll donate $44,728 to Robin Hood NYC.
July, 12, 2014
7/12/14
5:29
PM ET
Tournament Director Jack Effel announced prior to play on Saturday that the field would be in for a lengthy day. Five and a half levels are planned for Day 5 (11 hours) as Effel hoped to bring the field down to around 80 players by the end of the night. Play should conclude just before 2 a.m. PT.
[+] Enlarge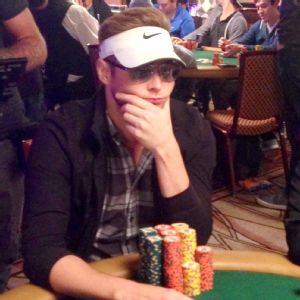 Courtesy Andrew FeldmanKyle Keranen seized the chip lead during Level 20
Play is expected to slow down dramatically as the day progresses, but that was far from the case during the first level. John Monnette, 2014 bracelet winner Sam Jaddi, Mike Sowers, Kevin MacPhee, Farzad Bonyadi and Paul Tedeschi were among the 60 eliminations during the level. With the average stack more than 60 big blinds deep, short stacks aren't truly "short" at all. Extremely aggressive play is leading to these eliminations and, of course, a few coolers.
Kyle Keranen and Griffin Benger continue to top the leaderboard with Keranen having an incredibly successful level, building from 2.1 million in chips to 3.5 million. Mark Newhouse, whose style doesn't often call for gigantic pots, was involved in a huge one against Munir Shahin. The 2013 November Niner held As-Qs and had a huge flush draw after a flop of 9h-7s-2s. Shahin held K-K and with a 2 million-chip pot at hand, couldn't fade the spade on the river. Newhouse eliminated Shahin with the dramatic river and handed his opponent his largest career cash ($38,634) with the effort. Newhouse is now in the top 10 in chips.
When players return from break, the blinds will be 8,000/16,000 with a 2,000 ante. Here are the current chip leaders:
1. Kyle Keranen (3.44 million in chips)
2. Griffin Benger (3.42 million)
3. Zach Jiganti 3.07 million)
4. Dan Smith (2.55 million)
5. Leif Force (2.49 million)
6. Trevor Martin (2.49 million)
7. Mark Newhouse (2.36 million)
8. Michael Finstein (2.34 million)
9. Matthew Haugen (2.27 million)
10. Pakinai Lisawad (2.21 million)
Small blinds:
Anh Van Nguyen doesn't play much poker anymore, but decided to come to Vegas last week just for a little action. Van Nguyen spends most of his time now with his kids (including a 5-month-old) and doesn't pursue poker as actively as in the past. He has $1.2 million in career live earnings and finished 46th in 2004 and 106th in 2009. … We don't see a lot of new sponsors appear these days, but PartyPoker has placed a patch on Brian Hastings. … In extremely too early storylines, Alex Outhred's birthday is Nov. 9. … John Monnette decided to warm up this morning with some high-stakes cash games at the Bellagio. I wonder if he slept. … David Einhorn doubled up in the last level. That's good for charity. … Keranen has moved to the feature table, with Maria Ho's table soon to break. … There have been no eliminations at the feature table so far today. … A few players were late to show up today, including Yorane Kerignard, who was seated at an outside feature table.
July, 12, 2014
7/12/14
5:59
AM ET
The smiles turned back to stares throughout the course of Day 4 of the World Series of Poker main event. After a
raucous celebration
rocked the Amazon Room when the remaining players made the money, the field returned to seriousness as positioning for the final stretch became the utmost priority. Matthew Haugen emerged with the lead after Day 4, a familiar situation for the professional poker player from Chicago.
"I'm feeling great," said Haugen. "Being chip leader going into Day 5 of the main event, I can't complain about that."
Haugen began to take the game seriously after he graduated from college. Like many other of the game's rising stars, he started online.
"After I graduated from college, I had a little bit of money and put it online," he said. "I started playing, kept winning and never looked back."
[+] Enlarge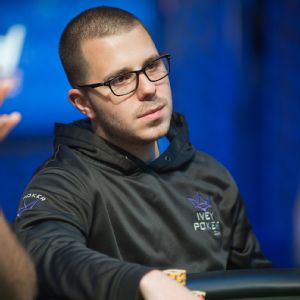 Drew Amato/BLUFFDan Smith is sixth in chips after Day 4
In a post-Black Friday world Haugen travels often to play and has found some great success on both the WPT and EPT. He also has twin 18th-place finishes so far this WSOP.
"I'm just going to keep playing my game and see what opportunities present themselves," said Haugen. "$10 million would mean a lot. It would be pretty amazing."
Behind Haugen is a stacked crew of professionals who have been waiting for this opportunity. Griffin Benger, Dan Smith and Kyle Keranen are all part of a strong top 10 at this stage of the event. Keranen has been here before and was the chip leader after Day 5 in 2012. After fizzling out then, he's not ready to let this second opportunity go.
"I just feel so much more in control than I did two years ago," said Keranen. "I was still pretty new to high-stakes tournaments back then and I got a bit nervous on Day 6. ... This year I feel totally composed and ready for it."
Keranen enters Day 5 eighth in chips.
The remaining field includes many players who should feel at home during Day 5 action. Among that group Keranen (38, 2012), Leif Force (11th, 2006), Pat Madden (64, 2005), Maria Ho (38th, 2007), Alex Outhred (54, 2008), Roland Israelashvili (25, 2012), Isaac Baron (85th, 2012), Farzad Bonyadi (27th and 41st, 1998 and 2005), David Einhorn (18th, 2006), Ali Eslami (49th, 2004), Ryan Fair (31st, 2009), Mike Wattel (95th, 2005), Kyle Bowker (37th and 84th, 2007 and 2012), Bryan Devonshire (12th, 2011) and most recently Rep Porter (12, 2013) and Mark Newhouse (ninth, 2013) have all made it to the final stages before.
With 291 players remaining, here are the top 10 chip counts after Day 4:
1. Matthew Haugen (2.80 million in chips)
2. Zach Jiganti (2.36 million)
3. Griffin Benger (2.32 million)
4. Michael Finstein (2.31 million)
5. Bruno Politano (2.28 million)
6. Dan Smith (2.22 million)
7. Andoni Larrabe (2.19 million)
8. Kyle Keranen (2.15 million)
9. Farid Fattin (2.12 million)
10. Pakinai Lisawad (2.08 million)
The eliminations came at a rapid pace throughout the action on Friday, but the only one that was truly acknowledged by all players was the 430th-place finisher: Phil Ivey. The 10-time bracelet winner began the day in a strong position at the feature table, but started to run cold after he lost a quarter of his stack to Kyle Keranen. The bleeding continued until the dinner break, but still, with 340,000 in chips, Ivey was not in dire straights. Almost immediately after the dinner break, Ivey found himself in a hand against two-time WSOP champion John Kabbaj and made an ill-timed all-in on the turn of a 9-9-2-2 board. The shock and frustration came over Ivey's face immediately as his A-K trailed Kabbaj's J-J. Down to his final card, the cameras came over and Ivey's tournament ended with a blank on the river and a sprint to the back doors of the Amazon Room.
Hours before Ivey's departure, Ronnie Bardah's exit marked the end of a historic run. Bardah has cashed in each of the past five WSOP main events, a new record.
Thx for all the support guys and girls.Love you all and I'll be back next year for number 6 and maybe nov 9:) living the Dream

— Ronnie Bardah (@RonnieBardah) July 12, 2014
Other notable Day 4 eliminations include John Juanda (293rd), NASCAR's Jason White (348th), Michael Binger (353rd) and Jonathan Little (490th).
Action resumes at noon PT and will most likely continue for five levels or until the field is down to 72 players. The minimum cash for all those who remain is $33,734.
Small blinds:
The pre-money elimination of Huck Seed marked the first year since 2002 that a former champion did not make the money. It has happened nine times in the total history of the event. … I've followed "Rainbow Hat Guy" around the WSOP for the past few years and today he had his chance at the feature table. Zach Hall sat directly across from Ivey, who looked at him and said
"Are you serious?"
Hall was eliminated on the final hand of the night. … Alex Outhred started Day 2 of the main event with 12,000. He bagged 714,000 on Day 4. … Blake Cahail played the last level in one of the $230
Zooop suits
that is being sold at the Rio. He didn't buy it, but said if his friend bought it, he'd wear it. … In 2012, Keranen was the chip leader after
Day 5
. … Take a look at
the bracelet
. … Plenty of drinks were ordered toward the end of the day. Relatively surprising at this point. That usually ends on Day 2. … David Einhorn is donating his winnings to Robin Hood NYC. … Sam Jaddi and John Kabaaj are the two remaining 2014 bracelet winners in the field. … The highest chipped woman in the field is Mikiyo Aoki, who has 1.5 million in 21st place. She was the runner-up in the 2014 WSOP Ladies championship. … There are five multiple-bracelet winners remaining in the field: Jeff Madsen, Farzad Bonyadi, John Monnette, John Kabbaj and Rep Porter. … Including the main event, Roland Israelashvili now has 10 cashes this WSOP.
July, 11, 2014
7/11/14
6:49
PM ET
A
champagne bottle popped
inside a packed Amazon Room early on Level 16. Everyone cheered as the remaining players took off their glasses, hoodies and headphones to share a quick handshake or hug. The champagne was distributed to anyone who wanted it, glasses were provided, as others asked waiters for beers or shots of Patron or Jager. A player pulled out his iPad and
got on FaceTime
, bringing his relatives into the room with him. Cell phones were out, texts were sent and the moment these players had searched for since their starting flight last weekend had finally arrived.
Except for the three people standing with the tournament staff in the center of the room, this was the best moment of the main event for the entire place. Players had made the money in the biggest tournament of the year. They had every right to celebrate and show their excitement and now, it's back to business.
[+] Enlarge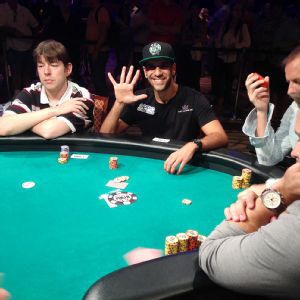 Andrew Feldman/ESPNRonnie Bardah has cashed in the main event for five consecutive years.
Day 4 play began with 746 players looking to survive the bubble and earn a minimum of $18,406. As short stacks hoped to make it, the stalling became brutal. The floor staff -- which issues warnings and threatens to start 10-second countdowns for all those trying to make each hand last as long as possible -- was called repeatedly to tables. Players were, rightfully, getting frustrated.
With 695 players left, tournament director Jack Effel declared that hand-for-hand action would begin. Dealers would deal one hand, then stand up at its completion. If there was an all-in and a call, the hands would remain covered until ESPN cameras were in place to cover the action. On the first hand of this effort, there were five players at risk and with two players needing to go home, it seemed likely that we'd be one and done.
The first hand had reached the river by the time its action was picked up by Effel who walked from table to table calling the progress. A roar came over the Amazon Room as Mark Newhouse rolled over 5-5 for quads to eliminate John Dwyer who held queens full. One down.
At the next table Zhen Cai waited for the cameras, but he already knew he was trailing with Q-Q to the A-A of Darren Keyes. The aces held and players were in the money.
There were now three more hopes for Cai and Dwyer to not go away empty-handed. All they needed was one more elimination and they'd share the purse for 693rd, or multiple spots if more players were knocked out. They got their wish on the next hand as Harry Kaczka cracked Kori Hunter's aces with 8d-9d with a rivered two pair. The other two players, Stuart Rutter and Paul Tedeschi, doubled through and kept their dreams alive.
Cai, Dywer and Hunter each received $6,135 for their tie in 693rd place. Cai also won a seat into the 2015 WSOP main event by picking out a high card in a stunt presented by WSOP.com.
Ronnie Bardah was all smiles as the bubble broke, and it's that smile we've seen at this very moment in the tournament for each of the past five years. This was a record-setting finish for Bardah who has finished 24th, 453rd, 540th and 124th in this event since 2010. He's one of the shortest stacks in the field now, but nobody left can compete with his experience.
Well, maybe a few players. Specifically Phil Ivey and Mark Newhouse. Ivey lost a big pot to Kyle Keranen recently and dropped to 646,000 after a strong start. Dan Smith leads with 1.8 million with the blinds at 2,500/5,000 with a 500 ante. Smith earned $2 million from his victory in the $100,000 event at the Bellagio just before the main and has 16 career WSOP cashes that include three WSOP final tables.
Small blinds:
The line for payouts has expectedly been busy with 90 players already heading home in the first hour since the bubble burst. … Want to re-live the bubble?
Go here
. … tournament director Effel was wearing a GoPro camera today. Not sure how it will play into coverage, but definitely a new angle. … Brothers Mukul and Vinny Pahuja cashed in the main event. … Lots of foot traffic in Amazon today. Definitely one of the best days to come and watch. … Purple (500) chips are getting colored up during the break. … NASCAR's Jason White survived the bubble. … Players out, but in the money: Olivier Busquet, Randy Ohel and Ben Yu. …
Rainbow Hat guy
(Zach Hall) made it through. … Faraz Jaka seated on an outside feature. At the table next to him is Phil Galfond. … These new outside feature tables are RFID equipped.