November, 10, 2014
Nov 10
2:32
PM ET
By
Ryan Feldman, ESPN Stats & Info
| ESPN.com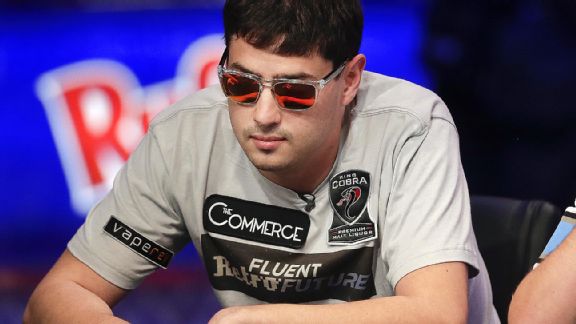 AP Photo/Julie JacobsonMark Newhouse defied the odds to reach consecutive WSOP main event final tables.
Tonight at 8 ET, the World Series of Poker main event final table is live on ESPN2. It will conclude Tuesday night with the heads-up match at 9 ET live on ESPN and award $10 million to the winner.
One of the November Nine -- Mark Newhouse -- achieved an unbelievable feat by reaching back-to-back WSOP main event final tables. He finished ninth last year.
The odds of reaching consecutive final tables in 2013 and 2014 are 1 in 524,079.
The field in 2013 was 6,352. There were 6,683 entries this year. Based on those odds (assuming all players have an equal chance), Newhouse had a higher probability of winning the Powerball by investing $1,000 or being struck by lightning at some point over the past two years.
How incredible would it be for Newhouse to win the bracelet? The odds of finishing in the top nine last year and first place this year are 1 in 4,716,713.
Newhouse is the first player to reach back-to-back main event final tables since Dan Harrington in 2003 and 2004. But those fields were much smaller -- 839 in 2003 and 2,576 in 2004.
Newhouse is the first player to do so in the WSOP "modern era" (since the main event field first exceeded 1,000 in 2004). Harrington and Newhouse are the only ones to reach consecutive main event final tables in the past 25 years.
Comparing the odds
How impressive is Newhouse's back-to-back final tables? Here's how his 1 in 524,079 odds compare to other rare feats:
• The odds of winning the Powerball by investing $1,000 on 500 number combinations are 1 in 350,447. The WSOP main event costs $10,000, so this would be much cheaper. (Each ticket is $2, and there are 175,223,510 combinations.)
• The odds of being struck by lightning in any two-year period are 1 in 480,000, according to the National Weather Service.
Other legendary WSOP feats
Newhouse's accomplishment could be considered the greatest feat in the WSOP main event, based on the size of the fields. Here are some other legendary accomplishments in the WSOP main event:
• Stu Ungar won back-to-back main events in 1980 and 1981 and added another victory in 1997. The field sizes then were 73 in 1980, 75 in 1981 and 312 in 1997. Based on those fields, the odds of winning back-to-back titles in 1980 and 1981 were 1 in 5,475. The odds of finishing in first place in all three of those years were 1 in 1,708,200.
• Johnny Chan had back-to-back first-place finishes in 1987 and 1988 and almost completed the three-peat when he finished in second in 1989. There were 152 entrants in 1987, 167 in 1988 and 178 in 1989. The odds of winning consecutive titles in 1987 and 1988 were 1 in 25,384. The odds of winning those two tournaments and then finishing in the top two in 1989 were 1 in 2,259,176.
• Dan Harrington won the WSOP main event in 1995 and added back-to-back final tables in 2003 and 2004. He went through larger fields than Ungar and Chan. There were 273 players in 1995, 839 in 2003 and 2,576 in 2004. The odds of reaching back-to-back final tables in 2003 and 2004 were 1 in 26,682, while the odds of that feat combined with winning the 1995 title were an astronomical 1 in 7,284,260.
November, 9, 2014
Nov 9
9:55
PM ET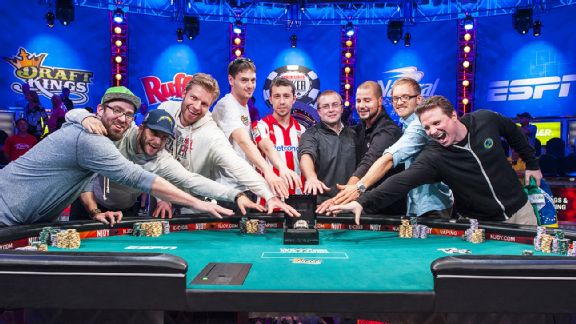 Joe Giron/WSOPThe November Nine return to action on Monday night in Las Vegas.
LAS VEGAS -- Ten million dollars. You can probably hear Dr. Evil saying it right now.
One of the nine players remaining in the World Series of Poker main event is going to have the good kind of financial problems in just a few days. The November Nine have waited nearly four months to take their shot and on Monday night, the planning and practicing will conclude and the lights in the Penn and Teller Theater will shine down on the group of next poker superstars. One of them will walk away with $10 million.
It's a once-in-a-lifetime experience. Unless your name is Mark Newhouse.
For the second year in a row, Newhouse will take his seat on the stage, achieving a remarkable feat that many never believed would (A) ever happen and (B) ever happen in back-to-back years. The situation this time around is far different from the professional poker player who emerged onto the scene in 2006.
As the short stack in 2013, many expected Newhouse to fall first. He did. It was devastating to someone who needed to ladder up and earn some extra cash. It was devastating for someone who felt that he would finally leave the daily grind with a higher finish. Most of all, it was devastating for a player who waited all that time to simply finish ninth. He called it the worst place to finish emotionally. Again that's ninth out of 6,352.
Newhouse has already outlasted 6,674 players this year and spent his hiatus thinking about anything but poker. This past week he was in Hawaii trying to stay away from it all. He brings in a third-place stack and the one thing nobody else has, or probably ever will have: experience at the WSOP main event final table.
"Newhouse's experience, I think, will help him come tomorrow," said 2013 WSOP champion Ryan Riess, who played against Newhouse a year ago. "He has a stack, he has shown to be fearless, and he has been here before."
Another world champion agreed.
"I think he will be the most comfortable and one of, if not, the most confident," 2012 champ Greg Merson said. "I'd be more than happy to welcome him into the fraternity."
On Sunday, Newhouse looked as relaxed as he could be. Even meetings and instructions from the production crew were a repeat for him. He sat and listened while the others learned.
Can the comfort level and experience be enough to overcome seven other players with lifelong passions for the game and one unpredictable foosball champion?
Here are the eight other players, in order of chip count, who are looking to become the next world champion:
Jorryt van Hoof: The Dutch poker superstar may not have any sponsors, but he will have the chip lead going into the night. He's an expert in both no-limit and pot-limit Omaha and has been working with Jared Tendler on building a stronger mindset over the past few years. His passion for the game may be unrivaled by anyone else at this final table and it's unlikely that anyone has put in more time to prepare for Monday's events.
Felix Stephensen: The former soccer player is a pot-Omaha expert like van Hoof, but decided to only play one WSOP event this summer. You already know how that ended. He's an online champion with tens of thousands of hands under his belt and can completely change the face of the game in Norway if he's able to come through.
Andoni Larrabe: If staying out of the media spotlight was the game plan for Larrabe during the hiatus, he achieved it with flying colors. The youngest player at the final table has two cashes on the Estrellas Poker Tour since making the final table. He has live and online titles, and is looking to continue the trend of sub-25 poker champions. He'll be wearing the Athletic Bilbao jersey on Monday night, trying to recreate the jersey magic that landed Riess in the winner's circle. He said on Sunday that with his friends and family in town, he's finally feeling the excitement.
Dan Sindelar: The World Series of Poker is the place where players try to make their mark. For Sindelar, his journey since 2008 has left him with many cashes, but until this event, no final tables. The Vegas local left the University of Nebraska to pursue the game and is a few eliminations away from getting all he's ever wanted.
William Pappaconstantinou: Meet the ultimate wild card of this final table. Instead of preparing, the foosball world champion played … foosball. He's an amateur who plays for the fun of the game and enjoys dealing at a local casino for the same reasons. He's a main event first timer by sheer surprise. His outgoing personality will shine on TV and serve as a reminder that in poker, anyone can win.
Will Tonking: The New Jersey native left college with a degree in economics and a passion for counting chips. Tonking won't be rattled under the lights after going through one of the most stressful moments imaginable, but he will take all his cash game experience and try to turn his seventh-place stack into a WSOP bracelet.
Martin Jacobson: The problem with calling Jacobson or Bruno Politano the short stacks is that they aren't really that short at all. Jacobson has experience in high-pressure situations and may surprise many with early aggressive play that could bring his stack back to the middle of the pack. He had two live cashes during the hiatus and is the leader in tournament earnings ($5.5 million) out of this group.
Bruno Politano: Who's ready for a party? Politano's rail will be the craziest we've ever seen as the entire country is behind their newest celebrity. Politano has a film crew covering his every move here in Vegas, a mere symbol of how infatuated his country has come with this opportunity. Poker is booming in Brazil and a win for Politano would somehow make the game even bigger. Always with a smile on his face, Politano is guaranteed to have a blast regardless of the outcome over the next few days.
The nine players were all together on Sunday night in the Palazzo Suites at the Rio. As they watched the final two hours of the WSOP main event coverage, they shared a few laughs, a few jabs at each other and some shocked faces as hands were revealed. As the bubble burst every single one of them had a smile on his face.
The hiatus is officially over. Now it's time to go back to work.
Coverage of Monday's action will begin "live" on ESPN2 at 8 p.m. ET ("live" due to the 30-minute delay necessarily put in place to preserve the integrity of the game). Play will continue until only two remain and coverage of heads-up play will begin at 9 p.m. ET on Tuesday on ESPN.
July, 15, 2014
Jul 15
7:17
AM ET
LAS VEGAS -- After 10 days of competition, only nine remain out of the field of 6,683 players in the 2014 World Series of Poker main event. The November Nine includes a diverse collection of players and, come November, one of the largest and loudest crowds the game has ever seen. It also includes a member of the 2013 WSOP main event final table, Mark Newhouse, who battled through a roller coaster of a day to enter the final table third in chips. Newhouse finished ninth out of 6,352 players in 2013. He is the first player to make back-to-back final table appearances since Dan Harrington's run in 2003 and 2004.
[+] Enlarge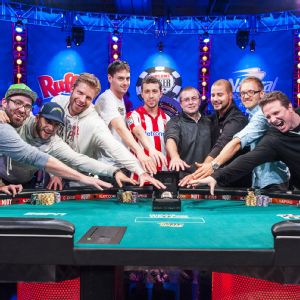 Joe Giron/WSOPThe 2014 November Nine: Billy Pappas, Felix Stephensen, Jorryt von Hoof, Mark Newhouse, Andoni Larrabe, Will Tonking, Dan Sindelar, Martin Jacobson and Bruno Politano
"I'm looking forward to not finishing ninth," Newhouse joked on the
Poker Edge
after making the final table. "Ninth is brutal, man. Coming back four months later and getting no money. I told myself I wouldn't be disappointed, and whatever happens happens, but it was very, very disappointing. ... Anything but ninth."
Newhouse's road back was extremely different from his journey a year ago. For most of Day 7 in 2013, Newhouse was the short stack and did everything possible to squeeze in. He entered the final 10 last year with just six big blinds and doubled up at the last possible second to keep his dreams alive. This year, he was active late and made a big call against Craig McCorkell with 13 players to go to keep him comfortable when the final 10 approached. On that bubble he remained active and ultimately knocked out two-time bracelet winner Luis Velador in 10th.
"Even though this year getting in is a bigger deal than it was last year, I was really just having fun the entire time," Newhouse said. "Playing poker with not too much pressure, not thinking about it, and I made it."
The day began with the eliminations of many of the familiar faces left in the field: 2014 WSOP bracelet winner
Sean Dempsey went out in 27th
followed by Brian Roberts (26th),
Bryan Devonshire (25th), Kyle Keranen (24th), Leif Force (21st), Dan Smith (20th) and Scott Palmer (19th)
. Scott Mahin's exit in 18th place resulted in tears from the 47-year-old first-time WSOP participant, who said he was proud to represent his friends and family, both supporting him in Las Vegas and in Elk Point, South Dakota. He earned $347,521 for his first career cash.
Only 16 players were left for the 90-minute dinner break, and Jorryt van Hoof seized control at that point, knocking out
his fellow countryman Oscar Kemps (14th) and Eddy Sabat (16th)
after a very dramatic river. Felix Stephensen also emerged as a contender at this time after a surprising 24-million chip pot against Tom Serra (15th).
McCorkell, Chris Greaves, Max Senft and Velador went after that, and 27 minutes into Level 35, the November Nine was set.
Here are the players who will compete for the $10 million top prize in November:
[+] Enlarge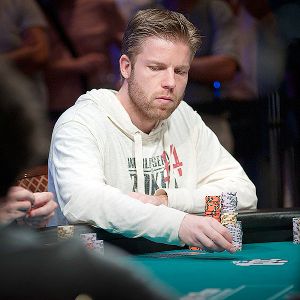 Drew Amato/BLUFFJorryt van Hoof leads the 2014 WSOP main event final table.
Jorryt van Hoof (38.375 million in chips)
-- For the second year in a row, a truly talented Dutchman has made the final table. Van Hoof is a cash-game professional who has a passion for online poker. He's been playing professionally for a decade, owns a highly popular poker training site, and will definitely be in contact with 2013 November Niner Michiel Brummelhuis throughout the process.
"It's been amazing," van Hoof said. "I ran hot and there were a few bubbles that I could make [use out of]. When we were down to 18, I wasn't happy with my table draw, but I won some good hands, got some chips and things went really well from there."
That's an understatement. Van Hoof had the lead for the final two levels and used his stack on the bubble to chip up even more. The best part about van Hoof's placement is that he wasn't planning on playing this summer at all.
"This year Vegas really pulled me," he said after making the final table. "I booked a last-minute flight. I came here a few days before [the main event]. I decided in the moment that I wanted to go to Vegas."
Felix Stephensen (32.775 million in chips)
-- The 23-year-old Norwegian pro entered his second WSOP event with a mere $22,118 in live tournament earnings. He left the Rio with much, much more. Stephensen plays pot-limit Omaha cash games online and doesn't travel around the European poker scene because he doesn't like tournaments. That said, he couldn't miss the main.
"I'm feeling pretty good. This is pretty exciting. I don't think I've ever been part of something this major," he said. "When it's so much up top and it's life-changing money, you kind of get tempted to [play in a tournament]. If it works out, it's worth it."
Stephensen made Day 3 of the event in 2013 and said he ran incredibly well to get to this point.
"This is what every poker player dreams about," he said. "This is it."
Mark Newhouse (26.000 million in chips)
-- If there's one player you don't need an introduction to, it's Newhouse. The 2013 ninth-place finisher has done the unthinkable and made back-to-back final tables in a post-boom poker world. Newhouse is a WPT champion with experience that no other player at this final table can rival.
"It's a great accomplishment, but I can't comment on greatest anything or stuff like that," he said to Bluff magazine. "I know it's amazing, but I'm never going to say anything like 'greatest' with my name in it. That's all I have to say about that."
Andoni Larrabe (22.550 million in chips)
-- Larrabe, 22, now plays the live circuit after spending years grinding the online multitable tournament scene since he was 18 under the alias "pollopopeye." He is the owner of two Spring Championship of Online Poker titles and the winner of the $5,000 event from the PokerStars Caribbean Adventure in 2013. He has three WSOP cashes, and this will be his first final table.
"I feel pretty excited," he said. "It's a sensation between confusion, because I think I don't realize what I have just done, and excitement and happiness. It's a lot of sensation all at the same time."
The Spanish pro was extremely aggressive on the final table bubble, which was part of his game plan. He didn't want to go into the November Nine as the short stack and put himself back into it with one key double-up against Velador (A-A against Velador's A-K).
"I'm going to approach it as calm as I can," he said of the final table. "There's a lot of time. I'll think about it, but the most important thing will be to go relax."
Dan Sindelar (21.200 million in chips) --
Sindelar is the only Vegas regular at the final table and will be flanked by a number of pros throughout his journey to November. This is his 18th career WSOP cash and his fourth of the summer.
"It's nothing that I've ever felt before," he said. "I'm going to cherish this moment for a very long time. ... This is just going to be a lot of fun."
The Nebraska native moved to Vegas six years ago to pursue the game full time. After Black Friday, he pivoted to play more live cash games and a few tournaments here and there. This was his seventh WSOP main event and first cash.
William Pappaconstantinou (17.500 million in chips)
-- "Billy Pappas" is already a world champion ... in foosball. The 29-year-old has loved the game since 2003 and had the opportunity to play in the WSOP for the first time this year. Things couldn't have turned out better, and he's looking to add a poker championship to his collection of numerous foosball titles.
"I'm in shock," he said after making the final table. "I never thought I'd play in this event. It's been my dream, and I've been saying 'this year' or 'next year' for like 10 years, just to play in an event, period. Now I get to play this, and I've never expected this at all."
Pappaconstantinou is the only amateur at the final table. He plans on spending the next few months traveling and relaxing with his friends.
Will Tonking (15.050 million in chips)
-- It didn't look good for Tonking when he arrived at the final table bubble, but an early double-up against Martin Jacobson brought the New Jersey native back into contention. Tonking, 27, plays professionally in New Jersey both live and online. He recently hit a $50,000 score on WSOP.com, then came out to Vegas and made the money in the mixed-max event. This is his first main event cash.
"The whole time during it, I was trying to think about not being in this moment and playing poker," he said. "I kept on making myself refer back to the scene in 'Hoosiers' when Gene Hackman took them into the big stadium, the small-town team, put the tape measure up to the rim and down to the floor and said, 'Still 10 feet, gentlemen.'
"It's just poker. I was just playing the hand in front of me, not trying to think about anything else. The game is hard enough. The field is tough enough without letting that stuff bother me."
[+] Enlarge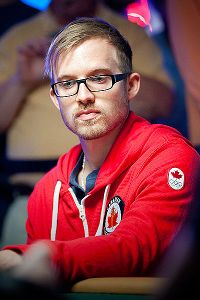 Drew Amato/BLUFFIncluding the ninth-place payout, Martin Jacobson has $5.5 million in live tournament earnings.
Martin Jacobson (14.900 million in chips)
-- The Swedish tournament pro is still looking for that one live victory that he can add to an already impressive résumé. He played this tournament with a consistent focus that allowed him to maintain a Day 1A chip lead and take him to the final table. He finished Day 6 as the chip leader and didn't play too many huge pots, besides one major one on the bubble, en route to an eighth-place stack for November.
"It hasn't sunk in yet. It feels surreal right now," Jacobson said. "It's a dream come true to make to the final nine. Once in your lifetime, it's a huge achievement. To still have the dream of becoming the world champion ... yeah."
Jacobson played 27 events during the 2014 WSOP and cashed three times. He's no stranger to high-pressure situations and can often be found in the super-high-roller tournaments around the world. Being involved in that scene will most definitely provide him with a little benefit when it comes to the final table.
"It means so much to everyone to actually make it," he said.
Bruno Politano (12.125 million in chips)
-- The man who will have the most vocal crowd in November is a true character on the felt. Before this cash, Politano, 31, had $110,054 in career tournament earnings, including one WSOP cash. He's the first Brazilian to make the WSOP main event final table and, at 31, is going to be a major superstar in his country, which is experiencing a tremendous poker boom at this time.
"I'm very excited," he said. "My dream has come true."
For the entire night, his supporters were singing and dancing in the stands. He encouraged them after big hands and jumped into their arms after making the November Nine.
"My rail is very, very important to me," he said. "Without this, I wouldn't be there. For me, it's everything. It gives me support in that moment. I promise more than 200 people [in November]."
The final nine players return to action Nov. 10. The broadcast of the main event will begin on ESPN on Sept. 28.
Here are the rest of the final table payouts:
1. $10,000,000
2. $5,145,968
3. $3,806,402
4. $2,848,833
5. $2,143,174
6. $1,622,080
7. $1,235,862
8. $947,077
9. $730,725
July, 14, 2014
Jul 14
4:30
PM ET
Tensions are high in the Amazon Room as players at the final three tables battle it out for a chance to become a member of one of poker's most elite groups. The November Nine will be set at the end of what is expected to be a very long day, and it will be a constant battle of will to fight off fatigue and nerves with so much on the line.
2014 bracelet winner Sean Dempsey was the first player to fall Monday, calling all-in for his tournament life on the river against Mark Newhouse. Perhaps trying to use his tight image, Newhouse min-raised under the gun with 8h-9h, and Dempsey, in the big blind, just called. After a flop of Qh-6d-4h, Dempsey check-called a bet of 250,000. Both checked the turn 5, and Dempsey fired about half a million after the Jh hit the river. Newhouse pushed enough in the center to force Dempsey to make a tough decision, and when he ultimately called, the disappointment set in. After that hand, Newhouse had more than 10 million in chips. Dempsey earned $286,900 for his 27th-place finish.
Brian Roberts played the short stack well for days and doubled on the final hand of Day 6. Starting Day 7 with only 11 big blinds, he would need to try to double before the next level. Roberts moved all-in from under-the-gun with K-J and couldn't catch against Eddy Sabat's A-Q. This 26th-place finish was the second-largest live cash of Roberts' career.
Players took a 10-minute break before the beginning of Level 31 (80,000/160,000 with a 20,000 ante). Upon returning, Thomas Sarra doubled through Andoni Larrabe to move into the top half of the chip counts.
If play ended now, the November Nine would be:
1. Martin Jacobson (20.2 million)
2. Dan Sindelar (17.3 million)
3. Luis Velador (16.6 million)
4. William Pappaconstantinou (15.8 million)
5. Bruno Politano (12.6 million)
6. Andrey Zaichenko (11.6 million)
7. Mark Newhouse (9.2 million)
8. Felix Stephensen (8.5 million)
9. Dan Smith (7.7 million)
Game on #MainEvent pic.twitter.com/sci4KPT1FR

— Andrew Feldman (@AFeldmanESPN) July 14, 2014
July, 14, 2014
Jul 14
7:37
AM ET
LAS VEGAS -- Martin Jacobson led the WSOP main event after
Day 1A
and nobody batted an eye. Success isn't automatic for the chip leaders of the early days, but Jacobson is looking to follow in the footsteps of Joe Cada and turn a Day 1 chip lead into a world championship. Day 6 concluded with the Swedish professional leading the final 27 players. Jacobson has already won millions over several years of live and online play at the highest stakes, but he understands the potential of surviving just one more day.
[+] Enlarge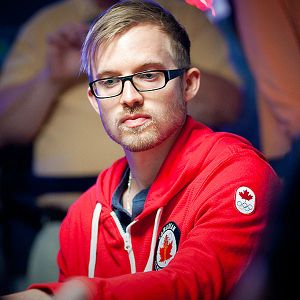 Drew Amato/BLUFFMartin Jacobson leads the final 27 players in the 2014 WSOP main event
"It's amazing to have made it this far in the main event," said Jacobson. "It's such a big tournament and a lot of prestige. I'm very proud of myself right now. "
Players began Day 6 action Sunday at noon PT and wrapped up at nearly 2 a.m. Monday. Fatigue was setting in for a number of players during the final level, including Jacobson, who finished the night with 22.3 million in chips.
"I'm not that jacked up, but mostly tired to be honest," he said. "Hopefully I'll be able to get a few hours of good sleep and be ready to go again tomorrow."
His ascension to first was impressive, a constant climb throughout nearly every level. He's played that style for a few days, never finding himself outside of the top 20 percent of chip stacks, and has demonstrated strong reading ability all along. Jacobson has $4.8 million in live tournament earnings, but is still missing that elusive major tournament victory.
In order to get that opportunity, he needs to get through the final day first. His starting table features a number of major obstacles, but it's the player in the No. 7 seat that will be the focus of attention: Mark Newhouse. For the second year in a row, a member of the previous year's final table is looking to make a repeat appearance (Steve Gee, who made the final table in 2012, finished 24th in 2013). Newhouse demonstrated a year ago that he could play a short stack to perfection on Day 7 and he's prepared to do so once again. He discussed those plans on the Day 5
Poker Edge
podcast.
End of day 6. 6.8 27 left pic.twitter.com/JZXWO27doq

— mark newhouse (@mark_hizzle) July 14, 2014
Newhouse enters Day 7 with more chips than he did a year ago, but will have a challenging seat to start the day with big stack Bruno Politano next to him. Additionally, Politano will have to figure out how to approach his button as Jacobson will be waiting, and should be very aggressive given his lead. Considering the November Nine bubble is one of the most important moments of the year, Jacobson should use this beneficial table draw to chip up early by keeping the pressure on.
Other big stacks belong to two-time bracelet winner Luis Velador, tournament regular Dan Sindelar, Spanish online poker phenom Andoni Larrabe and William Pappaconstantinou, who goes by the name "Billy Pappas" in the world of foosball, and now poker. Pappaconstantinou simply considers himself a poker dealer on a heater.
"I still don't think I'm on these guys' level," he said. "I'm going to try to stick with the same game plan [on Day 7]. Hopefully nobody picks up cards and I keep raising."
Pappaconstantinou surged into the top 10 after a big hand with 30 players to go in which he picked up aces against the kings of Dong Guo and eights of Robert Campbell. The 6.2 million he added to his stack after that hand gave him 14 million and a free pass to coast for the rest of the night.
The day concluded with the elimination of the Day 4 chip leader Matthew Haugen, who ran 10s into the queens of Bryan Devonshire. Haugen began the day as one of the short stacks and turned it into eight figures. His plan unraveled after the first level after dinner, and he ultimately pushed his pocket 10s at the wrong time. Devonshire finished Day 6 with 5.7 million and looks to improve on his 12th-place finish in 2012.
"I'm thrilled to be here, but I'm exhausted," he said. "These 14-hour days are brutal. It's so mentally exhausting. I haven't thought that hard about poker for a long time, and I'm already tired. I think [fatigue] plays in a lot and I think it's playing in extra in this tournament."
Sound familiar? It's been a grueling battle for everyone, and unfortunately for Devonshire and the rest of the field, Monday's schedule won't be any easier as the event must play down to the final nine-handed table. Tournament director Jack Effel estimated that will happen during Level 36, which would mean another 11-13 hours at the felt.
All remaining players have earned at least $286,900. When play resumes the blinds will be 60,000/120,000 with a 15,000 ante. Here are the top 10 chip counts heading into Day 7:
1. Martin Jacobson (22.3 million)
2. Luis Velador (16.6 million)
3. Dan Sindelar (16.3 million)
4. Andoni Larrabe (15.2 million)
5. Billy Pappaconstantinou (14.6 million)
6. Bruno Politano (11.6 million)
7. Dan Smith (10.3 million)
8. Craig McCorkell (8.7 million)
9. Felix Stephensen (7.7 million)
10. Andrey Zaichenko (7.3 million)
Small blinds:
There are two bracelet winners in the top 10: Velador and Craig McCorkell. Sean Dempsey and Leif Force are the other two bracelet winners left in the field. … Scott Palmer began the day in third and finished in 27th. Anton Morgenstern led after Day 6 last year and did not make the November Nine. &133; Kyle Keranen was chip leader for a good portion of the day but lost a big pot to Velador, who briefly took the lead during the final few levels of the night. … Andoni Larribe, now in fourth, has two SCOOP titles. … Ten countries are represented in the final 27. … Andrey Zaichenko, now in 10th, has made a WSOP final table in three of the past four years. He has $1.3 million in live tournament earnings. … The fourth feature table in the outside section has already been broken down. … Dan Smith and Aaron Kaiser got into it after dinner in what should make for some very interesting television. Read about that
here
. … Monday will be the final day of play until the field returns to action on November 10. … Ryan Riess, Phil Hellmuth, Brett Richey, Dani Stern and Mike Matusow all stopped by on Sunday to check out the remaining field.
July, 13, 2014
Jul 13
5:33
PM ET
The World Series of Poker main event began eight days ago with 6,683 hopefuls looking to earn $10 million. Only 68 players are left chasing that dream.
Day 6 began with everyone following a few key storylines. The first was Maria Ho, who became the last woman standing for the second time in six years. Ho began the day as the short stack and needed to find a spot to double with the blinds rising after the first hour. Seated at the feature table, she moved all-in from under the gun for eight big blinds and was in trouble when Zach Hirst called and showed Q-Q. The flop brought her an eight, but also gave Hirst a set. She picked up a turn flush draw sweat, but didn't get there and was eliminated in 77th.
(1/?) Twitter silence over. Was busy trying to win the @WSOP Main Event but was not meant to be. Eliminated in 77th out of 6,683 players.

— Maria Ho (@MariaHo) July 13, 2014
Mark Newhouse is the also a primary focus of those in attendance as he looks to become the first player to make back-to-back final tables since Dan Harrington in 2003 and 2004. His day has not been productive thus far with him dropping more than two million in chips from his starting stack. While not the case anymore, when his table was moved to the feature table shortly after the break, he was seated with six other players who had less than half his stack.
The big chips remain at an outside feature table where Kyle Keranen is holding court. Keranen entered Day 6 with the chip lead in 2012, but couldn't hold it and went out in 38th place. He's determined not to that that happen again this year and has a two-million chip edge over Scott Palmer in second. Palmer's story is also intriguing as he was one of the world's top online cash game players prior to Black Friday. During the break, he explained that a lot of his money was locked up as a result of the indictments, and he has simply been "relaxing" in Maryland since. He estimates he has played maybe a few months worth of poker over the past few years as a result.
"I should've traveled overseas more," Palmer said. "But now the games are much tougher and less profitable. Everyone knows the math perfectly."
The Michigan poker dominance may also continue again this year.
"Ryan Riess used to deal to me at one of the charity rooms I played at," Jason Johnson said. "I saw him win last year and said if he can do it, why can't I?"
Johnson came out to the WSOP to play just a few events with a very limited bankroll. He quickly found success with a daily DeepStacks chop, a seventh in the millionaire-maker and third at another final table, and is now on his way to earning life changing money. He said he relies on really strict bankroll management and wants to bring the title back to his state for the third time in six years. The main event will be Johnson's third six-figure score over the past five weeks.
Another friend of Riess is Adam Lamphere, who doubled up early on the day to 1.2 million in chips.
Two players who have made deep runs in this event before, Anh Van Nguyen and Kyle Bowker, couldn't make magic happen once again. Van Nguyen secured his third top-106 finish over the past 10 years with his 73rd-place exit. Bowker finished 71st and cashed in the main event five times since 2006.
Small blinds:
Bill Cole has the loudest rail at the moment. … Tournament director Jack Effel announced that play will continue for five and a half levels today or until only 24 players remain. My money is on hitting 24 before the time limit. … The Day 4 and Day 5 Poker Edge podcasts will be posted today. Sorry about the delay. … Players from 12 countries remain in the main event field. … Seven bracelet winners remain in the main event. … Only one player from the top 10 in each of the three starting days remains in the main event: Martin Jacobson. Kyle Keranen was 13th on his starting day. … All remaining players will earn at least $103,025.
July, 13, 2014
Jul 13
7:15
AM ET
The unthinkable is quickly becoming a little more realistic. Mark Newhouse, the ninth-place finisher in 2013, leads the final 79 players after Day 5 of the World Series of Poker main event and looks to become the first November Niner to make it back to the final table. Players have come close before, including Steve Gee and his 24th-place finish a year ago, but Gee never had the chips. Newhouse, who demonstrated incredible patience on the final day last year, has a huge stack and is looking to continue to build it on Day 6.
"I'm trying not to think about it," said Newhouse of his chance to go back-to-back. "Last year I was very excited. This year I feel super relaxed and I'm just playing poker and having fun. I'm trying not to think about anything that will make me feel pressured or anything. Just doing the best I can."
His play was relatively straightforward on the day: find the right spots and get enough chips to punish everyone else.
"I was lucky enough to win some big pots early on and I just got a monster chip lead to the point where I could just raise every hand and nobody could do anything about it," said Newhouse.
The day began with Matthew Hauten in the lead, but the Chicago native couldn't hold the top spot through the first level, and needed a double-up on the last hand of the day to make it through. Bruno Positano then emerged after a shocking
pair of hands
that eliminated one-time big stack Zach Jiganti, but couldn't keep the chips, either. Griffin Benger led too, but he struggled at the feature table and busted with jacks versus queens early in Level 25. Kyle Keranen also had a shot of becoming the chip leader after Day 5 for the second time in three years, but he fell just short and finished second. Keranen received some redemption when he eliminated Curtis Rystadt, a player who had badgered him all day. The two shared verbal blows and it should make for some interesting television this fall.
Scott "urnotindanger2" Palmer finished the day third in chips and was a big beneficiary of a few ill-timed bluffs by Mikiyo Aoki. The start of the day looked promising for Aoki, the runner-up in the 2014 WSOP Ladies Championship, but a 3 million chip stack dwindled after a few called or raised river bluffs, and she ultimately busted out in 83rd place. Shortly before her elimination, Marcia Kunitz was knocked out in 91st and that left Maria Ho to become the last woman standing for the second time in her career. Ho finished 38th in 2008 and will began Day 6 as the short stack.
"It's pretty cool," Ho said about being the final woman in the field. "I think that anything to help bring women into the game is awesome, so having that distinction gives women something to strive for, so that can watch and relate to the fact that women can really do well in the main event, but I've always said I have my eyes on a much, much bigger prize and that's not last woman standing."
A number of players remaining in the field have been past Day 5 before. Two players from the 2013 WSOP main event, Vitaly Lunkin and Newhouse, made it to Day 6 for the second consecutive year. Bryan Devonshire reached this point in 2011 and entered the day with a prime seat at the feature table. With a smile on his face, Devonshire played a relaxed game that made a few people smile along the way. It's his
incredible attitude
that makes him a player to watch every time he's at the felt, and the poker world is a place where he's spent much less time over the past few years. These days he's typically found guiding whitewater boats, living an outdoor life he really enjoys.
"I'm just very relaxed," Devonshire said about this experience. "[In 2011] it was my first time. Money meant a lot more and it was all new and fun and exciting with lights and cameras and all of that sort of stuff. Now, it's like, 'Eh, I've been here.' [Now] I'm having a great time, That's part of why it's extra fun. I get to focus on having fun and loosening the table up and creating smiles instead of creating spots."
Still, Devonshire understands that the game itself has changed.
"The game isn't what it used to be," said Devonshire. "It's not as profitable as it used to be, so my incentive to spend all seven weeks out here is greatly diminished."
Devonshire finished the night 16th with 3.83 million in chips.
Some late-night eliminations took away from the star power of this field. Mukul Pahuja was on the wrong end of a cooler and put his final chips in with A-6 on an A-Q-6 flop. Up against A-Q, the reigning World Poker Tour Player of the Year couldn't hit a miracle and was eliminated in 101st. Bracelet winners Simon Charette, Jon Aguiar and Vladimir Shchemelev also barely missed advancing.
Busto 105th, I left my heart in Vegas. Back to Boston and real life again.

— Jonathan Aguiar (@JonAguiar) July 13, 2014
During the Day 4 recap, I offered some names of those who have run this deep before. Many of those players survived the day and that success is becoming a theme of this tournament. Those who have been there before understand what it takes to go through this grind. Just ask Newhouse, Lunkin Devonshire, Ho, Leif Force, Keranen, Ryan Fair and Anh Van Nguyen.
When play resumes Sunday at noon PT, the blinds will be 20,000/40,000 with a 5,000 ante. Here are the Day 5 chip leaders:
1. Mark Newhouse (7.40 million)
2. Kyle Keranen (6.67 million)
3. Scott Palmer (6.59 million)
4. Bruno Politano (5.47 million)
5. Andoni Larrabe (5.47 million)
6. Dan Smith (5.3 million)
7. Dan Sindelar (5.24 million)
8. Tony Ruberto (5.23 million)
9. Iaron Lightbourne (4.97 million)
10. Leif Force (4.75 million)
Small blinds:
David Tuthill had one incredible day, filled with six successful all-ins. He's still short, but at this point, must feel like he's freerolling. … Force lives in the mountains of North Carolina during the rest of the year. He doesn't like Vegas and can't wait to get home. Obviously he wants to best his 11th-place finish first. … The minimum payout for all remaining players is $85,812. … The final few hands of the night featured a frenzy of all-ins. Eddy Sabat doubled up and eliminated Aoki during a three-way all-in. … Play is expected to continue until 27 remain on Sunday, but to get further within the tournament structure, it wouldn't be that surprising if they played past that point. … Friends and family have started to arrive in town, and at this point, big hands are worth celebrating. Expect lots of excitement on the rail from here on out.
July, 13, 2014
Jul 13
2:17
AM ET
Remember the slow down that we've been talking about for days? It's here.
After four hours of rapid eliminations, the past level knocked off less than 30 players which has allowed for a good amount of positioning for those remaining in contention.
Bruno Politano continues to lead the way and his friends are starting to get excited about what could potentially come to fruition in a few days. The Brazilian chipped up to 6.2 million, assisted by a big coin flip victory at the mid-point of the level. Politano's A-K rivered a king against Adam Coats' 10-10 and with that river card came a vocal yell and some cheering from his rail. Seated at an outside feature table, he's been incredibly active, showing incessant aggression which has been working thus far.
Seated with Politano is a player who has maintained a good stack while flying very under the radar. Jason Johnson has had an amazing World Series of Poker. The Michigan native finished seventh in the Millionaire Maker, third in Event 44 and prior to that, third in a Daily DeepStack event at the Rio. His rail also includes former Detroit Lions tight end Eric Stocz who has played with Johnson in charity rooms back in Michigan. Johnson also received a ringing endorsement on Twitter.
@AFeldmanESPN @WSOP Also my prediction to win it all

— Ryan Riess (@RyanRiess1) July 13, 2014
Johnson has 2.4 million in chips. That same table most recently lost Tim Rielly who has battled as a short stack for a good amount of time since taking a big hit in the final moments on Day 2. Rielly had four cashes this WSOP.
Some familiar faces gained good ground during the past level. Mark Newhouse is edging closer to a back-to-back final table and gained nearly two million in chips since the dinner break. Maria Ho, typically content with a slow and steady approach, had a really swingy level to finish at 1.6 million. Ho picked up kings at a very opportune time to bust Michael Palo, but gave nearly all of it back after a lost race and some bad luck against Greg Himmelbrand (A-K < A-Q).
The blinds are now 15,000/30,000 with a 5,000 ante. Here are the current chip leaders:
1. Bruno Politano (6.20 million in chips)
2. Mark Newhouse (4.90 million)
3. Tony Ruberto (4.56 million)
4. Scott Palmer (4.30 million)
5. Clayton Hamm (3.86 million)
6. Kyle Keranen (3.82 million)
7. Leif Force (3.56 million)
8. Griffin Benger (3.40 million)
9. Andoni Larrabe (3.37 million)
10. Vladimir Bozinovic (3.30 million)
Alex Outhred (140th, Q-Q < J-J), Huy Nguyen (142nd, A-10 < J-J) and Jason Deutsch (137th, A-K < 9-9 and 7-7) were among the recent eliminations. All earned $52,141.
Small blinds:
Mikiyo Aoki loves to bluff, and pick off bluffs. Quietly built nearly a three million-chip stack today. … Bryan Devonshire started off the day as one of the shorter stacks and now, is among the leaders. He finished 12th in 2012. … Vitaly Lunkin, Byron Kaverman and Mark Newhouse all made Day 5 last year. … Click right now and learn about
Garrett Greer
. Incredible story of determination and a great attitude. … David Tuthill has been all-in a number of times today and continues to double up. But does he have the recently eliminated Nick Yunis to thank? Yunis touched the card that Tuthill said he wanted to hit while all in and sure enough, those cards came through. Unfortunately for Tuthill, Yunis was knocked out in 126th. … This will be the longest day for the players thus far. … Jonathan Aguiar has a fortune from a fortune cookie that reads "Don't stop now!" He's been another player fighting the short stack all day.
July, 11, 2014
Jul 11
6:49
PM ET
A
champagne bottle popped
inside a packed Amazon Room early on Level 16. Everyone cheered as the remaining players took off their glasses, hoodies and headphones to share a quick handshake or hug. The champagne was distributed to anyone who wanted it, glasses were provided, as others asked waiters for beers or shots of Patron or Jager. A player pulled out his iPad and
got on FaceTime
, bringing his relatives into the room with him. Cell phones were out, texts were sent and the moment these players had searched for since their starting flight last weekend had finally arrived.
Except for the three people standing with the tournament staff in the center of the room, this was the best moment of the main event for the entire place. Players had made the money in the biggest tournament of the year. They had every right to celebrate and show their excitement and now, it's back to business.
[+] Enlarge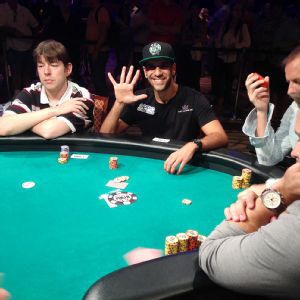 Andrew Feldman/ESPNRonnie Bardah has cashed in the main event for five consecutive years.
Day 4 play began with 746 players looking to survive the bubble and earn a minimum of $18,406. As short stacks hoped to make it, the stalling became brutal. The floor staff -- which issues warnings and threatens to start 10-second countdowns for all those trying to make each hand last as long as possible -- was called repeatedly to tables. Players were, rightfully, getting frustrated.
With 695 players left, tournament director Jack Effel declared that hand-for-hand action would begin. Dealers would deal one hand, then stand up at its completion. If there was an all-in and a call, the hands would remain covered until ESPN cameras were in place to cover the action. On the first hand of this effort, there were five players at risk and with two players needing to go home, it seemed likely that we'd be one and done.
The first hand had reached the river by the time its action was picked up by Effel who walked from table to table calling the progress. A roar came over the Amazon Room as Mark Newhouse rolled over 5-5 for quads to eliminate John Dwyer who held queens full. One down.
At the next table Zhen Cai waited for the cameras, but he already knew he was trailing with Q-Q to the A-A of Darren Keyes. The aces held and players were in the money.
There were now three more hopes for Cai and Dwyer to not go away empty-handed. All they needed was one more elimination and they'd share the purse for 693rd, or multiple spots if more players were knocked out. They got their wish on the next hand as Harry Kaczka cracked Kori Hunter's aces with 8d-9d with a rivered two pair. The other two players, Stuart Rutter and Paul Tedeschi, doubled through and kept their dreams alive.
Cai, Dywer and Hunter each received $6,135 for their tie in 693rd place. Cai also won a seat into the 2015 WSOP main event by picking out a high card in a stunt presented by WSOP.com.
Ronnie Bardah was all smiles as the bubble broke, and it's that smile we've seen at this very moment in the tournament for each of the past five years. This was a record-setting finish for Bardah who has finished 24th, 453rd, 540th and 124th in this event since 2010. He's one of the shortest stacks in the field now, but nobody left can compete with his experience.
Well, maybe a few players. Specifically Phil Ivey and Mark Newhouse. Ivey lost a big pot to Kyle Keranen recently and dropped to 646,000 after a strong start. Dan Smith leads with 1.8 million with the blinds at 2,500/5,000 with a 500 ante. Smith earned $2 million from his victory in the $100,000 event at the Bellagio just before the main and has 16 career WSOP cashes that include three WSOP final tables.
Small blinds:
The line for payouts has expectedly been busy with 90 players already heading home in the first hour since the bubble burst. … Want to re-live the bubble?
Go here
. … tournament director Effel was wearing a GoPro camera today. Not sure how it will play into coverage, but definitely a new angle. … Brothers Mukul and Vinny Pahuja cashed in the main event. … Lots of foot traffic in Amazon today. Definitely one of the best days to come and watch. … Purple (500) chips are getting colored up during the break. … NASCAR's Jason White survived the bubble. … Players out, but in the money: Olivier Busquet, Randy Ohel and Ben Yu. …
Rainbow Hat guy
(Zach Hall) made it through. … Faraz Jaka seated on an outside feature. At the table next to him is Phil Galfond. … These new outside feature tables are RFID equipped.
July, 16, 2013
7/16/13
8:05
AM ET
The dreams of 6,352 have been reduced to only nine. The World Series of Poker main event final table is set with superstar JC Tran in the lead with 38 million in chips. He battled through a tough Day 7 to emerge with the biggest stack, mostly because of his relentless aggression as the final table bubble approached.
Day 7 began with 27 players and Anton Morgenstern in complete control. He spoke after play on Day 6 about his patience and many of the game's best told me before the day that they expected him to coast into the final table. Unfortunately the cards wouldn't oblige. Morgenstern made an interesting call and was dealt a major cooler during the second level to Mark Newhouse, flopping trip aces to Newhouse's full house. Morgenstern lost more than half his stack on that hand and shortly after he'd run into aces with A-J to fall in 20th.
The chip lead changed continually early as Newhouse and James Alexander couldn't hold on to their edges. Alexander had an
epic blow-up before dinner
and that opened the door for Amir Lehavot to take control and for most of the night, there was little doubt that Lehavot would be a November Niner. Once only two tables remained, the short stacks tried to find the right spots with timely three- and four-bets all-in. For some, such as Ryan Riess, it worked. For others, such as Rep Porter (12th), it did not.
Tran eliminated Matt Reed in 11th to create the unofficial final table. Seated on the main stage in front of hundreds of cheering and screaming friends and family, Newhouse walked up to the table with six big blinds and an agenda. He said he was going to make the final table and after a double up with A-6 over Q-4, that was absolutely the case.
With Newhouse slightly out of danger, Tran began to pressure the other stacks and ran into some interference. Riess capitalized most, moving from one of the short stacks to the middle of the pack.
Nobody in the Amazon Room expected to see what happened next: 2001 World Series of Poker main event champion Carlos Mortensen bubbled the final table. Mortensen didn't sit back and blind away, but got involved in few hands, which had onlookers stunned. Tran eventually captured Mortensen's chips after the Spaniard called all-in with Ac-9h on the turn of a 10c-6c-3s-9c board. Tran showed 8c-7s for a straight and Mortensen needed to find another club on the river to keep his dreams of a second title alive. With the 2d placed on the felt, the entire room erupted. The players headed to their rails to celebrate as Mortensen stood in the center of the stage just wondering how it all went wrong. For his 10th-place finish, Mortensen earned $573,204, his fifth-highest career cash.
Here are the 2013 November Nine:
JC Tran (38.0 million in chips):
The poker world wanted a star at the final table and in JC Tran, they definitely have one. He has won two WSOP bracelets, a WPT title and has $8.3 million career tournament earnings. This is his sixth cash of the 2013 WSOP and his sixth main event cash over the past 10 years. He had no fear of putting millions in the pot late and that's what boosted him into the final table as the chip leader. Tran said that the final table is just one of two great things to happen in November as his wife is due with their second child.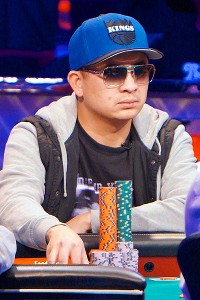 Jay Newnum/BLUFFJC Tran leads the 2013 main event final table.
"It's all for them now, it's not about myself anymore," said Tran. "I go out there for them and play for my family. ... The one guy that I really respected the most was the guy I just busted, Carlos Mortensen. I've played with him for many years and him and I have had some really good battles. ... I like the guy a lot, it's sad to see him go, but at the same time, I'm happy he's gone because he was the one I respected the most at that final table."
Amir Lehavot (29.7 mllion):
Talk about flying under the radar. The
winner of the $10,000 pot-limit hold 'em event
in 2011 was one of the shortest stacks to begin the day, but he capitalized most off of James Alexander's blow up during the third level on Day 7. This is the 38-year-old's 13th career WSOP cash and he will be the oldest player at the final table, where he'll try to become the first Israeli to win the main event. He's a professional poker player by trade, but also has a degree in engineering.
Marc-Etienne McLaughlin (26.5 million):
It has been quite a year for Canada at the World Series of Poker and McLaughlin is looking to continue that trend. This is his seventh career WSOP cash and more impressive, his third top-86 main event cash over the past five years. He has made one WSOP final table, finishing third in a $1,500 event in 2011.
"It's a wonderful feeling, and I don't think I fully realize it right now," McLaughlin said. "Three months of party and joy. That's what I'm thinking about. And some sleep."
Jay Farber (25.9 million):
The 28-year-old nightclub promoter played a lot of poker before Black Friday and just recently turned to having a, as he said, "real job." He plays the cash games in Vegas and decided to enter some satellites because he believed there was added value. Farber won his way in and as far as his November Nine preparation, two players on his rail were none other than former November Niners Ben Lamb and Michael Mizrachi. This is his first career WSOP cash and second main event.
"I'm amazed I made it," said Farber. "You just think you're going to show up and see what happens. I just stuck with my style of poker and played the way I thought would be the most effective with the least amount of variance and it worked out well."
Ryan Riess (25.8 million):
You're going to hear a lot about "Riess The Beast." The Michigan State grad found poker and has been motivated since a second-place finish at a WSOP Circuit main event to find greatness. Well, now he's here. Riess had one of the most vocal rails on the day, but he battled from the short stack with perfect aggression to make it this far. Expect the same heartfelt effort to show in November.
"I'm so happy, time to win this tournament in November," said Riess. "When we were short-handed, five-handed and six-handed, I feel like everyone was playing a little soft and I had the chance to run over them. I think they were all just really excited to make the November Nine and so I decided to start mashing."
Sylvain Loosli (19.6 million in chips):
The 26-year-old Frenchman is making his first career World Series of Poker cash and has only one tiny score on the EPT as part of his tournament resume. That said, he plays $25/$50 no-limit cash games online and if we look back at last year, some guy named Merson had those same credentials. Loosli likes being underestimated and hopes that he can exploit that image come November. More than anything, he wants to win this for France.
"I've very proud to represent my country," said Loosli. "I will do my best to prove that French players can be as good as American ones. ... [For the next four months] I'm planning on going on vacation and playing more live tournaments to keep improving my [live reads], plus work with some coaches."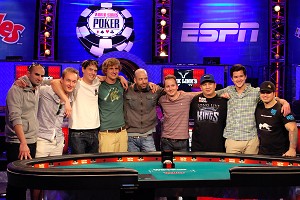 Vin Narayanan/Casino CityThe final table, from left: Sylvain Loosli, Michiel Brummelhuis, Mark Newhouse, Ryan Riess, Amir Lehavot, Marc-Etienne McLaughlin, JC Tran, David Benefield and Jay Farber.
Michiel Brummelhuis (11.2 million):
The Dutch pro has been successful around the world for the past six years and is one of the most respected players in that poker community. He has made WSOP final tables, earned six-figure scores and won side events. Now he has the biggest opportunity of his life and a chance to become the first world champion from the Netherlands. Brummelheis, 32, owes his tournament to a river 7 that gave him a straight with J-9 against Loosli's A-J, and now that he has the second chance, he isn't going to let it go easily. Just like Tran, he's expecting a child this year.
"He's one of the nicest, most well-respected tournament players and down-to-earth players I've ever had the chance to cover," said Remko Rinkema of PokerListings. "He's been winning online tournaments since 2007."
Mark Newhouse (7.3 million)
After his win on the World Poker Tour in 2006, Mark Newhouse fell quickly out of the poker spotlight and fell onto tough times. After the performance he put on during Day 7, many will remember the 28-year-old's determination and even though he's short, you can't count him out at the final table. Newhouse finished 182nd in the 2011 main event. Including ninth-place prize money, he has $2.7 million in career earnings.
"I'm feeling great, it was a crazy day," said Newhouse. "Anyone who knows me and who plays poker with me on a regular basis knows I'm not a patient person, but there's so much on the line [for the final table], you just have to do it sometimes."
David Benefield (6.3 million):
"Raptor" is one of the original online poker superstars in the post-boom era. The 27-year-old Texan was part of the support squad during Craig Marquis' run in 2008 and now he'll have his own shot. According to Brian Hastings, Benefield been active in the Macau cash games as of late while also studying political science and Chinese at Columbia. Prior to the main event, he had only one WSOP cash this Series, but made $115,000 in October with an eighth-place finish at the WSOP's 50,000 euro high roller event. If there was someone who played nearly perfect today, it was Benefield. While he tightened up on the bubble, he deserves this final table bid.
The November Nine leave the Rio with ninth-place prize money and will return to battle for the WSOP bracelet Nov. 4 and 5. The final table will be broadcast by ESPN.
1. $8,359,531
2. $5,173,170
3. $3,727,023
4. $2,791,982
5. $2,106,526
6. $1,600,792
7. $1,225,224
8. $944,593
9. $733,224
July, 15, 2013
7/15/13
9:54
PM ET
James Alexander began the last level in second place out of the final 22 in chips with 17 million. Alexander was eliminated in 19th place.
Seated at the outside feature table, Alexander unraveled in a hurry. He doubled up Maxx Coleman (J-9<8-8), David Benefield (A-2<A-A), Rep Porter (A-2<9-9) and finally Amir Lehavot (J-8<5-5). He got some back with a double of his own against Benefield (A-9>K-Q) but still could not keep his composure. With 12 minutes left in the level, Lehavot opened from under the gun and Alexander three-bet all-in with A-7. Alexander was dominated by Lehavot's A-10, and the drama ended quickly when a 10 came on the flop. Alexander was the final elimination before the redraw at the dinner break.
The player who entered the day with the chip lead, Anton Morgenstern, also didn't make it to dinner. The German cash-game pro
gave most of his chips
to Mark Newhouse during the second level of play, then ran into Fabian Ortiz on back-to-back hands and lost A-K to K-Q, then A-J to A-A to be eliminated in 20th place. Newhouse had the lead going into this past level but has dropped to 14th.
The only other elimination during the level was Maxx Coleman's, which happened during Alexander's blow-up. Benefield moved all-in from the small blind with A-3, and Coleman called off his stack with Q-J. As Benefield turned a wheel, Coleman shrugged and headed to the cage to collect his $285,408.
Jay Farber made the biggest strides during the third level today and is third in chips entering the dinner break. His key hand came against Ortiz as he moved all-in with Ac-10s on a 5c-3c-2c board. Ortiz showed 9c-9d and basically needed to fade the world to win the hand. Farber needed an ace, club, four or 10, and his hands reached for his head after an innocuous 2 on the turn. With bated breath and a rail of 10 standing directly behind Farber, the dealer placed a 10c on the river and Farber doubled up. The Las Vegas club promoter and cash gamer celebrated and continued to add to his stack for the rest of the level to finish with 18.9 million in chips.
Marc McLaughlin headed to the break second in chips after a near-perfect start to Day 7. He began play with 5.4 million in chips and has had his way with former big stack Chris Lindh to reach his 1 19 million-chip peak. Sylvain Loosli is the chip leader and the only player over 20 million. He took a few pots from Newhouse during the last level to chip up to this point.
Two of the players who held the shortest stacks to enter the day, Porter and Benefield, have moved up to the middle of the pack.
Here are the chip counts:
1. Sylvain Loosli (20.9 million in chips)
2. Jay Farber (18.7 million)
3. Marc McLaughlin (18.3 million)
4. Amir Lehavot (17.5 million)
5. JC Tran (17.4 million)
6. Sergio Castelluccio (12.5 million)
7. Michiel Brummelhuis (10.3 million)
8. Matthew Reed (10.0 million)
9. Carlos Mortensen (9.7 million)
10. David Benefield (8.6 million)
11. Fabian Ortiz (8.1 million)
12. Bruno Kawauti (7.6 million)
13. Rep Porter (7.4 million)
14. Mark Newhouse (5.9 million)
15. Alexander Livingston (5.2 million)
16. Ryan Riess (4.8 million)
17. Chris Lindh (3.9 million)
18. Jan Nakladal (3.1 million)
July, 15, 2013
7/15/13
7:45
PM ET
LAS VEGAS -- Mark Newhouse had been among the short stacks for the past two days, but things change quickly in two hours of the WSOP main event. Newhouse doubled up three times during the second level of play on Monday and is seemingly in control of the feature table. The 2006 World Poker Tour Borgata main event champion got lucky on his first confrontation, hitting the river against Jay Farber. Holding A-2, Newhouse was down to his final out on a board of K-J-10-6 against Farber's 9-9. Drawing thin, Newhouse hit a queen and doubled to six million in chips.

Later in the level Newhouse was willing to risk his tournament life on a coin flip, and topped the one-time chip leader Anton Morgenstern with A-Q over 8-8. Up to 11 million, the two tangled again in the biggest pot of the tournament just minutes before the break.

Morgenstern opened to 325,000 and Newhouse called. The flop of A-A-2 brought a bet by Morgenstern and a call by Newhouse, building the pot to nearly two million. Morgenstern bet again (750,000) after the turn 3 and the fireworks began. Newhouse raised to two million, Morgenstern reraised to 3.9 million and Newhouse moved all-in for a total of 10.9 million. Morgenstern thought, then called confidently, flipping over A-J. Newhouse threw his 2-2 on the felt with a fist pump and watched as the dealer placed a four on the river, putting the Day 6 chip leader on the verge of elimination. Newhouse has 22 million in chips on the break.

Play was relatively slow during Level 32 and there were only two eliminations during the past two hours. One of them was WPT champion and one of the top young players in the game, Yevgeniy Timoshenko. Since his run on early Day 6, Timoshenko was unable to build and has blinded down slowly for the past four or five levels. On his final hand, Timoshenko moved all-in for his last 2.1 million with A-8 and was dominated by the A-J of Jan Nakladal. The board brought two jacks and Timoshenko was felted in 22nd place.

Brazilian Bruno Kawauti was responsible for the other knockout of Clement Tripodi (K-K>A-Q) in 23rd. Only 21 players remain in the main event with action continuing until the final table of nine is reached.

If the final table were set right now, the players who would make up the November Nine are:

1. Mark Newhouse (21.9 million in chips)

2. James Alexander (17.2 million)

3. Sylvain Loosli (16.9 million)

4. Marc McLaughlin (15.7 million)

5. Chris Lindh (14.5 million)

6. JC Tran (13.0 million)

7. Gabian Ortiz (12.4 million)

8. Matthew Reed (10.9 million)

9. Carlos Mortensen (9.2 million)

Blinds are now 100,000/200,000 with a 30,000 ante. There will be a re-draw of tables when 18 players remain.