Poker:

Marvin Rettenmaier
February, 14, 2014
2/14/14
4:25
PM ET
The Nuts is a recurring feature that takes a look at the best poker players in the world. This feature aims to produce a list of the best players at the moment. Our panel of 10 is composed of ESPN.com's poker contributors (Bernard Lee and myself); Bluff magazine editor-in-chief Lance Bradley, senior writer Tim Fiorvanti and information manager Kevin Mathers; WSOP.com managing editor Jessica Welman; PokerNews editor-in-chief Donnie Peters; World Poker Tour's Eric Ramsey; PokerStrategy's Barry Carter; and PocketFives' Dan Cypra.
With the conclusion of the Aussie Millions, 14 players have already earned at least $1 million from the tournament felt this year. Daniel Negreanu isn't at the top of that list (he's seventh), but he is at the top of these rankings, holding off Phil Ivey and Vanessa Selbst. It was far from unanimous, but Negreanu's $1.7 million in earnings and deep runs in the High Roller events at both the PokerStars Caribbean Adventure and Aussie Millions were enough to retain his place. He may be confident about his game, but his ranking will continue to be in jeopardy with Ivey, Selbst and Mike McDonald thriving.
That's right, I said Phil Ivey. After months of wondering if one of the all-time greats would return to the tournament felt, he made an appearance at the Aussie Millions and cashed in for AU$4 million with a victory in the AU$250,000 Challenge. That wasn't it. Ivey also found success in the Aussie Millions cash game. Ivey was No. 2 in the last set of rankings and despite the massive score, he fell to third because Selbst's consistency is simply too much to deny.
While Ivey makes his living with an occasional poker appearance, Selbst is always on the trail and had one of the most memorable PCA's we've ever seen. She finished third in both the $100,000 event (Fabian Quoss first) and $25,000 event (Jacob Schindler first), and finished 42nd in the main event for a total of $1.3 million. The only player who found more success than any of the aforementioned trio is Mike McDonald, who makes his return on this list at No. 4.
Taylor Caby tells the tale of McDonald best:
The crazy thing about @MikeMcDonald89's recent run is that it makes the rest of his poker career seem somewhat ordinary...which is insane.

— Taylor Caby (@taylorcaby) February 10, 2014
McDonald, with $10 million in career life tournament earnings, has thrived in the poker world for nearly a decade. His online roots (as "Timex") made him a legend among the young stars of the game, and his knack for competing at the game's highest level is simply enviable. McDonald opened 2014 with four final tables and over $4 million in earnings. What sets him apart from Ivey, Selbst and Negreanu, is that one of his three seven-figure cashes came in the PCA main event, displaying his ability to navigate not only the elite, but the masses as well.
Despite two more final tables for $381,024, Scott Seiver dropped one spot this month to No. 5. Seiver has made six final tables since October, each bringing in at least $100,000. After a quiet PCA, Seiver finished fifth in the AU$25,000 event and seventh in the main event (won by Ami Barer) at the Aussie Millions. He currently has $9.5 million in live tournament earnings in his career. The 2013 GPI Player of the Year Ole Schemion continued his success in January with two seventh-place finishes in the $100,000 and $25,000 buy-in at PCA. He has four tournament victories and 10 final tables since last May.
The final four players all maintained a place on this list since the last rankings, but didn't gain enough support to boost their placement. Philipp Gruissem, Marvin Rettenmaier, Nicklas Heinecker and Mike Watson spent the first six weeks of the year looking for the next game with Rettenmaier being the biggest winner of the bunch for nearly $200,000. Phil Hellmuth and Noah Schwartz fell out of the top 10.
As the industry looks ahead, a quiet final few weeks in February lead into a busy March that includes the L.A. Poker Classic, Bay 101, WPT Venice, EPT Vienna and a number of WSOP Circuit, Deepstacks, UIKPT and Heartland Poker Tour stops.
Did we leave out your favorite player? Who should be ranked higher? Who should be completely off the list? Leave us your thoughts in the comments below. Here's a look at February's top 10:
On the bubble
The number of big buy-in events during the first two months reinforced perceptions (and rankings) of a number of the game's elite. Even with his runner-up finish in the Aussie Millions main event, Sorel Mizzi couldn't crack the top 10. Mizzi has found great success in the event, finishing in the top 16 four times since 2009. He also won the $25,000 event at the Bellagio in January. After Mizzi came 2012 WSOP main event champion Greg Merson who finished second in the $25,000 buy-in and 98th in the main event at PCA. Merson doesn't play many tournaments, but the high rollers have recently piqued his interest. After spending a good amount of time playing in the Macau cash games last year, it'll be interesting to see Merson's tournament schedule moving forward. A third familiar face, Antonio Esfandiari, follow that duo on the bubble. Esfandiari finished fourth in the $100,000 event at PCA and also cashed in the main event. … Fabian Quoss has over $2.3 million in earnings this year, most of which came from the largest win of his career ($1.6 million) in the $100,000 PCA event. Quoss is another talented German who thrives on the High Roller action and has accumulated $5.7 million in tournament earnings since 2009. … Former No. 1 Jason Mercier has four cashes on the year, including a third-place finish in the AU$25,000. … Ben Tollerene, Sam Trickett, Joe Kuether, Dominik Panka, David Peters, Yevgeniy Timoshenko (winner of the AU$100,000 event), Isaac Haxton, Steve O'Dwyer and Victor Blom also received consideration this month.
Final thoughts
Bradley:
This might be the competitive we've ever seen the top of this list. I Imagine most voters struggled more with whom to put No. 1 than ever before. If you had $10,000 to invest in one player in one tournament, you couldn't go wrong with any of the top three players. If you wanted to invest in McDonald, you'd probably need to come up with more than $10,000. The Canadian pro traveled all the way to Melbourne to play two super high roller events -- skipping the $25,000 and the $10,000 main event in the process. All he did was cash in both events. If he keeps putting up results like that he's likely to make it even harder on panelists, forcing them to consider him for the top spot.
Feldman:
Usually I have a pretty good feel about who is going to take the top spot before the votes come in. However this month, I didn't know if it would be Negreanu, Ivey or Selbst. Each of them has a tremendous track record and recent success to place them up, and I could make an argument for each and every one. To put things simply, If any of those three, or even McDonald, were to grace the top spot, I don't think the panel would have come to the wrong conclusion. That said, no matter who earned the top spot, there would definitely be a strong debate and conversation. Don't forget to add your take below.
As a whole, the group was on the same page for the top five players. After that, the rankings became a little murky. I could really put in a pretty strong argument for Fabian Quoss and Ben Tollerene and I'm surprised neither of them made it. Mizzi too. I do believe the panelists put a ton of weight on the super high roller events and in reality, that's important because that's where the best in the world compete. If you beat the field of elite players, you deserve consideration here.
Heinecker is going to prove to be a difficult player to keep on the list with his recent opt-out of his performance tracking. Many high stakes cash game players are doing similar things and it makes it very tough to gauge long-term winners and losers online as a result.
Finally, I'd like to welcome PokerStrategy's Barry Carter to the panel, replacing former ESPN Deportes editor Nahuel Ponce. He brings a great perspective to the game and to these players that will definitely make this initiative even better.
December, 6, 2013
12/06/13
4:07
PM ET
The Nuts is a recurring feature that takes a look at the best poker players in the world. This feature aims to produce a list of the best players at the moment. Our panel of 10 is composed of ESPN.com's poker contributors (Bernard Lee and myself); ESPNdeportes.com poker editor Nahuel Ponce; Bluff magazine editor-in-chief Lance Bradley, senior writer Tim Fiorvanti and information manager Kevin Mathers; WSOP.com managing editor Jessica Welman; PokerNews editor-in-chief Donnie Peters; World Poker Tour's Eric Ramsey; and PocketFives' Dan Cypra.
We have a new No. 1 player in the world, and no, it isn't WSOP Champion
Ryan Riess
. The World Series of Poker main event final table turned a lot of heads and while many fans and players gained some new respect for the game's most notable finalists, especially Amir Lehavot, zero of the November Nine have found their way onto this list.
The standout performer since the last rankings has been the standout performer for pretty much the entire year … and his career. Daniel Negreanu is the new No. 1 player and really, with his recent efforts in the felt, the only surprise is that it didn't happen sooner. Negreanu capped off a tremendous WSOP season with a 25th-place finish in the main event and a victory in the High Roller. His sixth bracelet victory was his second piece of jewelry this year and along with all those cashes came $3.2 million, his second-best winnings total since 1997.
Negreanu's jump over Phil Ivey was only a matter of time. Ivey hasn't put in the effort on the tournament felt to even sniff a big score and the panel couldn't deny Negreanu's quest any longer. Ivey has played a bit online, but with no tremendous earnings, it's tough to give him the nod. Ivey has $17 million in live tournament earnings, but only a couple hundred thousand in 2013. There's little doubt that when he decides to jump feet first into the action, he'll contend for the top spot once again.
The latest installment of the Party Poker Premier League concluded last week with Sorel Mizzi holding the top spot over the elite field. Mizzi earned $400,000 for the title and quietly put together a 2013 campaign that included $3.8 million in tournament winnings, most of which came from the GuangDong Asia Millions HK$1M buy-in event. In the Premier League, Mizzi battled past ESPN's No. 3, Vanessa Selbst (12th), and No. 4. Scott Seiver (fourth). Seiver's run over the past few months include back-to-back cashes in the Alpha8 series and a sixth-place finish in the WSOP Europe High Roller.
Marvin Rettenmaier's run on the World Poker Tour continued over the past month with two deep runs (10th in Paris, fourth in St. Maarten). Derrick Rosenbarger's managed to avoid Rettenmaier's success on his run to the title at WPT Montreal, but those instances come few and far between for one of the most consistent no-limit hold 'em tournament players in the world.
Consistency means a different thing to Philipp Gruissem, a player that panelist Eric Ramsey says is "impossible to ignore." Plain and simple, Gruissem owns the high roller scene around the world. The German superstar has won three high roller events in 2013, including back-to-back Alpha8 titles. In the two WSOP high rollers, Gruissem finished first and third and at PCA, he finished fifth. Gruissem, with his $4.6 million in earnings this year, makes his debut at No. 6. For those that are wondering, his quest at an Aplha8 three-peat will take place in South Africa in February.
Mike Watson, No. 7, added another WSOP final table to his resume at WSOPE and continued to coast throughout a year that made him stand out from the masses and at No. 8, Phil Hellmuth captured his 100th career WSOP cash, continually keeping him part of this conversation.
The name Niklas Heinecker probably isn't one that rings a bell, but he's immersed himself in the conversation of best online cash game players around very quickly. Heinecker has more than $9 million in earnings in 2013, with a pretty even split between live and online action. His recent successes have come against online legend Victor Blom in the high stakes games on Full Tilt. The final spot belongs to Noah Schwartz who captured his first bracelet at WSOP Europe and has been a stalwart among the tournament scene for years. Schwartz also received plenty of air time during this year's WSOP broadcast when he finished 52nd.
Players have a few more majors to attend in 2013 including the WPT's Five Diamond in Vegas and the Prague Poker Festival. They're all chasing Negreanu, but really, the race is over. Congrats on an incredible 2013 Daniel and your new No. 1 ranking.
Did we leave out your favorite player? Who should be ranked higher? Who should be completely off the list? Leave us your thoughts in the comments below. Here's a look at December's top 10:
On the bubble
The bubble boy this month was Ole Schemion who pocketed another two five-figure scores over the last two months. The German 20-year-old had his second consecutive year of at least $1.3 million in tournament winnings and continues to thrive online as well. … WSOP champion Ryan Riess did receive some consideration, but he was far from the top of the list in anyone's rankings. He may have beaten the biggest field of the year, but he'll need to do more than just that to say he's the best in the world right now. … Many of the players on this list have found great success in high roller events and Jeff Rossiter is another name that panelists were considering to add to the collection. Rossiter's recent fourth-place finish in the ACOP Macau was his latest six-figure score in a career that's included many. … Jason Mercier was back into rankings consideration after his WSOP Europe final table as well, but it seemed like too little, too late for the former No. 1. … David Benefield, Jason Koon, Tobias Reinkemeier, Steve O'Dwyer, Justin Bonomo, David Peters, David Baker, Martin Finger and Chris Moorman also received consideration this month.
Final thoughts
Bradley:
In the four years we've been putting The Nuts together, this is by far the one I agree with the most. Sure, I'd move a few people up or down a spot or two, but there's only one egregious inclusion and that's Phil Hellmuth. I say that because he hasn't really been on top of his game since January when he finished runner-up in the NBC Heads-Up event. The only real omission for me is that of David Peters – he's probably the least hyped tournament killer on the planet but yet he's fourth in BLUFF Player of the Year race
Feldman:
Negreanu finally gets his due. Is there much more to say than that? The challenge with removing Ivey is that if he's able to put something together ... anything ... he probably jumps back into No. 1 since he'd be "back." For now, and probably as long as he's able to continue to put up numbers, Negreanu will hold onto that spot. He's a focused and determined player when there's something he wants and his motivation this past year is pretty clear. He wanted to be the first player to win the WSOP Player of the Year award twice. He wanted to be Player of the Year. His chances to win both seemed slim entering October, but he proved once again that he thrives under pressure.
There were a number of players I was unsure about this month and I think the omission of Steve O'Dwyer tops my list. Heinecker's surge is simply incredible, but when playing at those stakes, the downswing is inevitable. We may have published this at a time when he's at his peak, but that's something to keep an eye on. Regardless, $9 million in a year is insane.
As for Hellmuth, yeah, he probably shouldn't have made the list, but you can't argue with his results and 100 cashes is a pretty incredible effort. Many thought years ago that the game passed him by, but he's still here and still cashing.
Finally, for Ryan Riess: You won and said you're the best. Now it's time to prove it and if you do, a spot on this list is waiting.
October, 11, 2013
10/11/13
2:34
PM ET
The Nuts is a recurring feature that takes a look at the best poker players in the world. This feature aims to produce a list of the best players at the moment. Our panel of 10 is composed of ESPN.com's poker contributors (Bernard Lee and myself); ESPNdeportes.com Poker Editor Nahuel Ponce; Bluff Magazine Editor-in-Chief Lance Bradley, Senior Writer Tim Fiorvanti and Information Manager Kevin Mathers; WSOP.com Managing Editor Jessica Welman; PokerNews Editor-in-Chief Donnie Peters; World Poker Tour's Eric Ramsey; and PocketFives' Dan Cypra.
Just as the poker world revolves around the World Series of Poker in June and July, when fall approaches, the biggest and best action is in Europe. From EPT Barcelona to EPT/UKIPT London and the recently started World Series of Poker Europe, the focus of the industry is far away from the United States, despite a few larger domestic efforts. Europe is not only the place to go because of the massive amount of live play, but with the World Championship of Online Poker taking place at the same time, going to Europe provides professionals the opportunity to soak up more action. WCOOP is the biggest online tournament series in the world, and proved again in 2013 that no other effort can truly compare.
To nobody's surprise, Phil Ivey retained the top spot this month. Although he's down so far this year in the online cash games, he had a strong recovery last month by pocketing more than $500,000. Ivey also found his way into WCOOP and just missed the final table in the $10,300 eight-game event; he finished 57th in the $2,100 no-limit event earlier in the series. Ivey now turns his sights to capturing his 10th WSOP bracelet, and with a 25,600-euro event on the schedule, he'll be sure to make the most of his trip to France.
While Ivey coasts at No. 1, the battle for No.2 continues between Daniel Negreanu and whoever else makes competitive strides each month. Negreanu solidified his spot with his runner-up finish in the EPT Barcelona high roller event, and then a 17th-place in the $2,100 HORSE WCOOP event. Vanessa Selbst jumped from ninth in the rankings to challenge him for No. 2 with a second-place finish (out of 1,189) at the Borgata Poker Open and two weeks later, a victory in the 2,000-pound high roller event on the UKIPT.
In addition to Selbst, some other members of the top 10 earned additional hardware over the past month. Marvin Rettenmaier, ranked fifth, found another tour to win on in September as he captured a Eurasian Poker Tour title. David Baker dropped to seventh despite winning one of the Sunday Majors on PokerStars for nearly six figures, and Phil Hellmuth, eighth, found the winner's circle in an Open Face Chinese event at UKIPT London.
Replacing Matthew Ashton and Sam Trickett on the list are Ole Schemion and Steven Silverman. Schemion is far from recognizable if you only follow the American poker scene, as the 20-year-old has conquered the European poker market for $3.3 million over the past two years. He's a stalwart in the European high roller events and will go down as the final Partouche Poker Tour champion, winning their main event title last September. Silverman, aka "Zugwat," will get national TV exposure in a few months because of his victory in the $100,000 Alpha8 debut. The Washington, D.C., native has more than $2 million in live earnings this year and may be finally getting his due.
Did we leave out your favorite player? Who should be ranked higher? Who should be completely off the list? Leave us your thoughts in the comments below. Here's a look at August's top 10:
On the bubble
November Niner
JC Tran
is the bubble boy in this month's rankings. The WSOP main event chip leader followed up his main event run with a second-place finish in the Alpha8, and is on the way to Europe looking for more. Tran is a few eliminations away from making this his most profitable year yet, and panelists came close to putting him on the list before the action plays out in Vegas next month. ... Dan Kelly was the bubble boy last month, and although his eight-cash WCOOP would get him back in the top 10, it wasn't enough. Kelly has been outstanding this year and should contend for Player of the Year honors this fall. … Jason Mercier earned a big cash with a third-place finish in the $700 no-limit WCOOP event and seems to be back on track. Nobody doubts his ability, and he's often one of the most debated players month after month. … Steve O'Dwyer peaked on this list in 2012 and is easily making his case once again. O'Dywer, the EPT Grand Final Champion, added $550,000 to his bankroll since August and is currently 11th on the 2013 money list. … Viktor Blom, David Sands, Sam Trickett, Chris Klodnicki, Martin Finger, Igor Kurganov, David Benefield, Mike McDonald and Paul Volpe also received consideration this month.
Final thoughts
Bradley:
Spots 2-4 are all occupied by players who are having strong years. Ivey continues to sit atop the rankings, and that doesn't shock me at all. He's clearly cemented his reputation as the best player in the world, but he's going to need to show he can win something other than a new badge on IveyPoker with Negreanu and Selbst (who just won an EPT side event) hot on his tail.
I'm somewhat surprised to see Hellmuth still in the Top 10, but I guess with WSOP Europe kicking off this weekend, he could snap up another bracelet to crack the top five next month.
Feldman:
In my opinion, the most interesting results this month come in spots nine and 10. Ole Schemion is crushing the poker world ... where he can. He become a true star on the European Poker Tour, but being younger than 21, he can't play in the U.S. It's hard to imagine where his career will take him, but without any hesitation, it's easy to say he'll be the rookie everyone is watching in Vegas next summer.
Silverman's stock has never been higher, and perhaps a debut at 10 is too low. Regardless, I'm glad to see him on the list and finally getting a little love from the group.
One player I feel is missing from the list this month is Viktor Blom. The high-rolling Swede remains one of the most swingy cash game players online (currently up $1.5 million this year), but he also had a strong WCOOP showing. He seems to always fall on the bubble and unfortunately, I'm not quite sure what it would take for him to actually break through. Others who I feel are deserving for ranking: David Sands, Steve O'Dwyer, JC Tran and Dan Kelly.
August, 11, 2013
8/11/13
11:30
PM ET
The Nuts is a monthly feature that takes a look at the best poker players in the world. This feature aims to produce a list of the best players at the moment. Our panel of 10 is composed of ESPN.com's poker contributors (Bernard Lee and myself); ESPNdeportes.com poker editor Nahuel Ponce; Bluff magazine editor-in-chief Lance Bradley, senior writer Tim Fiorvanti and information manager Kevin Mathers; WSOP.com managing editor Jessica Welman; PokerNews editor-in-chief Donnie Peters; World Poker Tour's Eric Ramsey; and PocketFives' Dan Cypra.

The August rankings are always unique. For the majority of the year, the poker tournament circuit is busy with stops nearly every weekend. However, during the weeks after the World Series of Poker, tournament organizers offer a brief respite in the schedule. There are very few must-attend events on the calendar as the poker world, for lack of a better word, recovers from seven weeks in Vegas. After all, the WSOP can create superstars, but it also can cripple bankrolls and end careers.

The heavy influence of the WSOP on the panelists resulted in three Nuts debuts this month. David "Bakes" Baker has been successful for years, but the Michigan native shined even brighter this year and makes his Nuts debut at No. 3. Although he didn't win, his nine cashes and four final tables were one of the most talked about stories this summer. Bakes sits behind No. 1 Phil Ivey, who managed only one cash this Series, and Daniel Negreanu, who had an impressive effort with six cashes and is currently in second in the WSOP player of the year race.

The second debut belongs to Mike Watson (sixth), and his success extends far beyond the walls of the Rio. Watson did cash eight times during the 2013 WSOP, but his run really began this past December. Since that time, he's made eight final tables, cashed for more than $1.4 million on the live felt and continued to add to his poker success online, where he's collected more than $2 million.

One of the best parts of the WSOP is the discovery of new stars, and this year, the standout was Matthew Ashton. Ashton makes his Nuts debut in seventh thanks to his four final tables and victory in the $50,000 Poker Players Championship. He is the current leader in the WSOP player of the year race, but unless the stud-focused Brit changes his approach, he'll have a hard time moving up this list in the future.

Scott Seiver moved up two spots to No. 5 after his WSOP effort, but Phil Hellmuth, Vanessa Selbst and Sam Trickett fell to the bottom of the rankings as a result of their struggles in Vegas.

The circuit hits full speed in a hurry as the next month includes a $10 million guarantee in the Seminole Hard Rock main event, the 2013 World Championship of Online Poker, the debut of the Alpha8 series, WPT Legends, EPT Barcelona and the start of the 2013-14 WSOP Circuit season. With so much in store over the next month, we can expect September's rankings to look substantially different.

Did we leave out your favorite player? Who should be ranked higher? Who should be completely off the list? Leave us your thoughts in the comments below. Here's a look at August's top 10:

On the bubble

Where should we start? Dan Kelly was this month's bubble boy after a WSOP to remember. The online phenom-turned-bracelet winner cashed eight times in Vegas, including a fifth-place finish in the Millionaire Maker. Had Kelly won that event, there's little doubt he would have been in the top 10 this month. … Jason Mercier remains on the minds of the voters after six cashes at the WSOP, but for the first time in his career, he failed to make a final table. … Max Steinberg might have scared away some panelists after his jack-high hand on a recent WSOP broadcast, but everyone will get to see a lot more of him this summer. Steinberg had two runner-up finishes in bracelet events this Series and was the chip leader of the main event for a few levels. He has three six-figure cashes over the past year. … Joseph Cheong, Philipp Gruissem, Antonio Esfandiari, Paul Volpe, $111,111 High Roller champion Anthony Gregg, double-bracelet winner Tom Schneider, Viktor Blom, Phil Galfond, Jeremy Ausmus and main event chip leader JC Tran also received consideration this month.

Final thoughts

Bradley: The list seems to reflect some of the WSOP magic. Prior to June, the name Matt Ashton would have drawn blank stares from most people in the poker world, but he put on a show at the 2013 WSOP to boost his profile and his lifetime earnings. Given that he seems to be a stud specialist, he'll be hard pressed to find any more big scores the rest of the year. That also doesn't help his chances of becoming the 2013 WSOP player of the year.

Phil Ivey seems to have the top spot on lockdown still. I am curious as to what it will take to unseat him again. The first player to do it, Jason Mercier, is not on this list, and you have to wonder whether the amount of Open Face Chinese that he's been playing the past nine months has had an effect on his tournament play.

Feldman: There are 10 really strong players on the list this month, but I'm stuck wondering who will survive the cut in September. Baker is one of the true talents of the game, but it took four quick final tables to finally break into the heads of the panelists. That said, No. 3 is surprising for a debut, but when you perform on the game's biggest stage, it's deserved.

I've been in the "Rank SirWatts" camp for months, and I'm glad to see he finally made it. Seiver should have been higher. There really isn't anything he hasn't accomplished in the game, and it might be his outward modesty that brings down his overall awareness.

I do think the bottom of this list could have been better. Hellmuth, Selbst and Trickett just haven't performed recently, and it might be time for the panelists to re-evaluate. So many players who fell to the bubble -- such as Joseph Cheong, Dan Kelly, Paul Volpe, Philipp Gruissem and Viktor Blom -- could have been better fits for those spots.
July, 9, 2013
7/09/13
1:54
AM ET
Michael Mizrachi is the most decorated player in the Day 1C field. No, I'm not talking about his three WSOP bracelets, two WPT titles or $14.4 million in tournament earnings; I'm talking about his patches. Over the past few years, perhaps since his November Nine appearance in 2010, "Grinder" has become one of the game's most prolific endorsers, and, today, sitting behind a massive 200,000-chip stack, these companies are going to be getting a heck of a lot of face time.
Observing Mizrachi's table tonight is simply entertaining. In true "Grinder" style, he's playing the majority of hands with limited discretion about what cards he's actually holding. From 3-7 to Queen-4 to Queen-9 to Jack-6, Mizrachi is calling or raising just about everything preflop and then winning the pots by either running good to get there or outplaying his opponents. Players often strategize with a thought process of putting a player on a hand, but against Mizrachi, it's pretty much impossible. That's just the way Mizrachi likes it.
Of course, there's a major concern with this strategy, and that's why Mizrachi most likely won't end the night with 200,000. His hyper-active approach, which he probably won't stop anytime soon, will either result in a significant padding of his stack or a substantial loss. The rest of the players at his table, including tournament veteran Scott Freeman, are probably just waiting for the moment to pounce and take advantage.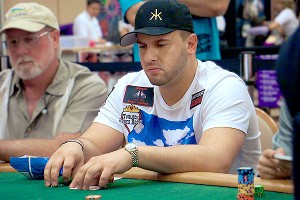 Jay NewnumThrough four levels, Michael Mizrachi is the Day 1C chip leader.
All that said, I'm talking about one of the true stars of the game. He puts in more volume through his travels around the world than 95 percent of his competition here at the WSOP. He's already made the Main Event final table during the post-boom era, and if there's anyone who can figure out a way to exploit his competition and do it again, it's Mizrachi.
As Mizrachi soars, he's joined at the top of the chip counts with a number of familiar faces: Vanessa Selbst, Freddy Deeb, Vivek Rajkumar, Jason Koon and Marvin Rettenmaier have all eclipsed the 100,000-chip mark. Shaun Deeb, Jeff Gross and Jennifer Tilly were eliminated during the last level.
Small blinds:
In the last 20 minutes of the level, Phil Hellmuth's stack went from 14,000 to 59,000. … Joe Hachem has agreed with his table that they'll show one card during each contested pot. That is definitely working out in his favor. He also said they'll celebrate the end of the night together with a round of shots. … At the table next to Hachem, Carlos Mortensen is preparing for a Day 2 chip castle construction. He's easily the leader at his table. … Rob Salaburu is back to his quick-acting ways. It's almost like he just throws a couple chips off the top in pure randomness just to beat his opponent into the pot. … David Sands might be the youngest player at his table by 15 years. … Jean-Robert Bellande and Eric Baldwin are seated together. … Will Failla has taken Jonathan Duhamel's seat in the Blue section. … Tournament director Jack Effel announced the prize pool to the field before the start of Level 5. The $8.3 million first-place prize received just a small round of applause.