July, 13, 2014
Jul 13
9:02
PM ET
A flurry of eliminations in the Amazon Room late in Level 27 left only 44 players in contention for the $10 million first-place prize at the 2014 World Series of Poker. Day 6 is planned for a lengthy 11 hours of play, or until the field reaches 24 players, and Kyle Keranen continues to cruise along. Keranen became the first player to top 12 million during the level, most of which coming at one of the toughest pro-filled tables remaining. Upon changing tables, he gave a bit back and finished the level with 9.6 million in chips.
The Bellagio cash game regular is still firing without hesitation. His ability to casually put out million-chip bets is keeping the pressure on at such a pivotal time in the tournament to position himself for a run at the final table. Still, his 38th-place finish from two years ago must sit in the back of his head as he gets through the day.
Dan Sindelar has chipped up constantly today and holds a slight chip lead over Martin Jacobson to leave the Amazon Room for dinner as the top stack.
At the feature table, Mark Newhouse has played a few big pots and recently eliminated Clayton Hamm with 10-10 over A-10. With 6.9 million in chips, Newhouse is ahead of his Day 6 pace from 2013 when he bagged 5.7 million. The other player to make Day 6 last year was Vitaly Lunkin who, after surviving numerous all-ins, was finally knocked out in 57th. Lunkin finished 46th in 2013.
Other eliminations include:
Matthew Waxman: The WPT and WSOP champion had played the short stack well for the past two days but couldn't run it up on Day 6. On his final hand, he was involved in a three-way all-in with Keranen and Eddy Sabat. Sabat's aces topped both Keranen's 10-10 and Waxman's 9-9 to knock down the chip leader and knock out the Florida Pro in 45th.
Bill Cole: The 70-year-old was probably having more fun at the table than anyone else. He ran nines into the aces of Robert Park to finish 58th.
Issac Baron: An unlucky spot for "WestmenloAA" resulted in his queens losing to Chris Greaves in 52nd.
Ryan Fair: Fair has cashed in each of the past three years and nearly eclipsed his 31st-place finish in 2009. Fair ran eights ran into the kings of Andoni Larrabe to exit in 48th.
Jason Johnson: Ryan Riess' pick to win the main event had his kings cracked and paid off Martin Jacobson's flopped set in a big pot mid-way through the level. Johnson finished 51st for his third six-figure cash of the 2014 WSOP.
Brian Hastings: Right after he finished watching the World Cup on his WatchESPN app, Hastings failed to hit his A-J against Andrey Zaichenko's K-K. He finished 64th.
Busto main 64th for $103k. Wouldn't change a hand I played today, sometimes it's just not meant to be. Thanks for the support!

— Brian Hastings (@brianchastings) July 13, 2014
Bryan Devonshire doesn't have a top-10 stack, but played a few big pots to crack the five-million-chip mark. In 2011, he finished Day 6 with 5.9 million in chips. Matthew Haugen isn't in the top-10 either, but he must be pleased with his comeback. The Day 4 chip leader doubled up on the final hand of Day 5 and needed to get his chips in early on Sunday in order to make a run. He's done just that. Hauten doubled through Newhouse to start (Q-Q > 10-10), then gave a bit back, then doubled through Lunkin and Cole before leaving the feature table. He's again a threat in this tournament with 5 million in chips.
Players are now on a 90-minute dinner break.
July, 12, 2014
Jul 12
5:59
AM ET
The smiles turned back to stares throughout the course of Day 4 of the World Series of Poker main event. After a
raucous celebration
rocked the Amazon Room when the remaining players made the money, the field returned to seriousness as positioning for the final stretch became the utmost priority. Matthew Haugen emerged with the lead after Day 4, a familiar situation for the professional poker player from Chicago.
"I'm feeling great," said Haugen. "Being chip leader going into Day 5 of the main event, I can't complain about that."
Haugen began to take the game seriously after he graduated from college. Like many other of the game's rising stars, he started online.
"After I graduated from college, I had a little bit of money and put it online," he said. "I started playing, kept winning and never looked back."
[+] Enlarge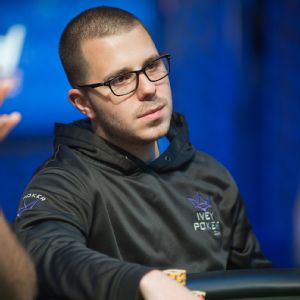 Drew Amato/BLUFFDan Smith is sixth in chips after Day 4
In a post-Black Friday world Haugen travels often to play and has found some great success on both the WPT and EPT. He also has twin 18th-place finishes so far this WSOP.
"I'm just going to keep playing my game and see what opportunities present themselves," said Haugen. "$10 million would mean a lot. It would be pretty amazing."
Behind Haugen is a stacked crew of professionals who have been waiting for this opportunity. Griffin Benger, Dan Smith and Kyle Keranen are all part of a strong top 10 at this stage of the event. Keranen has been here before and was the chip leader after Day 5 in 2012. After fizzling out then, he's not ready to let this second opportunity go.
"I just feel so much more in control than I did two years ago," said Keranen. "I was still pretty new to high-stakes tournaments back then and I got a bit nervous on Day 6. ... This year I feel totally composed and ready for it."
Keranen enters Day 5 eighth in chips.
The remaining field includes many players who should feel at home during Day 5 action. Among that group Keranen (38, 2012), Leif Force (11th, 2006), Pat Madden (64, 2005), Maria Ho (38th, 2007), Alex Outhred (54, 2008), Roland Israelashvili (25, 2012), Isaac Baron (85th, 2012), Farzad Bonyadi (27th and 41st, 1998 and 2005), David Einhorn (18th, 2006), Ali Eslami (49th, 2004), Ryan Fair (31st, 2009), Mike Wattel (95th, 2005), Kyle Bowker (37th and 84th, 2007 and 2012), Bryan Devonshire (12th, 2011) and most recently Rep Porter (12, 2013) and Mark Newhouse (ninth, 2013) have all made it to the final stages before.
With 291 players remaining, here are the top 10 chip counts after Day 4:
1. Matthew Haugen (2.80 million in chips)
2. Zach Jiganti (2.36 million)
3. Griffin Benger (2.32 million)
4. Michael Finstein (2.31 million)
5. Bruno Politano (2.28 million)
6. Dan Smith (2.22 million)
7. Andoni Larrabe (2.19 million)
8. Kyle Keranen (2.15 million)
9. Farid Fattin (2.12 million)
10. Pakinai Lisawad (2.08 million)
The eliminations came at a rapid pace throughout the action on Friday, but the only one that was truly acknowledged by all players was the 430th-place finisher: Phil Ivey. The 10-time bracelet winner began the day in a strong position at the feature table, but started to run cold after he lost a quarter of his stack to Kyle Keranen. The bleeding continued until the dinner break, but still, with 340,000 in chips, Ivey was not in dire straights. Almost immediately after the dinner break, Ivey found himself in a hand against two-time WSOP champion John Kabbaj and made an ill-timed all-in on the turn of a 9-9-2-2 board. The shock and frustration came over Ivey's face immediately as his A-K trailed Kabbaj's J-J. Down to his final card, the cameras came over and Ivey's tournament ended with a blank on the river and a sprint to the back doors of the Amazon Room.
Hours before Ivey's departure, Ronnie Bardah's exit marked the end of a historic run. Bardah has cashed in each of the past five WSOP main events, a new record.
Thx for all the support guys and girls.Love you all and I'll be back next year for number 6 and maybe nov 9:) living the Dream

— Ronnie Bardah (@RonnieBardah) July 12, 2014
Other notable Day 4 eliminations include John Juanda (293rd), NASCAR's Jason White (348th), Michael Binger (353rd) and Jonathan Little (490th).
Action resumes at noon PT and will most likely continue for five levels or until the field is down to 72 players. The minimum cash for all those who remain is $33,734.
Small blinds:
The pre-money elimination of Huck Seed marked the first year since 2002 that a former champion did not make the money. It has happened nine times in the total history of the event. … I've followed "Rainbow Hat Guy" around the WSOP for the past few years and today he had his chance at the feature table. Zach Hall sat directly across from Ivey, who looked at him and said
"Are you serious?"
Hall was eliminated on the final hand of the night. … Alex Outhred started Day 2 of the main event with 12,000. He bagged 714,000 on Day 4. … Blake Cahail played the last level in one of the $230
Zooop suits
that is being sold at the Rio. He didn't buy it, but said if his friend bought it, he'd wear it. … In 2012, Keranen was the chip leader after
Day 5
. … Take a look at
the bracelet
. … Plenty of drinks were ordered toward the end of the day. Relatively surprising at this point. That usually ends on Day 2. … David Einhorn is donating his winnings to Robin Hood NYC. … Sam Jaddi and John Kabaaj are the two remaining 2014 bracelet winners in the field. … The highest chipped woman in the field is Mikiyo Aoki, who has 1.5 million in 21st place. She was the runner-up in the 2014 WSOP Ladies championship. … There are five multiple-bracelet winners remaining in the field: Jeff Madsen, Farzad Bonyadi, John Monnette, John Kabbaj and Rep Porter. … Including the main event, Roland Israelashvili now has 10 cashes this WSOP.