July, 15, 2013
7/15/13
5:22
PM ET
LAS VEGAS -- I've had chills since I walked into the Amazon Room this morning. The final day of the WSOP main event -- in July -- is here, and by the end of the night, we'll have our 2013 November Nine and a better idea of who will become the next world champion.

Steven Gee will not be returning to the final table in 2013 after another incredible main event run. The 2012 ninth-place finisher was cruising early with a knockout of Jorn Walthaus (26th place), but he moved all-in at the wrong time against chip leader Anton Morgenstern to finally find the exit. Gee opened from the small blind, Morgenstern three-bet from the big blind and Gee four-bet all-in. Morgenstern called instantly with 8-8 and had Gee in bad shape with 10-7. An eight flopped, and Gee received a warm ovation from the room as his quest for back-to-back final tables ended just short. He earned $285,408 for 24th.

Morgenstern had a first hour of relative inactivity, then became more aggressive as he felt out the dynamics at the feature table. He peaked near 30 million in chips, but gave away nearly four to JC Tran on the final hand of the level to finish with 26 million in chips. Tran was extremely active during the first two hours and is currently second in chips with 17 million.

At the secondary feature table, Chris Lindh benefited from a few key hands against Carlos Mortensen and has a five-million chip edge over his closest competitor at the table, Marc McLaughlin. Jason Mann was the only player eliminated from that table during the first level, moving all-in with 10-10 after a Q-5-5 flop. Lindh showed Q-9 and held to eliminate the one-time chip leader in 25th.

Benjamin Pollak was the other player eliminated during the first level, getting unlucky at the outside feature table as Maxx Coleman hit a straight with A-4 to top Pollak's 9-9.

If the final table were set right now, the players who would make up the November Nine are:

1. Anton Morgenstern (26.4 million in chips)

2. JC Tran (17.0 million)

3. Chris Lindh (15.8 million)

4. Sylvain Loosli (13.6 million)

5. James Alexander (13.1 million)

6. Fabian Ortiz (12.1 million)

7. Marc McLaughlin (10.5 million)

8. Carlos Mortsenen (9.5 million)

9. Sergio Castelluccio (8.6 million)


July, 14, 2013
7/14/13
5:28
AM ET
LAS VEGAS -- Day 5 was moving day at the 2013 World Series of Poker main event as players tried to build their stacks and gain an edge heading into the final few days. Greg Merson's title defense
ended early on Day 5
, as did the hopes of Greg Mueller, Annette Obrestad, Marvin Rettenmaier, Vivek Rajkumar, Max Steinberg, Ronnie Bardah and Day 4 chip leader Jon Lane.
While 2012 ninth-place finisher Steven Gee continues his quest for back-to-back final-table appearances, it was Sami Rustom's time to shine and he'll lead the final 68 players who will continue their quest Sunday for the bracelet and the $8.3 million grand prize.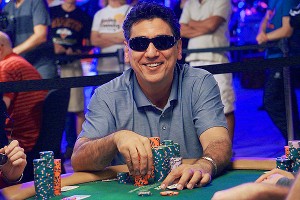 Jay Newnum/BLUFFChip leader Sami Rustom is all smiles as he competes on Day 5 of the WSOP main event.
Rustom began the day second in chips and maintained a spot in the top 10 nearly all day, finishing with 7 million. He edged out Canadian Marc McLaughlin for the lead by just a few big blinds, and it was McLaughlin who received a vote of confidence at the end of the night in the form of a tweet from the reigning champ.
"For those who want a great player to root for in the main its @Go_Irish_Go, very talented online cash game player. Gl man," said Merson.
McLaughlin had six career WSOP cashes prior to this main event, including one final table and two in the main event.
Ryan Riess, runner-up in the 2012 WSOP Circuit Hammond main event, made the biggest move at the end of the night and finished in seventh with an eye on the final table. The Michigan State alum was pleased with his play and felt that his timing was great on such a critical day.
"I ran really good today," said Riess. "It's amazing [to be among the leaders]. I'm honestly speechless. All I wanted to do since I was 14 is play poker, and after the Circuit main event in Hammond last year, it gave me enough money to travel and play, and we're still in it."
Carlos Mortensen's quest for a second main event title continued with a strong upswing late in the night. Mortensen entered the day with 302,000 in chips and put them to use quickly and efficiently all day. His best level came after dinner and at the expense of a cooler to Rettenmaier (K-K against Q-Q), and he was able to turn on the aggression to finish the night with 2.6 million in chips. With this cash, Mortensen will have at least $11 million in lifetime career earnings.
The last woman standing is Australian Jackie Glazier, who was all smiles as she left for the night with 4 million in chips thanks to one key river card. Glazier moved all-in on a board of 8d-6c-2d-8s for just over a pot-sized bet of 1.5 million. Chris Johnson thought for minutes as Glazier anxiously awaited his decision with a stare at the felt. Johnson called with 7-7, which was ahead at the moment. Glazier showed Ad-10d and needed an ace, 10 or diamond, and as the dealer placed the 10h on the river, Glazier's rail erupted in an "Aussie! Aussie! Aussie!" chant that made the entire room turn and wonder if Joe Hachem had returned. Glazier, a member of Team Ivey, now has six career WSOP cashes, including one final table.
"I actually didn't think he was going to call there, " she said. "It was a very ballsy call, but the hero call doesn't always pay off. ... [If I make the final table], there will be one big party in Melbourne."
Some notes on the strength of the remaining field:
There are five World Poker Tour champions left (Mortensen, Noah Schwartz, Yevgeniy Timoshenko, JC Tran, Mark Newhouse)
Marc McLaughlin has made the top 100 in the WSOP main event in three of the past five years
Yevgeniy Timoshenko has won the WCOOP main event and the WPT Championship
There are seven bracelet winners remaining (Mortensen, Tran, Amir Lehavot, Rep Porter, Steven Gee, Vitaly Lunkin, Jim Collopy)
There is one EPT champion, Vladimir Geshkenbein.
Here are the chip leaders after Day 5:
1. Sami Rustom (7 million in chips)
2. Marc McLaughlin (6.6 million)
3. Jason Mann (6.5 million)
4. Maxx Coleman (6.2 million)
5. George Wong (5.7 million)
6. Sylvain Loosli (5.6 million)
7. Ryan Riess (5.6 million)
8. Keanu Tabali (5.4 million)
9. Matthew Reed (5.2 million)
10. Chris Lindh (4 million)
Small blinds:
Steven Gee peaked at 3.3 million and ended the night at 1.4 million. He was not happy with his play at the end of the night, but was happy he still has a chance. ... 2013 bracelet winner Jesse Martin was live tweeting at the feature table with an eye on Rep Porter and JC Tran. ... While some players planned on leaving for the night and going to bed, others planned on heading to the craps tables. Or at least that was the plan. ... When action resumes Sunday, the blinds will be 25,000/50,000 with a 5,000 ante. ... The average stack is 2.8 million. ... There are nine players who are returning Sunday with fewer than 20 big blinds. ... Amazon table No. 440 tomorrow features Mortensen, Tran and Timoshenko. Translation: You'll see this table on TV. ... The Day 5 Poker Edge includes interviews with Merson, Glazier, Riess, Schwartz and Gee.
July, 13, 2013
7/13/13
10:01
PM ET
LAS VEGAS -- Only 13 tables remain in the Amazon Room after six hours of play on Day 5. The table conversations have turned from general chatter to almost nothing but the rattle of chips, and with the blinds at 15,000/30,000 with a 5,000 ante, we saw plenty of million-chip pots that have shaped the leaderboard.
Marc McLaughlin, Jonathan Jaffe and Sami Rustom lead the remaining field of 109. McLaughlin surged to a 5.8 million chip stack late in the last level with an A-A>Q-Q hand against Patrick Renkers. Jaffe's day at the feature table has been extremely active. He eliminated Vivek Rajkumar during the first level of Day 5 (A-Q>Q-Q) then chipped up to 3 million after a hand with Yi Fang. He knocked out Nikolai Sears, won a 1.1 million chip pot against Michiel Brummelhuis and recently won a couple hundred thousand off Goran Mandic to end the level with 5.1 million.
Rustom's latest addition of nearly 1 million chips came after a big fade on the river with 6-6 against Vincent Robert's flush draw with Ad-4d. As a heart hit the river, Robert hit the rail and Rustom moved over the 4 million chip mark for the first time. He headed to dinner with 4.3 million in chips.
2001 WSOP main event champion Carlos "The Matador" Mortensen has had an active level, which was initially more focused on survival than anything else. Mortensen suffered a tough beat with 9-9 against 5-5 to drop to nearly 400,000, but he got those chips back after his A-8 overcame J-J with his tournament on the line. A few hands later, Mortensen doubled again with aces over queens, and he's at his tournament peak with 1.5 million in chips.
Steven Gee kept his quest for a repeat final table alive with a double up of A-A>K-Q and is over 3 million heading into the dinner break. The past few days haven't been easy for Gee, but he's survived and is back with a strong stack deep in the main event. This is already an incredible accomplishment, and at this point, I can't help but wonder what if ...
Small blinds:
Former chip leader Max Steinberg, Ronnie Bardah and Ashton Griffin were among the eliminations during the last level. ... Robert Sichelstiel
tried to sell action on 2+2
but received just a few percent of interest. Guess who's laughing now. ... Pedro Fernandez was down to one big blind. At dinner he has over 1 million in chips. ... The next pay jump comes at 99th. ... Definitely fewer all-ins and calls over the past two hours. ... There will be four more hours of play tonight.
July, 13, 2013
7/13/13
5:14
PM ET
LAS VEGAS -- It's cold in here. The Amazon Room at the Rio All-Suite Hotel & Casino is home to the world's biggest poker tournament, but after the removal of most of the tables and 97 percent of the field, the vast open space is simply being filled by emptiness and one strong air conditioner. Only 239 players returned on Day 5, and that field was reduced in a hurry with more than 50 eliminations coming in the first level of play.
Greg Mueller made three final tables at the 2013 WSOP and two in 2012 and is a two-time bracelet winner from an incredible run in 2009. He has found success in all variations of the game but said after Day 4 that things just haven't gone right for him in the main event. Mueller did make the money in the main for the first time in his career this year, but Day 5 resulted in a walk out the doors and frustration all over his face.
Mueller opened the pot with J-J and, after a call from the big blind, flopped a set on a K-J-5 board. Mueller's opponent decided to put his chips in with a flush draw and hit, sending the former professional hockey player out in 226th.
"Soooooo crushed!!!," said Mueller on Twitter. "Played my heart out flopped middle set and lose to a flush... Thx for all the support!!! This one stings baaaad!! :("
Deep runs:
The effort of defending champion Greg Merson is one of the most significant storylines remaining, but he's joined in good company by a number of players who have found their way deep in the game's biggest event before. In fact, this year is becoming eerily similar to Peter Eastgate's 2009 main event (78th) when the third-place finisher in 2008, Dennis Phillips, finished 45th. Merson and Steven Gee are playing those roles this year, and both continue to grind with below-average stacks.
More stats about a few of the 180 remaining players:
Although they didn't make the final table, Amit Makhija and Roland Israelashvilli both made Day 7 last year. Both were eliminated during this past level.
Chip leader Jon Lane finished 88th in 2005 and added another 500,000 to his stack during the first two hours today. His poise is really something that stands out, and above all, he's clearly having fun. That's great to see.
Brandon Steven bubbled the main event final table in 2009. With his lucky masseuse by his side, he's already chipped up to 1.6 million today.
JC Tran is deep once again. Look at this: 2004 (117th), 2005 (117th), 2007 (493rd), 2008 (108th), 2012 (561st), 2013 (??). Simply impressive.
Grayson Ramage finished 35th in 2009.
2001 WSOP main event champion Carlos Mortensen is making his third cash in this year's event. He finished 217th in 2007.
Small blinds:
Only four women remain in the field after the eliminations of Estelle Denis and Kristy Gazes. ... Merson is seated at the feature table with Brett Richey. Chip leader Jon Lane is sitting at an outside feature table. ... The plan is for five levels today, but we might be down to the final 27 by then at the rate this is going. ... Regarding my note about Nauru: Apparently the registration desk confused the Netherlands with Nauru. Nobody in the main event field is from Nauru. Unfortunately. That would have been a crazy story. ... The shuffle machines will now be used. That should speed up play a bit, which I'm not sure is needed. ... Eliminations during this past level include Scott Freeman, Vivek Rajkumar and Josh Field. For many online poker fans, the elimination of "JJ Prodigy" is probably of significant interest due to his troublesome past.
July, 12, 2013
7/12/13
8:27
PM ET
LAS VEGAS -- The bustouts continued at a rapid rate on Day 4, and only 430 players are returning from the Level 17 break. Jay Farber has moved into the lead after a stellar start and, most recently, gathered more chips as an opponent moved all-in against him after he flopped a full house. He began the day with 604,000 in chips and now has 1.6 million. He's currently seated with Marcel Luske and has been moved to one of the featured tables.
Farber might hold the edge, but Max Steinberg continues to maintain his strong position. Steinberg owns a top-five stack (1.4 million in chips) at the moment and has remained rather stoic at the outside feature table on a day when the Amazon Room is simply hectic. Players and tables are being shuffled in and out, but Steinberg's towers just simply continue to grow as he focuses on getting the job done. Coincidentally, Steinberg has worked with mindset coach Jared Tendler in the past.
The fact that four members of last year's final table remain in contention has created some fun table dynamics on Day 4. Doyle Brunson, with 260,000 in chips at the break, spent the first level next to Steven Gee, and when that table broke, the seat next to him was filled by Rob Salaburu. Defending champion Greg Merson (644,000) is now seated next to Gee, and at the table next to them is Russell Thomas, who had a railbird named Jake Balsiger looking on for a while.
While he didn't make the final table last year, Roland Israelashvilli did last to Day 7 in 2012 and is in great position for another run with one million in chips. 2006 Main Event final table member and five-time bracelet winner Allen Cunningham has also made a good move in the chip counts, having started the day with 268,000 and now approaching 550,000. All four guests on the
Day 3 Poker Edge podcast
, Yevgeniy Timoshenko, Amit Makhija, Melanie Weisner and Steinberg remain in contention. Timoshenko has chipped up most out of that group at a tough secondary feature table that features 2007 WSOP Europe Main Event champion Annette Obrestad.
Day 1C and 2C chip leader Mark Kroon, Michael Mizrachi, Erik Seidel, James Bord, Isaac Haxton, Paul Wasicka, Stephen Chidwick, Bryn Kenney, Rupert Elder and Blair Rodman were among the eliminations during the past level. Mizrachi's run ended with a gradual downswing throughout the day, and, ultimately, King-Jack failed to overcome Ace-King all-in preflop. This was Mizrachi's third WSOP cash this summer, with one final table appearance.
Blinds are now 4,000/8,000 chips with a 1,000-chip ante. There will be one more level before the dinner break.
Small blinds:
Thomas is the first former November Niner to approach one million in chips. Guess that Jason Somerville coaching thing worked. … Tables are starting to be removed from the Amazon Room as soon as the tournament staff breaks them. There's more open space on the floor, which helps camera teams get in better positions to cover the action. … Former "Nuts" panelist Court Harrington has been at one of the outside feature tables all day and has 500,000 in chips. Harrington owns a few businesses in North Carolina in addition to playing poker. … According to the WSOP's Jess Welman, 14 women made the money in this year's event, and 12 remain in contention.