Poker:

World Series of Poker
July, 9, 2013
7/09/13
8:18
PM ET
Doyle, Erik and "The Mouth." The iconic names of poker's stars from another generation are proving that their games are still among the elite some four hours into play on Day 2 A/B. Each will bring in at least 125 big blinds into the last level before the dinner break and if you were looking for a picture of comfort at the felt in the WSOP main event, you'll find exactly that at each of their tables.
The fans in attendance can't actually see what's going on at Doyle Brunson's table, but his rail is still significant as the iconic hat signals fans to stop and take notice of the appearance of the greatest legend in the game. Brunson continues to share smiles and conversation with his table, and before the end of the last level, he doubled to 170,000 in chips, enough to place him in the top 1 percent of the field.
"Poker is unlike any other professional game or sport," said Tim Fiorvanti, a senior writer for Bluff magazine. "Doyle Brunson is a living legend who can still participate in the game that he made famous. If he were to make a deep run in the main event it would further solidify his place in the history of the game."
Erik Seidel may not have the glorified history like Brunson's, but he does have eight WSOP bracelets and an immortalized runner-up finish in the WSOP main event in the movie "Rounders." Seidel's stack of 189,000 in chips is among the best right now and his success shouldn't be much of a surprise to anyone. The Mayfair-made star has five WSOP cashes in 2013 and is seated with comedian Ray Romano. Perhaps coincidentally, Romano's stack has dwindled so far on Tuesday.
Mike "The Mouth" Matusow is far from his chirpy self Tuesday and his calm demeanor is far from the boisterous, outgoing Matusow who has graced the ESPN broadcasts for years. Seated with defending main event champion Greg Merson, Matusow has chipped up more than 100,000 and is looking to add to his 2013 success, which already includes a bracelet win and a victory in the 2013 National Heads-Up Poker Championships.
Why have these three been successful so far on Day 2?
"Veteran players are really good at picking off short stacks, and to start Day 2, you have a lot of short stacks," said Vin Narayanan, editor-in-chief of Casino City Times. "There will be periods of consolidation, but there were a lot of short stacks to start the day."
From a mental standpoint, the fear of busting out on Day 1 has been removed and many amateurs are now back in the "living the dream" phase. After so many hours at the table over their careers, the experienced pros definitely recognize these spots and are ready to pounce.
While they may stand out to fans, these three are far from the only ones making the most of their main events:
Greg Merson continued to build during the past level thanks to a key win with A-Q>Q-Q.
Joe Cada has played relatively conservative but has topped the 40,000-chip mark for the first time this tournament.
Sergio Castelluccio is the current leader of the field with 260,000 in chips.
Actor Kevin Pollak doubled up his stack from the last level.
Annette Obrestad, the first WSOP Europe main event champion, has more than 200,000 in chips.
Cricket icon Shane Warne still hasn't drawn any crowds here at the Rio, but continues to chip up. He eclipsed the 150,000 mark during Level 8.
Cash game specialist Daniel Cates has never been one for patience and composure in tournaments, but he has nearly 200,000 in the main event.
Small blinds:
The tournament staff is removing all the green 25 denominational chips. … Blinds are now 400/800 with a 100 ante. … The orange section in Amazon (Day 2A) is down to its final few tables. This room is starting to feel really big. … Russell Thomas and Jake Balsiger are keeping their dreams of back-to-back final tables alive. … Recent eliminations include Barry Greenstein, Chris Klodnicki, Brian Rast, Martin Staszko, Joe Tehan and Johnny Lodden.
July, 8, 2013
7/08/13
6:24
AM ET
The second starting day of the 2013 World Series of Poker main event offered a little rejuvenation after a small and generally lackluster Day 1A. A total of 1,942 players put up $10,000 on Sunday and began what they hoped would be a life-changing tournament. The majority of the field (1,296 players) advanced after 10 hours of play, but for those like former main event champions Greg Raymer and Scotty Nguyen, 2013 bracelet winner Erick Lindgren, UFC star Georges St-Pierre and ESPN.com contributor Bernard Lee, this was indeed one of the toughest days of the year as they left the Rio All-Suite Hotel and Casino empty-handed.
One of the biggest highlights of the day was the appearance of Doyle Brunson, who weeks ago said he wouldn't be playing this Series as his body couldn't keep up with the WSOP's tournament grind. The living legend made his way into the Brasilia Room and was
celebrated in front of the masses
to start off the day's festivities. With his seat card in hand, Brunson headed into the Amazon Room and played through Day 1B with ease on the feature table to bag 81,025 in chips. There's still a few days go to, but Brunson already has his sights set on his first cash in the main event since 2004.
Celebrating the 10-year anniversary of his WSOP main event victory, Chris Moneymaker returned to the Rio on Sunday and faced some tough competition to end the day down a little with 24,950.
"Honestly, that was probably the most grueling day of poker I've played in my life," said Moneymaker. "I started off short, never got any traction. I think the old Chris would've busted four or five times in some different spots. I just tried to remain patient and hopefully let the cards come to me."
During the final level, Moneymaker was down to under 7,000 in chips and found a key double up with pocket sixes. He rallied further to get to a day-high of 32,000, but had a few tough spots during the final 30 minutes. He'll enter Day 2 with nearly 50 big blinds.
"This is the one tournament you wait all year for," he said. "To make a deep run in it is really special. I've made Day 3 a lot, but those don't mean anything. I'm hoping to see Day 7 in the near future."
Moneymaker, Brunson and Dan Harrington will continue their quest for a second main event title Tuesday. Two other former champions, Nguyen and Raymer, failed to make it through. After Russell Thomas, Jake Balsiger and Greg Merson all advanced on Day 1A, Jesse Sylvia became the first member of last year's final table to hit the rail here in 2013. The final two women in last year's event, Gaelle Baumann and Elisabeth Hille, continued to be bonded together as both advanced as well.
Hollywood made another appearance at the Rio on Day 1B as Ray Romano and Brad Garrett brought their talents to the felt. Garrett was eliminated during the last level and joked as he made his way out of the Brasilia Room, and past his home-game foe Romano, who enjoyed every moment on Day 1B. Despite competing against talented Russian star Vitaly Lunkin, Romano thrived late and finished the day with 80,000 in chips. This is his second time to advance to Day 2 and he has never made it through to Day 3.
"I'd love to make Day 3," said Romano. "Day 3 is where it gets real exciting. I want to get past where [Kevin] Pollak got last year."
Romano joked that he had problems with aggressive players, and the only way he'll be able to top Pollak's Day 5 performance is if he's able to remedy that.
Throughout the course of the five-level Day 1s, eliminations are typically sporadic. With about 30 percent of the field failing to advance, it's safe to assume that most tables will lose a player here and there, and those empty seats will be filled by new players and new chips to be won. Sorel Mizzi was parked in the Brasilia Room all day and mentioned on Twitter how he was dealt with the unusual experience where not one player was knocked out at his table. For 10 hours, the same group competed against each other and Mizzi was the ultimate benefactor of this situation. Mizzi, one of the best live tournament players in the world, finished Day 1B with 134,100. The remaining eight opponents at his table bagged up below-starting chip stacks. Now that's how you truly dominate Day 1 of the WSOP main event.
Here's a look at the chip leaders:
1. Clement Tripodi (207,050)
2. Jevon Lam (189,250)
3. Daniel Cates (188,425)
4. Robert Russ (176,650)
5. Age Ravn (162,325)
6. Dan Owen (158,900)
7. Kenneth Silberstein (152,075)
8. Miguel Proulx (150,500)
9. Gianluca Rullo (147,800)
10. Robert Nehorayan (146,100)
The two-day attendance total is 2,885. WSOP organizers are expecting the largest one-day main event field in history on Day 1C, which begins at noon PT.
Small blinds:
A couple got engaged today at the Rio during a main event break. Congrats to Rob Voigt and Cecilia Doyle! ... Daniel Negreanu, Phil Hellmuth, Antonio Esfandiari, Phil Ivey, Joseph Hachem and Jonathan Duhamel will play on Day 1C. Paul Pierce is rumored to be in the field as well. ... Loni Harwood won Event 60 to become the second female open-event winner of the 2013 WSOP. The 23-year-old from New York has played professionally live since graduating from the University of Albany with a degree in finance. She is currently third in the WSOP's Player of the Year race. ... Georges St-Pierre was poised to make Day 2 until his K-K was outflopped by A-5 during one of the final hands of the night. ... Shane Warne essentially goes unnoticed here at the Rio, something that would probably shock anyone who has ever followed cricket. With Elizabeth Hurley on his rail, Warne had a great Day 1 and finished with 91,000 in chips. ... The WSOP offered satellites that featured 10 players high-carding for a main event seat. ... The mega-satellites awarded more than 200 seats into the main event. ... Daniel Alaei won the $10,000 pot-limit Omaha World Championship early Monday morning. He won the same event in 2010.
July, 8, 2013
7/08/13
1:13
AM ET
The final four hours of Day 1B feel like a movie in slow motion. The antes have finally kicked in and that adds for a little more preflop drama, but the overall excitement is limited given that the pot sizes typically aren't that big on Day 1. Of course there are a few exceptions and a few players who think they're about to win the bracelet with a six-figure stack at the moment, but there's a long way to go. Even Sunday night.

Just like on Day 1A, the biggest challenge for the players during the final level is to keep their composure. As they start to watch the stacks of their opponent's grow, players have a tendency to worry that they're falling behind and need to catch up quickly. I've called it "Main Event Syndrome." Many players neglect to play their own stack in respect to the blinds and just look at the average stack, which can be intimidating. So why bring it up on Day 1? Players who haven't gained much ground and are in the 10,000-20,000 chip range shouldn't get rattled. With two-hour levels and low antes, patience is key Sunday night. During the last two levels, we'll see who can keep their focus.

In Amazon …

The table generating the most excitement is no longer Doyle Brunson at the feature table. The rail is three deep around the final table of the $1,500-no-limit hold 'em Event 60 featuring Loni Harwood and Yongshuo Zheng. Most of the crowd is supporting Harwood who entered heads-up play with a huge league, but gave a little bit back during the first 45 minutes. Harwood has become the first woman since Cyndy Violette to make three final tables in one WSOP 2005 and has the opportunity to set all kinds of records with a win Sunday night.

Another final table is in progress and nine remain in the $10,000-pot-limit Omaha event. Jared Bleznick leads that group, now on dinner break, and hopes to win his first bracelet in his first WSOP final table appearance. That final table is being streamed on WSOP.com on a five-minute delay.

Players will wrap up the day at approximately 12:40 a.m. PT and return on Monday for their Day 2. Doyle Brunson looks to be in great shape for a Day 2 bid, but Chris Moneymaker simply hasn't found any momentum. After getting back more than 20,000 in chips, Moneymaker flopped the nut straight but was floored as the turn and river gave his opponent a full house. Moneymaker is down more than 20 big blinds and has a tough task ahead of him.

Small blinds: Daniel Cates is off to a good start in the main event. He has never been able to crack the main event formula, so is this the year the high-stakes legend comes through? … Chris Klodnicki was definitely multi-tasking Sunday. While playing the main event, he was also on his iPad playing Open Face Chinese and writing out checks for those that supported him in the $111,111 high roller. The distractions didn't get to him though as he was able to build an above average stack to this point. … Elizabeth Hurley is here supporting Shane Warne in the main event. Warne, and fellow Team 888 member Georges St. Pierre are playing in the Amazon Room Sunday. … WSOP staffers have advised all players to register as soon as possible to avoid major lines and any delays on Day 1C. Rough estimates have more than 5,000 players already registered with registration remaining open until around 4:30 p.m. PT Monday. … Doyle Brunson had dinner with Dewey Tomko in the poker kitchen Sunday. Two legends and great minds of the game. Talk about a conversation I'd love to overhear.

July, 7, 2013
7/07/13
8:47
PM ET
Chris Moneymaker is seated in the Pavilion Room. His table is right in the middle of the room, not located near the rail and with no fans clamoring to get a glimpse. Besides the PokerStars patches, Moneymaker has the desired tendency to blend in like any other player. He's no Doyle Brunson. He's no Phil Ivey. He's no Daniel Negreanu. But he is the reason just about everyone in the Rio is here.
The 10-year celebration of Chris Moneymaker's victory may reach a pinnacle tomorrow when he announces the "Shuffle Up And Deal," but for the most part, it has been all business for Chris. He has always operated with a calm demeanor and today is no different as he begins his main event journey once again. He has been talkative at his table during the first few levels, but the chips haven't come easily. His downswing started early, holding only 10,000 at one point during the first level and since that time, he has oscillated between 10,000 and 20,000 in chips to own one of the shorter stacks at his table.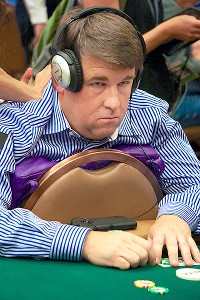 Jay NewnumChris Moneymaker in action on Day 1B.
So how does Moneymaker celebrate his decade of poker stardom? He's getting a massage at the table for the very first time.
Moneymaker's presence at the WSOP is as pivotal as Doyle Brunson's. Both represent the history of the game, obviously Doyle's being of the much-greater fashion, but for the fans that walk the hallways, they are two icons of what the WSOP is all about. Moneymaker's life changed in 2003 and the lives he has changed from that point on is countless. In all reality, I'm probably not writing this blog without Chris, so for that, I'll say thank you Mr. Moneymaker once again and good luck in your quest to making a deep run here in the 2013 main event.
There were 1,942 players on Day 1B giving the WSOP main event a two-day total of 2,885. WSOP organizers expect a huge day on Monday, but topping last year's turnout of 6,598 should be the goal at this point.
Small blinds:
Greg Mueller spent a few minutes explaining how staking works to the rest of his table. ... Tables are beginning to break in Pavilion. The majority of Amazon and Brasilia are still filled with main event players. ... The rail for the Event 60 bracelet is growing as six players remain. Loni Harwood is leading the final six and looking for her first bracelet. ... Congratulations to Brian Yoon, champion of the Little One for One Drop Event 58. Yoon earned $663,727 for the victory. ... Eighteen players remain in the $10,000 pot-limit Omaha event with Daniel Alaei leading. Sound familiar? Yeah, Alaei won the same event just a few years ago. ... Terry Fleischer recorded the first knockout of the day. Then he was eliminated a level later. ... Paul Pierce is expected to play in the WSOP main event on Day 1C. ... The portion of the Amazon Room where I'm sitting smells like a buffalo wing. Weird. ... If you want an entertaining follow today, check out @thinkingpoker, which is giving updates from the feature table with Doyle Brunson. ... The afternoon mega-satellite had more than 1,000 players once again. That room is printing WSOP seats and money for Caesars. ... Water coolers are located around the playing areas as a way to encourage players to not drink the bottles of water delivered to each table and instead opt for a reusable bottle. ... The Day 1A Poker Edge podcast is out and features Greg Merson, Joe Cada and Tony Dunst.
Listen here
. ... The hallway outside of the Amazon Room is filled with retailers trying to sell everything from electronic cigarettes to poker books to fresh oxygen. It's amazing how this area has changed so dramatically since the 2010 WSOP, when the primary vendors in the area was online poker sites. ... For more on Moneymaker throughout the day, check out
Bluff's
coverage. ... Doyle Brunson is off to a good start with 50,000 in chips. ... Greg Raymer has been eliminated. ... During the most recent break, a player proposed to his girlfriend on the stage of the Brasilia Room and she said yes. Congrats! Hopefully his main event cash will pay for the wedding.
July, 7, 2013
7/07/13
5:11
PM ET
There's nothing like the feeling of the moment when Doyle Brunson surprises all and makes an appearance at the World Series of Poker. Before the start of the 2013 WSOP, Brunson tweeted that he wasn't going to play this year as a result of the tournaments just being too grueling of an effort. The living legend held true to his tweet until Event 55, the $50,000 Poker Players' Championship, when he headed down to the Rio with a goal of honoring his friend, the late Chip Reese, with a victory. Brunson failed to make the money, but immediately after his effort, rumors began to swirl of a main event appearance.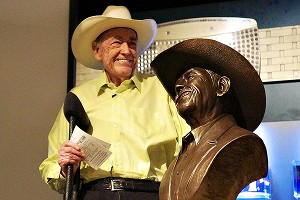 Jay NewnumDoyle Brunson surprised many with an appearance at the main event.
On Sunday, the rumors were confirmed as Brunson entered the Rio, flanked by fans looking to get a picture or autograph from the living legend. He smiled and obliged as he headed into the Brasilia Room where he sat on stage for an introduction by the WSOP's executive director Ty Stewart and the unveiling of something truly special. Stewart revealed
a bronze bust of Brunson
, the first of what I'm assuming will be many, that will be kept at the Rio to honor one of poker's greats. He was also presented with a seat into the main event, which he accepted, before starting the day's action with the customary "Shuffle up and deal."
"Doyle Brunson is like having 40 years of tradition wrapped up in one legend," said tournament director Jack Effel. "He represents the last 44 years of what's become the greatest poker event in the world. He's synonymous with the WSOP. The godfather."
After posing for a few photos with his bust and pausing for a moment to reflect on the honor, Brunson headed into the Amazon Room to a warm ovation and took his seat at the feature table that attracted a rail three deep.
"[It's] kind of cliche but the word 'honor' comes to mind," said professional poker player Andrew Brokos, who is seated with Brunson. Brokos has cashed in the main event five times since 2006.
Heading into the first break, Brunson has approximately 30,000 in chips.
For however long it lasts, this main event appearance will always remind players about the history and passion that one man has brought to the game. He survived the times when poker was far from acceptable and thrived when it boomed in front of the masses. Brunson didn't need a bronze bust to cement a legacy. All he wants to do is play the game he loves and at the Rio on Sunday, he'll have that opportunity once again.
Best of luck Doyle. With a nearly 2,000-player field featuring some of the stars of today's game, all eyes are on you.
Small Blinds:
2012 WSOP main event runner-up Jesse Sylvia was eliminated 45 minutes into Level 1 action. Sylvia moved all-in with a set after the turn and was called by his opponent's straight. Sylvia wished his table luck and quickly exited the Brasilia Room. ... The UFC's Georges St-Pierre is playing today and hoping to
last longer than his appearance last year
. ... Ray Romano and Brad Garrett are playing in the main event today. ... The first elimination of the day came just 20 minutes in as Terry Fleischer's AA held over his opponents Q-Q as all the chips went in postflop. ... Three bracelets will be awarded today in the $1,111 Little One for One Drop, $10,000 pot-limit Omaha and $1,500 no-limit hold 'em events. ... Chris Moneymaker is in today's field and will perform the "Shuffle up and Deal" on Day 1C. ... ESPN.com poker columnist Bernard Lee ran into two big hands to exit late in Level 1. ... Loni Harwood is seated directly in front of me at the 10-handed final table in Event 60. If she's able to last one more elimination, it will be her third final table of the 2013 WSOP. ... Last year's 10th-place finisher Gaelle Baumann is playing today. Elisabeth Hille advanced on Day 1A.
July, 7, 2013
7/07/13
5:13
AM ET
The anticipation built as noon approached in Las Vegas. The biggest moment of the poker calendar was rapidly approaching and all eyes were on defending champion Greg Merson as he delivered poker's most famous words -- "Shuffle up and deal!" -- from the center of the Amazon Room to kick off the 2013 World Series of Poker main event. The $10,000 no-limit hold 'em tournament is the game's defining event, and the winner will walk away with at least $8 million and the title of world champion.
Day 1A featured many familiar faces to those who follow the game, and as a result, many tough tables were formed, creating an unexpected dynamic. It seemed that the amateurs were few and far between while Mike Sexton, Mike Matusow, Matt Glantz and other pros joined Merson on Saturday in a small but elite field. Merson thrived early on Day 1A and navigated through a table that included J.J. Liu with ease over the 10 hours of play. He finished the day with 81,600 in chips and is one step closer to making the money once again.
"I was able to open a bunch and take advantage of my table that was playing pretty tight," said Merson. "I feel like people were playing pretty timid against me today."
While his opponents may have been timid, the fans around the Rio were anything but as Merson was approached time after time for photos, handshakes, autographs and the occasional hug.
"Today was the most outrageous thing of my life. I was like a movie star. So weird," said Merson. "I just rolled in with my boys and I figured it was a normal day, walking in with them. I've been coming over here a bit over the past few weeks and it's been nothing like that. ... There was no way that I could ever imagine it would be like that."
Joe Cada and Pius Heinz were the other former world champions in the field on Saturday. Cada finished with 26,000, but he felt that even though he had a tough time, his day was a success since he's moving on.
"The day was a nightmare," said Cada. "But like Willy Wonka, we've got a ticket."
Heinz fell victim to an unfortunate river card and was sent home during the fourth level of play.
Significant eliminations were few and far between on Day 1A, but a few of the celebrities in the field were among them. Jason Alexander had played in the main event in each of the past seven years and although he's never cashed, he also never busted as early as he did on Saturday. "The Sopranos" star Robert Iler finished 275th in 2011, but was denied a repeat appearance in the money this year with a Level 5 elimination. Mike McDonald, Gavin Smith, Lee Childs, 2013 bracelet winner Dana Castaneda, T.J. Cloutier and former November Niners Chino Rheem and Soi Nguyen were also eliminated on Day 1A. Actor Kevin Pollak had an above-average starting stack for most of the day, but finished with 16,000. He finished 134th last year.
The room was a bit quiet throughout the day and most of the talk at night was dominated with discussion of the turnout. The 943 players from Day 1A is down from last year (1,066), but the WSOP staff still remains optimistic it'll see a 7,000-player event. The satellite rooms were packed all day, and while that's a great sign, there haven't been any lines to register, and that's equally a bad sign for those looking for growth.
A total of 584 players advanced to Day 2A. Here's a look at the official chip leaders:
1. Evan Panesis (190,975)
2. Nick Crisp (184,075)
3. Abdulaziz Almashal (180,575)
4. Sergio Castelluccio (175,825)
5. Michael Wehner (170,325)
6. Jason Manger (158,150)
7. Yucel Eminoglu (147,425)
8. Gal Erlichman (146,875)
9. Jonathan Lane (137,075)
10. Scott Wesley (137,075)
All surviving players will return for Day 2 on Tuesday. While both survivors from Day 1A and Day 1B will return on Tuesday, the fields will play in separate rooms.
Small blinds:
The highlight of the day came during the final level, when a five-way all-in hand erupted.
The hand
featured Q-Q (the winner), J-J, A-K, A-10 and ... wait for it ... 4-3. ... Chamath Palihapitiya had his struggles early on during the day, and when he got back to the starting stack, he stood up and celebrated. The Amazon Room reacted with a small laugh, but really it seemed many players were annoyed. Yup, the good old days of poker and fun on Day 1 are gone for good. ... Paul Pierce busted out of the pot-limit Omaha event on Saturday. Many expect him to play the main event as well. ... The main event bracelet is valued at $500,000. ... Phil Ivey is expected to play on Day 1B.
July, 7, 2013
7/07/13
2:06
AM ET
Day 1A continues to roll on, and fatigue is starting to settle in. The coffees and Red Bulls are flowing at the Rio as players complete their eighth hour of competition on the day. Keeping focused on each day of the main event is a priority for all players, but for the poker veterans around the room, these final few hours are when they'll settle in and build their stacks.

"Players get the feeling that they need to chip up during the last level of the day," said Lee Childs, seventh-place finisher in the 2007 WSOP main event. "You just have to remember to play according to your stack and not panic to get chips. It's a long tournament."

Russell Thomas acknowledged the fatigue of the players and said, "There's a lot of money on the line. Why would you not do everything possible to stay focused?" Thomas finished in fourth place last year and has started off strong this year with an above-average stack heading into the final level.

The first former main event champion has been eliminated from the 2013 World Series of Poker main event. Pius Heinz, sporting his customary gray hoodie, had his trips rivered by a straight early in Level 4 to be sent to the rail. The 2011 WSOP main event champion has played less poker of late and notched only one cash during the 2013 Series. Actor Jason Alexander also failed to make it through Day 1 for the first time in his seven years of WSOP participation.

The rail in the room is sparse, but a slow, steady stream of tourists have been catching the action and providing the room with a little more life. There's a very serious tone on Day 1A, but given the evolution of the strategy and general composition of players here in Vegas, there's no surprise that the fanfare and comedy that once graced Day 1 have disappeared. The main event is all business.

Small Blinds: The tables in the orange section are being broken at this time. ... Faraz Jaka made a strong lay down of the final hand of Level 4 to keep his main event hopes alive. After flopping top two, he folded to an all-in river bet and was rewarded as his opponent showed a flush. ... Tables are starting to order drinks together. Rounds of beers and shots will be common throughout the rest of the night. ... Paul Pierce was eliminated in the $10,000 pot-limit Omaha world championship. He missed out on the money by about 30 spots. That event is currently on dinner break with 61 players remaining. ... There are 12 players remaining in the Little One for One Drop. First place in that event is worth $663,727. ... There are at least 3,200 players registered for the main event. That number will continue to grow significantly. ... Lee Childs and Dan Fleyshman are seated together, as is Justin Bonomo and Phil Galfond. ... Many former November Niners are in today's field, including Steve Begleiter and Scott Montgomery. ... Phil Hellmuth found his way into the dunk tank and into the water at the WSOP's "Block Party" tonight. Those who donated money toward One Drop were able to try to sink Hellmuth.

July, 6, 2013
7/06/13
10:07
PM ET
Registration for Day 1A has closed at 943 players. While that number is down from last year (1,066), the WSOP staff remains strong to their claim that they are pacing for a 7,000-player event. If so, the next two days should be huge.
The energy has picked up a bit in the Amazon Room over the last few hours, and we've started to see a few players head out the door with their wallets a little lighter. Among the early casualties are former November Niners Chino Rheem and Soi Nguyen and legend of the game T.J. Cloutier. Players began the day with 30,000 in chips, and only a few have eclipsed the 100,000 mark as of yet. The players who have made it through the first three levels are now on their dinner break, and when they return, the blinds will be 150/300 chips with a 25-chip ante.
As the Main Event field gathers in the Amazon Room (the room you see on the ESPN broadcasts), the bigger action is taking place down the hallway, where thousands are vying for their own tickets into the Main Event. The Brasilia Room has been busy all day with single-table and multitable satellites hosting players who are trying to turn just a couple hundred dollars into a $10,000 Main Event seat. The 4 p.m. $550 mega-satellite featured a field of 847 players and will award 42 seats, and the morning mega-satellite awarded 25 seats. The tournament staff in that area said that there's been a buzz in the non-Amazon rooms all day and they don't see any sign of things slowing down this weekend. Seth Palansky of the WSOP estimates that when registration closes, approximately 2,500 players will win their seat through the on-site satellite process.
Beyond the satellites, the $10,000 pot-limit Omaha world championship is attracting a massive amount of spectators due to the presence of NBA star
Paul Pierce
, who has more than held his own against the best in the world. With approximately 140 players left, Pierce has an average stack and is chasing the $852,692 top prize. While that might seem like big money, he made $16,790,345 during the 2012-2013 NBA season.
Small blinds:
Actors Kevin Pollak and Jason Alexander are seated at adjacent tables. Between hands, the two have walked over to one another for a quick chat. … The first elimination of the day came on the failed triple check-raise. I'm not sure the last time that worked. … The rail has started to grow a bit, but that might just be friends and families waiting for the dinner break. For a Day 1 of the Main Event, the rails are usually jam packed all day. … Players have told me that the single-table satellites are so soft that people are playing in them, winning and getting back in line for another one. … Action will resume at 8:25 p.m. PT. … There are 21 players left in the Little One For One Drop. The final table will not be broadcast on ESPN3. ... The long-awaited Ivey Poker app launched today. Maybe now we'll figure out what all the buzz is about. … The WSOP has organized a "Block Party" outside of the Rio, where food trucks and a dunk tank are the main attractions. … Greg Merson, Jake Balsiger, Russell Thomas and Steven Gee are the members of last year's final table in action today. Elisabeth Hille just missed the final table last year, and she's off to another strong start here in 2013.