July, 10, 2013
7/10/13
5:58
AM ET
LAS VEGAS -- New year. Same story.
Greg Merson arrived in the Amazon Room Tuesday morning with a smile on his face as he greeted the fans who went out of their way for a moment of the champ's time. After unbagging his well-above average stack, he settled in at his table in the Amazon Room, put on his headphones and went to work. Merson quietly picked up a couple of pots to start the day and broke six figures in a hurry. The trend continued with a little luck (A-Q>Q-Q) and he was over 150,000. After the first break his table broke and he found himself at a stacked table that included Dan Fleyschman, Olivier Busquet and a very familiar face: Wilfried Harig.
It was Merson's elimination of Harig on Day 7 of the 2012 WSOP main event that sparked his momentum last year and the two sat side-by-side for only an orbit before Merson took out the German once again. However, unlike last time when Merson trapped his opponent for his tournament life on the river, he needed to hit a two-outer. The defending champ did just that, eliminated Harig and began his surge to the top of the chip counts.
"I went up every single level today," said Merson. "It's very rare and I'm very happy with it. … Against Harig [that hand] is just insane. ... Honestly I was really surprised that he shook my hand. I don't think I would've been able to do that. I would've just frustratingly got up and left, especially with what happened last year."
Merson and the other survivors of Day 2 A/B will have a day off Wednesday before returning for Day 3 action Thursday. The defending champion is prepared to savor every moment during the off day as he is one of just a few who knows what it will take to make it through the following five consecutive days of competition.
"If anyone's gone to Day 5 or Day 6 [in this tournament], they understand how you have to play. How they have to shrug off losing big pots, understanding not to give up when you get down to 15 or 20 big [blinds] when you're playing two-hour levels."
Merson, Jason DeWitt and Kenny Tran highlighted the big stacks from Day 2A, but in Pavilion (Day 2B), even though he wasn't the chip leader at the end of the day, everyone took notice that Doyle Brunson was bagging a big stack once again.
"I feel like a truck ran over me," said a tired Brunson after the 10-hour day. "I don't even know any of these kids, but they're all really good players. I'm really impressed with the quality of the play."
The 79-year-old member of the Poker Hall of Fame finished the day seated next to another poker legend, Dewey Tomko, and will bring 224,000 into Thursday's action. His focus remains on the next day, but he couldn't help but imagine what would happen if everything goes his way.
"Another win for me in the main event would really be a climax to a long career. It's very unlikely, there are a lot of good players left, but I appreciate the chance."
Three former main event champions -- Merson, Brunson and Dan Harrington -- have kept their quest alive for a second title. However, 2009 WSOP champion Joe Cada and 2003 champ Chris Moneymaker could not and they were joined on the rail with Mike Matusow, Dan Smith, Mike Sexton, John Juanda, Matt Salsberg, Eugene Katchalov and Steve O'Dwyer. Three members of last year's final table, Russell Thomas, Steven Gee and Merson, advanced as well. Gee finished the night 14th overall.
Nick Schwarmann ended the day as the chip leader and was the only player over 400,000 in chips. The Florida native has four career WSOP cashes, including a runner-up finish earlier this WSOP in
Event 38
. A total of 800 players from the Day 2 A/B fields advanced to Day 3.
Here's a look at the chip leaders after Day 2A/B:
1. Nick Schwarmann (413,600)
2. Jason DeWitt (382,900)
3. Aage Ravn (370,900)
4. Sergio Castelluccio (360,500)
5. Rupert Elder (342,500)
6. Mikhail Petrov (328,000)
7. Felix Kurmayr (324,800)
8. Ian Gordon (324,600)
9. Nick Guagenti (322,600)
10. Raj Vohra (322,200)
Other notables moving on include 2013 bracelet winners Anthony Gregg, Cliff Josephy, Miguel Proulx, Jared Hamby and Jonathan Taylor, online icons Phil Galfond, Annette Obrestad and Daniel Cates, and former November Niners Matt Jarvis, Steve Begleiter, Kevin Schaffel, Ivan Demidov and Eoghan O'Dea.
The Rio will be full once again on Day 2C. Phil Ivey, Phil Hellmuth, Daniel Negreanu and Michael Mizrachi highlight the 2,000-plus player field that begins at noon PT Wednesday. Those who survive the day will join the players who made it through Day 2 A/B Thursday when the field comes together for the first time.
Small blinds:
A good majority of Kenny Tran's chips came at the end of the night when he made a good call with bottom set against his opponent's top pair. Mike Matusow turned to him and asked why it took so long for him to call. Tran answered and Matusow sat back down at his table, where he'd be eliminated on the next hand. ... Actors Ray Romano and Kevin Pollak both advanced. Romano, with 90,000 in chips, had never made Day 3 prior to this effort. Pollak, with 36,000, made Day 5 last year. ... Wednesday's Poker Edge podcast features Brunson, Merson and Pollak. ... There was a much more lively feeling in the Brasilia Room compared to the Amazon Room. ... Former November Niner Matt Jarvis is getting married a few weeks after the main event. ... Kevin Schaffel told me today that tournaments just aren't fun to him anymore. He has stepped away from poker almost completely and spends his time playing golf and traveling the world. ... Eric Mizrachi was the only Mizrachi brother to play on Day 2 A/B and was eliminated. Michael and Rob return to action on Day 2C. ... There were only a couple of loud outbursts today at the tables. As the days go on, the emotions get higher and those become more common. While it may rub some players the wrong way, at least some players care about winning and losing, and they aren't just non-emotional robots at all times. I've seen players win seven figures and barely crack a smile. There's something about that sort of attitude that's frustrating to me as an observer. ... I'm constantly tweeting pictures from the WSOP floor. You can check them all out
here
.
July, 10, 2013
7/10/13
12:34
AM ET
Remember everything I wrote in the last blog? It's time to turn the tables. The younger generation of poker players has played in thousands more tournaments than the old guard. They've studied the game and taken strategy to a new level to the point at which they believe they have every situation analyzed in their mind before it happens on the felt.
Doyle Brunson and Erik Seidel are still coasting through Day 2, but they aren't leading the way anymore. Midway thorough the fourth level of the day, the top 10 chip leaders look like what you'd see if someone were to craft a list of the game's young rising stars.
Raj Vohra leads the field and has for most of the afternoon. The former tennis pro turned to poker after seeing Joseph Hachem's victory in 2005 and hasn't looked back since. He's won major online tournaments, finished fifth in a WSOP event in 2008 and cashed in the Main Event two years ago. So far on Day 2A/B, he's positioned himself for a deep run and appears to like his table as he sits in the Brasilia Room.
Also in the top 10 is some guy named Greg Merson. Yes, the defending champion. Merson has gained chips in each level on Day 2A/B, most recently due to his river-found elimination of Wilfried Harig. That might sound familiar to most as -- if you caught any of the Day 8 action during last year's Main Event -- Merson put a similar beat on the German then to eliminate him from contention. With 250,000 in chips, Merson is the talk of the Amazon Room and will be if he's able to bag a leading stack later tonight.
If you're at all familiar with the online poker scene, "OMGClayAiken" is perhaps one of the most famous handles in the world. The owner of that handle, Phil Galfond, revolutionized the online game and has become a vocal leader for the younger generation of professional poker players. He's founded online training sites and competed in the game's nosebleed cash games in which he found tremendous success. Unlike some other online stars, Galfond's online success has always translated to the live game. In 2008, he won his first bracelet and, just weeks ago, he was the runner-up in the $25,000 six-handed event. He made a deep run in the 2010 WSOP Main Event, finishing 141st, and is on his way to another one, thanks to a big hand before dinner in which he flopped a set and enticed his opponent to put his 40,000-chip stack into the center.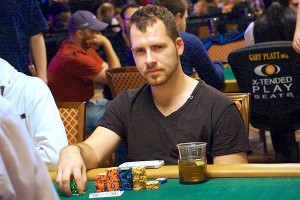 Jay NewnumDaniel "Jungleman" Cates is among the leaders on Day 2 A/B.
Then there's Daniel "Jungleman" Cates. His handle is synonymous to a swingy, aggressive player who had major bankroll issues prior to Black Friday. He never truly found his comfort zone in live tournaments, and that's why his presence in the top 10 is that significant after nearly two days. While the confidence level is high for the other three on this list, Cates' past doesn't allow for me to make that claim just yet.
Blinds are now 500/1,000 chips with a 100-chip ante.
Small blinds:
Legends Doyle Brunson and Dewey Tomko are seated together. … Former Main Event champion Joe Cada was eliminated shortly before the dinner break. … Dan Harrington is wearing his customary green hat in Brasilia today. You just can't miss him. … Third-place finisher in the 2012 WSOP Main Event, Jake Balsiger, was eliminated after dinner. Merson and Russell Thomas are the only two remaining players from last year's final table in action today. … Dinner? Not for everyone. It's always funny when you walk to dinner break with the players and instead of going into the restaurants, they go right to the craps table. … The WSOP hosted a screening tonight of the poker documentary "Bet. Raise. Fold." … Has anyone seen the list of Team Ivey pros these days? Who are these people? … The world's former No. 1 online poker player, Chris Moorman, was eliminated during Level 9. … Ray Romano was spared Erik Seidel's aggression as their table recently broke. … There are five tables left in the Orange section of Amazon, which means there are a total of 36 tables left from the Day 1A field. … Matt Glantz defeated Greg Mueller in the World Series of Board Games during dinner. Mueller was tilted over his loss in "Guess Who," with the board featuring only poker players. I am 1-0 in it. Take that, Lance Bradley. … Rob Salaburu was looking for sponsorship from Ultimate Poker on Twitter. Do we think they bite? … There is a huge rail around Merson's table, which also features Olivier Busquet and Dan Fleyschman. … Annette Obrestad, the youngest "main event" champion in history (she won WSOP Europe in 2007), is also one of online poker's biggest stars and recently moved into the top 10 as well. She's definitely part of the conversation discussed above.
July, 9, 2013
7/09/13
8:18
PM ET
Doyle, Erik and "The Mouth." The iconic names of poker's stars from another generation are proving that their games are still among the elite some four hours into play on Day 2 A/B. Each will bring in at least 125 big blinds into the last level before the dinner break and if you were looking for a picture of comfort at the felt in the WSOP main event, you'll find exactly that at each of their tables.
The fans in attendance can't actually see what's going on at Doyle Brunson's table, but his rail is still significant as the iconic hat signals fans to stop and take notice of the appearance of the greatest legend in the game. Brunson continues to share smiles and conversation with his table, and before the end of the last level, he doubled to 170,000 in chips, enough to place him in the top 1 percent of the field.
"Poker is unlike any other professional game or sport," said Tim Fiorvanti, a senior writer for Bluff magazine. "Doyle Brunson is a living legend who can still participate in the game that he made famous. If he were to make a deep run in the main event it would further solidify his place in the history of the game."
Erik Seidel may not have the glorified history like Brunson's, but he does have eight WSOP bracelets and an immortalized runner-up finish in the WSOP main event in the movie "Rounders." Seidel's stack of 189,000 in chips is among the best right now and his success shouldn't be much of a surprise to anyone. The Mayfair-made star has five WSOP cashes in 2013 and is seated with comedian Ray Romano. Perhaps coincidentally, Romano's stack has dwindled so far on Tuesday.
Mike "The Mouth" Matusow is far from his chirpy self Tuesday and his calm demeanor is far from the boisterous, outgoing Matusow who has graced the ESPN broadcasts for years. Seated with defending main event champion Greg Merson, Matusow has chipped up more than 100,000 and is looking to add to his 2013 success, which already includes a bracelet win and a victory in the 2013 National Heads-Up Poker Championships.
Why have these three been successful so far on Day 2?
"Veteran players are really good at picking off short stacks, and to start Day 2, you have a lot of short stacks," said Vin Narayanan, editor-in-chief of Casino City Times. "There will be periods of consolidation, but there were a lot of short stacks to start the day."
From a mental standpoint, the fear of busting out on Day 1 has been removed and many amateurs are now back in the "living the dream" phase. After so many hours at the table over their careers, the experienced pros definitely recognize these spots and are ready to pounce.
While they may stand out to fans, these three are far from the only ones making the most of their main events:
Greg Merson continued to build during the past level thanks to a key win with A-Q>Q-Q.
Joe Cada has played relatively conservative but has topped the 40,000-chip mark for the first time this tournament.
Sergio Castelluccio is the current leader of the field with 260,000 in chips.
Actor Kevin Pollak doubled up his stack from the last level.
Annette Obrestad, the first WSOP Europe main event champion, has more than 200,000 in chips.
Cricket icon Shane Warne still hasn't drawn any crowds here at the Rio, but continues to chip up. He eclipsed the 150,000 mark during Level 8.
Cash game specialist Daniel Cates has never been one for patience and composure in tournaments, but he has nearly 200,000 in the main event.
Small blinds:
The tournament staff is removing all the green 25 denominational chips. … Blinds are now 400/800 with a 100 ante. … The orange section in Amazon (Day 2A) is down to its final few tables. This room is starting to feel really big. … Russell Thomas and Jake Balsiger are keeping their dreams of back-to-back final tables alive. … Recent eliminations include Barry Greenstein, Chris Klodnicki, Brian Rast, Martin Staszko, Joe Tehan and Johnny Lodden.
July, 9, 2013
7/09/13
5:56
PM ET
After three starting days, the tournament is moving forward. The 1,880 surviving players from Day 1A and 1B returned to action on Tuesday for a five-level day that will bring them closer to the money. Playing in separate rooms, the Day 2A (Amazon) and Day 2B (Brasilia/Pavilion) fields dwindled rapidly with tables breaking left and right creating an empty atmosphere in both the Pavilion and Amazon rooms. Among the hundreds of eliminations was 2003 WSOP main event champion Chris Moneymaker.
"I played the worst hand that I've played over the past 10 years," Moneymaker said after delivering the bad news to his wife at home. "I made so many mistakes."
The hand that Moneymaker referred to wasn't the one that sent him home (A-J

Moneymaker was a little down, but his initial reaction was to get back on the felt. He's off to find a tournament to play this afternoon. Moneymaker hasn't cashed in the main event since his victory in 2003.

World Poker Tour Player of the Year Matt Salsberg, Faraz Jaka, Josh Brikis, Amanda Musumeci, Steve O'Dwyer and Tristan Wade were also eliminated during Level 6.

Defending champion Greg Merson continued to trend in the right direction on Day 2, adding to his stack to finish the first level with 110,000 in chips. Doyle Brunson, Daniel Cates, Erik Seidel, Eoghan O'Dea, Ronnie Bardah and Greg Mueller also gained during the first level. Brunson, seated in Pavilion, will move tables for the next two levels.

Small blinds: Actor Kevin Pollak is wearing a microphone for ESPN today. ... I mentioned last night that the tables in the Blue section were being removed. Last year, this area was utilized for additional feature tables. According to Dan Gati of Poker Productions, the new setup in the center of Amazon allows for four more secondary feature tables and greater ease of access for the camera teams. ... Greg Merson is wearing a Paul Konerko jersey today. ... The Day 2B field should be completely out of Pavilion by the dinner break, leaving all the remaining players in Brasilia. ... The total number of players starting today is less than the number of Day 1C survivors. ... Eugene Katchalov was eliminated at the start of Level 7. ... Blinds are now 300/600 with a 100 ante. ... 2008 WSOP main event champion Peter Eastgate didn't play in this year's main event. ... The bad beat hallway is definitely living up to its name this year. Some of these phone calls are really anger-filled. ... The rail is sparse once again, but it is a Tuesday. ... The chip leader entering Day 2A/B had 60,000 less than 1C leader Mark Kroon. ... You always feel great when you pick up aces and your opponent moves all-in. Then you feel pretty disappointed when your opponent flips over aces, too, and you're immediately content settling for a chop. It happens more often than you think, but the table still laughs as everyone can't believe it. Suddenly, those laughs turn to gasps as four cards of the same suit are placed on the board, and you're back to a feeling of thrill as you watch your opponent make his way out of the main event. Nikolaus Kovacs knows that feeling extremely well, and he's thankful he had the ace of clubs.