Poker:

WSOP main event final table
November, 11, 2014
11/11/14
5:28
PM ET
The November Nine returned to the felt on Monday for a grueling 12-hour session that resulted in three players advancing to the final day instead of two. At 4:15 a.m. PT, Jorryt van Hoof, Martin Jacobson and Felix Stephensen left the Penn & Teller Theater with friends by their side, knowing that they had reached the end of the journey.
One of these players will win $10 million on Tuesday night, or more likely, early Wednesday morning. The runner-up will take home $5.1 million and all three are guaranteed at least $3.8 million for their efforts that began four months ago with a $10,000 buy-in. The three are all incredible players with friends who have worked with them for months, preparing them for this very moment.
Here are the three the world will be watching Tuesday night and how they could get the job done.
Jorryt van Hoof:
The first day of the final table was a dream for Van Hoof as he owned the chip lead for almost the entire session. The 31-year-old Dutch poker superstar known as "The Cleaner" had complete control over the table and was the first player to eclipse the 100 million chip mark late in the night. He gave a bit back, but still owns the top stack with 89.6 million in chips. Van Hoof is a cash game specialist with a strong focus in pot-limit Omaha. According to the Hendon Mob, in his previous five heads-up matches, Van Hoof has won three.
[+] Enlarge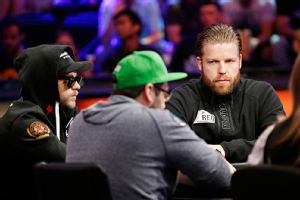 AP Photo/John LocherJorryt van Hoof (right) is the chip leader among the final three at the World Series of Poker. Play resumes Tuesday night.
"I was quite happy with my play," Van Hoff
said at the conclusion of Monday's action
. "It was an extremely fun day. It's hard to describe in words, it's so unique. I just tried to play one hand at a time and optimize from there."
How he can win:
"He got a tough draw," Christian Harder said. "In my opinion the best three players are left. I think Van Hoof has been playing so well, he just needs to come in and keep up the pressure, but not go overboard. His opponents have nothing to lose now, so they might be more willing to get it in lighter. He needs to just recognize that when he's applying pressure."
Martin Jacobson:
Well, as predicted, the pressure
definitely did not get to him
. Jacobson, 27, played an incredibly patient game for the entire night and managed to take an eighth-place stack and turn it into second with incredible timing that those who watched will try to emulate every time they play.
[+] Enlarge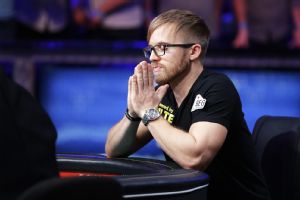 AP Photo/John LocherMartin Jacobson looks to become Sweden's first WSOP main event champion.
Jacobson is the only tournament professional left, a major advantage at this juncture of the event. Even more than that, he cut his chops through sit-and-gos, understanding all the underlying calculations that go into play with each and every decision. As if that wasn't bad enough for his opponents, he also has a team in his corner that has drilled him incessantly on heads-up play. The one knock on Jacobson coming in was that he couldn't close the deal and earn that elusive major title. Now, he has another chance to quiet the critics and become Sweden's first world champ.
"They're very strong players. Both of them. It should be a fun battle," Jacobson said. "Patience is key in tournament poker. You need to know how to pick your spots and I think it's something I've got a lot better at over the years.
"Experience is a key part," he continued. "I'm very happy in how I stayed patient and positive even when I was short. It was fun."
How he can win:
"The plan is to get heads-up," said 2013 WSOP champion Ryan Riess. "He is the most experienced player of the three and will certainly be the favorite. The pay jumps are massive and he will be able to use his aggressiveness and experience in big spots to put pressure on the others."
"He's stoic, nothing can phase him tonight," said Ankush Mandavia, one of Jacobson's friends who has helped him for the past few months. "He's due."
Felix Stephensen:
Everyone knew that Stephensen was preparing as much as he could for the final table, but not many knew that one of the game's best players, Scott Seiver, would be right on his rail during final-table action. Stephensen entered play in second and held steady for the most part. He's a pot-limit Omaha expert playing in his
only WSOP event of the year
and is aiming to become the first Norwegian world champion. His previous best tournament finish was a ninth-place result last month at EPT London.
[+] Enlarge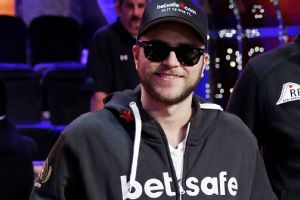 AP Photo/John LocherNorway's Felix Stephensen enters the final night third in chips.
He's calm at the table, almost statuesque with his hoodie and sunglasses preventing the release of any tells. He didn't show much emotion until late in the night when
he won a key pot against Jacobson
, but once he had the chips, his rail kept him motivated and focused.
"I'm just happy to still be alive. I feel great," Stephensen said. "It's tough to pinpoint one thing [that I have to do], but I'll try to play pretty good, get pretty lucky and hopefully things will fall into place."
How he can win:
"He will need to take risks," Daniel Negreanu said. "Push the envelope a little and play bigger pots"
The three resume play at 8:30 p.m. ET, with coverage starting at 9 p.m. ET on ESPN. Poker will have a new world champion in a matter of hours and all three of these players are ready to etch their names into the history books and capture the most desired bracelet in the game.
November, 6, 2013
11/06/13
3:49
AM ET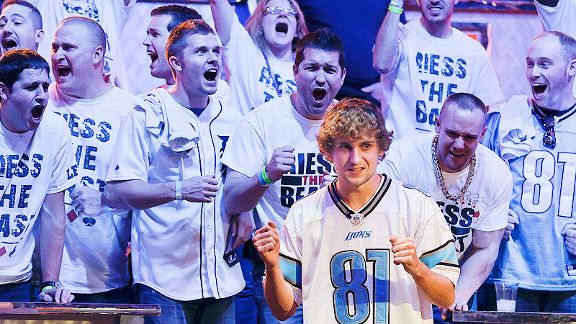 AP Photo/Julie Jacobson2013 WSOP main event champion Ryan Riess celebrates in front of his rail at the final table.
LAS VEGAS -- There's no better moment in poker than watching the crowning of a new world champion. On Tuesday night, tears and emotions flowed from the hundreds of friends and family of Ryan Riess as he won the 2013 World Series of Poker main event. As the final card hit the felt, the 23-year-old from Clarkston, Mich., standing on the rail with his supporters, fell to the ground. He had outlasted the field of 6,352 players and, in what was the greatest moment of his life, was simply overcome. Cheers, streamers and photos snapped in the seconds that followed, and out of everyone who had made the trek to the Rio, the first people on top of him to celebrate: his parents.
Others tried to pile on, but Riess stood up and hugged his mom and dad who were beaming. He was in tears. His mom, voiceless from cheering on her son, was also in tears. At 23, their son had fulfilled his dream.
"He's just a gentle soul," Cheryl Riess said after the win. "We're just so proud."
The pride on her face grew as he left his supporters and went over to his devastated opponent, Jay Farber. They embraced, both of them sub-30 millionaires with great promise ahead not only in poker, but life. The two had bonded throughout the November Nine process, and over the past two days it was clear they shared a great amount of respect for each other.
Riess left Farber and went back to his crew. They were his rocks through nine grueling days of main event play. He gave out high-fives and countless hugs before being presented with the bracelet and the $8.3 million stacked in bundled bricks.
"I was overwhelmed with joy," Riess said of his championship moment. "I was so happy. I started crying and I was just speechless. My parents told me they were proud of me and they loved me. It was awesome."
Riess made his way back to the friends that he missed the first time around. Everyone had their moment of celebration with him. A moment none of them will ever forget.
The 89-hand heads-up match featured highs and lows for both players, but it was clearly Riess' night. Farber entered heads-up with the lead and extended it early, but Riess found an aggressive gear that he didn't display during Monday's play, giving him the boost. He kept constant pressure on all streets and on a short stack without the cards, Farber couldn't compete. Riess ground his opponent down and, as his A-K defeated Farber's Q-5, he earned the victory. Ironically, those are the two cards that were engraved into the WSOP bracelet in May as placeholders for the champions actual cards.
Riess leaves the Rio with a spotlight that will follow him throughout the rest of his career. He began that career just 13 months ago on the WSOP Circuit and its motto of "First the ring, then the bracelet" came true once again. This time, that bracelet is the biggest one of all.
Many of his friends are Circuit grinders who aspire to accomplish what Riess has just done. He wasn't just playing for himself Tuesday night at that final table, but for a group of players who put their heart and soul into the game for their "one time." He represented the thousands of dreamers who play the professional game at a lower financial level and gave a face to a tour that needed a true icon. Riess' deep roots on the Circuit and this victory can benefit the tour and, while some may strive for his attention to promote different initiatives, hopefully the WSOP will realize that Reiss' most important asset to the game may be his ties on that front.
Riess, more than any of the recent WSOP champions, can make a difference in getting new players into the game.
After Greg Merson won a year ago, I pointed out that his effort as ambassador may have been completed prior to the final table. He wanted to escape the tournament scene and simply go back to the biggest cash games in the world. This year, it's entirely different. Riess doesn't have a game plan, and that may be the best thing for him. He turned down all sponsors prior to the final table because he didn't want anything standing in his way. He wanted to make his own decisions and have a clean slate no matter what happens. Well, kid, you've got plenty of time, and money, to figure it out.
Riess will continue to be a role model for his brother and sister and his degree in hospitality from Michigan State will, for now, go unutilized. What matters most to the champ at this moment is his family and friends. At 23, it shouldn't be any other way.
Enjoy your moment, Ryan. You've earned it.
November, 4, 2013
11/04/13
7:19
PM ET
After four months of waiting, the final table has arrived. Who will win the $8.3 million and the most coveted bracelet in the game? Watch the action unfold on ESPN2 Monday night starting at 8 p.m. ET and follow along right here until the final few remain.



July, 16, 2013
7/16/13
8:05
AM ET
The dreams of 6,352 have been reduced to only nine. The World Series of Poker main event final table is set with superstar JC Tran in the lead with 38 million in chips. He battled through a tough Day 7 to emerge with the biggest stack, mostly because of his relentless aggression as the final table bubble approached.
Day 7 began with 27 players and Anton Morgenstern in complete control. He spoke after play on Day 6 about his patience and many of the game's best told me before the day that they expected him to coast into the final table. Unfortunately the cards wouldn't oblige. Morgenstern made an interesting call and was dealt a major cooler during the second level to Mark Newhouse, flopping trip aces to Newhouse's full house. Morgenstern lost more than half his stack on that hand and shortly after he'd run into aces with A-J to fall in 20th.
The chip lead changed continually early as Newhouse and James Alexander couldn't hold on to their edges. Alexander had an
epic blow-up before dinner
and that opened the door for Amir Lehavot to take control and for most of the night, there was little doubt that Lehavot would be a November Niner. Once only two tables remained, the short stacks tried to find the right spots with timely three- and four-bets all-in. For some, such as Ryan Riess, it worked. For others, such as Rep Porter (12th), it did not.
Tran eliminated Matt Reed in 11th to create the unofficial final table. Seated on the main stage in front of hundreds of cheering and screaming friends and family, Newhouse walked up to the table with six big blinds and an agenda. He said he was going to make the final table and after a double up with A-6 over Q-4, that was absolutely the case.
With Newhouse slightly out of danger, Tran began to pressure the other stacks and ran into some interference. Riess capitalized most, moving from one of the short stacks to the middle of the pack.
Nobody in the Amazon Room expected to see what happened next: 2001 World Series of Poker main event champion Carlos Mortensen bubbled the final table. Mortensen didn't sit back and blind away, but got involved in few hands, which had onlookers stunned. Tran eventually captured Mortensen's chips after the Spaniard called all-in with Ac-9h on the turn of a 10c-6c-3s-9c board. Tran showed 8c-7s for a straight and Mortensen needed to find another club on the river to keep his dreams of a second title alive. With the 2d placed on the felt, the entire room erupted. The players headed to their rails to celebrate as Mortensen stood in the center of the stage just wondering how it all went wrong. For his 10th-place finish, Mortensen earned $573,204, his fifth-highest career cash.
Here are the 2013 November Nine:
JC Tran (38.0 million in chips):
The poker world wanted a star at the final table and in JC Tran, they definitely have one. He has won two WSOP bracelets, a WPT title and has $8.3 million career tournament earnings. This is his sixth cash of the 2013 WSOP and his sixth main event cash over the past 10 years. He had no fear of putting millions in the pot late and that's what boosted him into the final table as the chip leader. Tran said that the final table is just one of two great things to happen in November as his wife is due with their second child.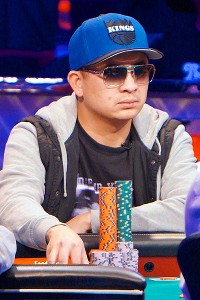 Jay Newnum/BLUFFJC Tran leads the 2013 main event final table.
"It's all for them now, it's not about myself anymore," said Tran. "I go out there for them and play for my family. ... The one guy that I really respected the most was the guy I just busted, Carlos Mortensen. I've played with him for many years and him and I have had some really good battles. ... I like the guy a lot, it's sad to see him go, but at the same time, I'm happy he's gone because he was the one I respected the most at that final table."
Amir Lehavot (29.7 mllion):
Talk about flying under the radar. The
winner of the $10,000 pot-limit hold 'em event
in 2011 was one of the shortest stacks to begin the day, but he capitalized most off of James Alexander's blow up during the third level on Day 7. This is the 38-year-old's 13th career WSOP cash and he will be the oldest player at the final table, where he'll try to become the first Israeli to win the main event. He's a professional poker player by trade, but also has a degree in engineering.
Marc-Etienne McLaughlin (26.5 million):
It has been quite a year for Canada at the World Series of Poker and McLaughlin is looking to continue that trend. This is his seventh career WSOP cash and more impressive, his third top-86 main event cash over the past five years. He has made one WSOP final table, finishing third in a $1,500 event in 2011.
"It's a wonderful feeling, and I don't think I fully realize it right now," McLaughlin said. "Three months of party and joy. That's what I'm thinking about. And some sleep."
Jay Farber (25.9 million):
The 28-year-old nightclub promoter played a lot of poker before Black Friday and just recently turned to having a, as he said, "real job." He plays the cash games in Vegas and decided to enter some satellites because he believed there was added value. Farber won his way in and as far as his November Nine preparation, two players on his rail were none other than former November Niners Ben Lamb and Michael Mizrachi. This is his first career WSOP cash and second main event.
"I'm amazed I made it," said Farber. "You just think you're going to show up and see what happens. I just stuck with my style of poker and played the way I thought would be the most effective with the least amount of variance and it worked out well."
Ryan Riess (25.8 million):
You're going to hear a lot about "Riess The Beast." The Michigan State grad found poker and has been motivated since a second-place finish at a WSOP Circuit main event to find greatness. Well, now he's here. Riess had one of the most vocal rails on the day, but he battled from the short stack with perfect aggression to make it this far. Expect the same heartfelt effort to show in November.
"I'm so happy, time to win this tournament in November," said Riess. "When we were short-handed, five-handed and six-handed, I feel like everyone was playing a little soft and I had the chance to run over them. I think they were all just really excited to make the November Nine and so I decided to start mashing."
Sylvain Loosli (19.6 million in chips):
The 26-year-old Frenchman is making his first career World Series of Poker cash and has only one tiny score on the EPT as part of his tournament resume. That said, he plays $25/$50 no-limit cash games online and if we look back at last year, some guy named Merson had those same credentials. Loosli likes being underestimated and hopes that he can exploit that image come November. More than anything, he wants to win this for France.
"I've very proud to represent my country," said Loosli. "I will do my best to prove that French players can be as good as American ones. ... [For the next four months] I'm planning on going on vacation and playing more live tournaments to keep improving my [live reads], plus work with some coaches."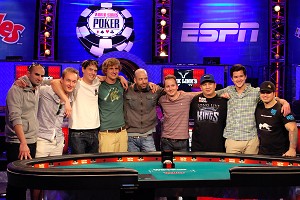 Vin Narayanan/Casino CityThe final table, from left: Sylvain Loosli, Michiel Brummelhuis, Mark Newhouse, Ryan Riess, Amir Lehavot, Marc-Etienne McLaughlin, JC Tran, David Benefield and Jay Farber.
Michiel Brummelhuis (11.2 million):
The Dutch pro has been successful around the world for the past six years and is one of the most respected players in that poker community. He has made WSOP final tables, earned six-figure scores and won side events. Now he has the biggest opportunity of his life and a chance to become the first world champion from the Netherlands. Brummelheis, 32, owes his tournament to a river 7 that gave him a straight with J-9 against Loosli's A-J, and now that he has the second chance, he isn't going to let it go easily. Just like Tran, he's expecting a child this year.
"He's one of the nicest, most well-respected tournament players and down-to-earth players I've ever had the chance to cover," said Remko Rinkema of PokerListings. "He's been winning online tournaments since 2007."
Mark Newhouse (7.3 million)
After his win on the World Poker Tour in 2006, Mark Newhouse fell quickly out of the poker spotlight and fell onto tough times. After the performance he put on during Day 7, many will remember the 28-year-old's determination and even though he's short, you can't count him out at the final table. Newhouse finished 182nd in the 2011 main event. Including ninth-place prize money, he has $2.7 million in career earnings.
"I'm feeling great, it was a crazy day," said Newhouse. "Anyone who knows me and who plays poker with me on a regular basis knows I'm not a patient person, but there's so much on the line [for the final table], you just have to do it sometimes."
David Benefield (6.3 million):
"Raptor" is one of the original online poker superstars in the post-boom era. The 27-year-old Texan was part of the support squad during Craig Marquis' run in 2008 and now he'll have his own shot. According to Brian Hastings, Benefield been active in the Macau cash games as of late while also studying political science and Chinese at Columbia. Prior to the main event, he had only one WSOP cash this Series, but made $115,000 in October with an eighth-place finish at the WSOP's 50,000 euro high roller event. If there was someone who played nearly perfect today, it was Benefield. While he tightened up on the bubble, he deserves this final table bid.
The November Nine leave the Rio with ninth-place prize money and will return to battle for the WSOP bracelet Nov. 4 and 5. The final table will be broadcast by ESPN.
1. $8,359,531
2. $5,173,170
3. $3,727,023
4. $2,791,982
5. $2,106,526
6. $1,600,792
7. $1,225,224
8. $944,593
9. $733,224