Poker:

Yevgeniy Timoshenko
July, 15, 2013
Jul 15
7:45
PM ET
LAS VEGAS -- Mark Newhouse had been among the short stacks for the past two days, but things change quickly in two hours of the WSOP main event. Newhouse doubled up three times during the second level of play on Monday and is seemingly in control of the feature table. The 2006 World Poker Tour Borgata main event champion got lucky on his first confrontation, hitting the river against Jay Farber. Holding A-2, Newhouse was down to his final out on a board of K-J-10-6 against Farber's 9-9. Drawing thin, Newhouse hit a queen and doubled to six million in chips.

Later in the level Newhouse was willing to risk his tournament life on a coin flip, and topped the one-time chip leader Anton Morgenstern with A-Q over 8-8. Up to 11 million, the two tangled again in the biggest pot of the tournament just minutes before the break.

Morgenstern opened to 325,000 and Newhouse called. The flop of A-A-2 brought a bet by Morgenstern and a call by Newhouse, building the pot to nearly two million. Morgenstern bet again (750,000) after the turn 3 and the fireworks began. Newhouse raised to two million, Morgenstern reraised to 3.9 million and Newhouse moved all-in for a total of 10.9 million. Morgenstern thought, then called confidently, flipping over A-J. Newhouse threw his 2-2 on the felt with a fist pump and watched as the dealer placed a four on the river, putting the Day 6 chip leader on the verge of elimination. Newhouse has 22 million in chips on the break.

Play was relatively slow during Level 32 and there were only two eliminations during the past two hours. One of them was WPT champion and one of the top young players in the game, Yevgeniy Timoshenko. Since his run on early Day 6, Timoshenko was unable to build and has blinded down slowly for the past four or five levels. On his final hand, Timoshenko moved all-in for his last 2.1 million with A-8 and was dominated by the A-J of Jan Nakladal. The board brought two jacks and Timoshenko was felted in 22nd place.

Brazilian Bruno Kawauti was responsible for the other knockout of Clement Tripodi (K-K>A-Q) in 23rd. Only 21 players remain in the main event with action continuing until the final table of nine is reached.

If the final table were set right now, the players who would make up the November Nine are:

1. Mark Newhouse (21.9 million in chips)

2. James Alexander (17.2 million)

3. Sylvain Loosli (16.9 million)

4. Marc McLaughlin (15.7 million)

5. Chris Lindh (14.5 million)

6. JC Tran (13.0 million)

7. Gabian Ortiz (12.4 million)

8. Matthew Reed (10.9 million)

9. Carlos Mortensen (9.2 million)

Blinds are now 100,000/200,000 with a 30,000 ante. There will be a re-draw of tables when 18 players remain.
July, 15, 2013
Jul 15
3:38
AM ET
LAS VEGAS -- The World Series of Poker main event is only 18 eliminations away from reaching the biggest final table of the year. Play was halted after four levels of play on Day 6 and only 27 players remain in the hunt for $8.3 million. Steven Gee's quest for a back-to-back main event final table appearance remains alive, but similar to the past few days, Gee will bring one of the shortest stacks into action Monday. Gee said that the way he went out in 2012 has kept him up nights, and all he wanted to do this year was to just get back to Day 7 and have a chance at redemption.
"I just hoped for one more day," said Gee after play on Day 6. "I'm just taking it one day at a time. ... Anything can happen on Day 7, and I just wanted to get there and give myself a chance to play. I just needed one more day to [prove myself]."
Gee has outlasted 13,095 players over the past two main events, playing for an astounding 14 days total. He bagged 3.1 million in chips and with the blinds 60,000/120,000 with a 15,000 ante, he'll need to be active early. He entered Day 7 last year 22nd in chips. This year he's 23rd.
The man who everyone is chasing after Day 6 is Anton Morgenstern. The cash game player was born in the United States, but moved to Germany and looks to follow in Pius Heinz's footsteps with a November Nine bid. He built a substantial lead Sunday, playing a style that was envied throughout the Amazon Room. He was involved in only a few major hands, but for the most part, he simply chipped away at his opponents to win plenty of small pots. He ended the night with 21.9 million in chips.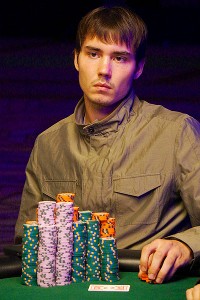 Jay Newnum/BLUFFAnton Morgenstern leads the final 27 in the 2013 WSOP main event.
"I had huge setups in my favor and that gave me the momentum, and with that momentum it's easy to pick up little pots," said Morgenstern to Bluff. "People don't want to mess with you if you always have the nuts at showdown."
Morgenstern may have the lead, but his starting table is anything but easy on Day 7 as it features four of the five top stacks. One of those stacks belongs to JC Tran, who absolutely dominated the feature table on Day 6. Tran, making his sixth cash in the past 10 main events, put on a clinic during the later levels with aggressive play and had no problem chipping up at a table that featured 2001 main event champion Carlos Mortensen and Yevgeniy Timoshenko. Mortensen remained stoic all day and looks to become the first repeat champion since Johnny Chan in 1989. Mortensen seemed confident after play Sunday and
told the Spanish press
, "If you want to make money, you'd bet on me."
Timoshenko was the chip leader for the first two levels, but dropped a bit during the last level to end with 5.3 million in chips.
There were plenty of brutal knockouts throughout the day, but the most dramatic elimination came just moments before play concluded as Jackie Glazier was eliminated in 31st. Glazier had battled on the short stack all day at the feature table. She managed to double up a few times by winning races, but she was unable to chip up naturally without her tournament life on the line. Down to around 2.4 million in chips once again, Glazier moved all-in with A-Q and was called by Sergio Castelluccio's 10-10. The flop of 9-9-9 gave Glazier an additional out, but she couldn't connect on the turn or river. She immediately felt the emotion and headed over to her rail and into the arms of her husband, clearly distraught. She wiped her tears away just long enough to do an interview, but the Australian's elimination was difficult to watch. In a game where keeping emotions in check is everything, her reaction is a simple reminder about what it takes for these players to come so close to their dreams, but miss it ever so slightly. This will be the 18th consecutive year the final nine will consist of all men.
Other Day 6 eliminations included Noah Schwartz, Jonathan Jaffe, Brett Richey, Vitaly Lunkin, Jim Collopy and Vladmir Geshkenbein.
Here are the chip leaders heading into the final day:
1. Anton Morgenstern (21.9 million in chips)
2. Sylvain Loosli (14.1 million)
3. Chris Lindh (12.0 million)
4. JC Tran (11.9 million)
5. Fabian Ortiz (10.8 million)
6. Carlos Mortensen (10.7 million)
7. James Alexander (9.4 million)
8. Jay Farber (8.9 million)
9. Matthew Reed (7.7 million)
10. Jason Mann (7.5 million)
The tournament will resume Monday at noon PT and will continue until the final table is set. The final nine players will then leave the Rio with ninth-place prize money and return for the final table in November.
Small blinds:
The chip leader on Day 6 last year, Marc-Andre Ladoucer, did not make the final table. In fact, only two of the top nine players after Day 6 last year made the final table. Two of the players in the bottom six after Day 6, Gee and Andras Koroknai, did make it. ... There are four WPT Champions remaining: Mortensen, Tran, Timoshenko and Mark Newhouse. ... There are five bracelet winners remaining (Mortensen, Tran, Amir Lehavot, Rep Porter, Gee). ... Similar to last year, the cash game pros are the ones excelling in this year's event. Morgenstern, Jay Farber and Chris Lindh all said they were big cash game players. ... The last chip leader to advance the following day was Mark Kroon on Day 2C. ... The minimum payout is $285,508.
July, 14, 2013
Jul 14
4:15
PM ET
There's a different feeling of tension in the Amazon Room today. The comfortable atmosphere of players casually playing in the main event has been replaced by heightened emotions and endless confrontations in which one wrong decision could thwart a deep run in the main event and possibly a final table appearance.

Eight players have been eliminated in the first hour of play, but the most intriguing hand that took place was a triple-up by WPT champion Noah Schwartz. On the second hand of the day, Schwartz ran kings into Jay Farber's aces and doubled up the Las Vegas club promoter and cash-game rounder. A few hands later, Jonathan Jaffe opened, and with only 500,000 left, Schwartz put his money in the center. Farber, next to act, called and the dealer announced "all-in and a call" which signals the TV cameras to come over and film. Farber was unaware of any action ahead of him and flipped over his cards: A-8. With Farber's hand exposed, the action was now on Jaffe, who moved all-in. Farber folded and Schwartz hit a king on the turn to triple up.

Farber was given a one-round penalty for exposing his hand out of turn and told me that if he knew there was action in front of him he probably wouldn't have called.

At the feature table, Yevgeniy Timoshenko has started off strong and added nearly 4 million to his stack to become the chip lead. The WPT, WCOOP and APT champion got richer as opponent Keanu Tabali (3-3) made a weaker full house on the river and paid him off. With K-Q, Timoshenko captured the 7 million chip pot after a board of K-K-8-Q-3.

The main event dream has ended for:

61. Erkut Yilmaz ($123,597)
62. Vladimir Geshkenbein ($123,597)
63. Cero Zuccarello ($123,597)
64. Marc Emond ($102,102)
65. Corrie Wunstel ($102,102)
66. Yann Dionn ($102,102)
67. Simon Ravnsbaek ($102,102)
68. Tyler Cornell ($102,102)

The current chip leaders are:
1. Yevgeniy Timoshenko (8.1 million in chips)
2. Marc McLaughlin (7.3 million)
3. Sami Rustom (7 million)
4. Jason Mann (6.5 million)
5. Matthew Reed (5.9 million)

Small blinds: All remaining players will earn at least $123,597. The next money jump comes at 54th ($151,063). ... Play will continue today for five levels or until there are only 18 players remaining. ... Jackie Glazier is getting a lot of rail support at the feature table. ... If you're in Vegas, come down and watch. It's free. Today is one of the best days of the main event. I'll probably say the same thing tomorrow.
July, 12, 2013
Jul 12
8:27
PM ET
LAS VEGAS -- The bustouts continued at a rapid rate on Day 4, and only 430 players are returning from the Level 17 break. Jay Farber has moved into the lead after a stellar start and, most recently, gathered more chips as an opponent moved all-in against him after he flopped a full house. He began the day with 604,000 in chips and now has 1.6 million. He's currently seated with Marcel Luske and has been moved to one of the featured tables.
Farber might hold the edge, but Max Steinberg continues to maintain his strong position. Steinberg owns a top-five stack (1.4 million in chips) at the moment and has remained rather stoic at the outside feature table on a day when the Amazon Room is simply hectic. Players and tables are being shuffled in and out, but Steinberg's towers just simply continue to grow as he focuses on getting the job done. Coincidentally, Steinberg has worked with mindset coach Jared Tendler in the past.
The fact that four members of last year's final table remain in contention has created some fun table dynamics on Day 4. Doyle Brunson, with 260,000 in chips at the break, spent the first level next to Steven Gee, and when that table broke, the seat next to him was filled by Rob Salaburu. Defending champion Greg Merson (644,000) is now seated next to Gee, and at the table next to them is Russell Thomas, who had a railbird named Jake Balsiger looking on for a while.
While he didn't make the final table last year, Roland Israelashvilli did last to Day 7 in 2012 and is in great position for another run with one million in chips. 2006 Main Event final table member and five-time bracelet winner Allen Cunningham has also made a good move in the chip counts, having started the day with 268,000 and now approaching 550,000. All four guests on the
Day 3 Poker Edge podcast
, Yevgeniy Timoshenko, Amit Makhija, Melanie Weisner and Steinberg remain in contention. Timoshenko has chipped up most out of that group at a tough secondary feature table that features 2007 WSOP Europe Main Event champion Annette Obrestad.
Day 1C and 2C chip leader Mark Kroon, Michael Mizrachi, Erik Seidel, James Bord, Isaac Haxton, Paul Wasicka, Stephen Chidwick, Bryn Kenney, Rupert Elder and Blair Rodman were among the eliminations during the past level. Mizrachi's run ended with a gradual downswing throughout the day, and, ultimately, King-Jack failed to overcome Ace-King all-in preflop. This was Mizrachi's third WSOP cash this summer, with one final table appearance.
Blinds are now 4,000/8,000 chips with a 1,000-chip ante. There will be one more level before the dinner break.
Small blinds:
Thomas is the first former November Niner to approach one million in chips. Guess that Jason Somerville coaching thing worked. … Tables are starting to be removed from the Amazon Room as soon as the tournament staff breaks them. There's more open space on the floor, which helps camera teams get in better positions to cover the action. … Former "Nuts" panelist Court Harrington has been at one of the outside feature tables all day and has 500,000 in chips. Harrington owns a few businesses in North Carolina in addition to playing poker. … According to the WSOP's Jess Welman, 14 women made the money in this year's event, and 12 remain in contention.