Remember the cool Sugar Daddy jacket Bobby Riggs wore to his Battle of the Sexes tennis showdown with Billie Jean King in 1973?
Of course you don't. You're too young.
It was a spectacle. Thirty thousand people came to the Houston Astrodome and 48 million people watched it on ABC as Riggs and King squared off in front of no less than Howard Cosell and the world.
For Wimbledon champ Riggs, it was just another hustle in a life full of them. He'd already beaten No. 1 women's player Margaret Court. This was just a bigger mark.
For King, though, there was monumental pressure. She wasn't just the one who'd been trying to sell women's tennis, who'd been trying to start the first-ever women's tennis tour; she was the one all womankind was counting on to prove that equal rights wasn't just talk.
[+] Enlarge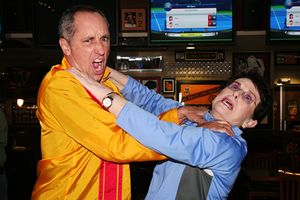 ESPN
Billie Jean King was the latest addition to Rick Reilly's choke photo gallery.
King was hoisted aloft as she entered the court like the Queen of Sheeba on a platform carried by wanna-be Egyptian slaves lacking shirts. Riggs arrived that night via rickshaw, pulled by page six of the Victoria's Secret catalogue. And he was wearing that famous "Sugar Daddy" jacket.
King won in straight sets -- 6-4, 6-3, 6-3 -- and women had broken through. Never again could people say women couldn't handle the heat. It led to ERA and Title IX and changed the lives of girls who weren't even born yet.
So when we taped the Billie Jean King "Homecoming" (Saturday, 7 p.m. ET on ESPN), we recreated that exact jacket for me to wear in a Wii tennis match with King in her hometown of Long Beach, Calif.
The night was unforgettable. Maria Sharapova showed up. Chris Evert made an appearance, as did Rosie Casals, Tracy Austin, Bud Collins, Zina Garrison and many others. King talked honestly and grippingly about her transcendent life, including her sexuality, battles with depression, marriage and divorce. She was, by turns, funny, emotional and grateful.
[+] Enlarge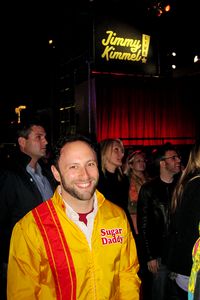 ESPN
Ben Fertig sporting the infamous "Sugar Daddy" jacket at the Jimmy Kimmel show.
But that jacket drove people crazy. It was too small for me, so I gave it to our 20-something associate producer Ben Fertig. Everywhere he wore it in California that week -- to the beach, out drinking, to the Jimmy Kimmel show -- people wanted to buy it off him. It was like he was wearing Joseph's Amazing Technicolor Dreamcoat. Nobody had seen anything like it since 1973.
The most heated bargaining happened at the Westin bar in Long Beach. A guy who worked for Patron tequila wanted it and wouldn't take no for an answer.
Give you a bottle of Patron?
No.
Give you and all eight of your friends a bottle of Patron?
No.
Give you and all eight of your friends a bottle of Silver Patron?
No.
Give you $100 and all the Patron?
No.
Five hundred bucks?
No.
A thousand?
No.
A thousand dollars, plus everybody gets the Silver Patron, plus you get a bottle of Gran Patron Burdeos, the best we make, in a crystal bottle inside a display box handcrafted from a single piece of black walnut?
Pause.
Hesitation.
No.
Last we saw him, two blonde cougars at the Kimmel show were after him as if the jacket had a bottle from the Fountain of Youth in the inner pocket.
The man had become Bobby Riggs.
"I've never been this cool before!" he said.
I don't think he's cool at all. I wanted my Patron.
See all of Rick Reilly's Too Short for a Column.
More random mind dumps from the brain of Rick Reilly. Go fish!
Be sure to check out Rick's Life of Reilly.