Rick Reilly Go Fish:

Golf
Remember a couple years ago when, in an act of desperation, I tried to end my 40-year hole-in-one drought by going round and round on a par-3 golf course until I made a hole in one?
And I said that even though it took 694 shots to do it and it was only 52 yards and I often hit 10 balls per hole, it was nonetheless official and real and it didn't matter what haters like the USGA said?
Well, forget all that.
I have a real one now.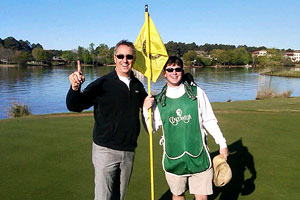 Rick ReillyRick Reilly takes a victorious photo with his caddy, Brendan.
It happened Sunday at the very creamy Cuscowilla on the bonny shores of Lake Oconee in Eatonton, Ga. (Cuscowilla is Shawnee for "Land of Second Homes with Boat Slips.")
I would go on and on about it, but we paid full price, so I don't really need to. Yes, two golf writers paid full price. We have the receipts.
ESPN.com columnist Gene Wojciechowski and I were playing there because it's on the drive from Atlanta, where we landed, to Augusta, where we'll cover the Masters this week, which Phil Mickelson will win.
Anyway, I flew it straight into the 112-yard 11th hole, which is now the single most beautiful hole in the world. And yes, it probably would've ended up over the green if the hole hadn't jumped in the way, but why must you nitpick?
"Ohhhh!" yelled the 21-year-old forecaddy, Brendan. "Ya HOLED it!"
I can't remember quite what happened next but when I regained consciousness, I was wearing no hat or glove and was being carried around by Gene with my legs wrapped around his waist like he was Yogi Berra and I was Don Larsen after a perfect game.
Wojciechowski immediately tweeted that I'd knocked a little "4-iron" into the hole. Funny guy.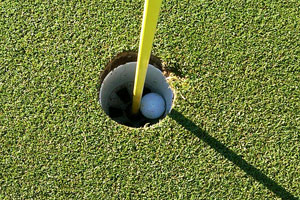 Rick ReillyHere's the proof: Rick finally made a hole-in-one!
"Sneaky long," somebody tweeted back.
"Try the men's tees," somebody else cracked.
For your information, it was a gap wedge and it wasn't even my gap wedge. We rented. Yes, we rented clubs.
The joy didn't last long. Brendan warned me that the day before, a guy had aced No. 3 and it had cost him "about $1,000. We were having a tournament and the whole clubhouse was packed."
So after signing for my sporty little 89 (thank you, 11th hole), I entered that clubhouse with dread, only to find almost nobody in there. It was as empty as Monday morning church. Only one person took me up on my offer to buy the house a drink.
"Plus we're having a lunch special today," said the waitress. "Dollar drafts. So you're out a buck."
Second-best one I made all day.
January, 7, 2011
1/07/11
12:22
PM PT
Nobody knows for sure, but it's been more or less 50 years since a woman overheard Arnold Palmer order a half lemonade, half iced tea at a bar in Palm Springs and said, "I'll have that Arnold Palmer drink."

It's popular now all over the world, transcending Palmer himself. People today order an Arnold Palmer who have no idea who Arnold Palmer is. No other athlete has had a drink named after him catch on.

This, to us, seems a shame. Seems like we should be able to walk up to a bar right now and order ...

A Tiger Woods ... Pineapple juice and vodka ... Drink one and you'll want 13 more.

A Jack Nicklaus ... Kind of like an Arnold Palmer, only a little better.

A Brett Favre ... By the time it comes, you've changed your mind.

A Chris Bosh ... Chaser only.

A Greg Oden ... You can order it but it never shows up.

A Rex Ryan ... Tastes like a Tootsie Roll.

A Mark McGwire ... Comes with a shot.

A Cam Newton ... Your dad orders it for you.

A Dennis Green ... It is what you think it is.

A Tom Brady ... Really good by the sixth round.

A Michael Vick ... A little hair of the dog that should've bitten you.

A LeBron ... Served with a mirrored glass so you can watch yourself drink it.

A Terrelle Pryor ... It's free!

A Lance ... Only one ice cube.

A John McEnroe ... After one, you cannot be serious.

A Karch Kiraly ... Comes spiked.

A Tim Tebow ... Served very straight.

A Michael Phelps ... Water with a water chaser.

A Reggie Bush ... You drink it for a little while, then they take it back.

A Nick Saban ... Comes with extra bitters.

Anna Kournikova ... A white Russian, hot.

A Quentin Richardson ... Hold the Brandy.

A Chris Evert ... You drink it with both hands.

A Barry Bonds ... Careful: it goes straight to your head.
September, 8, 2010
9/08/10
10:41
AM PT

This will be arguably the most overmatched American team in Ryder Cup history: five rookies, only three players who've known the hell of a Euro Cup crowd and only one with a winning record (Hunter Mahan). Good luck with that.
---

I can't understand not picking J.B. Holmes, who's been a beast lately, who would've intimidated Euros with his Tolstoy length and who helped win the last Cup. Rickie Fowler? He has no idea what he's in for.
---

Bankrupt cyclist Floyd Landis has filed a whistle-blower lawsuit against Lance Armstrong's former team. Landis would get 30 percent of the money recovered by the government if it won. Landis is in this for the money? Who knew?
---

Question: When are the feds going to investigate Landis for soliciting around $1 million in donations to pay for a legal defense that he knew was a lie? Isn't that fraud?
---

From Andre Agassi on his rival, Pete Sampras, in New York City last week: "I think if Pete and I ever woke up one morning and found out we'd switch personalities, we'd both go back to bed."
---

When I asked Agassi what would've happened if he'd gone up against Roger Federer in his prime: "I'd be answering questions about what's wrong with American men's tennis."
---

Death by white pants: Reader Mike King points out that Dustin Johnson (U.S. Open and the PGA Championship), Martin Laird (the Barclays) and most recently Jason Day (Deutsche Bank) all had the lead entering Day 4, then wore white pants and lost.
---

Memo to Corey Pavin: No white pants after Labor Day.
---

Twit on Twitter: British golfer Ian Poulter's thumbs are overworked. Recent post: "Kids packed off to school on there first day, wow the house is quite." Maybe his pants are so loud it's too hard to spell?
---

If Tiger Woods' newly divorced ex, Elin Nordegren, posted on Match.com, would it start: MUST HATE GOLF?
---

Latest Tiger Woods stats: Single -- 46 worldwide wins, 8 majors. Married -- 36 and 6. Separated -- 0 and 0. Divorced -- 0 and 0.
---

Best loop in the NFL: Mike Shanahan liked his two caddies so much at the amazing El Dorado Golf Course in Cabo, Mexico, this past offseason that he brought them back on his private jet to Colorado to be his guests at Castle Pines and Cherry Hills.
---

Now that's a tip.
---

Heisman Trophy candidate Jacquizz Rodgers of Oregon State has a sister, Cartasha. His brother's middle name is Dequondre. His mom, Tasha, thinks them up.
---

Rodgers: "The worst part is nobody can pronounce it. They say 'Ja-keys' or 'Ja-kehzz.' It's Jah-quiz, although his friends just call him Quizz. When he has kids, will he be Pop Quiz?
---

If Reggie Bush really returns his Heisman, don't count on seeing it. The Heisman Trophy Trust in NYC refused to let me see the Bush replica that USC sent back and is now in its private Manhattan office.
---

"The board decided against it," Heisman spokesman Rob Whalen said. What is this, the Kohinoor diamond? If it's a big deal when Heismans are given out, why isn't it a big deal when they come back?
---

I'm trying to write a column about the worst sports inventions ever. Help me out here. The leader so far: sports bras.
---
More random mind dumps from the brain of Rick Reilly: Go Fish!
Be sure to check out Rick's Life of Reilly