February, 28, 2015
Feb 28
1:00
PM ET
With free agency set to begin on March 10, we begin a
player-by-player look
at the
San Diego Chargers
' potential unrestricted free agents. And we'll start with one of the team's special-teams standouts from 2014.
Ajirotutu
WR Seyi Ajirotutu
Ajirotutu played in 16 games, starting one for the Chargers when
Keenan Allen
was unavailable due to a collarbone injury. Ajirotutu finished with four receptions for 45 yards in 2014. Even though special-teams captain
Darrell Stuckey
earned a Pro Bowl invitation, Ajirotutu led the team in special-teams tackles with 19 and won San Diego's special teams player of the year award. Ajirotutu has recorded 24 catches for 420 yards and three touchdowns in five NFL seasons.
Chargers career:
Ajirotutu signed with the Chargers as an undrafted rookie free agent out of Fresno State in 2010. He spent the 2011 season with the
Carolina Panthers
, but rejoined San Diego in 2012. Ajirotutu turns 28 in June.
Argument for keeping Ajirotutu:
He's a core special-teams player, knows the offense and quarterback
Philip Rivers
has a good comfort level with Ajirotutu. Ajirotutu offers versatility and experience, along with production in adverse situations.
Argument for letting Ajirotutu go:
The Chargers need more big-play ability and speed on the perimeter, and they could find that in the draft. Not bringing Ajirotutu back would clear a path for young receivers like
Javontee Herndon
and
Torrence Allen
to compete for spots on the back end of the roster, along with developmental prospects like
Dontrelle Inman
and
Austin Pettis
. However, those players would have to prove that they could contribute on special teams.
What should happen with Ajirotutu:
He signed a one-year, $730,000 deal to re-join the Chargers in free agency last year. If San Diego can bring him back on similar terms, why not have Ajirotutu on the 90-man roster to start training camp and let him compete for a job? Teams that compete for Super Bowls need role players like Ajirotutu to contribute to a winning effort on game days.
February, 28, 2015
Feb 28
11:30
AM ET
In need of an every-down running back, should they let
Ryan Mathews
go in free agency, the
San Diego Chargers
picked a good year to find one in this year's draft.
"You can get those guys pretty much at any point in the draft that you want because there's such great depth this year at the running back position," ESPN NFL draft analyst Mel Kiper Jr. said, "Every year you can find them. You can get a guy like
Javorius 'Buck' Allen
from USC in the third or fourth round. I think even a
T.J. Yeldon
from Alabama drops down into the fifth or sixth round.
Terrell Watson
of Azusa Pacific will be a nice, late-round pick, as will
Cameron Artis-Payne
from Auburn.
Mike Davis
of South Carolina might be a late-round pick. So you can find running backs."
Among those players suggested by Kiper, the Chargers need to find a workhorse thumper who can grind out yards between the tackles. Here are a handful of options the Chargers could be targeting in this year's draft.
Click here
for an updated list of all the measurables for the running back draft prospects.
Melvin Gordon, Wisconsin:
At 6-foot-1 and 215 pounds, Gordon is deservedly considered the top running back prospect in this year's draft. He put up video-game numbers in his final season at Wisconsin, rushing for an NCAA-record 408 yards against Nebraska, finishing with 4,915 rushing yards and averaging 7.8 yards per carry during his career with the Badgers. Gordon backed up those numbers with a solid workout at the scouting combine. You'd like to see a little more top-end speed, but a 4.52-second time in the 40-yard dash is fast enough. The only question about Gordon is his pass-catching and pass-protection ability on third down. Gordon is a true home run threat who could serve as an every-down back for the Chargers.
Jay Ajayi, Boise State:
The Texas native finished with 3,796 rushing yards and 55 total touchdowns during his career for the Broncos, averaging 5.6 yards per carry. A tough, between-the-tackles runner, Ajayi compares himself to
Marshawn Lynch
because of his willingness to fight for every yard. At 6-foot and 221 pounds, Ajayi ran a 4.57-second time in the 40-yard dash and posted a 39-inch vertical jump. He's also a good receiver, finishing with 50 receptions for 535 yards in his final season at Boise State.
Tevin Coleman, Indiana:
At 5-11 and 206 pounds, Coleman rushed for a school-record 2,036 yards and 15 touchdowns, averaging 7.5 yards per carry. Half of Coleman's 28 career touchdowns gained 40-plus yards. Coleman also showed toughness, playing half of the season with a broken toe. He did not participate in on-field workouts at the scouting combine because of the injury, but pushed up 225 pounds 25 times on the bench press. Coleman is a one-cut, downhill runner with outstanding burst once he gets to the second level of the defense.
Duke Johnson, Miami:
At 5-9 and 207 pounds, Johnson is electric when he gets into the open field. He finished with 1,652 yards and 10 rushing touchdowns in his final season at Miami, averaging 6.8 yards per carry. Johnson also caught 38 passes for 421 yards and three receiving touchdowns in 2014. Johnson's 4.54 in the 40 was a bit disappointing, considering how fast he plays on film. But his production, vision and ability to make defenders miss clearly translates to the next level.
Buck Allen, USC:
At 6-foot and 221 pounds, Allen is physical enough to serve as a workhorse running back in the NFL. And he's fast enough, running a 4.53 in the 40 at the combine -- good speed for his size. Allen finished with 1,489 rushing yards and 11 touchdowns in his final season with the Trojans. He also totaled 41 receptions for 458 yards and a receiving touchdown, so he can contribute in the passing game. Allen has good feet and short-area quickness for a bigger back.
David Johnson, Northern Iowa:
At 6-1 and 224 pounds, Johnson is an easy strider with good, long speed once he reaches the open field. Johnson ran the 40 in 4.50 seconds at the scouting combine, so the speed is there. He finished with 1,553 rushing yards and 15 touchdowns in his final season at Northern Iowa, so the production is there. Johnson also totaled 38 receptions for 536 yards and two receiving touchdowns, so he has some ability as a third-down back as well. Johnson could be a mid-to-late-round sleeper for the Chargers if they are looking for running back depth later in the draft.
February, 27, 2015
Feb 27
9:45
PM ET
ESPN.com news services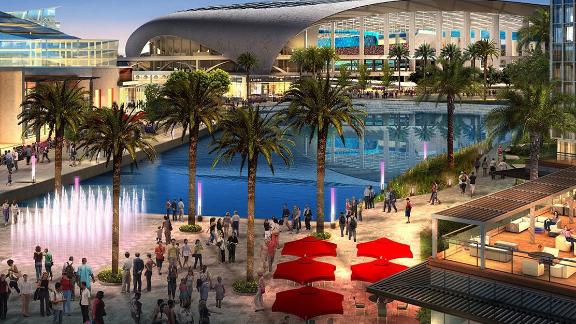 LOS ANGELES -- A report commissioned by the developer of a downtown Los Angeles football stadium warns that a rival project nearby could be a potential terrorist target because of its proximity to Los Angeles International Airport.
The report was released Friday at a time when several potential stadium projects are competing to bring an NFL team to Southern California, two decades after the Rams and Raiders exited.
The 14-page report was commissioned by Anschutz Entertainment Group, which wants to build a stadium in downtown Los Angeles. A development venture linked to St. Louis Rams owner Stan Kroenke has proposed a stadium in Inglewood, about 10 miles from downtown.
The report by former Homeland Security Secretary Tom Ridge finds that constructing an 80,000-seat stadium in Inglewood -- as close as 2.5 miles from an airport runway -- "materially increases the risk of a terrorist event."
Ridge concluded that in a world in which terrorism is a recognized threat, "the peril of placing a National Football League stadium in the direct flight path of (the airport)" ... outweighs whatever benefits it would bring over its lifespan.
The Hollywood Park Land Co., which is developing the Inglewood site, declined comment.
AEG told the Los Angeles Times, which first reported the study, that "we have been working diligently and in good faith ... to advance NFL discussions while also exploring plans for other development alternatives around the LA Live campus."
According to the Times, the league took no position on the study.
February, 27, 2015
Feb 27
9:45
AM ET
Good morning.
In this ESPN Insider piece
, NFL draft guru Mel Kiper Jr. ranks the top 40 wide receivers in this year's draft.
Not surprisingly, Alabama's
Amari Cooper
, West Virginia's
Kevin White
and Louisville's
DeVante Parker
top his list. Kiper compares those three receivers in terms of talent to the 1985 draft class that produced Eddie Brown, Al Toon and Jerry Rice, along with the 1988 draft class that produced Tim Brown, Michael Irvin and Sterling Sharpe.
However, Kiper says like last year, the 2015 draft class also has a deep pool of talent available later in the draft at the receiver position. And that's good for the
San Diego Chargers
, who need to add more playmakers to that position group.
Daniel Jeremiah of the NFL Network
has the Chargers taking Georgia running back
Todd Gurley
in his latest mock draft.
Chargers.com talks to NFL media members about what types of players San Diego should draft
in this video.
Jenny Vrentas of Sports Illustrated
profiles former Chargers offensive lineman Roman Oben, now the NFL's director of youth football, about his task on helping to create a safer game.
Bryan Curtis of Grantland
writes about the second statistical war, something he calls Moneyball II. It's worth a read this morning.
Former NFL executive Jim Steeg talks about the progress made by the stadium advisory group with Scott Kaplan of The Mighty 1090 in
this audio link.
San Diego County supervisor Ron Roberts talks with Dave Palet and Jeff Dotseth of Xtra 1360 Fox Sports Radio about possible funding strategies for building a new NFL stadium
in this audio link.
February, 26, 2015
Feb 26
3:15
PM ET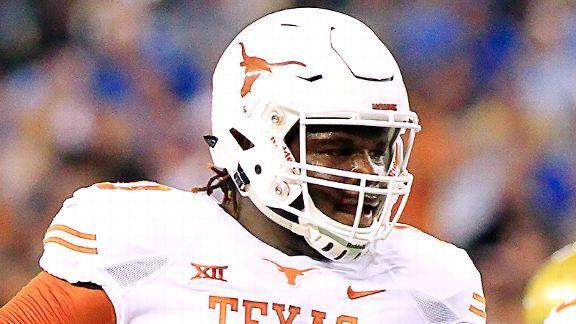 SAN DIEGO --
In his latest mock draft

, ESPN NFL draft guru Todd McShay has the
San Diego Chargers
selecting University of Texas defensive tackle
Malcom Brown
.
McShay had the Chargers selecting Florida State defensive tackle
Eddie Goldman
in the mock draft before this one.
At 6-foot-2 and 319 pounds, Brown could be the stout run stuffer the Chargers are looking for in the middle of John Pagano's 3-4 defensive scheme. Brown was productive in 2014, finishing with 71 tackles -- including 13 for a loss -- and 6.5 sacks.
A consensus first-team All-American, Brown finished as a finalist for both the Nagurski Trophy, honoring the nation's top defensive player, and the Outland Trophy, honoring the nation's top interior lineman. Married with two children, Brown is a mature player who fits the culture general manager Tom Telesco and coach Mike McCoy continue to develop in San Diego.
Brown had a strong combine
, running a 5.05-second, 40-yard time and bench pressing 225 pounds 26 times.
The Chargers could use help along the interior of the team's defensive line. The Chargers allowed 4.53 yards per rush, which was No. 29 in the NFL in 2014. San Diego also finished 29th in the league in sacks with 26.
However, the team's personnel department might not value the defensive tackle position enough to select Brown in the first round. San Diego drafted a developmental prospect at defensive tackle in the fifth round of last year's draft, Arkansas State product
Ryan Carrethers
.
Carrethers was inactive for the first three games as he learned Pagano's system, but earned a start midway through the year before suffering a dislocated elbow that cut short his rookie campaign. Carrethers could be part of the solution for the Chargers at nose tackle.
February, 26, 2015
Feb 26
1:30
PM ET
SAN DIEGO -- ESPN NFL draft guru Mel Kiper Jr. held a conference call with reporters on Thursday and was asked about the deep pool of talent at the running back position in this year's draft.
While Kiper has the
San Diego Chargers
selecting Wisconsin running back
Melvin Gordon
at No. 17 in his
latest mock draft
, he believes that NFL teams can wait until later in the draft to get a quality back.
Running back is a priority for the Chargers, with
Ryan Mathews
set to hit free agency. The Chargers averaged 3.2 yards per attempt on first down runs -- when defenses know offenses want to run the football -- second-worst in the NFL.
"I would not take a rookie running back in the first round, but I would from the second round on," Kiper said.
Kiper said that runners like Georgia's
Todd Gurley
and Indiana's
Tevin Coleman
could be had in the second round, while players like Nebraska's
Ameer Abdullah
or
David Johnson
of Northern Iowa could go in the third round.
He also pointed to talented ball carriers like Miami's
Duke Johnson
, Boise State's
Jay Ajayi
, Michigan State's
Jeremy Langford
and Alabama's
T.J. Yeldon
may be available in the fourth of fifth rounds.
"Take your pick," Kiper said. "You can find them. They are there every year, and they are going to be there again this season."
February, 25, 2015
Feb 25
11:15
PM ET
Dunlap
SAN DIEGO -- According to ESPN NFL Insider Adam Caplan,
San Diego Chargers
left tackle
King Dunlap
re-signed with the team, receiving a four-year, $28 million deal.
The contract included $13 million in guaranteed money. Dunlap will make $9 million in total compensation in 2015, and $14 million in the first two years of the deal.
"I'm very excited and I love being a Charger,"
Dunlap told the team's web site
. "I love the guys on this team. It's a great city and a great place, so I'm very excited to be back. It was very important to get it done early and out of the way.
"It means a lot knowing how much this team values me. Hearing what my coaches and teammates have said means a lot as both a player and a person. It motivates me to play hard to the best of my ability. I've been working hard every year, and I'm going to work even harder to prove the contract I just got."
February, 25, 2015
Feb 25
10:45
PM ET
SAN DIEGO -- The
Detroit Lions
' release of running back
Reggie Bush
certainly grabbed the attention of some clubs around the league.
Bush
Bush, who turns 30 next month, still had two years left on a four-year deal. He was scheduled to make $3.5 million in total compensation in 2015. However, the move saves the Lions $1.7 million in cash space, as Detroit desperately tries to make room in order to keep defensive tackle
Ndamukong Suh
in free agency.
Bush, of course, is a San Diego native who won two San Diego California Interscholastic Federation section championships played at Qualcomm Stadium with
Kansas City Chiefs
quarterback
Alex Smith
at Helix High.
He looked up to legendary
San Diego Chargers
running back LaDainian Tomlinson while in high school, and returning to his hometown team in free agency would give Bush an opportunity to live out a childhood dream.
Look, I don't believe Bush is an every-down back in the NFL at this point in his career. But if the USC product is willing to accept a different role, Chargers offensive coordinator Frank Reich could figure out a way to get Bush 10 touches a game on offense on jet sweeps, reverses, bubble screens and slants from the slot -- similar to the way the
Seattle Seahawks
used
Percy Harvin
when he was there.
And although he hasn't done it since 2011, Bush could add some juice to San Diego's return game. Yes, Bush has had trouble staying healthy, only playing in 11 games in 2014. But he also wouldn't be relied on to be an every-down back in San Diego's offensive system. The Chargers will select someone in a loaded draft for running backs to handle that.
Bush was selected No. 2 overall in the 2006 draft and won the Heisman Trophy at USC, so he's talented. Bush also earned a Super Bowl ring with the
New Orleans Saints
, so he understands the sacrifice it takes to get there, and would be a good fit in San Diego's the locker room.
What Bush could be for San Diego is another playmaker that takes some pressure off of
Philip Rivers
to complete every tough throw in the passing game by providing another offensive weapon who can make plays with his feet.
February, 25, 2015
Feb 25
11:45
AM ET
SAN DIEGO --
Jarret Johnson
, who announced his retirement from professional football on Tuesday,
talked with Steve Hartman and Mike Costa
of Xtra 1360 Fox Sports radio about that and the future of the
San Diego Chargers
.
Johnson said nagging injuries in 2013, along with the Chargers asking him to take a pay cut heading into the 2014 season, were signals that the end of his career was near.
"Everything kind of pointed toward this year being my last year," he said. "And as the year wore on, I had a blast. I played as hard as I could, and I came to work every day with a smile on my face, knowing that this could be it. I played and practiced like this could be the last one. And once the season is over, you look at your family, and I have a daughter that starts kindergarten next year. And I'm ready. I'm ready to start the next phase of my life."
[+] Enlarge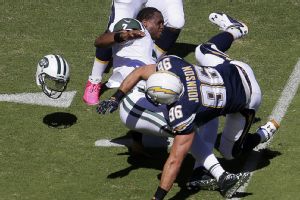 AP Photo/Chris CarlsonJarret Johnson spoke highly of Chargers linebackers coach Mike Nolan.
Johnson had good things to say about recently hired Chargers linebackers coach Mike Nolan, whom he played for when Nolan served as the
Baltimore Ravens
' defensive coordinator from 2002 to 2004.
"Mike Nolan is a huge hire for the Chargers," Johnson said. "Mike Nolan was my defensive coordinator for my first two years in Baltimore and he's just an unbelievable guy. He's kind of a hard-nosed guy. He's going to get the best out of you, but he does it in a way that you respect. He's really good at communicating and getting the best out of players. So he's going to be a huge help to that staff."
Johnson said the addition of Nolan should help elevate the play of a young linebackers unit that has a lot of potential with players like
Melvin Ingram
,
Manti Te'o
,
Donald Butler
and
Jeremiah Attaochu
.
But the main thing that needs to happen is for those players to stay healthy. Ingram, the team's best pass-rusher, missed seven games last season with a hip issue. Te'o missed six games with a foot injury. Butler finished the season on IR, missing the last two games with a dislocated elbow. Attaochu missed five games of his rookie season with a hamstring injury.
"In my mind, this linebackers core is where you want it -- young, athletic and fast," Johnson said. "It has a ton of upside. They all have had so many injury issues that they all have dealt with, but hopefully that's all in the past. Hopefully those are all things that they've kind of played through.
"Melvin has flashed and shown when he's healthy how dominant he can be. Jerry had a very productive year when he was healthy. Manti has done nothing but get better since he's been here. It's amazing to see how far he's come since his first year, especially on the physical side of the ball – his physical mindset. When he first came, he kind of avoided contact and tried to steer around guys and now he's just going to get it."
Johnson also was complimentary of third-year pro
Tourek Williams
, whom he believes will get the first crack at filling his spot at strongside outside linebacker.
"He's going to get a shot," Johnson said. "I'm excited to see where he goes. He's got a ton of upside."
February, 25, 2015
Feb 25
9:15
AM ET
Good morning.
KPBS San Diego reports
that the San Diego City Council unanimously passed a resolution Tuesday that states they fully support keeping the
Chargers
in San Diego.
Although the resolution is mostly symbolic, it states on record that the government body is unified in keeping the team here.
The council also will take up the stadium issue at next month's budget committee meeting March 18. The group identified a series of thresholds that need to be addressed in a memo to San Diego Mayor Kevin Faulconer, including funding sources for the stadium that the mayor finds acceptable and the city's capacity to issue future bonds.
Roger Showley of U-T San Diego
reports that San Diego County Supervisor Ron Roberts told the citizens' stadium advisory group that the county could front the public share of the project, projected at $1 billion or more, until surrounding development begins generating cash flow.
The Associated Press reports
that the Inglewood City Council late Tuesday night approved plans to build a football stadium that includes
St. Louis Rams
owner Stan Kroenke as a partner, clearing a path for a return to the Los Angeles area of the NFL for the first time in two decades.
Nathan Fenno and Sam Farmer of the Los Angeles Times
report the drafting of a ballot initiative to approve the plan by the San Diego Chargers and
Oakland Raiders
to build a stadium in Carson is complete.
David Hunn of the St. Louis Post-Dispatch
reports that the NFL sent market surveys to 185,000 local football fans to assess the viability of a new stadium in St. Louis.
Pro Football Focus
lists
Brandon Flowers
,
Ryan Mathews
,
Dwight Freeney
and
Eddie Royal
among the top 75 free agents.
Ricky Henne of Chargers.com
writes that
Jarret Johnson
defined toughness.
Pat Kirwan of CBS Sports
has the Chargers selecting running back
Melvin Gordon
in his latest mock draft.
Neil Paine of FiveThirtyEight.com
details how the Madden ratings are made.
February, 25, 2015
Feb 25
2:21
AM ET
Associated Press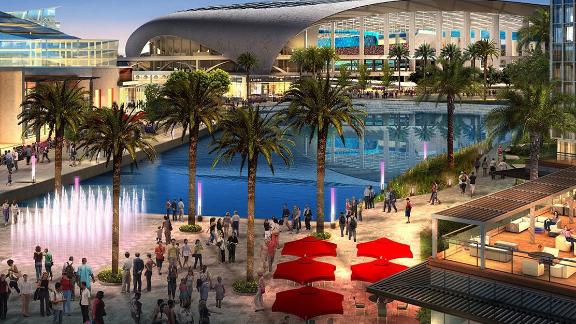 INGLEWOOD, Calif. -- The Inglewood City Council late Tuesday night approved plans to build a football stadium that includes St. Louis Rams owner Stan Kroenke as a partner, clearing a path for the NFL to return to the Los Angeles area for the first time in two decades.
The council approved the $2 billion plan with a 5-0 vote after a meeting with several hours of public comment and many vocal Rams fans wearing jerseys in attendance.
With only a small handful of dissenters, most of the commenters exuberantly supported the move.
They included Henry Yet, 54, of Brea, a board member of the Southern California Rams boosters.
"I'm not going to sleep, I'll probably stay up all night just thinking about it," he said after the vote. "This is a monumental step."
Another commenter, Eric Geller, urged the council to "plant those shovels in the dirt tomorrow morning."
The vote adopts a new redevelopment plan without calling a public vote, effectively kick-starting construction and sidestepping lengthy environmental review of issues such as noise, traffic and air pollution.
It adds the 80,000-seat, 60-acre stadium to an existing 2009 plan to redevelop the former Hollywood Park racetrack site with homes, offices, stores, parks and open space and a hotel.
Kroenke is part of the Hollywood Park Land Co. development group that is promoting the project. But a plan is also in the works in St. Louis in hopes of keeping the team with a 64,000-seat stadium on the city's north riverfront.
Yet said he believed Kroenke and the team would make the move, even if there are legal or other obstacles.
"He knows he's going to be in litigation, but he has the money and the firepower to do it, and the city says yes," Yet said.
February, 24, 2015
Feb 24
10:45
PM ET
SAN DIEGO -- The citizens' stadium advisory group tasked with finding a location and finance plan for a new stadium to house the
San Diego Chargers
met for a third time on Tuesday.
The nine-member group appointed by San Diego Mayor Kevin Faulconer heard from San Diego State University president Elliot Hirshman and San Diego County Supervisor Ron Roberts, as the group continues to gather information in order to reach a decision in the next three months.
The next major decision the group must reach is where the new stadium will be built -- at the current Qualcomm Stadium site, or at downtown location next to the
San Diego Padres
' Petco Park.
The Chargers indicated that the team prefers the downtown location as part of a stadium proposal for a joint-use facility that would also house the non-contiguous expansion of the convention center.
However, escalating real estate prices downtown, the threat of legal action and friction with both the hoteliers and the Unified Port of San Diego could have the stadium advisory group pointing to Qualcomm as the best option for a new stadium.
Further, representatives of the Metropolitan Transit System
sent a letter to the stadium advisory group
detailing that relocating the bus yards, part of a parcel of land that would be needed to build a stadium downtown, would take five-to-seven years, with a projected price tag of $100 to $150 million to complete the relocation.
However, Mark Fabiani, point person for the Chargers on the stadium issue, refuted those figures.
"Our analysis of the site, performed by a well-known national construction and engineering firm, was not nearly so pessimistic," Fabiani said. "But, having said that, there is simply no sign that the hotel lobby is willing to support a joint-use facility downtown, and we understand that (San Diego Convention Chair) Steve Cushman is now preparing an alternative convention center financing plan. In light of those facts, discussion of a downtown site is quickly becoming academic."
Fabiani indicated in his conversation with the advisory group last week that they should pick a site early in the process in order for the group to sharpen its focus on putting together a finance plan.
"If everyone had decided on a site, and were able to buy in on a particular site, that would be the solution, because then you could spend all of your time on that site," Fabiani told The Mighty 1090 AM radio. "So I think one of the hard decisions the task force is going to have to make -- and when we spoke to the task force last week, we suggested that they do this -- is don't explore multiple sites at this point, because you don't have the time or the resources to do that.
"Your best option is to pick one site, and focus all of your time and energy on that site."
Once the group identifies a site, the next major hurdle will be securing a funding source that covers the public portion of the stadium proposal.
Two days after the team announced a collaborative effort with the
Oakland Raiders
to build a $1.7 billion NFL stadium in Carson, California, Chargers team president Dean Spanos and Faulconer had a cordial, hour-long discussion in the offices of San Diego Padres owner Ron Fowler at Petco Park on Sunday, with the two sides agreeing to work cooperatively on a stadium deal that potentially keeps the team in San Diego.
And with the timeline moved up from September to the end of May, Adam Day, chairman of the stadium advisory group, said they are focused on reaching that goal. Day said the group still has not settled on a location for a new stadium, and remains scheduled to hold a public forum at Qualcomm Stadium on Monday.
"As I said from the first day, we felt like we could beat the mayor's September deadline," Day said. "We had in our mind a June time frame, and we're confident we can beat the mayor's May deadline."
February, 24, 2015
Feb 24
5:39
PM ET
SAN DIEGO -- Outside linebacker Jarret Johnson announced his retirement from the NFL on Tuesday, ending a 12-year professional football career, including the final three seasons spent with the Chargers.
"Today I am announcing my retirement from the game I love," Johnson, 33, said in a note posted on his Instagram account.
"I lived a dream which few can say but it's time to move on. I want to thank the Chargers organization for giving me a home these past three years. I have nothing but respect for the players, coaches, front office staff and fans that were a part of me and my family's lives. It's been a great ride!"
Johnson's final season in San Diego was his most effective. He missed one game due to the birth of his daughter; he played a full 16-game season nine times in his pro career.
And when Johnson played, he produced. In 523 plays last season, he ably served as San Diego's run-stuffing linebacker on the outside, finishing ninth on the team in tackles with 51. He added a sack and a forced fumble.
Johnson was scheduled to make $5 million in base salary in the final year of a four-year deal in 2015. The Chargers will save $5 million in cash and salary-cap space.
Johnson played nine seasons with the Baltimore Ravens, who selected him in the fourth round of the 2003 draft. He played in 184 games, finishing with 506 combined tackles, 25.5 career sacks and 11 forced fumbles.