San Diego Chargers:

Oakland Raiders
March, 10, 2014
Mar 10
10:00
AM ET
By
ESPN.com staff
| ESPN.com
The AFC West produced three playoff teams and the eventual AFC title winner in the
Denver Broncos
, so it should come as no surprise that many top free agents come from the division.
Oakland Raiders
reporter Paul Gutierrez, Broncos reporter Jeff Legwold,
Kansas City Chiefs
reporter Adam Teicher and
San Diego Chargers
reporter Eric D. Williams break down the top 15:
1. Branden Albert, Chiefs offensive tackle:
Kansas City won't franchise him this year. Albert will get a nice contract elsewhere.
2. Dominique Rodgers-Cromartie, Broncos cornerback:
He's not yet 30 and still a top-tier athlete.
3. Eric Decker, Broncos wide receiver:
Productive in scoring zone, will be one of the biggest wide receivers on open market, but rarely faced opponents' top cornerback in Broncos offense.
4. Lamarr Houston, Raiders defensive end:
Better suited to the left side because he's not the prototypical speed-rusher.
Moreno
5. Knowshon Moreno, Broncos running back:
Has had multiple knee surgeries, including one on a torn ACL in 2011, but he runs with passion, is solid in pass protection and a productive receiver.
6. Jared Veldheer, Raiders offensive tackle:
Didn't have a very good season in 2013 but would attract some attention as a free agent.
7. Geoff Schwartz, Chiefs guard:
Was a free-agent find for Kansas City last season. Can play right tackle if needed.
8. Jon Asamoah, Chiefs guard:
A better pass-protector than run-blocker. He will be only 26 in July.
9. Shaun Phillips, Broncos linebacker:
He'll be 33 in May but showed last season that he can still be an effective situational pass-rusher.
10. Zane Beadles, Broncos guard:
For a movement-based front, he's a smart, durable option who played in every game while with Denver.
McCluster
11. Dexter McCluster, Chiefs wide receiver/punt returner:
Hasn't had a huge impact on the offense in Kansas City, but he will be only 26 in August.
12. Robert Ayers, Broncos defensive end:
Had his best season in 2013, so maybe he's a late bloomer.
13. Tyson Jackson, Chiefs defensive end:
Like Ayers, he had his best season in 2013, so maybe he's figuring it out as well.
14. Tracy Porter, Raiders cornerback:
He's versatile enough to cover the slot receiver, and he had one of his better seasons in 2013.
15. Kendrick Lewis, Chiefs safety:
He's only 25 but was a better player earlier in his career. He hasn't been the same since a shoulder injury in 2012.
October, 4, 2013
10/04/13
12:00
PM ET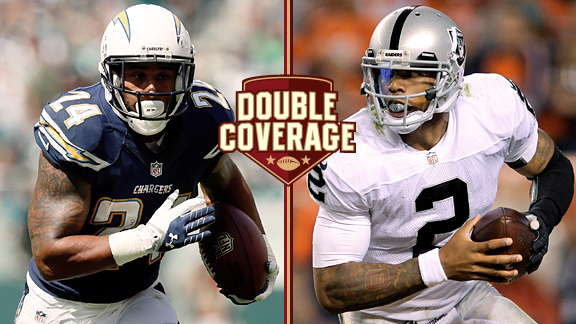 AP PhotosRaiders QB Terrelle Pryor has nearly as many rushing yards (198) as Chargers RB Ryan Mathews (226).
The
Oakland Raiders
(1-3) have been saying this week they easily could be 3-1 were it not for slip-ups against the Indianapolis Colts and Washington Redskins.
The
San Diego Chargers
(2-2), meanwhile, are lamenting how they could be 4-0 were it not for heartbreak against the Houston Texans and Tennessee Titans.
Now these old AFC West rivals renew acquaintances in a game that will not kick off until 11:35 p.m. ET (8:35 p.m. PT) because of a Major League Baseball playoff game between the Oakland A's and Detroit Tigers being held on the same field a night earlier.
Chargers team reporter Eric D. Williams and Raiders team reporter Paul Gutierrez break down this week's matchup.
Paul Gutierrez:
The Raiders and Chargers have a lot in common, dating back to their AFL days, both calling Los Angeles home at different times, residing in the same division. Now, their respective coaches share a coaching tree belonging to John Fox in Denver. Dennis Allen and Mike McCoy, you'll recall, were the defensive and offensive coordinators with the Broncos in 2011. And, yeah, the NFL is a cutthroat, win-or-get-out business, but there have to be some warm feelings between the two, right? I remember McCoy telling me at the Senior Bowl in 2012 that the Raiders hired the right guy in Allen, even as McCoy was a rumored early candidate. Has McCoy opened up about his relationship with Allen yet or how they worked together in Denver?
Eric D. Williams:
McCoy said his family is very close to Allen's family. In fact, the two families took a 10-day vacation to the British Virgin Islands during the offseason, which mostly included time with the two coaches fishing. McCoy said the two didn't talk football during the trip. "We were just trying to catch some fish and have a good time," he said. McCoy has great respect for Allen as a coach, but he says he does not plan on talking with his fishing buddy this week. McCoy should have a pretty good understanding of Allen's play-calling tendencies in certain situations defensively because of the time the two spent together in Denver. And the same goes for Allen on McCoy's favorite play calls and formations. That should make for an entertaining side story Sunday.
Paul, I see
Terrelle Pryor
was a full participant at practice Wednesday, so it looks as though he'll play. How did Pryor win the starting job over
Matt Flynn
? And how has he played through the first quarter of the season?
Gutierrez:
Yeah, as the locals put it, it will be TP2 Time in Oaktown Sunday night. Allen said Pryor was completely clear of those concussion symptoms and would start against the Chargers. How did he win the job? Really, it was a perfect storm for both Pryor and Matt Flynn, who was demoted to third string, behind undrafted Penn State rookie Matt McGloin on Wednesday. Pryor simply outplayed Flynn in the preseason, much to the surprise of Allen and general manager Reggie McKenzie, who parted with two draft picks to get Flynn from Seattle. A deeper look, though, shows that Pryor, with his running ability and penchant for extending plays, simply gave the Raiders a better chance for success. Especially with such a leaky offensive line -- left tackle
Jared Veldheer
went down with a triceps injury late in camp -- and untested wide receivers. And, really, with Flynn's problems this past weekend against Washington, including seven sacks, it became even more apparent that Pryor was making the offensive line look good. Pryor is still raw, but what he lacks in experience, he makes up for in big-play ability. Before last weekend, he was the Raiders' leading rusher. Speaking of quarterbacks,
Philip Rivers
seems to have been re-energized by a new coaching staff. How well has this old dog taken to so many new tricks?
Williams:
McCoy and offensive coordinator Ken Whisenhunt breathed new life into Rivers' career with the installation of an up-tempo, no-huddle offense. Rivers is making decisive reads, playing with anticipation and getting the ball out quickly. And the results have been pretty impressive. Rivers has thrown for 1,199 yards, 11 touchdowns and only 2 interceptions. His 118.8 passer rating is second in the NFL to
Peyton Manning
(138.0). And he has won the AFC Offensive Player of the Week award twice in the past three weeks. Also, part of Rivers' success is the makeshift offensive line is doing a better job of protecting him, with the Chargers giving up only six sacks through four games.
You mentioned the 8:35 PT kickoff time. What has the reaction been from the players and Raider Nation about the kickoff time being moved? And is a sellout expected for this matchup of AFC West rivals?
Gutierrez:
I like to refer to every Raiders home game as Halloween on Hegenberger, what with so many fans dressing up and giving it an otherworldly feel. Playing under the lights, so late at night? Let's just say it will be a festive atmosphere. Especially because it's the Chargers coming to town. Nothing like a good rivalry game -- with the parking lot gates opening at 3 p.m. PT -- to get the fans good and worked up, right? As far as the fans are concerned, now that they know when the game is being played, they're mostly fine with it. Of course, I'm sure there are those who will have to miss the game because they figured it was in the afternoon and they could catch a flight home that night. So, for some, it's an inconvenience. And I'm sure there will be many bleary-eyed workers on the job come Monday morning. The players are taking it with a grain of salt. Tell them when they play, and they'll show up. Of course, being the only game at the time, all eyes will be on this game, so to speak, so they're treating it like a prime-time game under the lights. I expect a sellout, though it's all semantics, except for when facts get in the way.
With
Dwight Freeney
done for the year, who steps up for the Chargers as that edge rusher and is that player adept at facing the zone-read option, which Pryor will no doubt be called upon to run?
Williams:
Freeney's replacement will be
Larry English
, San Diego's first-round draft selection in 2009, who has so far failed to live up to his high draft status. At 6 feet 2 and 255 pounds, English has the physical tools, but hasn't put it together to generate the type of production the Chargers are looking for from an elite pass-rusher. Expect
Tourek Williams
and
Thomas Keiser
to also see time to help fill the void left by Freeney's absence. Even with Freeney out, San Diego still managed to create consistent pressure on
Tony Romo
last week, finishing with three sacks.
With
Darren McFadden
missing practice with a hamstring issue, what are the chances he'll play Sunday? And why has he had so much trouble staying healthy throughout his NFL career?
Gutierrez:
If anyone had the answer to McFadden's health issues, and was able to keep him healthy, they'd be a very rich person. It's mind-boggling, really, and Raiders fans are not only able to set their watch to McFadden getting injured in a season, but truly, turning on him. At least, the ones who fill out my Twitter timeline (and yes, I know Twitter is not the best barometer for the entire fan base, but you understand). He never has played more than 13 games in a season and had missed 14 of the Raiders' previous 33 games entering this season. With the Raiders not wanting it to become a lingering issue, I could see them shutting down the artist formerly known as Run DMC for the next two games, plus the bye week, to get him ready for Oct. 27 against Pittsburgh. He's in a contract year, too, so this could not have come at a worse time for him on a personal level, but also for the team. Then again, the query entering every season of late has been this: Because it's not a matter of if, but when McFadden goes down to injury, how are the Raiders prepared to replace him? Paging
Rashad Jennings
, who despite a bruising game Sunday, rode his bicycle to and from the facility Monday, about 20 minutes each way.
.
August, 27, 2013
8/27/13
1:00
PM ET
Here are two players each from the
Oakland Raiders
and the
San Diego Chargers
who may face being cut by Saturday's 53-man deadline date:
OAKLAND
Guard Mike Brisiel:
He is not a great fit for the power-blocking scheme and he has missed time with injuries. But this is not a deep group. Oakland may not feel comfortable getting rid of him.
Tight end Richard Gordon:
It would be a surprise, because he is a fine blocker. But Oakland is pretty wide open at tight end. If the Raiders feel like their other young tight ends offer more potential than Gordon, he could be sent packing.
SAN DIEGO
Receiver Robert Meachem:
If Meachem wasn't guaranteed $5 million, there would be no doubt he would be cut. After a poor first season in San Diego last year the new brass isn't seeing much from Meacham this year. The Chargers are not deep at receiver. But a lack of confidence in him could make his release possible.
Tackle Max Starks:
He is battling the young
Mike Harris
for the swing tackle spot. Starks was signed to be the left tackle, but it seems like that is
King Dunlap
's job. I could easily see the Chargers go with Harris' potential over Starks if the team doesn't think Starks can start.
August, 22, 2013
8/22/13
5:00
PM ET
We held our
AFC West (sans Denver) chat
earlier Thursday. Here are some highlights:
Kansas City
John from Fairbanks, Alaska:
How dominant can this Chiefs linebackers group be?
[Tamba] Hali
and
[Justin] Houston
both top 10 sacks?
Bill Williamson:
Could be best group of 3-4 linebackers in the NFL. Expect a huge season from those guys.
Oakland
Sheldon from Washington, DC:
Any chance
Terrelle Pryor
gets some snaps with the first-team offense tomorrow night against Chicago?
BW:
I wouldn't be shocked. Why not? Get him some work with the better players. If he is going to have a chance to start at some point, might as well see what he can do
San Diego
Nick W. from Indianapolis:
I now it's still very early. But how do you think the [Mike] McCoy era is starting?
BW:
Yes, it's early. Players like him. Camp went well. So far, so good. But wins and losses is what matters most.