San Diego Chargers:

Andy Dalton
January, 5, 2014
Jan 5
8:22
PM ET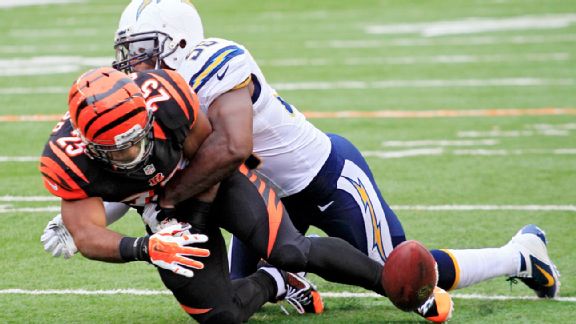 AP Photo/Tom UhlmanThe Chargers' defense stifled the Cincinnati offense by forcing four turnovers.
CINCINNATI -- According to Mike McCoy, the
San Diego Chargers
executed the rope-a-dope Muhammad Ali made famous on the
Cincinnati Bengals
.
"A lot of times teams lose the game rather than win it," the San Diego coach said of the Chargers'
27-10 victory
. "When you make some mistakes and turn the football over and do certain things, it hurts your football team."
The team McCoy not-so-subtly referred to is the unlucky Bengals. San Diego advanced to the divisional round of the AFC playoffs by expertly sidestepping Cincinnati's initial barrage, ultimately allowing the Bengals to beat themselves by turning the ball over four times and falling for the fifth straight time in the postseason.
Cincinnati entered the contest as a seven-point favorite, but the Chargers performed more like the experienced playoff team from the onset.
It started with the Chargers' unflappable quarterback,
Philip Rivers
, who didn't try to do too much in his first postseason appearance since 2009.
"Playoff games aren't meant to be pretty," said Rivers, who sported his trademark bolo tie. This one made from elk horn was sent to him by a fan. "You just find a way to win, and we did that in all three phases today."
Rivers was efficient, finishing 12-of-16 for 128 yards, including a 4-yard touchdown to tight end
Ladarius Green
. Rivers threw a career-low six times in the first half.
"Rivers played a smart game," Bengals cornerback
Adam Jones
said. "He didn't force anything. He took what was there."
San Diego's complete effort was punctuated by a surprisingly suffocating defense that limited Cincinnati's potent offense to a season-low 10 points at home.
The last time these two teams met, the Bengals bowled over the Chargers for 164 rushing yards in a 17-10 win. But San Diego was ready this time.
"We were talking all week -- if we stopped the run, they weren't going to beat us," Chargers linebacker
Reggie Walker
said. "We just knew if we made it a passing game, they weren't going to beat us."
The Chargers held Cincinnati to 113 rushing yards, grabbed a 14-10 lead at halftime and extended it to 20-10 with just more than 14 minutes left in the game.
The Chargers forced
Andy Dalton
to beat them with his arm, and he couldn't do it. Dalton wilted under the steady pressure of San Diego's defensive front. He finished 29-of-51 for 334 yards but also threw two interceptions and lost a fumble. Dalton was sacked three times and was hit six other times. He finished with a 67 passer rating.
The Bengals had not lost at home this season, averaging 34 points per contest.
"I know we were all glad, and itching to play them again," Walker said. "Thank God we got seeded to play them again. Because of all the teams we wanted to play, we wanted to play them again. We had to get our toughness back, because that was ridiculous.
"We have a great blitz package. So we knew if we could get them in third-and-long, they were not going to beat us."
Need proof that the Chargers have reached the big time? Golfer and San Diego native Phil Mickelson and his wife, Amy, attended the game on Sunday, and have plans to make it to the Chargers' AFC divisional-round game at Denver next week.
The Chargers could use star power facing
Peyton Manning
for a third time this season. No doubt, Manning and the Broncos will be ready after losing 27-20 in Denver on Dec. 12, the last time these two teams met.
But the San Diego defense plans on bringing its A-game, too. Aside from holding Denver to a season-low 20 points, this defense has allowed an average of just 16 points a game in the team's past five contests.
"They're going to be ready, but we're going to be ready, too," Walker said. "So we're just going to go in there and put our hard hats on and see what happens. We're not just happy to be playing. We've got a goal, and we're going to go get that."
Added middle linebacker
Donald Butler
, who finished with a team-high 12 tackles: "All the pressure is on them. We're loose. We're just going to go play and try and win another game."
January, 3, 2014
Jan 3
11:25
AM ET
The last time the
San Diego Chargers
and
Cincinnati Bengals
met, both teams were missing key players, they played in a local TV blackout, and they could comfortably compete on a 60-degree, postcard-perfect Southern California afternoon.
Those were the conditions just one month ago Wednesday.
At least one of them could be the same. With ticket uncertainty rolling over into Thursday, Bengals officials have been working hard to avoid the NFL's first postseason blackout since 2002. On the field, the Bengals and Chargers have been working to get back key members of their teams, and are anticipating playing in conditions much less favorable than what they had on the West Coast.
Sunday's playoff game isn't only a rematch of the regular-season game won 17-10 by the Bengals. It also marks the first time the teams have met in the postseason since 1981, when Cincinnati beat San Diego for the AFC championship at old Riverfront Stadium. Because of a minus-59 wind chill, that game was dubbed the "Freezer Bowl." While it shouldn't feel that cold Sunday, conditions will be tough. Snow, freezing rain and rapidly dipping temperatures are in the forecast. The weather could make passing difficult for two teams that rely heavily on their quarterbacks.
To break down Sunday's game, we turn to ESPN.com NFL reporters Eric D. Williams (Chargers) and Coley Harvey (Bengals).
Harvey:
One of the Bengals' biggest keys in the first meeting was running the ball. They rushed for 164 yards, having success even late in the game when San Diego clearly knew a run was coming. How can the Chargers prevent Cincinnati from having another prolific ground game?
Williams:
First, the Chargers will have two players available who did not play in the first game -- outside linebackers
Jarret Johnson
and
Melvin Ingram
. Both are pretty good run defenders who should help San Diego play more physical up front. Second, the Chargers have to do a better job of maintaining their gaps and not allowing Cincinnati's talented offensive line to create space for the running backs. Last, the Chargers have to do a better job of wrapping up
BenJarvus Green-Ellis
and
Giovani Bernard
. Both running backs finished with a lot of yards after contact, as San Diego had trouble bringing down the hard runners in the back end of the defense.
One thing I'm curious about is the Bengals' defense. The Bengals are tied for third in the league in turnovers forced with 31, and have six defensive touchdowns this season, all at Paul Brown Stadium. Why has Cincinnati's defense been so successful at creating turnovers?
Harvey:
If you ask defensive coordinator Mike Zimmer -- which we did Monday -- he'll say it's because his players just know they have to do whatever is necessary to pick the offense up and to put the ball back in its hands. There have been several instances when a turnover put the Bengals' defense on the wrong side of the 50, needing to come up with a stop. Defensive players say they relish those opportunities, and believe in their ability to not only hold for a field goal, but get the ball back. Cincinnati's defensive line plays a major role in helping create a lot of the fumbles and interceptions. Even after losing Pro Bowl tackle
Geno Atkins
, the defensive line has still pressured opposing quarterbacks, forcing poorly thrown balls. The line and linebackers also do a great job of stripping balls and forcing timely fumbles.
I'll add that there is something slightly different about the defense at home. When it comes to turnovers, for example, 21 of the 31 forced by the defense have come at Paul Brown Stadium. As you mentioned, six have resulted in scores. Each of those scores either changed momentum or helped ice the game.
How much do you think playing the Bengals just 35 days ago will benefit the Chargers? They clearly learned something from that loss, and haven't lost since.
Williams:
That is correct -- the Chargers are on a four-game winning streak since losing to the Bengals on Dec. 1. Defensively the Chargers have been stingy, holding teams to just 18 points a contest in the past four games. San Diego has played more consistently on offense, particularly in the red zone, scoring touchdowns instead of field goals. And the Chargers are playing with more confidence now than earlier in the season. Chargers coach Mike McCoy has figured out a blueprint for his team to win on both offense and defense -- a prolific, ball-control offense paired with a bend-but-don't-break defense that keeps teams out of the end zone.
Philip Rivers
finished the regular season tops in the NFL in completion percentage (69.5), fourth in touchdown passes (32) and fifth in passing yards (4,478). The Bengals did a nice job containing Rivers in the first matchup. What will it take for a repeat performance?
Harvey:
It's going to take a lot of pressure, and some tight coverage both downfield and near the line of scrimmage. Bengals cornerback
Terence Newman
was telling reporters this week about what he felt made Rivers special -- his intelligence. As an 11-year veteran, Newman has seen it all. According to Newman, what is most impressive is Rivers' ability to use his eyes to steer linebackers or safeties one way, only to pass another because he knows he has a tight end or running back open in a soft spot the defense isn't covering. Newman stopped short of comparing Rivers to
Peyton Manning
, but he believes the two have much in common. Members of the Bengals' secondary know they can't just key on his eyes, they have to know where his playmakers are at all times. Members of the Bengals' line know they have to keep hounding Rivers like they have hounded quarterbacks all season.
Rivers is San Diego's household name, but how important have running back
Ryan Mathews
and receiver
Keenan Allen
been to the offense?
Williams:
The Chargers leaned heavily on Mathews during the second half of the season, with good results. San Diego is 7-1 this season when Mathews has at least 19 carries. He has carried the ball at least 24 times in the past four games, all wins for San Diego. Allen finished the season with 71 receptions for a team-leading 1,046 yards, becoming the first rookie since Cincinnati's
A.J. Green
to finish with 1,000 receiving yards. Green had 1,057 in 2011. Mathews keeps defenses honest with his bruising running style, and Allen emerged as Rivers' go-to receiver when San Diego gets near the red zone. Allen is tied for the team lead in touchdown receptions with eight.
We've seen the good (33 touchdowns) and the bad (20 interceptions) from
Andy Dalton
this season. What type of performance do you expect from Dalton on Sunday? And will it matter if he does not play well?
Harvey:
Because of how good this defense is, especially at home, I'm not sure it will matter if he plays well Sunday. Last week against the Ravens, Dalton threw four interceptions -- the first came 1 yard outside Baltimore's red zone -- and the defense ended up acting as an eraser and pretending the turnovers never happened. The one interception that came on Cincinnati's 21 resulted in a field goal. An interception on the following drive also resulted in a field goal. Instead of being down 14-0 early, the Bengals trailed 6-0, giving Dalton enough confidence to calm down and make plays when he needed to as the comeback began. I'm expecting another mixed bag from Dalton. Just like last week, he has shown this season that he can pass for 270 yards, three touchdowns and still have three interceptions. I wouldn't be surprised if his nerves are elevated a little at the start of the game, but as long as the defense keeps playing the way it has been and his receivers are not dropping passes, I believe Dalton will come out OK on Sunday.
.
December, 3, 2013
12/03/13
8:15
PM ET
SAN DIEGO -- An examination of the snap counts from Sunday's 17-10 loss to the
Cincinnati Bengals
:
OFFENSE (Based on 65 snaps)
Quarterback
--
Philip Rivers
65.
Running back
--
Ryan Mathews
36,
Danny Woodhead
27,
Le'Ron McClain
4
Ronnie Brown
1.
Wide receiver
--
Keenan Allen
65,
Vincent Brown
63,
Seyi Ajirotutu
5.
Tight end
--
Antonio Gates
60,
Ladarius Green
60,
John Phillips
4.
Offensive line
--
D.J. Fluker
65,
Jeromey Clary
65,
Johnnie Troutman
65,
Chad Rinehart
65,
Nick Hardwick
65.
Offensive analysis
-- With slot receiver
Eddie Royal
unavailable due to injury, the Chargers predominantly played two-tight end sets against the Bengals. Ladarius Green played a season-high 60 snaps. ... All five offensive line starters made it through the game without an injury taking them off the field for a second straight week. ... Philip Rivers finished 5 of 10 for 73 yards, no touchdowns and an interception on third down. ... Rivers 80.0 passer rating was his lowest this season.
DEFENSE (Based on 62 snaps)
Line
--
Corey Liuget
43,
Kendall Reyes
43,
Cam Thomas
39,
Sean Lissemore
25,
Lawrence Guy
20.
Linebacker
--–
Donald Butler
61,
Reggie Walker
59,
Manti Te'o
56,
Tourek Williams
45,
Thomas Keiser
19,
Bront Bird
2.
Secondary
--
Eric Weddle
62,
Marcus Gilchrist
62,
Shareece Wright
61,
Richard Marshall
61,
Johnny Patrick
17,
Jahleel Addae
6,
Darrell Stuckey
1.
Defensive analysis:
After being replaced in the starting lineup, cornerback
Derek Cox
did not play a single snap on defense for the first time this season. But Cox played seven snaps on special teams. ... Sean Lissemore played a season-high 26 snaps, totaling four tackles. ... After struggling to start the game, Cincinnati quarterback
Andy Dalton
finished 8 of 13 for 149 yards and a touchdown in the second half. ... San Diego's defense has forced four turnovers the past two games. The Chargers' offense has scored just 10 points off of those turnovers.