San Diego Chargers:

Cam Thomas
March, 14, 2014
Mar 14
10:20
AM ET
ESPN Vikings beat reporter Ben Goessling
reports that after a disappointing season in San Diego, which led to his release, cornerback Derek Cox will get a new start in Minnesota, signing a one-year deal with the team.
Cox will have to compete for a job, as Minnesota has eight cornerbacks on the roster, including the signing of Carolina Panthers free agent Captain Munnerlyn on Thursday. But perhaps new surroundings will help revive Cox's career.
Ed Bouchette of the Pittsburgh Post-Gazette
reports that Chargers free agent defensive tackle Cam Thomas will visit the Steelers on Friday.
I talked with Coach John Kentera and Billy Ray Smith of the Mighty 1090 about how the Chargers handled the first week of free agency in
this audio link
.
Ricky Henne of Chargers.com
writes that San Diego is eager to form a three-headed monster at the running back position with the addition of Donald Brown.
Michael Gehlken of U-T San Diego
writes that Cincinnati Bengals free agent cornerback Brandon Ghee hopes to revive his career with the Chargers.
NFL draft researcher Tony Villiotti writing for the National Football Post
ranks the Chargers as the most efficient team in the league in drafting players over the last decade.
February, 20, 2014
Feb 20
10:15
AM ET
Like most other NFL organizations, the
San Diego Chargers
are a team that builds and maintains its roster through the draft. General manager Tom Telesco doesn't necessarily put any more value on securing impact players through the draft, versus trade or free agency.
But annually selecting rookies that can make an impact on a team's roster is important, particularly when you consider the player will be under the team's control for at least four years, likely at an inexpensive salary.

So getting detailed medical evaluations and vetting players through the intense interviewing process are the most important things for teams this week at the NFL scouting combine in Indianapolis. Of the 53 players that finished the season on San Diego's roster, 23 were secured through the draft, compared to 27 free agents, two through trades, and one claimed off waivers.
The Chargers have seven original picks in this year's draft, one in each round beginning with the No. 25 overall pick. So they will be paying close attention to the more than 330 players invited to this year's combine.
Along with evaluating draft prospects, Telesco will have an opportunity to meet with middle linebacker
Donald Butler
's representation as the Chargers try to get him signed to a multi-year deal before he hits free agency next month.
Here are five things to keep an eye on regarding the Chargers.
1. Physical cornerbacks who can turn and run:
A major area of need for San Diego is improving the overall talent and depth at cornerback. Last year's top free agent signee
Derek Cox
likely will not be back after being supplanted in the starting lineup by
Richard Marshall
. San Diego's 2013 fifth-round selection
Steve Williams
could work into the conversation at corner in 2014. The Cal product sat out his rookie year after suffering a torn pectoral muscle during preseason play. But the Chargers need to add a couple physical corners who can cover -- through the draft, free agency or trade. Some names to keep an eye on include Oklahoma State's
Justin Gilbert
, Ohio State's
Bradley Roby
and Florida's
Loucheiz Purifoy
. Those players stand out to me because of their length, athleticism and playmaking ability.
2. Edge rushers needed:
The Chargers have several veterans at this position, but you can never have enough athletes who can rush the passer. And San Diego struggled at creating consistent pressure, particularly on third down. Three guys potentially available on Day 1 of the draft who could make an impact include Missouri's
Kony Ealy
, BYU's
Kyle Van Noy
, and Auburn's
Dee Ford
.
3. A run-stuffing defensive tackle:
San Diego gave up an average of 4.59 yards per carry on defense in 2013, No. 29 in the NFL.
Cam Thomas
started the most games at defensive tackle, but will be a free agent in March.
Sean Lissemore
finished as the team's starter at the end of the season, but needs to add some bulk to effectively fill this position. San Diego could certainly use a two-gap defensive tackle to control the middle of the defense, similar to
Dontari Poe
in Kansas City. Potential candidates in the draft include Notre Dame's
Louis Nix III
, Minnesota's
Ra'Shede Hageman
, and Penn State's
Daquan Jones
.
4. Improved interior offensive line depth:
With center
Nick Hardwick
contemplating retirement and veteran guard
Jeromey Clary
a potential salary-cap causality, the Chargers need to add some depth to the interior of the offensive line. Mississippi State's
Gabe Jackson
and Stanford's
David Yankey
are the top rated guards in this year's draft. And USC's
Marcus Martin
could be the long-term answer for a team at center.
5. Add a couple explosive playmakers:
San Diego could use some help in the return game.
Keenan Allen
should not be the team's main punt returner. He's too valuable on offense. And the Chargers could use someone with some juice in the kick return game. Washington's
Bishop Sankey
, Oregon State's
Brandin Cooks
, and Oregon's
De'Anthony Thomas
makes some sense because of their ability to create explosive plays on offense and in the return game. Chargers quarterback
Philip Rivers
needs a few more weapons on offense to make his job easier, and all three of these players would fit the bill.
January, 17, 2014
Jan 17
10:25
AM ET
Michael Gehlken of U-T San Diego
talks with San Diego Chargers receiver Malcom Floyd about his ongoing recovery from a serious neck injury that cut short his 2013 season.
Floyd suffered the injury in a Sept. 15 game at Philadelphia, getting sandwiched between two defenders while attempting to make a catch over the middle of the field.
According to Gehlken, Floyd still has to wear a neck brace to bed at night. Floyd has been told by doctors that the injury is potentially career ending. However, Floyd says the injury is steadily improving, and he hopes he can return to action in 2014.
At 32 years old, Floyd would be a bonus for the Chargers to get back on the field, particularly with the development of Keenan Allen. But neck injuries are risky propositions to come back from, particularly this late in someone's career.
• Chargers defensive lineman Corey Liuget was mic'd up for last week's AFC divisional round contest at Denver.
Check out the video
.
•
Charles Davis of NFL.com
gives the Chargers Texas Tech tight end Jace Amaro in his first mock draft.
•
Former NFL scout Gil Brandt
places Keenan Allen and D.J. Fluker on his all-rookie team.
• Khaled Elsayed of Pro Football Focus ranks San Diego's Cam Thomas and Thomas Keiser in the
bottom 10 of the defensive line interior
and
edge pass rushers
in 2013.
•
Rob Rang of NFLDraftScout.com
has South Carolina's Jadeveon Clowney at the top of his big board.
•
Dane Brugler of NFLDraftScout.com
offers his top 10 prospects to watch in this weekend's East-West Shrine game.
December, 16, 2013
12/16/13
11:15
AM ET
SAN DIEGO -- Good morning. The San Diego Chargers' playoff chances were not helped by the
Miami Dolphins
(8-6) win at home against New England on Sunday.
However, San Diego's path to the postseason remains the same. The Chargers need to win their final two games at home against Oakland and Kansas City, finishing alone at 9-7. Along with that, the Dolphins have to lose their final two games at Buffalo and at home against the
New York Jets
, coupled with the Ravens (7-6) losing two of their last three games. The Ravens travel to Detroit to face the Lions in Monday Night Football, then finish the season at home against New England and on the road at Cincinnati.
This projected playoff scenario
using ESPN's playoff machine shows the Chargers getting in at 9-7 as the last AFC Wild Card team, and traveling to Cincinnati for a rematch against the Bengals in the opening round of the playoffs.
Chris Burke of Sports Illustrated
provides an updated look at the playoff picture after Week 15 results.
ESPN Dolphins beat reporter James Walker
writes that Miami's win over New England makes the Dolphins' path to the playoffs simple -- win at Buffalo and at home to the New York Jets in the regular season finale and they are in.
In this ESPN Insider piece
, Nathan Jahnke of Pro Football Focus ranks the roster depth of every NFL roster. The Chargers are placed at No. 13 in the league, which I thought was a bit high.
Jahnke:
"The Chargers have used a nickel defense most often this season, which makes
Sean Lissemore
(+15.2),
Lawrence Guy
(+8.5) and
Cam Thomas
(+2.4) all backups -- with Lissemore standing out the most. Whether you consider Woodhead or
Ryan Mathews
the starting running back, both have played very well when called on.
Ladarius Green
(+9.3) also looks like a future star at tight end. The Chargers tried to fix the offensive line in the offseason, but it still has a little ways to go. Due to injuries, they lack players who can come off the bench and provide a pass rush off the edge."
Ben Stockwell of Pro Football Focus
takes a look back at San Diego's big win over Denver last week.
Michael Gehlken of U-T San Diego
talks to
Melvin Ingram
about his long road back from ACL reconstructive knee surgery.
Ricky Henne of Chargers.com
offers five lessons learned from San Diego's win at Denver.
October, 14, 2013
10/14/13
6:15
PM ET
SAN DIEGO -- Ken Whisenhunt, offensive coordinator for the
San Diego Chargers
, says his offense shouldn't be surprised by anything the
Indianapolis Colts
do defensively in Monday's matchup here at Qualcomm Stadium.


The Colts, led by defensive coordinator Greg Manusky, and more important, defensive-minded head coach Chuck Pagano, run a similar style 3-4 defensive front as little brother John Pagano, defensive coordinator for the Chargers.
"There are some similarities," Whisenhunt said. "When you watch tape, you'll see some things and say, 'Hey I recognize that.' But it's different players. They run some things differently and when you get into some of the different varieties of it, whether it's the sub packages, there are differences.
"But there's no question that it helps that we've been able to go against the base defense when we're going against Pags [John Pagano]. John [Pagano] does a nice job with our guys as far as what we see and that'll help."
While the schemes may be similar, the Colts pose more of a threat on defense because of the personnel on the side of the ball, including the NFL's leading sack man
Robert Mathis
(9.5 sacks), along with ball-hawking cornreback
Darius Butler
(2 interceptions, one returned for a TD).
So the Chargers will have to do a much better job protecting the football than they accomplished against the Raiders last week, which leads to the first thing I'll be looking for in tonight's contest.
1. Ball security:
Through five games, Indianapolis has forced 10 turnovers, including seven interceptions. The Colts forced just 15 turnovers all of last season, so this year's defense is doing a much better job getting after the football. The Chargers turned it over five times against Oakland last week. If San Diego has a repeat performance, this game could be over by halftime.
2. Run the football:
Yes, it would be great to see
Philip Rivers
sling the rock and put up another 400-yard passing day, right? Wrong. The Chargers ran for a paltry 32 yards last week. That's not going to get it done. If
Ryan Mathews
is healthy, he should get at least 15 touches to keep the Colts' defense honest.
3. Wrap-up:
Indianapolis is in the top five in the league in rushing, averaging 142 rushing yards a contest. They've got a new toy in running back
Trent Richardson
, and they plan on using him. The Chargers are only giving up 117 yards a contest. It will be important for
Corey Liuget
,
Cam Thomas
and
Kendall Reyes
to play tough up front defensively, and for the back end of San Diego's defense to make sure tackles in open space.
4. Make a play on defense:
It's been five games, and San Diego's secondary has yet to haul in an interception. Defensive tackle Cam Thomas has the team's only pick, and that happened on San Diego's first defensive play of 2013. The Chargers need to make a couple of game-changing plays on defense to help flip field position, and steal a few possessions from
Andrew Luck
.
5. A special play on special teams:
San Diego's return game has yet to make a big play this season. Today would be a good day for one. Again, the Chargers will need to match scores with a pretty potent Indianapolis offense. And getting an impact play on special teams could help San Diego's chances to stay in the game.
October, 14, 2013
10/14/13
8:45
AM ET
Good morning.
Scott Hansen of Pro Football Focus
gives us three things to focus on in tonight's
Indianapolis Colts
--
San Diego Chargers
matchup.
Hansen points to San Diego quarterback Philip Rivers matching up with the Indianapolis defensive backfield, Colts receivers battling with the Chargers' secondary and the Colts' interior offensive line facing San Diego's interior defensive line as three things to watch for this evening.
Hansen: "Although the Colts' pass defense doesn't look incredibly imposing on paper, they have allowed the sixth-fewest passing yards per game this season, in addition to a QB Rating of just 68.4 against them. No individual member of the secondary has been beaten consistently, while Darius Butler and Vontae Davis have been particularly solid. One area the Colts will need to clean up is the coverage of their inside linebackers, who will likely see a lot of Antonio Gates as well as Woodhead in coverage."
•
ESPN's Mike Wells
writes that the Colts' defense will have their hands full dealing with Rivers.
•
Bill Simmons of Grantland
takes the points and the Chargers over the Colts in his weekly picks.
Simmons:
"Yes, I'm riding the "Everyone who plays the super-physical Seahawks is bruised and battered the following week" theory and picking against the Colts, a team that I've actually come to respect as a legitimate Super Bowl contender, if only because of Andrew Luck (as covered earlier)."
•
Micheal Gelken of U-T San Diego
writes that defensive lineman Cam Thomas is San Diego's team leader in interceptions, which shows the secondary's struggles.
•
Kevin Acee of U-T San Diego
says that the Chargers' inability to sell nearly 9,000 tickets for tonight's game points to a larger issue -- a dilapidated stadium and an apathetic fan base could have the team playing elsewhere in the future.
• Sterling Sharpe and Brian Baldinger of NFL playbook break down tonight's matchup in
this video link
.
•
If the season ended today
, the 2-3 Chargers would be a game back of Miami (3-2) for the final AFC Wild Card spot.
•
Chris Burke of Sports Illustrated
says San Diego's powder blue jerseys are the best throwback uniforms in the NFL.
September, 10, 2013
9/10/13
10:20
PM ET
So it turns out the
San Diego Chargers
' latest stunning collapse is not
all
on them.
Well, that's comforting.

The NFL admitted that it made a mistake that directly cost the Chargers four points in Monday's 31-28 home loss to Houston. The Chargers, famous for blowing leads in the Norv Turner era, begin the Mike McCoy regime by moving out to a 28-7 lead in the third quarter.
NFL vice president of officiating Dean Blandino
said on the NFL Network
that Chargers defensive tackle
Cam Thomas
was wrongly penalized on a hit on Texans long-snapper
Jon Weeks
. The penalty took a Texans field goal off the board and set Houston up for a touchdown on the next play, making it a 28-21 game instead of 28-17. The Texans won the game on a tie-breaking field goal as time expired.
"This was not a correct call," Blandino said. "This is not the intent of the rule as it was written. The rule is to protect the snapper on a field goal or an extra point from a direct, forcible blow to the head or neck area, or with the crown, forehead, or hairline parts of the helmet to the body. It was not designed to prohibit any contact with the snapper, which is what happened on this play."
Asked about the play before Blandino explained the mistake, McCoy took the high road.
"The officials are going to make judgment calls and we have to live with them," McCoy said. "We can't worry about that. It's all a part of the game. There are certain judgment calls they want to make and we can't worry about it now. We just have to adjust. I might act a certain way on the sideline, but that's all part of the game and you move on."
I wouldn't expect McCoy to say much more on the subject.
Perhaps, mentally, this announcement will help the Chargers move on. At least they know that it wasn't totally their fault. But the truth is, any time a team blows a three-touchdown lead in the second half, no single play is the reason.
September, 10, 2013
9/10/13
12:00
PM ET
An examination of four hot issues from the San Diego Chargers' 31-28 loss to the Houston Texans:
Another collapse:
Norv Turner is no longer the Chargers' coach, but a similar thing happened. The Chargers blew a huge lead again in the first game of the Mike McCoy era. San Diego had a 28-7 lead with less than 11 minutes remaining in the third quarter Monday, only to be outscored 24-0 the rest of the game. Last October, on a Monday night, the
Denver Broncos
came back from a 24-0 halftime deficit to beat the Chargers 35-24. McCoy was Denver's offensive coordinator in that game. Seeing such a promising start end a familiar way to begin the McCoy era is difficult for San Diego to digest.
[+] Enlarge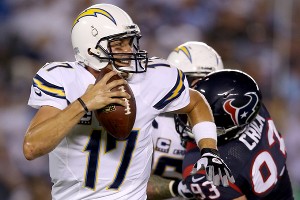 Jeff Gross/Getty ImagesPhilip Rivers threw four touchdown passes, but struggled in the fourth quarter Monday night.
Rivers' fourth-quarter failures:
San Diego quarterback
Philip Rivers
was terrific for the first 34 minutes of the game as he threw four touchdown passes. But as the Texans came back, Rivers was unable to spark his team. Rivers was 1-for-7 in the fourth quarter, including an 18-yard interception return for a touchdown by Houston linebacker
Brian Cushing
to tie the game at 28-28. According to ESPN Stats & Information, since the start of last season Rivers has an NFL-worst 7.7 fourth-quarter Total QBR and a league-high 13 turnovers.
Great start:
The Chargers squandered a dynamic start to the game. After a great stop on special teams, the San Diego defensive came on the field and forced Houston quarterback
Matt Schaub
into an interception on the first offensive play of the season. Defensive tackle
Cam Thomas
intercepted the ball at the Houston 14. On the next play, the San Diego offense punched in a touchdown on a pass from Rivers to
Ryan Mathews
. It was a stunning turn of events. In the end, it meant little.
Get better on third-down defense:
The Chargers improved on third down defensively some last year after finishing dead last in the NFL in 2011. But the Texans came back fueled on third-down success Monday night. The Texans converted on third-and-18 and third-and-13 during the comeback. This is a good, solid defense. But destructing on third-and-long is no way to build a winner. There are many reasons Houston came back. But it all started on third down.