San Diego Chargers:

Chance Warmack
September, 2, 2014
Sep 2
8:00
AM ET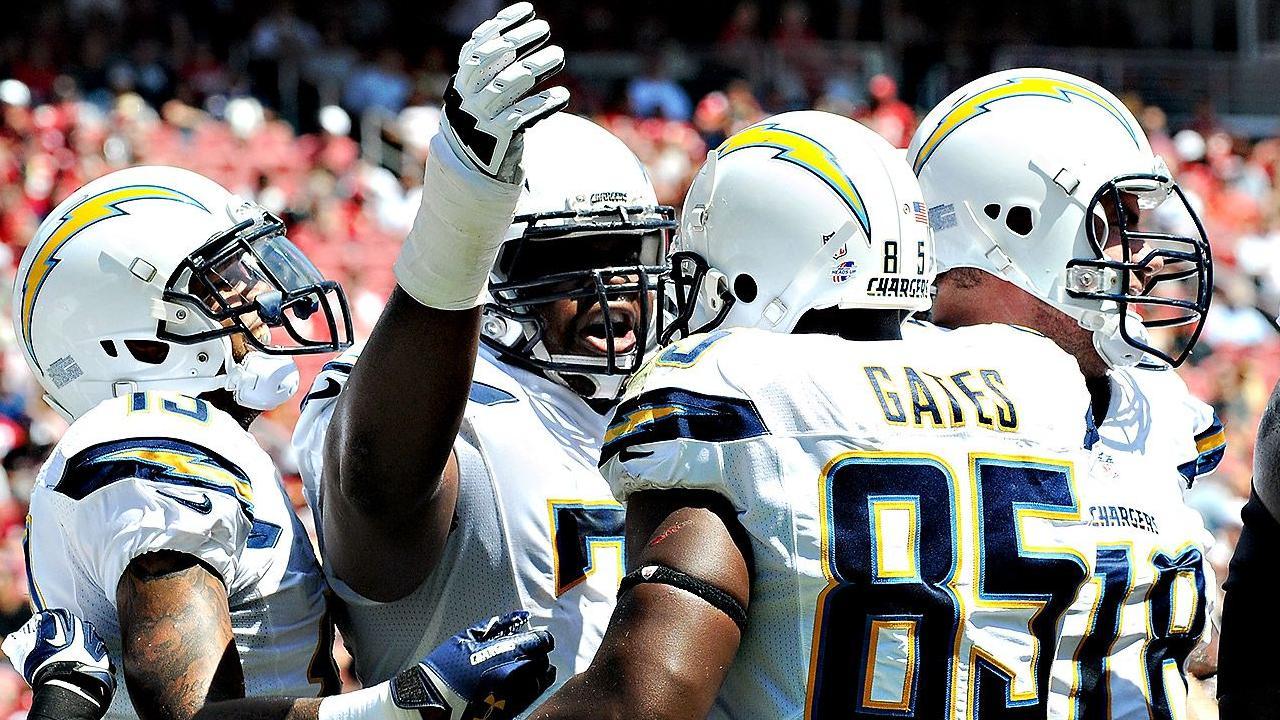 ESPN.com
San Diego Chargers
reporter Eric D. Williams makes his game-by-game picks for the 2014 season.
Week 1: at Arizona Cardinals
The Cardinals have a handful of new starters on defense. Two of Arizona's best players on that side of the ball definitely will not play in linebacker Daryl Washington (suspension) and defensive end Darnell Dockett (injury). San Diego appears to be catching the Cardinals at the right time. Prediction: Win
---
Week 2: Seattle Seahawks
The Seahawks' 41-14 manhandling of San Diego a month ago during preseason play at CenturyLink Field was not a good showing for the Chargers. The starters for both teams will play in this one, and the game is at Qualcomm Stadium. However, the Seahawks will have 10 days of rest after the team's season opener against Green Bay, while the Chargers are playing on a short week after a Monday night game in Arizona. Prediction: Loss
---
Week 3: at Buffalo Bills
The Bills are improved, with one of the better defensive front sevens in the NFL. They have a nice 1-2 punch at running back in C.J. Spiller and Fred Jackson and a human highlight film in receiver Sammy Watkins. But EJ Manuel remains inconsistent at quarterback. Prediction: Win
---
Week 4: Jacksonville Jaguars
This game could be the first start for rookie quarterback Blake Bortles if Chad Henne struggles early. The Chargers haven't lost to the Jaguars at Qualcomm, but Jacksonville's defense should be better with the addition of defensive ends Red Bryant and Chris Clemons. The Jaguars also get after the football defensively. Prediction: Win
---
Week 5: New York Jets
Will Michael Vick be the starting quarterback for the Jets instead of Geno Smith by Week 5? No matter the signal-caller, Rex Ryan will lean on the run game -- his Jets were one of 12 teams to rush for at least 2,000 yards in 2013. The Jets averaged just 15 points a game on the road in 2013. Prediction: Win
---
Week 6: at Oakland Raiders
The Chargers lost 27-17 on the road against an awful Oakland team last year. San Diego will be ready and bring more effort this time. However, the Raiders do have a bye before this game, so they will be rested. Prediction: Win
---
Week 7: Kansas City Chiefs
San Diego has not lost to Kansas City at Qualcomm Stadium since 2007. That streak should continue, although the Chargers can't rely on a Ryan Succop missed field goal to bail them out again. Prediction: Win
---
Week 8: at Denver Broncos
A nationally televised game against the best team in the AFC last year will be a good, midseason test of where this team stands. San Diego traditionally plays the Broncos tough in Denver -- the Chargers are 6-3 against the Broncos in Denver, including the playoffs, since 2006. Prediction: Loss
---
Week 9: at Miami Dolphins
The Chargers let one slip away at Miami last year. The Chargers haven't won a regular-season game in Miami since 1980. Prediction: Loss
---
Week 11: Oakland Raiders
San Diego players should be well-rested for the Raiders coming off of a bye week. Since 2003, the Chargers are 9-2 at Qualcomm Stadium against Oakland. Prediction: Win
---
Week 12: St. Louis Rams
The Rams have one of the most dominant defensive fronts in the NFL, but Shaun Hill does not instill fear in the hearts of NFL defenders. Prediction: Win
---
Week 13: at Baltimore Ravens
This game is the beginning of a brutal stretch of games to finish the season. San Diego has never defeated the Ravens in Baltimore. Prediction: Loss
---
Week 14: New England Patriots
New England runs the football, has an improved defense and one of the best quarterbacks to ever play the game. And that Bill Belichick is a pretty good coach. Prediction: Loss
---
Week 15: Denver Broncos
This game is a late-season AFC West battle that the Chargers likely will need to win in order to stay in playoff contention. Expect San Diego to play with urgency in this one. Prediction: Win
---
Week 16: at San Francisco 49ers
You can't discount how San Diego's defense handled San Francisco's offense in the preseason matchup between these two teams. But Jim Harbaugh should have his team playing much better by December. Prediction: Loss
---
Week 17: at Kansas City Chiefs
For a second straight season, the Chargers finish against the Chiefs, but this time on the road. Since 2004, San Diego is 6-4 at Kansas City. Prediction: Win
---
Predicted Record: 10-6
September, 19, 2013
9/19/13
12:00
PM ET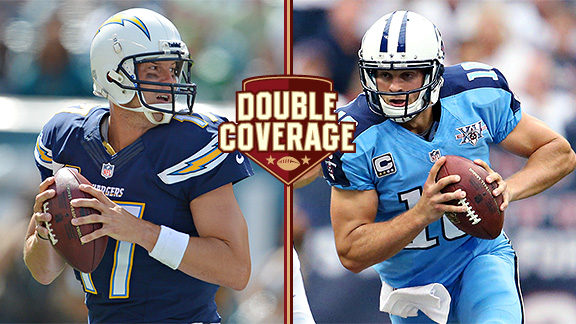 USA TODAY SportsJake Locker, right, will try to keep up with Philip Rivers and the Chargers, who have scored 61 points through two games.
The
San Diego Chargers
are the Tennessee Titans' white whale.
The teams don't play that frequently -- just nine times since 1993, including a wild-card playoff matchup in January 2008. The franchises have undergone all sorts of changes during that span, but one thing has remained consistent when they meet: The Chargers always win.
Bill Williamson, why do you think that is, and what are the odds it continues?
Bill Williamson:
I don't see the Chargers' history with the Titans being a factor. I know in Nashville the word "Chargers" makes fans cringe because of the history. Both teams are rebuilding and trending upward. These are two similar teams, and they will both be in the AFC conversation in the coming years.
The Titans made a lot of changes. This isn't the team the Chargers beat 38-10 last September. What's the biggest difference?
Paul Kuharsky:
The central part of the offseason revamp was the offensive line. The Titans have three new starters on the interior with left guard
Andy Levitre
, center
Rob Turner
and right guard
Chance Warmack
. Turner has been shaky, however, and Warmack is a rookie who is going to take some lumps when he's across from someone like
J.J. Watt
. The group hasn't jelled yet, but the run-blocking has been pretty good.
We've seen the good
Philip Rivers
and the bad Philip Rivers over the years. With the new regime in place, what is your feeling on who he will be now?
Williamson:
I might be the wrong person to ask, Paul. I've always been high on Rivers. Yes, his play sank the past two seasons and he committed 47 turnovers during that span. But it wasn't all on him. The previous regime in San Diego let go of a lot of skill-position talent, and the offensive line was decimated by injuries. Rivers didn't have much help. He was pressing as a result. So far under head coach Mike McCoy, offensive coordinator Ken Whisenhunt and quarterback coach Frank Reich, Rivers has looked re-energized. He has looked relaxed and confident over the first two weeks. He has shown that he is still a high-level player. Stopping him is the main challenge for the Titans.
How's
Jake Locker
coming along?
Kuharsky:
He made a bad throw on a crucial third-and-1 late in regulation in the loss to the Texans. The Titans have hardly turned him loose so far. But since the start of camp, he's shown steady progress. I'm not a complete believer by any means, but I think he has a chance and I didn't always feel that way. We still haven't seen some aspects of the offense that should be featured for him. Maybe this week he'll run around more and we'll see more boots and rollouts.
I'm curious about one of the guys who will be chasing Locker. The Titans have seen a great deal of
Dwight Freeney
over the years. How has he fit in the defensive scheme there?
Williamson:
An old foe, indeed. Freeney is in a tough spot. He was signed (and paid well) to be the Chargers' primary edge pass-rusher after 2012 first-round pick
Melvin Ingram
blew out his knee in May. But at 33, Freeney is best suited as a rotational player. He has half a sack this season. He has been active and will give his best effort, but he needs help. It would be a stretch to think he can still be a premier player. But he knows the Titans, and I'm sure he will be motivated to perform well Sunday.
What can Rivers and the Chargers' offensive line expect from the Titans' pass rush?
Kuharsky:
The best guys so far haven't been the ends.
Derrick Morgan
,
Akeem Ayers
and
Kamerion Wimbley
should key the rush. Ayers moves from stongside linebacker to end on rush downs but has been limited by a bad ankle. Tackle
Jurrell Casey
and weakside linebacker
Zach Brown
have been the best rushers so far. The fronts are less predictable and the blitzes more frequent. That's the influence of defensive assistant Gregg Williams. This defense is far better than I expected.