San Diego Chargers:

Chuck Pagano
October, 11, 2013
10/11/13
8:30
PM ET
SAN DIEGO -- Sam Pagano says he won't be doing any cheering on Monday night when the
Indianapolis Colts
face the
San Diego Chargers
at Qualcomm Stadium.
His son Chuck Pagano, head coach of the Colts, takes on Chargers defensive coordinator and younger brother John Pagano in the prime time matchup.
[+] Enlarge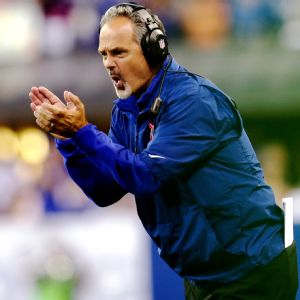 AP Photo/AJ MastChuck Pagano doesn't have the best of luck when facing younger brother John in the NFL. He's 1-7 in the sibling rivalry.
The two brothers have met eight times before as position coaches or coordinators in the NFL. And the younger Pagano isn't shy about acknowledging his 7-1 record.
"John said he's going to outcoach him," San Diego coach Mike McCoy said, smiling. "He said he's been doing it all his life. So I said, 'OK, let's go.'
"No, I think it's great to see brothers like that being in this profession. There's only so many of us that are able to do this at this level, or have the opportunity to do it. So it's great for a family like that with two great guys. They're both phenomenal football coaches, but they're better people."
Sam plans on attending the game with wife Diana.
It's the first time the Paganos have faced each other since Chuck became the head coach of the Colts last year, and John ascended to the defensive coordinator position for San Diego under Norv Turner's final year with the Chargers in 2012.
"The first thing you think about is the one who's going to lose," Sam said. "We'll get together beforehand and take some photos, have some laughs. But it's serious business for both of them. I'll keep my hands in my pockets and wait for it to be over."
Joked John about his father's allegiances: "He's staying at my house, so he'd better be rooting for me, or he might be at a Holiday Inn somewhere."
Chuck, 53, is seven years older than younger brother John. Both were standout players for their father, who spent 26 seasons as the head football coach at Fairview High School in Boulder, Colo., winning three state titles. Sam Pagano also coached overseas in France, Italy and Germany.
"It was great," Chuck said about growing up as a son of a football coach. "I think there would be a ton of people that would love to have had the opportunity that Johnny and I had growing up in a football family. ... Having the opportunity to hang out as a young boy in a football office, in a football locker room and at practice and grow up that way."
When Chuck was a hard-hitting strong safety for his father in high school, John served as the ball boy. And John was on the sidelines for games when his older brother starred at Wyoming.
John was a decent player as well, earning all-state honors as a linebacker in high school and going on to play at Mesa State.
"All I can say is, as a big brother, when I could, I'd take advantage of the situation and work him over pretty good," Chuck said during a conference call with San Diego-area reporters this week. "I can't do that now. He's a lot bigger than I am now.
"I'm really proud of John and what he's done professionally. And I'm prouder of him as a man, as a father and as a husband. He's just an outstanding human being, and I'm proud to call him my brother."
John Pagano was there to support his older brother during his time of need. Chuck Pagano was diagnosed with acute promyelocytic leukemia in September 2012, taking an indefinite leave of absence from his coaching duties with the Colts for chemotherapy.
He underwent three months of treatment, and in November doctors announced that Chuck's cancer was in remission. He later rejoined the team in December. John flew to Indianapolis to be with his brother on San Diego's bye week during his treatment.
"He spent all day with him," Sam said. "They talked a lot. They watched film. They cried. They prayed. And then he [John] caught a red-eye back home.
"It was really good that he went out and spent the day with Chuck."
John has been with the Chargers since 2002, joining the organization as a defensive quality control coach and working his way up to the defensive coordinator position.
"He's great," San Diego safety
Eric Weddle
said. "He's extremely smart, passionate and aggressive. He's no-nonsense, but he's still able to communicate, and is open to his players, whether it's on the field or off, letting us express what we see as players and relating it to him.
"I think it's one of the best qualities as a coach to listen to your players and take what we say -- whether you agree with it or not -- at least listen. He's done a great job."
The two brothers usually talk regularly during the week. However, John said the two have not talked leading up to Monday's matchup.
"At the end of the day, it's the Chargers vs. the Colts on Monday Night Football," John said. "It will be good to see him before kickoff and say hello, but when that ball's kicked off, the only thing on my mind is about San Diego winning, and that's the most important thing."
October, 11, 2013
10/11/13
12:00
PM ET
SAN DIEGO -- The
Indianapolis Colts
travel to the West Coast for the second time in four weeks after an impressive win at home against Seattle. The last time the Colts traveled to California, they thumped last year's NFC champions, the
San Francisco 49ers
, 27-7 on Sept. 22.
Indianapolis quarterback
Andrew Luck
is showing no signs of slowing down in his second season. But he'll face a veteran signal caller in San Diego's
Philip Rivers
, who is playing back at an elite level after a rough, two-year stretch.
ESPN.com Chargers reporter Eric D. Williams and Colts reporter Mike Wells break down the matchup:
Williams:
The national expectation heading into this season was that last year's 11-5 playoff team was a mirage, and the Colts would slide back to .500 this year. That, of course, has not happened, with Indianapolis beating up on NFC West powers San Francisco and Seattle on its way to a 4-1 record. Besides Andrew Luck's impressive play, what has been the key to the Colts' success this season?
Wells:
You can't put it on one player. If you had to pick one organization that's truly a team, you have to look at Indianapolis. Luck is obviously the franchise player, but he's not carrying the offense. The Colts are fourth in the league in rushing and 24th in the league in passing. Nobody would have ever thought that would happen with Luck taking the snaps. You also can't forget about the defense. That unit is 11th in total defense and is only giving up 15.8 points a game. So, credit goes to all areas, including the coaching staff. The same can't be said about the Chargers, it seems. They're sitting at the bottom of the AFC West. What's been their biggest issue this season?
Williams:
Inconsistency. The Chargers play impressively one game, but look sluggish the following week, which is the reason the team is 2-3. In his first season, San Diego coach Mike McCoy's squad has been competitive in all five games. However, the Chargers have had trouble finishing in the final quarter. The Chargers just came out flat against Oakland last week, falling behind 17-0 before rallying in the fourth quarter to make the game close. Good teams play at a high level each week, and San Diego is still working toward that goal. Mike, you mentioned the Colts' surprising ability to effectively run the ball this season. How has the trade for
Trent Richardson
helped in that effort?
Wells:
I wrote earlier this week that general manager
Ryan Grigson
should be getting Executive of the Year votes already, despite it only being Week 6 of the season. It cost the Colts a first-round pick, but acquiring Richardson was an excellent move by Grigson, considering they've lost two starting running backs --
Vick Ballard
and
Ahmad Bradshaw
-- already. Richardson's progress with the Colts has been slow. You can tell he's not completely comfortable yet. He had an impressive second half against the team you used to cover -- Seattle -- rushing for 54 yards on 12 carries. The hope within the organization is Richardson will be able to build off that game. Quarterback Philip Rivers has completed 72 percent of his pass attempts in three meetings against the Colts. He's fourth in the league in passing this season. Can the Chargers continue to build around him?
Williams:
At present, that's the plan. A year ago, you could certainly argue that Rivers was on the downside of his career. He had 47 turnovers through the 2011 and 2012 seasons, second-most in the NFL. But Rivers experienced a rebirth in McCoy's up-tempo offense. As you mentioned, he's fourth in the NFL in passing yards (1,610), second in passing touchdowns (13) and second in completion percentage (73.8 percent) -- proving at 31 years old there's still some tread left on the tires. Tight end
Antonio Gates
is healthy and again playing at a high level.
Danny Woodhead
gives them a high-effort guy who can make plays in the passing game out of the backfield. Young receivers
Keenan Allen
and
Vincent Brown
are making plays and earning Rivers' trust. Other than consistently running the ball, San Diego is clicking on offense. But the defense is a different matter. Speaking of defense, you mention the Colts are 11th in total defense. Indianapolis also has forced 10 turnovers, including seven interceptions. The Colts forced just 15 turnovers all of last season. What's changed?
Wells:
The players are finally comfortable with coach Chuck Pagano's 3-4 defensive scheme after spending most of last season getting used to it.
Robert Mathis
went from playing defensive lineman to being a rushing linebacker. Now he's leading the league in sacks with 9.5 to add to his two forced fumbles. The Colts also have seven interceptions. Cornerbacks
Vontae Davis
and
Greg Toler
are both players who enjoy being aggressive in going after the ball. It started in training camp and it's carried over to the regular season. They'll lose some battles by gambling to make a play, but they've won the majority of their battles this season. Barring a sudden collapse, the Colts are in a good position to win the AFC South and make the playoffs. How realistic is it for the Chargers to be a playoff team?
Williams:
With two undefeated teams leading the AFC West in Denver and Kansas City at 5-0, you would think the Chargers are a long shot to make the playoffs at 2-3. However, if the playoffs were to start today, San Diego would be only a game off the pace for the final AFC wild-card spot. The Chargers still have two games remaining with both the Broncos and Chiefs, along with a home contest against the Raiders in the second half of the season. It's certainly an uphill climb for San Diego to get into postseason contention, but it's doable if they take care of business at home and sneak a couple of wins on the road. Hard to believe we've gone this far without talking specifically about Luck, but how has he improved from his rookie season to this year?
Wells:
This might be a record for how many questions I've gone without talking about Luck in Double Coverage this season. He's improved in all areas, which was expected because he's his own worst critic. You talk to him after a game or during the week, and instead of talking about what he's doing well, he usually points out what areas he needs to improve. You like to hear that because that means he's not getting too full of himself. Luck likely won't pass for as many yards this season, but he's OK with that because the Colts are running the ball so well. One area Luck needs to improve in, though, is learning how to slide. Let's just say you won't see him pop up on any tutorials on how quarterbacks should slide. Speaking of waiting so long to talk about a familiar name, how's linebacker
Manti Te'o
coming along? I have to ask since he's a Notre Dame product.
Williams:
Te'o has a total of eight tackles in two games, after sitting out the first three games of the season with a sprained foot suffered in August. Te'o admitted that he's been tentative and thinking too much on the field. Because of that, he's not made any of the game-changing type of plays that he became known for at Notre Dame. Also, the Chargers have worked him in slowly. Te'o played just 14 snaps his first game and 42 snaps last week against the Raiders. He's a hard worker and serious about his craft, so I expect his play to improve over time. Luck has one of the more underrated receiving units in the NFL with wide receivers
Reggie Wayne
and
T.Y. Hilton
, along with fellow Stanford-product, tight end
Coby Fleener
. Wayne, 34, doesn't appear to be slowing down, while Hilton and Fleener are two emerging, young talents. How does that trio work with Luck to create explosive plays in the passing game?
Wells:
Wayne is Mr. Reliable for Luck. He's always going to come through when his quarterback needs to come up with a play. Hilton is Luck's deep threat. The two connected for two touchdown passes, including a career long of 73 yards for both players, against Seattle last weekend. In fact, Hilton has outplayed
Darrius Heyward-Bey
, who is the team's No. 2 receiver, all season. You probably forgot Heyward-Bey is even on the roster. Fleener hit a rough stretch during training camp, but he's been solid for the most part. He's had to play an increased role because fellow tight end
Dwayne Allen
is out for the season with a hip injury. I see Gates is leading the Chargers in receiving. Are there any signs of him slowing down?
Williams:
Gates has struggled with foot and rib injuries the past few seasons, but is finally healthy and back to playing at a high level. As you mentioned, he leads the team in receiving with 32 receptions for 438 yards and three touchdowns. Among tight ends, Gates is second in the league in receptions behind
Jimmy Graham
(37). At 33 years old, Gates still has enough juice to get deep, and the former Kent State college basketball player remains a matchup nightmare in the red zone.
.