San Diego Chargers:

Jarrett Johnson
January, 4, 2014
Jan 4
9:35
PM ET
CINCINNATI -- John Pagano knew what was coming, and his defense still couldn't stop it.
After giving up 164 rushing yards to the
Cincinnati Bengals
in an earlier matchup this season, the
San Diego Chargers
'
defensive coordinator is looking for a bit of redemption on Sunday.
"At times, the same rush that we held to a minus rush or a 1-yard gain, ended up in the second half being a six or an 8-yard gain," Pagano said. "And you can't have those things. The biggest thing is we've got to tackle. We have to go out and finish, tackle, and get them on the ground."
[+] Enlarge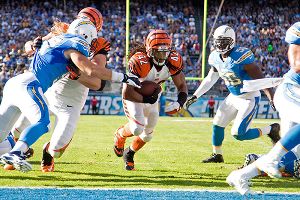 Stan Liu/USA TODAY SportsBehind BenJarvus Green-Ellis, the Bengals racked up 164 rushing yards against the Chargers on Dec. 1.
Powerful Cincinnati running back
BenJarvus Green-Ellis
led the charge, finishing with 92 yards on 20 carries for a robust, 4.6 per carry average, and rookie scat back
Giovani Bernard
totaled 57 yards on 14 carries.
The two combined for 57 yards after contact, as San Diego defenders failed to get either back down at the line of scrimmage.
"We definitely know we have to gang tackle," Chargers defensive end
Corey Liuget
said. "They have two excellent running backs, and we know, defensively, that can't happen again. We just have to be sound with our tackling."
After that game, the Chargers played much better against the run defensively. The return of outside linebackers
Jarret Johnson
(hand) and
Melvin Ingram
(knee) helped shore up San Diego's run defense.
And it showed up in the stat book, with San Diego holding its next three opponents to an average of 56 yards a contest, including a season-low 18 rushing yards allowed at Denver.
But all of those good feelings melted away during the final game of the season, when a Kansas City offense led by mostly reserves bulled through San Diego's defense for 143 rushing yards.
The Chargers had just a week to try and figure things out before facing the Bengals' talented rushing attack again.
While Cincinnati has several playmakers on offense, the run game makes that team go. The Bengals are 7-2 this season when they rush for more than 100 yards. Running the ball takes pressure off quarterback
Andy Dalton
to make too many plays in the passing game, and it also helps keep Cincinnati's defense fresh by keeping it off the field.
And with snow in the forecast for Sunday, the Chargers likely will see a lot of Green-Ellis and Bernard.
"Any time your offense can control the ball and keep
Philip Rivers
off the field, that's a good day for your defense," Cincinnati coach Marvin Lewis said. "He's such an outstanding quarterback, so it's important that we do a good job offensively."
Chargers rookie linebacker
Manti Te'o
said the defense obviously watched film from the first Cincinnati game, but that doesn't mean San Diego will see the same running scheme on Sunday.
"It definitely helps a lot," Te'o said. "But you've got to also understand they're watching the same things. And it's all about knowing yourself. Knowing what you have to work on. Knowing how they're going to attack you. They could come out on Sunday and run something totally different. Like I've always said, it's all about us in this locker room knowing what we've got to do, knowing where we've got to be and executing."
Ultimately, Johnson said his unit has to rely on being assignment-correct.
"We have to be gap-sound," Johnson said. "They have two very different backs, but they're both very effective in their own way. Their screen game to the backs is another thing they do really well. So if we're going to win this game, we have to be effective stopping their backs."
December, 11, 2013
12/11/13
5:30
PM ET
SAN DIEGO -- He's the ultimate game wrecker.
At different points this season,
San Diego Chargers
defensive coordinator John Pagano has referred to playmakers like Cincinnati receiver
A.J. Green
and Dallas receiver
Dez Bryant
as game wreckers because of their ability to create game-changing plays regardless of what is schemed defensively.
[+] Enlarge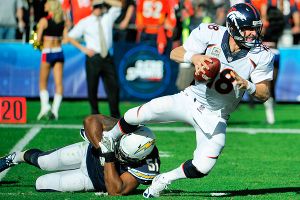 AP Photo/Denis PoroyThe Chargers held Peyton Manning in check -- relatively speaking -- in the teams' first meeting of the season, but the defense seeks to improve when facing no-huddle situations.
Well, on Thursday the Chargers will face perhaps the ultimate game wrecker for the second time this season: Denver quarterback
Peyton Manning
.
"We are playing the No. 1 offense in the National Football League on the road in a short week," Pagano said. "That is as big a challenge as it gets. Their receivers are the best. They have a great quarterback. They have great runners. Their offensive line plays at a high level.
"When you look at the categories, they are No. 1 in everything. I think that is a challenge in itself of going into Colorado and playing this game. We will make sure we show up."
Pagano is right. The Broncos are No. 1 in points scored (39.6), total yards per contest (465.6), passing yards (341.2), third-down conversions (48.2 percent) and red zone efficiency (78.9 percent.).
Manning has been deftly handling the controls, and he is on track to finish with the most productive season in his 16-year NFL career.
In San Diego earlier this season, the Chargers lost to the Broncos 28-20 but held them to their second-lowest scoring output this year. Manning threw for 330 yards and four touchdowns, taking advantage of a confused San Diego defense that at times failed to get lined up quickly enough, leading to five passing plays of 18 or more yards for the Broncos.
So how will Pagano's defense attempt to stop the high-octane, Manning-led offense this time?
"We have to be able to handle the no-huddle situations and not give them opportunities to where we don't get the call," Pagano said. "The more we keep working it, the better the communication has been at times over the last few weeks. You still have to deal with those mental errors during plays and you have to overcome them."
Manning has received criticism for his inability to produce in cold temperatures. He entered Sunday's home contest against the Tennessee Titans with a 3-8 record in games in which the kickoff temperature was below 32 degrees. But with the temperature at a frigid 16 degrees at game time, Manning completed a franchise-record 39 passes for 397 yards and four touchdowns in Denver's 51-28 victory over the Titans.
Afterward, Manning told his critics to stick it where the sun doesn't shine. Manning's performance did not surprise his former offensive coordinator in Denver, San Diego coach
Mike McCoy
.
Game-time temperature in Denver for Thursday's contest is expected to be in the 20s.
"His name in the NFL speaks for itself," McCoy said. "He's one of the greatest players of all time. He's a great competitor. He's a winner and his record speaks for itself. It has nothing to do with weather."
Along with playing mistake-free football on defense, the Chargers will rely on quarterback
Philip Rivers
to dictate tempo with his unit's ball-controlled, short passing game.
In the last meeting between the two teams, the Chargers held the ball for over 38 minutes, but scored only 20 points. That can't happen this time.
"Having it for 38 minutes would be great if we could do that on Thursday night," Rivers said. "But we've got to score touchdowns. To me, if you maintain possession of the ball, you've got to still end it with points, and preferably touchdowns against this team.
"I've never gotten too caught up in that stat. But if you score a bunch of points and have the ball a lot, then yes, I think they can go hand-in-hand."
Most of all, San Diego outside linebacker
Jarret Johnson
said defensively the Chargers have to make Manning earn everything his offense gets Thursday. That means no blown assignments for 74-yard touchdowns like the last game.
"Absolutely, you've got to," Johnson said. "I mean, if you sit back in one coverage and give him time, it's going to be a long day. You've got to be aggressive with him because he's as good as they come.
"If you sit back and play one coverage or play conservative or play scared, it's going to be a long day."
December, 10, 2013
12/10/13
6:45
PM ET
SAN DIEGO -- For the first time in many weeks, the
San Diego Chargers
had all 53 players on the active roster participate in practice Tuesday -- a good sign for a team facing the
Denver Broncos
, who are undefeated at home.
"The last couple weeks coming out of games we've been fairly healthy," San Diego coach
Mike McCoy
said. "Every game you're going to have some dings, but nothing serious. So it's been a good couple weeks for us."
Receiver
Eddie Royal
(toe), center
Nick Hardwick
(neck), cornerback
Shareece Wright
(foot) and defensive back
Johnny Patrick
(ankle) were limited in practice.
Receiver
Keenan Allen
(shoulder), tackle
D.J. Fluker
(ankle), defensive end
Lawrence Guy
(toe), linebacker
Jarret Johnson
(hand), defensive tackle
Sean Lissemore
(toe) and defensive end
Corey Liuget
(knee) were full participants.
Royal had not practiced since injuring his toe against Indianapolis on Oct. 14. Royal missed just one game over the past seven because of the injury, against Cincinnati. With less practice time, Royal said he put in more film study and mental reps to make sure he was prepared to play.
"I just had to study more than normal," Royal said. "Because when you're out there running the plays, you don't normally have to go home and look at it for hours. But now that you're not doing it, you want to make sure that you're detailed in what you're doing. There's a lot of little things that you have to pay attention to when you're not out there practicing every day."
December, 9, 2013
12/09/13
6:20
PM ET
SAN DIEGO -- With his team teetering on the brink of elimination from this year's postseason conversation,
San Diego Chargers
outside linebacker
Jarret Johnson
said the playoffs start for his 6-7 team on Thursday on the road against AFC West division rival Denver.
The Chargers have not defeated the Broncos since
Peyton Manning
arrived in the Mile High City. Manning is an impressive 10-0 against AFC West foes. The Broncos are one of five teams undefeated at home this season, with an average margin of victory of 20.4 points a game.
"In my mind, this is a playoff scenario for us," Johnson said. "I can't wait. It's going to be a great challenge. But as a competitor and as an athlete in the NFL, these are the opportunities that you want. We've worked ourselves into a hole. We have to depend on other people. But the only thing we're focusing on is what we can control, and right now that's Denver."
One thing the Chargers can lean on is the team's record in December. Since 2006, when
Philip Rivers
emerged as the team's franchise quarterback, the Chargers are 27-6 in the final month of the NFL season, including 1-1 this season.
"This time of year is what's exciting," Johnson said. "Even though we're behind in the standings, we've still got a shot. We've got something to fight for. December football is what it's all about. It's cold -- even here it's cold -- it's awesome. It's just a fun time of year."
Johnson said his linebacker group watched the first half of the first Denver game Monday afternoon.
So what did he see?
"What stood out is how many just dumb things we did," Johnson said. "Golly, if we just play our base coverage and don't totally blow this, it's not a 70-yard gain or a 15-yard gain."
San Diego coach
Mike McCoy
said his team suffered no significant injuries of note against the Giants. Receiver
Keenan Allen
(shoulder), Rivers (neck) and cornerback
Shareece Wright
(ankle) got dinged up during the game, but returned to the field.
Although it sounded like it, McCoy said he did not mean to guarantee victory against Denver this week after his team's win over the Giants on Sunday. According to McCoy, he simply meant to say that his team is traveling to Denver with the intent to win a football game.
"No. 1, we're just worrying about Thursday night," McCoy said. "And I think with everybody's that here and the way we've played this year, we know we can win. We've just got to do it more consistently. So I think without a doubt, the way we've played at times this year the players know we can win."