San Diego Chargers:

John Pagano
June, 29, 2014
Jun 29
4:45
PM ET
Pleased with the overall depth he has defensively,
San Diego Chargers
defensive coordinator John Pagano believes there will be some intense competition for starting jobs once training camp opens July 24.
Only three starters can be written in pen defensively: safety
Eric Weddle
, middle linebacker
Donald Butler
and defensive lineman
Corey Liuget
. You could add a fourth,
Melvin Ingram
, because of the way he changes San Diego's defense when he's healthy.
But that leaves seven to eight starting jobs up for grabs, according to Pagano, who talked about his defense in a conversation with Darren Smith of The Mighty 1090 AM radio.
You can listen to the conversation here.
[+] Enlarge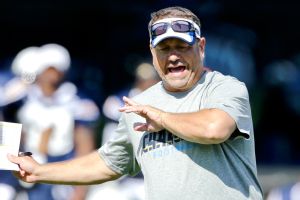 AP Photo/Lenny Ignelzi"I got my 11 in mind right now," Chargers defensive coordinator John Pagano said. "But I'd probably say that there's seven to eight that depends on the competition we have, and the depth we have."
"I got 11 in my mind right now," Pagano said. "But I'd probably say that there's seven to eight that depends on the competition we have, and the depth we have. It's good to have these deals to make sure we get the most competition out of these guys. I mean there's going to be a lot of challenges this year, and it makes us better. Depth is probably the biggest asset of any National Football League team."
Pagano confirmed that Virginia Tech product receiver
Eddie Royal
was helpful in recruiting his former college teammate cornerback
Brandon Flowers
to San Diego.
However, Pagano also said that what the organization had to offer, including quarterback
Philip Rivers
and a winning environment, helped Flowers make a decision to sign with the Chargers.
"I think you have to sell it," Pagano said. "Everybody says it comes down to money at the professional level. But at the end of the day it's about somebody being excited about their job, and happy about where they want to be, where they want to play and what gives them the best opportunity to win.
"You look at the San Diego Chargers right now, the first thing you see when you walk into that building is Philip Rivers. And when you have a guy like that, you have an opportunity to win a lot of football games. And to me that was very important to him."
Pagano said Flowers will be used in a number of positions on the field.
"We're going to use him inside, outside, on top, on bottom -- we're going to use him wherever we can," Pagano said. "He's going to do a lot of things for us. He's going to come in and compete with those guys. We've gotten a lot faster defensively. And those are two things -- the athleticism and the speed defensively -- coaches cannot coach."
Asked about the nose tackle position, Pagano indicated that
Sean Lissemore
is the starter, but that he's not as concerned with that position because the Chargers will play base defense about 30 to 35 percent of the time.
Kwame Geathers
and
Ryan Carrethers
are slotted in behind Lissemore heading into training camp.
"Sean Lissemore is our guy right now," Pagano said. "He can play inside and outside. And then you have two young players who are big, strong, powerful players and can do a lot of different things. So I think the biggest thing is all three of them had a great offseason, and that's going to help us tremendously.
"The big thing that everybody has to understand is that we were in sub defense -- and that's either five defensive backs or six defensive backs that puts you into an even front -- and we were probably in that roughly 65 to 70 percent of the time. So 30 percent of the time we are in base defense."
January, 14, 2014
Jan 14
3:30
PM ET
SAN DIEGO -- The
San Diego Chargers
lost offensive coordinator Ken Whisenhunt to the
Tennessee Titans
, but made sure defensive coordinator John Pagano stuck around.

ESPN's Adam Schefter reports that the Chargers signed Pagano to a new contract on Tuesday. According to Schefter, Pagano's contract was up, and he had drawn interest to follow Whisenhunt to Tennessee.
In his second season as San Diego's offensive coordinator, Pagano took a young, inconsistent group and molded them into an effective unit by the end of the season.
The Chargers held the top-ranked offense in the league, the
Denver Broncos
, to under 30 points three times this season. The
Kansas City Chiefs
were the only other team the keep Denver's offense under 30 points during the 2013 season.
Pagano is the longest tenured assistant on San Diego's coaching staff, having been with the organization for 12 years. So the Chargers keep some continuity on the defensive side of the ball.
San Diego coach Mike McCoy could opt to continue that continuity on the offensive side as well by promoting quarterbacks coach Frank Reich to offensive coordinator, replacing Whisenhunt. But the team has not announced that move yet.
January, 10, 2014
Jan 10
10:00
AM ET
When the 2013 season began, the AFC West didn't really come up when the national conversation turned toward divisions that would provide the most playoff teams or Super Bowl potential from top to bottom.
Yet with four teams left in the AFC's postseason bracket, two of them call the division home, with the No. 1 seed
Denver Broncos
and the No. 6
San Diego Chargers
set for the season's third meeting on Sunday. They split the two games in the regular season, with each team winning on the road -- the Broncos by eight in San Diego and the Chargers by seven in Denver.
It will be the first time the Chargers and Broncos have met in the postseason, but San Diego is 2-0 in playoff games against Broncos quarterback
Peyton Manning
with wins in the 2007 and 2008 postseasons.
ESPN.com Chargers reporter Eric Williams and Broncos reporter Jeff Legwold discuss the matchup.
Jeff Legwold:
Eric, there were some who questioned the Chargers' playoff worthiness when all of the dominoes fell in the regular season's final week and they earned the AFC's No. 6 seed. But with the win in Cincinnati, how do they see themselves at the moment -- playoff underdog or a team with a chance for more?
Eric Williams:
Veteran players emphasized this week that playoff opportunities are precious, noting the fact that the Chargers have not made the playoffs since 2009. So guys like
Philip Rivers
and
Eric Weddle
want to see how far they can take it. Both mentioned the Chargers are only eight quarters away from the Super Bowl -- unbelievable when six weeks ago this team was 5-7 and an afterthought at making the postseason. Giving players more confidence is the fact that San Diego beat the Broncos in Denver just a month ago. The Chargers understand the deck is stacked against them facing a well-rested Manning. But they are playing with house money, and I suspect they will play with a lot of confidence and urgency on Sunday.
How is Manning handling all of the questions concerning his so-so record in the playoffs? And will that serve as motivation on Sunday?
Legwold:
If you had to make a list of questions that cause Manning to put up the verbal deflector shields the fastest, the glove, anything that includes the phrase "all the way back," cold weather and the playoff record would be among the top items. He handles most everything in the public domain with a professional mixture of grace and the ability to move the conversation on -- he's got plenty of experience in front of people to be sure. But in the end, Manning is a driven player -- one of the most driven players to have worn a helmet -- and everything is motivation. He doesn't often let people on the outside see all that, but offered a glimpse after his 400-yard day against the Titans this season on a frigid afternoon when he told the team's flagship radio station people could take the Manning-struggles-in-the-cold narrative and "stick it where the sun don't shine." So, the lure of the Super Bowl is always powerful for him, but he certainly uses plenty of things to maintain his focus, and any sort of criticism is in that pile somewhere.
Rivers has always been a thorn for the Broncos, but he attempted only 20 passes -- completing 12 -- in the Chargers' win in Denver on Dec. 12, and he went 12-for-16 passing in the Chargers' win over the Bengals last week. Is relying on the run the best thing for the Chargers' offense, and would you expect a similar approach Sunday?
Williams:
It all depends on the health of
Ryan Mathews
. The Fresno State product probably does not get enough credit for San Diego's resurgence this season. But the Chargers have morphed into a running team the second half of the year. San Diego is 7-1 when Mathews rushes at least 19 times in a game. His ability to get to the edge of a defense with his speed, along with his physicality, has created a nice balance to San Diego's offense so that Rivers doesn't have to make all the plays. Mathews has a lingering ankle injury. He's expected to play on Sunday, but how effective Mathews will be remains to be seen. If Mathews can't play,
Danny Woodhead
and
Ronnie Brown
will pick up the slack. San Diego coach Mike McCoy has confidence his team can win in a shootout if they have to open the offense up.
You've talked about Denver's inconsistencies on defense, which has been a problem all season. Will
Champ Bailey
play in this game? And if so, how will that help the secondary?
Legwold:
Bailey played, essentially as the nickel corner, in the Broncos' final two games of the regular season and will be in the lineup on Sunday. He played 35 snaps against the
Houston Texans
and 22 snaps against the
Oakland Raiders
. While those offenses had their fair share of struggles this season, the Broncos had two of their best outings of the year, surrendering 13 and 14 points to go with 240 and 255 yards, respectively, in those two games. Bailey hasn't played out of the slot a great deal in his time with the Broncos, save for when the receiver he was matched with would line up there, but he has all the tools to be very good in there -- smart, plays with anticipation and has the ability, even in his 15th season, to change directions quickly and react on the ball. It has made the Broncos' secondary much better than what the Chargers have seen in the two meetings this year -- Bailey didn't play in either game. The Broncos just have more options in how they deploy people in coverage and it gives them a top three at the position of Bailey,
Dominique Rodgers-Cromartie
and
Chris Harris
. That's a quality trio that enables the Broncos to do a few more things to try to affect Rivers.
Chargers defensive coordinator John Pagano has, for the most part, taken a page from the Bill Belichick manual for facing Manning -- coverage over pressure. How would you expect the Chargers to defend Manning and the Broncos' offense? And how aggressive do you think they will be doing it?
Williams:
I expect going in that Pagano will try a similar approach to what his defense executed so effectively in the last matchup: a mix of pressures and looks that force Manning to get the ball out quickly to underneath routes, and then rallying to the football. San Diego wants to limit big plays, keep the ball in front of them and tackle well. But one thing the Chargers have had success with is making in-game adjustments when things are not going well. The wild card here again is McCoy. Because he's worked with Manning in the past, McCoy understands his strengths and weaknesses, and what he likes to go to in certain situations. And that will be used in Pagano's game planning for Sunday.
San Diego surprised the Broncos a month ago by winning in Denver. What did the Broncos learn from that setback? And what are a couple key things Denver needs to accomplish in order to defeat the pesky Chargers and move on?
Legwold:
That game came on a short week and you could see the table getting set for a Broncos' loss in the days leading up to the Dec. 12 win for the Chargers. Many of the Broncos players spent a great deal of time talking about how much they didn't like playing on Thursday nights, how good the rest would be in the weekend that followed. And then they played like a team more concerned about just getting through a game than winning it. There have been no such issues this week. The Broncos will be focused on the task at hand this time. On the field, they have to keep the Chargers from converting third downs and putting drives together. San Diego repeatedly pounded away in the run game at the Broncos' lighter personnel groupings, particularly in the nickel, and the Broncos can't allow that to happen again. The Chargers' defense was effective rushing Manning over the left side -- especially between left tackle
Chris Clark
and left guard
Zane Beadles
. This time, if the Broncos keep Manning cleaner on his blind side, they will move the ball.
December, 11, 2013
12/11/13
5:30
PM ET
SAN DIEGO -- He's the ultimate game wrecker.
At different points this season,
San Diego Chargers
defensive coordinator John Pagano has referred to playmakers like Cincinnati receiver
A.J. Green
and Dallas receiver
Dez Bryant
as game wreckers because of their ability to create game-changing plays regardless of what is schemed defensively.
[+] Enlarge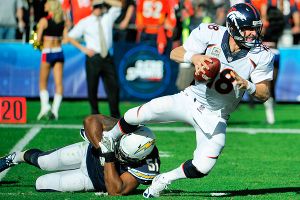 AP Photo/Denis PoroyThe Chargers held Peyton Manning in check -- relatively speaking -- in the teams' first meeting of the season, but the defense seeks to improve when facing no-huddle situations.
Well, on Thursday the Chargers will face perhaps the ultimate game wrecker for the second time this season: Denver quarterback
Peyton Manning
.
"We are playing the No. 1 offense in the National Football League on the road in a short week," Pagano said. "That is as big a challenge as it gets. Their receivers are the best. They have a great quarterback. They have great runners. Their offensive line plays at a high level.
"When you look at the categories, they are No. 1 in everything. I think that is a challenge in itself of going into Colorado and playing this game. We will make sure we show up."
Pagano is right. The Broncos are No. 1 in points scored (39.6), total yards per contest (465.6), passing yards (341.2), third-down conversions (48.2 percent) and red zone efficiency (78.9 percent.).
Manning has been deftly handling the controls, and he is on track to finish with the most productive season in his 16-year NFL career.
In San Diego earlier this season, the Chargers lost to the Broncos 28-20 but held them to their second-lowest scoring output this year. Manning threw for 330 yards and four touchdowns, taking advantage of a confused San Diego defense that at times failed to get lined up quickly enough, leading to five passing plays of 18 or more yards for the Broncos.
So how will Pagano's defense attempt to stop the high-octane, Manning-led offense this time?
"We have to be able to handle the no-huddle situations and not give them opportunities to where we don't get the call," Pagano said. "The more we keep working it, the better the communication has been at times over the last few weeks. You still have to deal with those mental errors during plays and you have to overcome them."
Manning has received criticism for his inability to produce in cold temperatures. He entered Sunday's home contest against the Tennessee Titans with a 3-8 record in games in which the kickoff temperature was below 32 degrees. But with the temperature at a frigid 16 degrees at game time, Manning completed a franchise-record 39 passes for 397 yards and four touchdowns in Denver's 51-28 victory over the Titans.
Afterward, Manning told his critics to stick it where the sun doesn't shine. Manning's performance did not surprise his former offensive coordinator in Denver, San Diego coach
Mike McCoy
.
Game-time temperature in Denver for Thursday's contest is expected to be in the 20s.
"His name in the NFL speaks for itself," McCoy said. "He's one of the greatest players of all time. He's a great competitor. He's a winner and his record speaks for itself. It has nothing to do with weather."
Along with playing mistake-free football on defense, the Chargers will rely on quarterback
Philip Rivers
to dictate tempo with his unit's ball-controlled, short passing game.
In the last meeting between the two teams, the Chargers held the ball for over 38 minutes, but scored only 20 points. That can't happen this time.
"Having it for 38 minutes would be great if we could do that on Thursday night," Rivers said. "But we've got to score touchdowns. To me, if you maintain possession of the ball, you've got to still end it with points, and preferably touchdowns against this team.
"I've never gotten too caught up in that stat. But if you score a bunch of points and have the ball a lot, then yes, I think they can go hand-in-hand."
Most of all, San Diego outside linebacker
Jarret Johnson
said defensively the Chargers have to make Manning earn everything his offense gets Thursday. That means no blown assignments for 74-yard touchdowns like the last game.
"Absolutely, you've got to," Johnson said. "I mean, if you sit back in one coverage and give him time, it's going to be a long day. You've got to be aggressive with him because he's as good as they come.
"If you sit back and play one coverage or play conservative or play scared, it's going to be a long day."
November, 21, 2013
11/21/13
8:45
PM ET
SAN DIEGO -- Inconsistent play has defined the first season the
San Diego Chargers
' starting four members of the defensive backfield have played together.
Wright
Gilchrist
Add to that the fact that two of the players are first-time starters in cornerback
Shareece Wright
and safety
Marcus Gilchrist
, and that leads to some undesirable numbers for San Diego's defense.
The Chargers are giving up an average of 276 passing yards a contest and have allowed 39 passing plays of 20 or more yards, both 27th in the league. San Diego has just five interceptions, and opposing quarterbacks have posted a healthy 102.3 passer rating against the Chargers.
Beyond those troubling statistics, San Diego's defense does not pass the eye test. The defense fails to regularly rally to the ball, and left by themselves defenders struggle to make tackles in the open field.
Gilchrist and Wright have heard the criticism and are focused on putting a better product on the field, beginning Sunday at Kansas City.
"I just feel like collectively we have to have that game where we all play our best game," Wright said. "There's been games where I've done better than others, and then other games where [cornerback]
Derek Cox
does well. But I just feel like we've got to come out and collectively play our best games every week. And I feel like we're a good DB group when we can do that. We just have to be more consistent and as a group make more plays."
Added Gilchrist: "One of the things I've learned being in the NFL is how to manage the highs and lows. We've had highs and lows as a secondary. It's our first year together. And I think we're getting to a point where we're kind of learning each other, and understanding how to communicate with each other. There's always going to be room for improvement, no matter how good or bad people may say you're playing."
When questioned about the struggles of his secondary, San Diego defensive coordinator John Pagano is quick to point out his entire unit has to play better. Pagano is right. Defensively, the Chargers have not created a consistent pass rush and have only 26 sacks, No. 17 in the NFL.
And San Diego's linebackers have just as many missed tackles and assignments as the rest of the defensive unit.
"We've got to play more consistent," Pagano said. "And it's about technique, fundamentals and having that effort back there, and playing with the eye discipline and technique that we need to do.
"And you see them on plays growing together. But it's about all 11 [players]. Great pass coverage has always had great rush. And a great rush always has great pass coverage behind it. So those are the things that we're focusing on."
Wright agreed.
"It falls on the secondary because we're in the back end," Wright said. "So if somebody in front of us didn't do something right, it looks bad. If I'm in Cover 2, or if I'm in Cover 2-man and playing underneath, and the receiver catches a fade ball on me and no one knows the safety is supposed to be over the top, then I look bad. So it's just one of those things where we have to play together and have each other's back no matter what."
San Diego's secondary will get a chance at redemption down the stretch of the season, playing against playoff-caliber teams such as the Chiefs, Denver and Cincinnati.
"Confidence is everything," Wright said. "If we can make one big play followed by another big play, and just being confident in ourselves -- we'll know that we are a good core and we can make plays."
"It's a perfect opportunity to really prove ourselves and show who we are, and that we can be a good group."
November, 15, 2013
11/15/13
12:30
PM ET
SAN DIEGO -- It's a conversation head coaches usually have with their offensive and defensive coordinators before the season starts -- will they be on the field or in the coaching box on game days?
And the answer to that question depends on a lot of variables -- visibility, motivation, a coach's ability to communicate and ultimately comfort level.
Seattle head coach Pete Carroll wants his coordinators on the sideline communicating and motivating their players during the game.
But longtime defensive coordinators like Monte Kiffin with the Cowboys and Detroit's Gunther Cunningham prefer the bird's-eye view they receive from the coaches' box. Cunningham actually returned to the booth after spending a couple seasons on the sideline for the Lions.
"Personally, I like it up there, especially when it gets cold," Cunningham told reporters when asked about the move.
San Diego coach Mike McCoy said he left the decision up to offensive coordinator Ken Whisenhunt and defensive coordinator John Pagano.
"It's really what they're most comfortable with," McCoy said. "I preferred being down, myself, but that's something you'd have to ask both of them. I was flexible with them in what they preferred and where and they wanted to be.
"The most important thing is that the whole staff communicates together and that they feel comfortable doing what they can do. But it doesn't bother me. I don't think it makes much of a difference."
Whisenhunt said he preferred being on the field primarily because of his ability to quickly communicate with quarterback
Philip Rivers
.
According to research complied by the Baltimore Ravens' coaching staff
, only five of the 32 NFL coordinators called plays from the coaches' booth during the 2010 NFL season.
"If you are in the box then you have to relay it to a coach on the sidelines and sometimes that can take a little longer," Whisenhunt said. "However, when you are on the field you can't see as much as when you are in the box. So it's a little bit of both.
"I think it's a feel. It's been good just because I have been able to communicate with Philip, and I think when you are talking after a series or in a break, you can get a better feel when you are actually on the field."
Pagano said he better communicates with his defensive players when he's on the field.
"Years ago, I was always up in the box," Pagano said. "I think being on the field I see the same types of things as I did in the box. Being in touch with the players is important to me.
"I preach communication. It's me being able to communicate to those guys that I feel the same way about being down there and around them. We have to be able to get things adjusted and that's what our coaches do a great job of. I have always thought about it -- either going up or staying down, but I just feel comfortable downstairs."
November, 8, 2013
11/08/13
10:30
AM ET
SAN DIEGO --
San Diego Chargers
defensive coordinator John Pagano has an easy solution for slowing down Denver quarterback
Peyton Manning
when the Broncos travel to Qualcomm Stadium this weekend.
"Drop 11 [guys]," he said, laughing. "If they complete it, I'm going to be really disappointed."
That's what it might take for the Chargers defensively to contain a Denver offense that has been pretty much unstoppable this season.
[+] Enlarge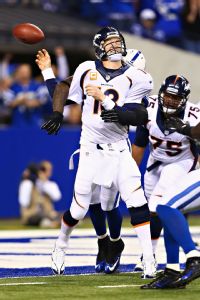 Lyons/Getty ImagesThe Colts were able to get pressure on Peyton Manning and disrupt Denver's potent offense.
Denver's franchise quarterback is on pace to throw for nearly 5,838 yards and 58 touchdowns -- both would be NFL single-season highs. At 37 years old, he leads the NFL in passer rating (119.4) and completions (237) and is second to
Philip Rivers
in completion percentage (72.2 to 71.2).
San Diego's defense is tasked with figuring out a way to disrupt the machinelike precision of Manning and a high-powered Denver offense averaging a league-high 42.9 points a contest (the second-highest-scoring offense, Chicago, is averaging 30.0 points).
"You've got to get lined up and play defense because the minute he sees you're all out of whack, that's when he takes full advantage," San Diego defensive lineman
Corey Liuget
said. "So, you have to be lined up in your defensive front and know your coverage calls."
Although Manning's ability to quickly decipher defenses and accurately deliver the ball on time and on target is unmatched, he has shown a human side.
As with every other quarterback, Manning's play dips when he is moved off his spot and driven to the ground.
According to ESPN Stats & Information, Manning has been hit/under duress on 40 dropbacks this season. In the Broncos' lone loss (Week 7 at Colts), Manning was hit/under duress on 13 dropbacks, including four sacks.
In 2012, Manning was hit/under duress on 63 dropbacks (4.2 per game). His season high was seven (Week 3 loss vs. Texans).
"You always want to hit him," San Diego safety
Eric Weddle
said. "You want to hit any quarterback that you can. Sacks are always great from the outside looking at them, but if you're hitting him and getting him off of his spot and force him to run around by creating havoc, quarterbacks don't like that. Then that starts getting their timing off, and they feel like, if they hold on to the ball too long, they're going to get hit.
"So it's always important to get in his face, hit him as much as possible."
The trick to slowing down Manning is being successful in playing that cat-and-mouse game of whether to bring pressure or play coverage. Manning has seen every blitz imaginable, so defenses have to do a good job of disguising their intentions so he doesn't pick you apart in his pre-snap reads.
And when San Diego does blitz, the Chargers have got to get home.
"He does such a great job of getting the ball out," Weddle said. "He knows when pressure is coming -- maybe not all the time -- but he can feel it in his time clock. He goes through his progressions the best out of any quarterback you go against.
"If the flat is there -- if the first read is there -- he's going to take it no matter what. He's not overzealous. He's not going to try for the shot if it's not there. He's not going to hold on to the ball if it's not there. When he does hold on to the ball, it's because the coverage may be good and he really doesn't have anywhere to throw it."
Pagano echoed Weddle's comments. Even though older brother Chuck's Colts defense was successful in containing Manning in Denver's only loss this season, John Pagano said he didn't put in a call this week.
Pagano already has a pretty good idea of what to expect from Manning -- and what his defense needs to do to slow down Denver's offense.
"Our theme of the week is disguise and disrupt," Pagano said. "Disguise and show the different type of looks, and disrupt as much as we can -- whether it's in the run game or in the passing game.
"And you've got to be able to put pressure on this quarterback. If he sits in the pocket and has the comfort that he needs, it makes it a long day for anyone."
November, 5, 2013
11/05/13
2:00
PM ET
A weekly examination of the Chargers'
ESPN.com Power Ranking
:

Preseason ranking: 23
|
Last Week: 11
|
ESPN.com Power Ranking since 2002
With a disappointing loss at Washington, the
San Diego Chargers
dropped four spots to No. 15 in this week's ranking. The Chargers (4-4) are now 2-3 on the road this season, with five of their last eight remaining games at Qualcomm Stadium.
Even though San Diego is just a half-game behind the
New York Jets
for the final AFC wild-card playoff spot, the Chargers have perhaps the toughest road of any fringe playoff team in earning a postseason berth. The Chargers' remaining opponents have a combined record of 31-19.
Defensively, the Chargers have to regroup after giving up 500 total yards and four rushing touchdowns in an overtime loss to Washington. Defensive coordinator John Pagano is tasked with devising a scheme to slow down
Peyton Manning
and Denver's high-powered offense. The Chargers are 0-2 against Manning since he arrived in Denver last season.
October, 14, 2013
10/14/13
10:15
AM ET
SAN DIEGO --
Andrew Luck
has a new weapon at his disposal that was unavailable to him during his rookie season -- a running game.
Heading into the "Monday Night Football" matchup against the
San Diego Chargers
, the
Indianapolis Colts
are averaging 142 rushing yards a contest on the ground, No. 4 in the NFL.
[+] Enlarge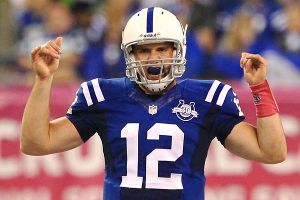 Pat Lovell/USA TODAY SportsThanks to an improved run game, Colts QB Andrew Luck has more offensive options this season than he did in his rookie campaign.
Last season, the Colts averaged just 104.4 rushing yards a game, No. 22 in the league. The Colts experienced a makeover on offense this season, with Luck's offensive coordinator at Stanford, Pep Hamilton, taking over as the Indianapolis offensive coordinator for the departed Bruce Arians, who now serves as the head coach of the
Arizona Cardinals
.
Luck said this year's offense under Hamilton is more of a run-based approach, with the fullback being more often.
In 2012, Indianapolis relied much more on Luck creating big plays through the passing game. And the results were a good, but not great rookie season for Luck. He threw for 4,374 yards and 23 touchdowns, but he also had 18 interceptions and a pedestrian 76.5 passer rating. Luck was sacked 41 times, and completed just 54 percent of his passes.
This season, Luck is completing 62.2 percent of his passes through five games, with seven touchdowns and just two interceptions. He's been sacked 12 times, and has a 94.1 passer rating.
"For the quarterback, the more he's handing it off, the less hits he's taking, No. 1," Indianapolis coach Chuck Pagano said. "No. 2, it opens up everything in the pass game for him, too. If you're having success on the ground, people are going to have to commit more guys to the box to stop the run, and hopefully open up things for you in your pass game on the outside."
Added Luck: "When the run game's going, that's great for the quarterback. It slows down the pass rush, and it helps the passing game get going as well."
The Colts made a big trade in order to give their run game a boost, giving up a first-round pick in next year's draft to Cleveland for running back
Trent Richardson
. It proved a wise move, with
Ahmad Bradshaw
recently being placed on the injured reserve with a season-ending neck injury.
Richardson has just 151 yards and two touchdowns through three games for the Colts. But more important, he's added a physical toughness lacking in the Indianapolis running game before he arrived.
"It's been a great addition," Luck said. "He's a phenomenal runner. He always falls forward. He's a great teammate, so we're thrilled and very happy that he's here."
The Colts also have
Donald Brown
, who serves a change-of-pace back to Richardson. And with the team's success running the football, Luck has been more effective pushing the ball down the field in the play-action game.
San Diego defensive coordinator John Pagano understands his defense will have its hands full trying to slow down the Colts' running game.
"They're doing such a great job with their running attack because it's power football," John Pagano said. "It's downhill, and Trent Richardson coming in there and to be able to bring in Donald Brown, you can really see that they are very committed to the run and want to run the football.
"It's an attack that you have to be physical at the line of scrimmage with, and you have to hold the point and win those one-on-one matchups. At the end of the day you have to tackle, and that is something, as a defensive unit, that we haven't been doing well at. We have to go out there, tackle and then stop the run."
October, 11, 2013
10/11/13
8:30
PM ET
SAN DIEGO -- Sam Pagano says he won't be doing any cheering on Monday night when the
Indianapolis Colts
face the
San Diego Chargers
at Qualcomm Stadium.
His son Chuck Pagano, head coach of the Colts, takes on Chargers defensive coordinator and younger brother John Pagano in the prime time matchup.
[+] Enlarge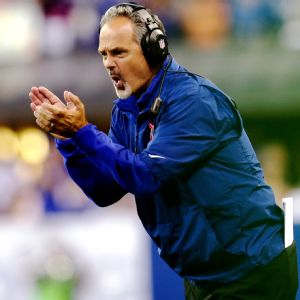 AP Photo/AJ MastChuck Pagano doesn't have the best of luck when facing younger brother John in the NFL. He's 1-7 in the sibling rivalry.
The two brothers have met eight times before as position coaches or coordinators in the NFL. And the younger Pagano isn't shy about acknowledging his 7-1 record.
"John said he's going to outcoach him," San Diego coach Mike McCoy said, smiling. "He said he's been doing it all his life. So I said, 'OK, let's go.'
"No, I think it's great to see brothers like that being in this profession. There's only so many of us that are able to do this at this level, or have the opportunity to do it. So it's great for a family like that with two great guys. They're both phenomenal football coaches, but they're better people."
Sam plans on attending the game with wife Diana.
It's the first time the Paganos have faced each other since Chuck became the head coach of the Colts last year, and John ascended to the defensive coordinator position for San Diego under Norv Turner's final year with the Chargers in 2012.
"The first thing you think about is the one who's going to lose," Sam said. "We'll get together beforehand and take some photos, have some laughs. But it's serious business for both of them. I'll keep my hands in my pockets and wait for it to be over."
Joked John about his father's allegiances: "He's staying at my house, so he'd better be rooting for me, or he might be at a Holiday Inn somewhere."
Chuck, 53, is seven years older than younger brother John. Both were standout players for their father, who spent 26 seasons as the head football coach at Fairview High School in Boulder, Colo., winning three state titles. Sam Pagano also coached overseas in France, Italy and Germany.
"It was great," Chuck said about growing up as a son of a football coach. "I think there would be a ton of people that would love to have had the opportunity that Johnny and I had growing up in a football family. ... Having the opportunity to hang out as a young boy in a football office, in a football locker room and at practice and grow up that way."
When Chuck was a hard-hitting strong safety for his father in high school, John served as the ball boy. And John was on the sidelines for games when his older brother starred at Wyoming.
John was a decent player as well, earning all-state honors as a linebacker in high school and going on to play at Mesa State.
"All I can say is, as a big brother, when I could, I'd take advantage of the situation and work him over pretty good," Chuck said during a conference call with San Diego-area reporters this week. "I can't do that now. He's a lot bigger than I am now.
"I'm really proud of John and what he's done professionally. And I'm prouder of him as a man, as a father and as a husband. He's just an outstanding human being, and I'm proud to call him my brother."
John Pagano was there to support his older brother during his time of need. Chuck Pagano was diagnosed with acute promyelocytic leukemia in September 2012, taking an indefinite leave of absence from his coaching duties with the Colts for chemotherapy.
He underwent three months of treatment, and in November doctors announced that Chuck's cancer was in remission. He later rejoined the team in December. John flew to Indianapolis to be with his brother on San Diego's bye week during his treatment.
"He spent all day with him," Sam said. "They talked a lot. They watched film. They cried. They prayed. And then he [John] caught a red-eye back home.
"It was really good that he went out and spent the day with Chuck."
John has been with the Chargers since 2002, joining the organization as a defensive quality control coach and working his way up to the defensive coordinator position.
"He's great," San Diego safety
Eric Weddle
said. "He's extremely smart, passionate and aggressive. He's no-nonsense, but he's still able to communicate, and is open to his players, whether it's on the field or off, letting us express what we see as players and relating it to him.
"I think it's one of the best qualities as a coach to listen to your players and take what we say -- whether you agree with it or not -- at least listen. He's done a great job."
The two brothers usually talk regularly during the week. However, John said the two have not talked leading up to Monday's matchup.
"At the end of the day, it's the Chargers vs. the Colts on Monday Night Football," John said. "It will be good to see him before kickoff and say hello, but when that ball's kicked off, the only thing on my mind is about San Diego winning, and that's the most important thing."