San Diego Chargers:

Johnnie Troutman
May, 27, 2014
May 27
6:00
PM ET
SAN DIEGO -- Sunny skies greeted the
San Diego Chargers
as the entire team took the field for the first time in preparation for the 2014 season.
Coach Mike McCoy also had to deal with a couple veteran no-shows in the first organized team activity. The practices are voluntary, so McCoy said he had no problem with running back
Ryan Mathews
, offensive guard
Jeromey Clary
, outside linebacker
Dwight Freeney
, inside linebacker
Jonas Mouton
and tight end
Antonio Gates
being no-shows on the first day of practice.
Rookie running back
Marion Grice
and cornerback
Greg Ducre
also were not in attendance.
McCoy said the absences were expected, and he had no issues with any of the players not being there.
Mathews
"Not at all," McCoy said. "We know why they are not here. And we're going to get better with the guys we have here right now. It's voluntary, and we know why people are not here."
Mathews, 26, is in the final year of his rookie contract. The Chargers signed running back
Donald Brown
to a three-year, $10.4 million contract this offseason, and the University of Connecticut product will actually make more in total compensation in 2014 ($4 million) than Mathews ($2 million) for the upcoming season.
But Chargers general manager Tom Telesco said before the draft that Mathews had no concerns with the signing.
"Ryan is a starting back, so his role will essentially be the same," Telesco said. "Ryan's a smart guy. He knows why guys are here, and he knows what his role is. It wasn't an issue at all."
Clary is due to make $4.55 million in total compensation for the upcoming season. And with San Diego drafting Notre Dame product
Chris Watt
in the third round, there's some thought Clary could be asked to take a pay cut.
Clary
But as of right now, Clary is set to make his current salary. San Diego's first-unit offensive line included
King Dunlap
at left tackle,
Chad Rinehart
at left guard,
Nick Hardwick
at center,
Johnnie Troutman
at right guard and
D.J. Fluker
at right tackle.
Floyd's back:
Malcom Floyd
, 32, said he's been cleared for full contact after suffering a serious neck injury in Week 2 of the 2013 regular season against Philadelphia. The veteran receiver worked with the first unit opposite
Keenan Allen
, and even took a good blow when middle linebacker
Donald Butler
got caught in the air while going after the ball. Butler braced his impact by grabbing Floyd, and both players fell to the ground.
"I think I'm ready for regular contact now after today," Floyd said, smiling. "But it felt good. This is something I've been looking forward to. There's no more looking back."
Hardwick was not pleased with the play, giving Butler an earful afterwards. Butler apologized to Floyd after the play.
Te'o out:
Second-year pro
Manti Te'o
was one of a couple players who did not practice due to injury. Te'o still is rehabbing from foot surgery during the offseason. Tight end
John Phillips
(knee) and offensive lineman
Michael Harris
(ankle) also did not practice.
McCoy did not seem too concerned with Te'o being limited on Tuesday.
"We're just taking it one day at a time with him, like everybody else who has some kind of injury," McCoy said.
Some tidbits:
Players who stood out during team drills includes tight end
Ryan Otten
, running back
Branden Oliver
and cornerback
Brandon Ghee
. …
Shareece Wright
and
Richard Marshall
were the starting corners with the first unit. …
Javontee Herndon
did a nice job catching punts on the side field during practice.
March, 24, 2014
Mar 24
5:30
PM ET
Drafted as a developmental prospect last season, receiver
Keenan Allen
topped the
San Diego Chargers
' list for performance-based pay in 2013.
Allen added $218,153 to his a little over $1 million in total compensation in 2013. Following Allen on the list for the Chargers were safety
Jahleel Addae
($196,582), an undrafted rookie free agent considered a long shot to make the final roster last season; offensive lineman
Johnnie Troutman
($187,085); cornerback
Richard Marshall
($181,694); and receiver
Vincent Brown
($160,243).
Check out the full list for every NFL team here.
Established in 2002 as part of the collective bargaining agreement, the NFL's performance-based pay program is a fund created and used as a supplemental form of player compensation based on a comparison of playing time to salary.
Players become eligible to receive a bonus distribution in any regular season in which they play at least one official down.
Each NFL team received $3.46 million to pay out to their players for the 2013 season. Generally, players who benefit the most from the pool of money are those that played extensively but had low salaries relative to their teammates.
Allen played in 898 offensive snaps in 2013.
December, 5, 2013
12/05/13
9:15
PM ET
SAN DIEGO -- Playing extensively for the first time in his NFL career,
San Diego Chargers
offensive lineman
Johnnie Troutman
expectedly has had his share of bumps in the road.
Troutman
A fifth-round pick out of Penn State by San Diego in 2012, Troutman did not play his rookie season because of a torn pectoral injury he suffered before the draft. Thrust into a starting role at left guard after Chard Rinehart suffered a serious toe injury against Philadelphia, Troutman's played through injuries in starting nine games for the Chargers.
But Troutman could be headed back to the bench. With left tackle
King Dunlap
(neck) a full participant for a second straight day, head coach
Mike McCoy
could go back to the team's projected starting offensive line that has not been used since Week 3 of the regular season against the Eagles -- Dunlap at left tackle, Rinehart at left guard,
Nick Hardwick
at center,
Jeromey Clary
at right guard and
D.J. Fluker
at right tackle.
"I prepare myself every week like I'm going to go out there and play," Troutman said. "Even though I might not be getting the first-team reps, you've got to go out there with the mindset that you're going to get out there and play. If you don't, then you won't be prepared."
Chargers offensive coordinator Ken Whisenhunt likes the progress Troutman has made this season.
"I think Johnnie's done a good job," Whisenhunt said. "He's grown into the position, which is important. We didn't know a lot about Johnnie coming in here. We knew essentially, this was like his rookie year and he got thrust in to playing probably a lot quicker than we anticipated. You've got to give him credit. He's handled it well."
McCoy directed some pointed comments toward Troutman for a personal foul penalty he was baited into by Cincinnati linebacker
Vontaze Burfict
after a 48-yard field goal by
Nick Novak
late in the game against the Bengals. San Diego had to take the 15-yard penalty on the ensuing kickoff, which allowed Cincinnati to get better field position on the return.
"It's something that whether you get baited to or not it's unacceptable," McCoy said. "That's what I told him instantly after the play happened. I'm sure you all saw that. After the game, talking to the team it's something that we can't accept. You don't want any unsportsmanlike conducts. That's going to happen from time to time. In a critical time, it was the worst time possible to have that happen."
Troutman leads the team with eight accepted penalties for 55 yards, including six false starts.
"I don't feel like my penalties have been an issue," Troutman said. "Early on I got a couple false starts, but there's just a lot of stuff going on out there early when you first get out there, and with the speed of the game you get a little anxious. Last week I got that little cheap thing. But for the most part I think I've played inside the guidelines of the game."
With the Chargers at 5-7 and still in the playoff hunt, McCoy is tasked with putting the best team out on the field that can win right now. But he also has to make sure younger players like Troutman continue to develop within the organization.
Eight of San Diego's 22 starters are doing so for the first time in their pro careers this season. The NFL is a bottom-line business, so wins matter. But in the first year of general manager Tom Telesco and McCoy's rebuilding effort, the duo also has to determine which players will be part of the team's ability to create sustainable success long term.
For now, McCoy says he's focused on beating his team's next opponent, the Giants
"It's all about winning," McCoy said. "Through experience and repetition you'll get better at anything. But we haven't done that all year long [focused on developing players]. We're not going to start that now.
"It's a matter of doing whatever you can to win. And I think the more people play, the better they're going to be over time. But you don't go into a game saying we're going to develop this player."
Which means the development of young players like Troutman could be put on hold.
"Every week we're going to try to play the best five, whoever we think those best five guys are," McCoy said. "Sometimes it takes a week of practice to determine who those guys are and how the health of your football team is. We'll make that decision this week also."
November, 13, 2013
11/13/13
3:25
PM ET
SAN DIEGO -- The line to the training room is getting longer for the
San Diego Chargers
.

Johnson
Outside linebacker
Jarret Johnson
, who missed last week's game against Denver with a lingering hamstring injury, remains out. Also not participating in the early portion of Wednesday's practice were fullback
Le'Ron McClain
(ankle), left tackle
King Dunlap
(head/neck) and center
Nick Hardwick
(neck stinger).
With Dunlap and Hardwick unavailable, the starting offensive line working together during individual drills included
D.J. Fluker
at left tackle,
Johnnie Troutman
at left guard, Rich Orhnberger at center,
Chad Rinehart
at right guard and
Jeromey Clary
at right tackle.
Outside linebacker
Melvin Ingram
remains on the physical unable to perform list and was an observer at practice. New addition outside linebacker
Adrian Robinson
was at practice and is wearing No. 99.
Offensive lineman
Mike Remmers
also practiced for the first time since suffering an ankle injury against Jacksonville last month.
November, 1, 2013
11/01/13
5:10
PM ET
SAN DIEGO --
Donald Butler
, the
San Diego Chargers
' middle linebacker who has missed practice all week, was absent from Friday's practice and is listed as doubtful for Sunday's game at Washington.
Butler
Butler missed the past two games with a groin issue. If Butler does not play,
Andrew Gachkar
will start in his place, with reserve linebacker
Reggie Walker
subbing in on passing situations.
Reserve offensive lineman
Mike Remmers
(ankle) also did not practice all week, and has been ruled out for Sunday. Receiver
Eddie Royal
did not practice at all this week because of a toe injury, and is listed as questionable.
However, Royal did not practice at all two weeks ago leading up to the Jacksonville game and he played. Royal wore a walking boot during practice this week.
"He came out, and he's been working hard in what he needs to do," San Diego coach Mike McCoy said. "And we'll make that decision come game time with what we think is best for him."
Offensive lineman
Chad Rinehart
was a limited participant again on Friday, and is listed as questionable with a toe injury. Rinehart hasn't played in a month, but could see some time against Washington, although
Johnnie Troutman
likely will continue to start at left guard.
"He looked good," McCoy said about Rinehart. "He got better every day. As the week went on, he got more and more comfortable. I think when you've missed the time that he's missed, it's just a matter of getting back out there and doing it again."
Safety
Eric Weddle
(toe), defensive end
Lawrence Guy
(toe) and outside linebacker
Jarret Johnson
(hamstring) were full participants on Friday, and are listed as probable for Sunday's game.
September, 23, 2013
9/23/13
10:34
PM ET
By
Eric Williams
| ESPN.com
One of the bright spots from Sunday's loss to the
Tennessee Titans
, according to
San Diego Chargers
coach Mike McCoy, was the play of the offensive line.
Starting right tackle
D.J. Fluker
did not start due lingering concussion symptoms.
Michael Harris
started in his place.
During the game, left tackle
King Dunlap
suffered a concussion, and left guard
Chad Rinehart
sustained a toe injury.
Down three starters, the Chargers did some major reshuffling to make it through the game. Only center
Nick Hardwick
stayed in his position.
[+] Enlarge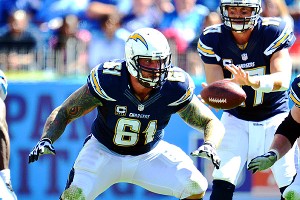 Don McPeak/USA TODAY SportsThe Chargers' uniform approach "provides for effectiveness when these things happen," center Nick Hardwick said of early-season injuries.
Harris moved to left tackle.
Rich Ohrnberger
, who came in for Rinehart at left guard, moved to right guard.
Jeromey Clary
moved from right guard to right tackle. And
Johnnie Troutman
made his first NFL appearance at left guard.
"A number of our guys had to step up," McCoy said. "We had to shuffle the deck a couple times there. At the end of the game, it didn't look anything like the five guys we had there to start the season out. There were four guys in there that were different, but to their credit, they did a nice job of stepping up."
Hardwick said offensive line coach Joe D'Alessandris prepared his unit to deal with injuries by having linemen work at multiple positions during training camp.
"They did a really good job during training camp of moving guys in and out, up and down the roster, and letting different guys work together," Hardwick said. "And we're all taught exactly the same. In our system, there's no leeway for letting a guy do things his own way. You have to do it the way the system is designed, and that provides for effectiveness when these things happen."
McCoy praised the performance of the offensive line and pointed specifically to Harris and Hardwick having strong games.
"I just trained myself during the offseason to be versatile," said Harris, who started nine games at left tackle last season. "It's a long season. Guys go down. It's part of the game, so I'm happy my coaches gave me the opportunity to go out there. And I've just got to keep proving myself each week. The team's counting on me."
San Diego's offense line has helped pave the way for the Chargers to average 26 points a contest, ninth in the NFL. The Chargers also have done a better job of protecting
Philip Rivers
up front, giving up just five sacks through three games.
Last season, Rivers was sacked 49 times, second-most in the league behind
Aaron Rodgers
.
With Fluker, Rinehart and Dunlap's availability for this weekend's game against Dallas uncertain, the Chargers face the very real possibility of rolling out the team's third different starting offensive line combination in four games.
San Diego played five different starting offensive line combinations in 2012.
"Some guys are getting some tests run today, and doing some things," McCoy said about the injured offensive linemen. "I'll meet with the medical staff, because we've just got done with the coaching staff. And we'll meet with the doctors later today."