San Diego Chargers:

Nick Novak
February, 27, 2014
Feb 27
3:45
PM ET
Although special teams coordinator Kevin Spencer has an experienced group returning for the
San Diego Chargers
in 2014, it could still use help in the return game.
Locks:
None
Looking good:
Nick Novak
,
Mike Scifres
,
Mike Windt
Free agents:
Ronnie Brown
,
Lavelle Hawkins
The good:
Novak had one of the best seasons in franchise history for a kicker, tying
John Carney
's team record for most made field goals in a season with 34. Novak also set a franchise record for accuracy with a 91.9 percent conversion rate (34 of 37) on field goals. Scifres was among the best punters in the NFL in placing the ball inside the 20-yard line, finishing with a league-best 30 of his 56 punts inside the 20. Windt avoided having his name mentioned during the year, which means no bad snaps and a full 16-game season played as a long snapper -- both good things.
The bad:
Novak finished in the bottom of the league in touchbacks, with 19.6 percent of his kickoffs resulting in opposing teams getting the ball at the 20-yard line. The Chargers averaged just 22.1 yards per kick return, which was No. 23 in the league. San Diego's punt returner also is the team's No. 1 receiver in
Keenan Allen
. That's probably not a good combination.
The money:
Novak is due to make $1.325 million in base salary in 2014, which seems reasonable for an above-average kicker in the league. Scifres is set to make $3.2 million in non-guaranteed base salary for the upcoming season -- that seems a little high for an above-average punter. For comparison sake, San Francisco punter
Andy Lee
has earned All-Pro honors four times and will make $1.9 million in base salary in 2014. Scifres is signed through 2016 and turns 34 this year. Windt is set to make $730,000 in base salary in 2014.
Draft priority:
Low. All three specialists proved their worth and should return, but there's nothing wrong with adding competition during training camp. San Diego's most obvious need is adding someone with juice in the return game who can help flip field position and get extra first downs for the offense. Brown and Hawkins both returned kicks last season and neither player showed that they are someone that can routinely create big plays in the return game.
February, 7, 2014
Feb 7
4:00
PM ET
SAN DIEGO --
In this series, we count down the top 10 impact plays for the San Diego Chargers that helped shape the team's 2013 postseason run.
Situation:
Fourth-and-7 from Philadelphia's 28-yard line.
Score:
Tied at 30-30.
Time:
Eleven seconds remaining in regulation.
Novak
Williams' take:
San Diego led by as many as 10 points early, but had to fend off a Philadelphia rally in the second half. The Eagles tied the game with less than two minutes left on an
Alex Henery
's 32-yard field goal, forcing
Philip Rivers
to drive San Diego's offense into scoring position to secure the victory. Kicker
Nick Novak
assured the Chargers would not need overtime by drilling a 46-yard field goal for the game winner.
Check out the play here.
Season impact:
The win helped ease some of the bad feelings from San Diego's season-opening loss at home against the
Houston Texans
, a game in which the Chargers led 28-7 in the second half. Novak demonstrated that he could come through in pressure situations. He had his best season as a pro, finishing 34 of 37 on field goals, setting a team record with a 91.9 percent conversion rate. Novak finished the regular season a perfect 11-of-11 beyond 40 yards. Novak also proved he can do more than kick, finishing with five tackles on special teams. Chargers special teams coach Kevin Spencer explains the impact of having a kicker who also is an athlete
in this video
. Novak was voted to the ESPN NFL Nation's All AFC-West team for his efforts during the 2013 season.
Quote:
"I've just been confident the last three years in having a technique and swing thoughts that I can rely on."
December, 22, 2013
12/22/13
11:15
PM ET
SAN DIEGO -- Consistency is the key to any kicker's success -- the ability to repeat the same motion over and over so it becomes second nature.
San Diego kicker
Nick Novak
is in a pretty good groove right now. The University of Maryland product has missed just one field goal this season, and has had two others blocked.
Novak
"Give him a lot of credit," San Diego coach
Mike McCoy
said. "He's very reliable. He's just doing his job the way it's supposed to be done."
Novak made four field goals against Oakland from 48, 33, 28 and 27 yards, respectively. His 32 field goals ties him for second most in a single season in Chargers' franchise history with
Nate Kaeding
(2009).
John Carney
holds the record with 34 field goals made in the 1994 season.
"I've just been confident the last three years in having a technique and swing thoughts that I can rely on," Novak said.
Novak also said having the same holder in punter
Mike Scifres
and long snapper in
Mike Windt
has helped create a consistent approach for every kick.
Not only has Novak been solid on field goals, he also like to run down and mix it up on kickoffs.
At 6-0 and 198 pounds, it's not unusual for Novak to run down near the wedge as a safety guy ready to make a tackle. Novak has four special teams tackles this season, including three in one game at Kansas City in Week 12.
"Eleven guys is better than 10 covering," Novak said. "Sometimes I get a little too deep. But I try to get right there in the gap, so when those guys come out there's no room for them to juke me."
December, 22, 2013
12/22/13
9:50
PM ET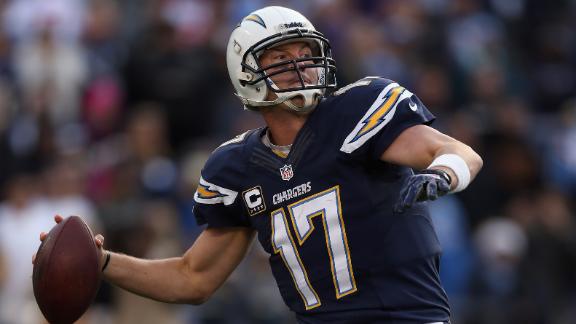 SAN DIEGO -- The
San Diego Chargers
should have popped some bubbly in the locker room to celebrate the team's first postseason berth since 2009, not fretted over the possibility being left out of the dance.
But at 8-7, the Chargers still need help to get into the playoffs because of games squandered against the
Washington Redskins
and
Tennessee Titans
earlier this season, along with winnable contests that slipped away against playoff-caliber teams like the
Cincinnati Bengals
and
Miami Dolphins
.
"That's our own fault," quarterback
Philip Rivers
said. "We should have clinched a spot today. But those are all what ifs. We didn't."
The Chargers were not at their best in a
26-13 victory
against their hated rivals, the
Oakland Raiders
. San Diego turned the ball over three times, leading to 10 points for the Raiders. They settled for four
Nick Novak
field goals instead of punching the ball into the end zone.
But San Diego persevered. Unlike earlier this season, the Chargers found a way to win instead of grabbing defeat from the jaws of victory.
The Chargers have now won three straight, and four of their last five games.
"We talked to the team and told them to keep on playing," San Diego coach Mike McCoy said. "It's one play at a time. There are going to be some bad plays in games. That's a good football team over there, a good defense and we just kept on fighting."
Unlike last week, when Miami and Baltimore both found ways to win, the Chargers got some help on Sunday.
Buffalo shut out the Dolphins
19-0, and
New England throttled Baltimore
41-7, leaving all three teams competing for the final wild-card berth at 8-7 heading into the final week of the regular season.
The Chargers have to defeat Kansas City at home next week, along with Baltimore losing at Cincinnati and Miami losing at home to the
New York Jets
to grab the last AFC playoff spot.
"We all know what games affected us," Rivers said. "And all three went our way today, including the one we had control of. So we'll be in the same boat next week. We need all three to go our way. The only one we can control is the one here against the Chiefs.
"So whatever those teams do, we want to be 9-7. And if that's our last game, that's our last game. We can say we won four of the last five, won four in a row and finished the way teams with character finish. If we get a bonus game the next week we'll be fired up about it."
McCoy said the players watched part of the Miami-Buffalo game in the locker room before pre-game warm-ups. And scoring updates for the Baltimore-New England game were announced at Qualcomm Stadium, bringing cheers to the crowd.
"It definitely served as motivation," wide receiver
Keenan Allen
said. "There were all types of stuff going through our head once we found out those guys lost. And Baltimore was losing throughout our game, so we just had to find a way to win."
The Chargers will have to find a way to win one more next week to keep playing.
"This is what it's all about," McCoy said. "This is what we're in the business for. And we tell the players all the time, 'Big-time players make big-time plays in big games.' And we've got a big game coming up. And we've got to play our best game of the year. It's all or nothing."
November, 6, 2013
11/06/13
9:00
AM ET
SAN DIEGO -- At 4-4 overall at the midpoint, the
San Diego Chargers
are about where they should be heading into the season's backstretch.
Quarterback
Philip Rivers
' bounce-back season has been one of the main storylines for this team, along with the return of a competitive spirit established by first-year head coach Mike McCoy.
Still, the Chargers face a daunting schedule if they want to reach the playoffs for the first time since 2009. San Diego still has five AFC West division contests left -- two each against division leaders Kansas City and Denver.
November, 3, 2013
11/03/13
6:25
PM ET
LANDOVER, Md. -- Quotes from the locker room after the
San Diego Chargers
30-24 overtime loss to the
Washington Redskins
.
Goal line play-calling questioned:
San Diego coach Mike McCoy answered several questions on his team's inability to get in the end zone from a yard out with 21 seconds left to win the game in regulation

McCoy
McCoy said even though his team was unsuccessful, and had to settle for a
Nick Novak
19-yard field goal to push the game into overtime, he stands by offensive coordinator Ken Whisenhunt's play calling in that crucial part of the game.
"I'm not questioning what we did," McCoy said. "We're not questioning that. This is a team game. It's the San Diego Chargers organization, and I'm not questioning any of the calls. We did what we thought was best to win the football game. And we're moving on."
So will the Chargers try something different on the goal line next time?
"We're going to do what we think is best to win the football game," McCoy said. "We're not trying to second guess ourselves. In this business, would've, should've, could've. If one of those three plays work, there's no questions asked. If they don't work, the questions come out, and they won't stop. So it's part of the game."
McCoy said he never considered going for it on fourth down.
Washington's Young surprises Chargers:
San Diego's defense was prepared for running back
Alfred Morris
to get a lot of touches, so it's no surprise he ran for 121 yards. However,
Darrel Young
getting the ball at the goal line and scoring three touchdowns -- including the game winner -- was unexpected, according to Chargers outside linebacker
Jarret Johnson
.
Young had just two carries for 19 yards heading into Sunday's contest.
"They've haven't done that all year," Johnson said. "They've had 12 goal line plays this year, and eight of them were the same play, which was not that one.
"The first one, it bellied back my way, and it kind of shocked me because he hadn't had that many carries this year. And then we got down there again, and we kind of played it a little better. But it was just so tight, and he's a big strong guy. So he fell forward and made a play.
"And then the last one, he went the other way, so I'll have to look at it. But he's a big, strong guy and we have to play better on the goal line."
Defense can't get off the field:
In the last two games, the Chargers had allowed opponents to convert just 5 of 21 (23.8 percent) times on third down. But against Washington, San Diego's defense allowed the Redskins to convert 12 of 17 times (71 percent).
Washington finished with four drives of nine plays or more and 500 yards of total offense. Despite that, the Chargers still had a chance to escape with a victory.
"It's one thing if a team just blows you out," Johnson said. "You're like, 'All right, on to next week.' But God dang, we came back strong and made a bunch of plays on offense with two unbelievable drives. And then to still lose is frustrating."
October, 15, 2013
10/15/13
2:21
AM ET
SAN DIEGO -- Observed in the locker room after the
San Diego Chargers
19-9
win
over the
Indianapolis Colts
.
Novak on the money:
San Diego kicker
Nick Novak
finished 4-for-4 on field goals, including a season-long 50-yarder with 1:22 remaining to seal the win. Novak said he received an extra boost trying to match kicks with one of the best clutch kickers in the game in Indianapolis'
Adam Vinatieri
, who finished 3-for-3.
"I'm a big Rocky fan," Novak said. "So I just try to keep that eye of the tiger, keep that focus mentality where I come through for the team and do my job. Vinatieri was doing the same thing. Even going against a guy like Vinatieri, I try to lift my game and match him kick for kick. He's a competitor, and I love that."
Mathews
Mathews hits century mark:
For the first time since a Dec. 11, 2011, contest against Buffalo when he rushed for 114 yards, San Diego running back
Ryan Mathews
topped the 100-yard mark in a regular-season game. Mathews finished with 102 yards on 22 carries. He said breaking the 100-yard mark still means something.
"You want to reach that peak as often as you can," Mathews said. "I just have to give all the credit to my O-line. They did a great job tonight, just pushing guys out of the way and opening up those holes."
San Diego coach Mike McCoy said his team went into Monday's contest against Indianapolis focused on running the football after finishing with just 36 rushing yards against Oakland last week.
"Everyone took it to heart how we ran the football last week, which was poor, to say the least," McCoy said. "I think we averaged 1.7 [yards] a rush last week. It's unacceptable. The coaches answered the challenge. And we put it out there that we've got to run the football better."
Another turning point?
San Diego quarterback
Philip Rivers
felt Monday night's game could be a turning point for this team, putting them back into playoff contention, or in evaluation mode for next year.
But San Diego players said the same thing after a big win over Dallas two weeks ago, but then lost to an undermanned Oakland team a week later. So what makes this game different?
"It definitely can, but now we've got to see where it turns," Rivers said. "We started in the right direction, and we've got to make it turn that way. This was a big team win. I had the feeling that this was kind of an old-school NFL win, in the sense that we played great defense and we didn't turn the ball over. We weren't anything great offensively, but we didn't turn it over. And we got points at the end of those drives."