San Diego Chargers:

Robert Griffin III
October, 31, 2013
10/31/13
1:00
PM ET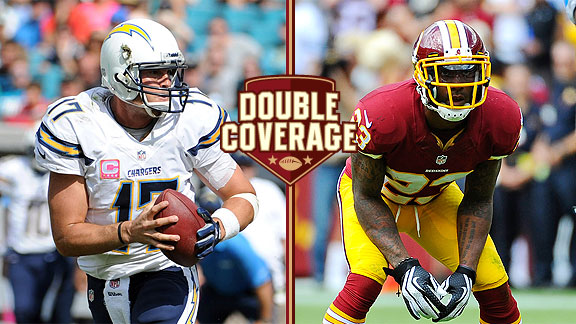 USA Today SportsDeAngelo Hall, right, and the Redskins' secondary will try to slow down Philip Rivers, who has completed a league-best 73.9 percent of his passes.
This isn't a compelling game when it comes to storylines. No big-name player is facing his former team. There's no grudge match. And, in fact, San Diego and Washington have played each other only three times in the past 14 years, and not since 2010.
Still, there is a lot going on in this game. If the 2-5
Washington Redskins
are intent on turning their season around, they need to win. Even in a bad division, a 2-6 record would be tough to overcome. At some point, teams just have to play well, and the Redskins must prove that can happen.
For San Diego, the Chargers' 4-3 start is a good one. However, if they want to stay in the AFC playoff race or remain a threat in the AFC West, they can't afford to lose to a sub-.500 team.
ESPN.com Chargers reporter Eric Williams and Redskins reporter John Keim break down this week's game:
Robert Griffin III
threw 20 touchdowns and just five interceptions in winning rookie of the year honors in 2012. This season, he's thrown nine touchdowns and eight interceptions through seven games. What has changed with his decision-making?
Keim
: Griffin is used to making big plays, and last year, a number of them occurred because of his legs, whether running or extending plays. But that's not always happening, and in games where his legs aren't a weapon, he has forced some throws. Not all the interceptions are his fault, of course, but in general, that's been a theme: forcing throws. Also, they're not able to use as much play-action throws as last year because of game situations, and when that happens, he and the passing game are very, very ordinary. They need to move defenders around, causing chaos in drops, with their zone-read fakes and play fakes. Denver also kept seven in coverage last week, and that's always trouble for a unit that has just one receiver who threatens a defense in
Pierre Garcon
(although tight end
Jordan Reed
does now, too).
Philip Rivers
' stock has dropped the past couple of seasons. But under a new coach, he's playing at a high level. Why?
Williams
: Coach Mike McCoy and offensive coordinator Ken Whisenhunt installed an up-tempo, no-huddle offense focused on the short passing game and getting the ball out quickly. The result has been better decision-making for Rivers. He leads the league in completion percentage this season at 73.9 percent, which is nearly 10 percent more than his career average (64.3). And his 111.1 passer rating (second in the NFL) is more than 15 points higher than his career rating of 95.6. San Diego's offensive line also has done an excellent job of protecting Rivers. The Chargers have allowed just 11 sacks through seven games, tied for second-best in the NFL.
Washington's defense is allowing 32.7 points a contest, second-worst in the NFL. Why is Jim Haslett's defense struggling to keep teams out of the end zone?
Keim
: The defense struggled mightily in the first four games but has mostly done its job in the past three games, when the Redskins have been hurt by special teams (two punt returns for a score; a 90-yarder to set up another one) and the offense (turnovers deep in their own territory; an interception return for a score). But this is not a top-level unit by any means. The Redskins' secondary has holes, especially at safety, and the linebackers, as a group, aren't great at coverage. But they've played the run better of late, and they're causing turnovers. They have two good but not great pass-rushers in
Ryan Kerrigan
and
Brian Orakpo
. They have a good nose tackle in
Barry Cofield
. So they have good parts. They played great for three quarters against Denver; alas, the game went four.
Why has the Chargers' pass rush been more productive lately?
Williams
: Defensive coordinator John Pagano has used some creative defensive fronts and exotic blitz packages to manufacture pressure. Along with that, the ability of interior defensive linemen such as
Corey Liuget
and
Kendall Reyes
to push the pocket inside have created one-on-one matchups for San Diego's inexperienced edge rushers. And guys such as
Thomas Keiser
and
Larry English
have taken advantage of their opportunities.
Speaking of opportunities,
Alfred Morris
has followed up an impressive rookie campaign by rushing for 565 yards and four touchdowns through seven games. He leads all running backs with a robust 5.23 yards per carry. How has Morris remained effective, even with Griffin struggling?
Keim
: Good question. Morris is better than he was a year ago, thanks to even better vision and stronger legs. Both qualities were good last year, too. Defenses have keyed more on him, knowing that on zone reads, for example, Griffin would not hurt them (until recently). Also, Denver rarely used an eight-man front against Washington in an attempt to play better in coverage. The Redskins usually receive good blocking from their tight ends and receivers, which helps Morris as well. And the line's continuity shows up in the run game. But Morris deserves a lot of credit. He's a patient runner who knows how to set up a defense, then cut back once it overcommits. Morris has proved this year that he's not a creation of the zone read. The key for Washington is giving him more carries; this season's high is 19. Last season he had 10 games with more than 19 carries. Of course, that stems from winning and being in control of games. The Redskins have done little of both this season.
Eric, do you believe in this team yet, or do you still see a lot of holes? If so, where?
Williams
: Offensively, San Diego has what it takes to make the playoffs in the AFC. The Chargers are one of the most balanced teams in the NFL. Rivers' ability to move the ball in the passing game has been nicely complemented by the emergence of bruising runner
Ryan Mathews
, who had back-to-back, 100-yard rushing games. But defensively, the Chargers remain a question mark, even though they have not allowed a touchdown in 11 quarters. The Chargers' defensive backfield has just two interceptions this season, and
Jarret Johnson
leads the team with just three sacks through seven games. The Chargers still lack elite playmakers on defense.
October, 29, 2013
10/29/13
12:30
PM ET
SAN DIEGO -- A weekly examination of the Chargers'
ESPN.com Power Ranking
:
Preseason:
23 |
Last Week:
12 |
ESPN.com Power Ranking since 2002

Idle for Week 7, the
San Diego Chargers
moved up another spot to No. 11 in this week's Power Rankings, the highest the team has been this season.
But the real question is, will San Diego remain in the top 15 in four weeks? The Chargers play three of their next four games on the road, facing opponents with a combined 20-10 record.
The first test in that tough stretch is a road contest at Washington, traveling across the country to the East Coast to face a team that is more talented than a 2-5 record indicates. The Chargers will need a game plan defensively to deal with the running ability of quarterback
Robert Griffin III
, along with the bruising running style of
Alfred Morris
.
Plus, San Diego quarterback
Philip Rivers
understands that Washington defensive coordinator Jim Haslett likes to show a lot of different looks and bring pressure in his 3-4 defensive front.
September, 13, 2013
9/13/13
12:00
PM ET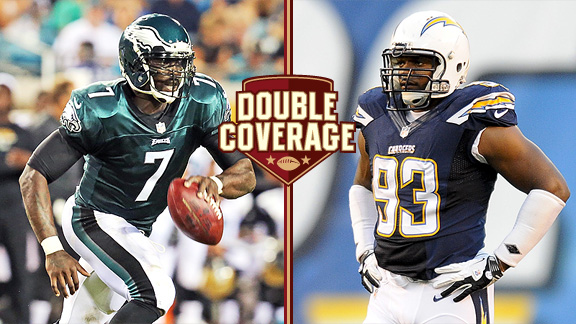 USA TODAY Sports, Getty ImagesSan Diego will have to rotate Dwight Freeney to keep him fresh against Michael Vick and the Eagles.
PHILADELPHIA -- The similarities were striking, and then everything was completely different.
New head coaches made their debuts Monday night for the
Philadelphia Eagles
and the
San Diego Chargers
. Both teams held big leads early in the third quarter.
Chip Kelly's Eagles hung on for the win. Mike McCoy's Chargers lost on a field goal as time expired.
As a result, the mood in Philadelphia is downright giddy as the city prepares for Kelly's home opener Sunday against the Chargers. The mood in San Diego is a bit different.
Let's start there.
Phil Sheridan:
How are the Chargers handling that dispiriting loss?
Bill Williamson:
I think we will see the answer to that question on Sunday. The Chargers are saying the right things and they are going about their business. But this loss was devastating. San Diego led Houston 28-7 in the third quarter before being outscored 24-0 to end the game. San Diego was known for blowing leads in the Norv Turner era. To start the
Mike McCoy
era the same way has to sting badly. The Chargers looked really good for most of this game. But they have to wallow in the defeat. I wouldn't be surprised if it takes them a while to get out of the funk Sunday.
Are the Eagles in any danger of being overconfident?
Sheridan:
Actually, I think they are. There has been a lot of talk this week about how they showed the world they're a legitimate contender now, and that Kelly's offense can work and so forth. Meanwhile, they have former coach Andy Reid coming back Sept. 19 for a much-hyped game against Kansas City. This is a bit of a trap game, for sure.
Can the Chargers handle Kelly's no-huddle, high-pressure offense?
Williamson:
This is not the easiest team to prepare for after such a painful defeat. One of the reasons the Chargers fell apart Monday night was because the defense wore down. It was a nice, comfortable night in San Diego against a normal-paced offense. What is going to happen on a hot day in Philadelphia against Kelly's amped offense? San Diego has a decent defense but it lacks depth, especially on the line and in the secondary. Keeping bodies fresh could be an issue.
Did the Eagles wear down themselves on Monday night?
Sheridan:
They definitely did. It was very humid at FedEx Field. Center
Jason Kelce
said he needed to hit the oxygen tank for the first time since college (in fairness, it was only Kelce's 19th NFL game). Kelly said he would be more careful to rotate players in order to keep them fresh. But this will be an issue all season for the Eagles.
Is
Dwight Freeney
the player he was in Indianapolis?
Williamson:
In short, no. But he's not bad. Freeney, 33, was very active against Houston. He had a half sack, but he was in the backfield often. The question is, can Freeney handle the Kelly attack on a regular basis? He is more of a rotational player. Keeping him on the field against the Eagles may be difficult. I could see his effectiveness wearing down late in the game if he doesn't get a chance to rest much.
Is the Eagles' defense as good as it appeared against
Robert Griffin III
?
Sheridan:
That is very much up in the air. RG III was not at all himself in his first live action since blowing out his knee last season in the playoffs. He found a rhythm in the second half, and the Eagles were not able to stop him.
Philip Rivers
is obviously a very different kind of quarterback. This Eagles secondary could be vulnerable to a smart, accurate passer -- especially if starting cornerback
Bradley Fletcher
(concussion) isn't able to play.