San Diego Chargers:

Ronnie Brown
February, 27, 2014
Feb 27
3:45
PM ET
Although special teams coordinator Kevin Spencer has an experienced group returning for the
San Diego Chargers
in 2014, it could still use help in the return game.
Locks:
None
Looking good:
Nick Novak
,
Mike Scifres
,
Mike Windt
Free agents:
Ronnie Brown
,
Lavelle Hawkins
The good:
Novak had one of the best seasons in franchise history for a kicker, tying
John Carney
's team record for most made field goals in a season with 34. Novak also set a franchise record for accuracy with a 91.9 percent conversion rate (34 of 37) on field goals. Scifres was among the best punters in the NFL in placing the ball inside the 20-yard line, finishing with a league-best 30 of his 56 punts inside the 20. Windt avoided having his name mentioned during the year, which means no bad snaps and a full 16-game season played as a long snapper -- both good things.
The bad:
Novak finished in the bottom of the league in touchbacks, with 19.6 percent of his kickoffs resulting in opposing teams getting the ball at the 20-yard line. The Chargers averaged just 22.1 yards per kick return, which was No. 23 in the league. San Diego's punt returner also is the team's No. 1 receiver in
Keenan Allen
. That's probably not a good combination.
The money:
Novak is due to make $1.325 million in base salary in 2014, which seems reasonable for an above-average kicker in the league. Scifres is set to make $3.2 million in non-guaranteed base salary for the upcoming season -- that seems a little high for an above-average punter. For comparison sake, San Francisco punter
Andy Lee
has earned All-Pro honors four times and will make $1.9 million in base salary in 2014. Scifres is signed through 2016 and turns 34 this year. Windt is set to make $730,000 in base salary in 2014.
Draft priority:
Low. All three specialists proved their worth and should return, but there's nothing wrong with adding competition during training camp. San Diego's most obvious need is adding someone with juice in the return game who can help flip field position and get extra first downs for the offense. Brown and Hawkins both returned kicks last season and neither player showed that they are someone that can routinely create big plays in the return game.
January, 10, 2014
Jan 10
10:00
AM ET
When the 2013 season began, the AFC West didn't really come up when the national conversation turned toward divisions that would provide the most playoff teams or Super Bowl potential from top to bottom.
Yet with four teams left in the AFC's postseason bracket, two of them call the division home, with the No. 1 seed
Denver Broncos
and the No. 6
San Diego Chargers
set for the season's third meeting on Sunday. They split the two games in the regular season, with each team winning on the road -- the Broncos by eight in San Diego and the Chargers by seven in Denver.
It will be the first time the Chargers and Broncos have met in the postseason, but San Diego is 2-0 in playoff games against Broncos quarterback
Peyton Manning
with wins in the 2007 and 2008 postseasons.
ESPN.com Chargers reporter Eric Williams and Broncos reporter Jeff Legwold discuss the matchup.
Jeff Legwold:
Eric, there were some who questioned the Chargers' playoff worthiness when all of the dominoes fell in the regular season's final week and they earned the AFC's No. 6 seed. But with the win in Cincinnati, how do they see themselves at the moment -- playoff underdog or a team with a chance for more?
Eric Williams:
Veteran players emphasized this week that playoff opportunities are precious, noting the fact that the Chargers have not made the playoffs since 2009. So guys like
Philip Rivers
and
Eric Weddle
want to see how far they can take it. Both mentioned the Chargers are only eight quarters away from the Super Bowl -- unbelievable when six weeks ago this team was 5-7 and an afterthought at making the postseason. Giving players more confidence is the fact that San Diego beat the Broncos in Denver just a month ago. The Chargers understand the deck is stacked against them facing a well-rested Manning. But they are playing with house money, and I suspect they will play with a lot of confidence and urgency on Sunday.
How is Manning handling all of the questions concerning his so-so record in the playoffs? And will that serve as motivation on Sunday?
Legwold:
If you had to make a list of questions that cause Manning to put up the verbal deflector shields the fastest, the glove, anything that includes the phrase "all the way back," cold weather and the playoff record would be among the top items. He handles most everything in the public domain with a professional mixture of grace and the ability to move the conversation on -- he's got plenty of experience in front of people to be sure. But in the end, Manning is a driven player -- one of the most driven players to have worn a helmet -- and everything is motivation. He doesn't often let people on the outside see all that, but offered a glimpse after his 400-yard day against the Titans this season on a frigid afternoon when he told the team's flagship radio station people could take the Manning-struggles-in-the-cold narrative and "stick it where the sun don't shine." So, the lure of the Super Bowl is always powerful for him, but he certainly uses plenty of things to maintain his focus, and any sort of criticism is in that pile somewhere.
Rivers has always been a thorn for the Broncos, but he attempted only 20 passes -- completing 12 -- in the Chargers' win in Denver on Dec. 12, and he went 12-for-16 passing in the Chargers' win over the Bengals last week. Is relying on the run the best thing for the Chargers' offense, and would you expect a similar approach Sunday?
Williams:
It all depends on the health of
Ryan Mathews
. The Fresno State product probably does not get enough credit for San Diego's resurgence this season. But the Chargers have morphed into a running team the second half of the year. San Diego is 7-1 when Mathews rushes at least 19 times in a game. His ability to get to the edge of a defense with his speed, along with his physicality, has created a nice balance to San Diego's offense so that Rivers doesn't have to make all the plays. Mathews has a lingering ankle injury. He's expected to play on Sunday, but how effective Mathews will be remains to be seen. If Mathews can't play,
Danny Woodhead
and
Ronnie Brown
will pick up the slack. San Diego coach Mike McCoy has confidence his team can win in a shootout if they have to open the offense up.
You've talked about Denver's inconsistencies on defense, which has been a problem all season. Will
Champ Bailey
play in this game? And if so, how will that help the secondary?
Legwold:
Bailey played, essentially as the nickel corner, in the Broncos' final two games of the regular season and will be in the lineup on Sunday. He played 35 snaps against the
Houston Texans
and 22 snaps against the
Oakland Raiders
. While those offenses had their fair share of struggles this season, the Broncos had two of their best outings of the year, surrendering 13 and 14 points to go with 240 and 255 yards, respectively, in those two games. Bailey hasn't played out of the slot a great deal in his time with the Broncos, save for when the receiver he was matched with would line up there, but he has all the tools to be very good in there -- smart, plays with anticipation and has the ability, even in his 15th season, to change directions quickly and react on the ball. It has made the Broncos' secondary much better than what the Chargers have seen in the two meetings this year -- Bailey didn't play in either game. The Broncos just have more options in how they deploy people in coverage and it gives them a top three at the position of Bailey,
Dominique Rodgers-Cromartie
and
Chris Harris
. That's a quality trio that enables the Broncos to do a few more things to try to affect Rivers.
Chargers defensive coordinator John Pagano has, for the most part, taken a page from the Bill Belichick manual for facing Manning -- coverage over pressure. How would you expect the Chargers to defend Manning and the Broncos' offense? And how aggressive do you think they will be doing it?
Williams:
I expect going in that Pagano will try a similar approach to what his defense executed so effectively in the last matchup: a mix of pressures and looks that force Manning to get the ball out quickly to underneath routes, and then rallying to the football. San Diego wants to limit big plays, keep the ball in front of them and tackle well. But one thing the Chargers have had success with is making in-game adjustments when things are not going well. The wild card here again is McCoy. Because he's worked with Manning in the past, McCoy understands his strengths and weaknesses, and what he likes to go to in certain situations. And that will be used in Pagano's game planning for Sunday.
San Diego surprised the Broncos a month ago by winning in Denver. What did the Broncos learn from that setback? And what are a couple key things Denver needs to accomplish in order to defeat the pesky Chargers and move on?
Legwold:
That game came on a short week and you could see the table getting set for a Broncos' loss in the days leading up to the Dec. 12 win for the Chargers. Many of the Broncos players spent a great deal of time talking about how much they didn't like playing on Thursday nights, how good the rest would be in the weekend that followed. And then they played like a team more concerned about just getting through a game than winning it. There have been no such issues this week. The Broncos will be focused on the task at hand this time. On the field, they have to keep the Chargers from converting third downs and putting drives together. San Diego repeatedly pounded away in the run game at the Broncos' lighter personnel groupings, particularly in the nickel, and the Broncos can't allow that to happen again. The Chargers' defense was effective rushing Manning over the left side -- especially between left tackle
Chris Clark
and left guard
Zane Beadles
. This time, if the Broncos keep Manning cleaner on his blind side, they will move the ball.
January, 6, 2014
Jan 6
12:10
PM ET
CINCINNATI -- It's been six years since
San Diego Chargers
running back
Ronnie Brown
galloped that far on the football field in anger.
[+] Enlarge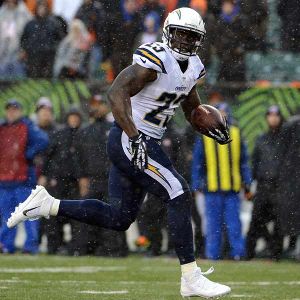 Kirby Lee/USA TODAY SportsChargers RB Ronnie Brown saw his most extensive action of the season on Sunday at Cincinnati.
"A long time, especially for an old guy like myself," Brown said, smiling. "It felt good, but I think the biggest part was us getting a victory. I think it pretty much put the icing on the cake at the end of the game."
Brown's 58-yard touchdown in the fourth quarter on Sunday sealed a
27-10 playoff win
for the Chargers over Cincinnati. Brown hasn't had a run that far since a 62-yard touchdown scamper in a 38-13 win against New England on Sept. 21, 2008. That season, Brown sometimes served as the Wildcat quarterback for the Dolphins.
The No. 2 overall selection in the 2005 draft for the Dolphins, at 32 years old Brown is one of nine players on San Diego's roster 30 years old or older.
He helps provide a calming influence in the locker room.
"He shows up to work every day," San Diego coach Mike McCoy said. "All he does is work and help his teammates out, and that's all you can ask. He's a true professional -- a great guy to be around. We're very fortunate to have him."
Brown's long run helped contribute to San Diego's season-high 196 rushing yards against Cincinnati, and was the team's longest run of the season. Brown finished with eight rushes for 77 yards.
The Chargers might have to take advantage of Brown's fresh legs even more this Sunday in the team's AFC divisional round game at Denver.
Workhorse running back
Ryan Mathews
entered the contest with a balky ankle. Mathews rushed for 52 yards on 13 carries, but gave way to
Danny Woodhead
and Brown after one carry in the second half.
"We're doing what's best for the football team," McCoy said, when asked about Mathews' injury status. "We rested him a little this week, as we've done the past couple weeks. We're still playing, so we have to do what's best for the team moving forward."
What's best for the team moving forward could mean more carries for a healthy Brown over playing a hobbled Mathews.
Brown should be ready for the increased workload. Besides handling kick return duties, Brown's played in a total of 14 snaps in the month of December before San Diego's playoff win against Cincinnati.
"Every guy is important," San Diego quarterback
Philip Rivers
said. "Ronnie Brown is a team favorite and a great teammate. He's so unselfish. He's dressed so many games and not played. When he's called on, you see why he was picked high in the draft and why he's had a heck of a career. We're glad we got him."
December, 19, 2013
12/19/13
6:00
PM ET
SAN DIEGO -- Blocking for
San Diego Chargers
running back
Ryan Mathews
is an offensive lineman's dream.
[+] Enlarge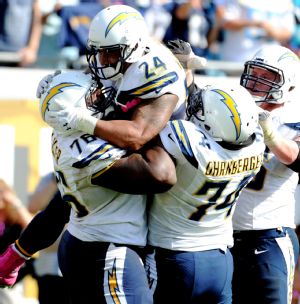 Melina Vastola/USA TODAY SportsRyan Mathews has emerged as a running back this season, to the delight of his linemen.
At least that's the way the team's longtime center
Nick Hardwick
describes it. Hardwick says opposing defenders shy away from contact when Mathews gets his legs churning.
"He is built like a block of granite," Hardwick said. "He is a pretty intense specimen, so when he gets going downhill, he is inflicting some pain on these linebackers and safeties."
Mathews' physical running style is something the rest of the offensive line feeds off of, according to rookie right tackle
D.J. Fluker
.
"I love blocking for Ryan," Fluker said. "Ryan just makes people look bad on the field. DB's don't want to hit him. They're scared of him because he's physical with them. It's great to see him have a great season. And it's been great to see someone go out there and give everything they have for their teammates."
In his fourth NFL season, Mathews has finally emerged from the immense shadow of being drafted as the replacement for
LaDainian Tomlinson
as the No. 12 overall selection in the 2010 draft.
The Fresno State product topped 1,000 rushing yards for the second time as a pro, rushing a career-high 236 times for 1,012 yards, averaging 4.3 yards per carry. Mathews has run for 415 yards after contact, which is No. 7 in the NFL.
"It's been good, really good," Mathews said after the Denver game last week, in which he ran for 127 yards. Mathews carried the ball 58 times in two games over four days.
"I'm sore, but that's what they are asking of me, so that's what I'm going to do. I'm just going to keep grinding, and doing whatever this team needs."
Added receiver
Seyi Ajirotutu
, who played with Mathews at Fresno State: "He's always been tough. But there's just something about this year that has been special. He's running hard, and everyone can see it. He just looks like a different back, and obviously he's running confident."
Mathews has stayed healthy, and is on track to play a full, 16-game season for the first time as a pro. And he's avoided putting the ball on the ground. Heading into the 2013 season, Mathews had fumbled 12 times, losing seven of them through three seasons. But this year, Mathews has fumbled just twice, losing one of them.
Mathews has five 100-yard rushing games this season, which is tied with Minnesota's
Adrian Peterson
and Philadelphia's
LeSean McCoy
for the most in the NFL.
But more than anything, at 26-years old Mathews has shown maturity. He's done a better job of taking care of his body, preparing himself for the rigors of an NFL season with a rigid regimen before the season started, one which included reporting to training camp at the appropriate weight on his 6-foot, 220-pound frame.
"He puts a lot of work in," fellow running back
Ronnie Brown
said. "There's a lot of stuff that's not seen. People give him a hard time. But he runs the ball hard. He prepares hard in the offseason. And he puts in the work that's necessary, and I don't think a lot of people see that, so it's not appreciated."
Chargers quarterback
Philip Rivers
said he first noticed a confident and decisive Mathews during offseason work by watching his feet. Rivers said Mathews benefitted from offensive coordinator Ken Whisenhunt streamlining the team's running playbook, focusing on a steady diet of inside and outside zone running plays.
"There have been less schematic things, which gives him a lot of reps at the run packages that we have," Rivers said. "He has been able to rep them over and over and over again, going all the way back to OTAs. As a runner, much like as a passer, if you run it five times you feel decent, but if we throw it 50 times over the offseason then you feel a lot better.
"It's the same way in the running game. If I run inside zone against every look they have 50 times throughout the offseason, I'm going to feel a heck of a lot better about it than if I get a lot of different ones. I think that is one thing I can see. I felt confidence in his feet, confidence in his vision grow over this whole offseason throughout training camp and all year long."
While Rivers has shown the ability to pick opponents apart through the air, Mathews provides the hammer in the run game, keeping defenses honest and closing out games by grinding out first downs to run the clock.
Once considered a good bet to leave town when his contract ends at the end of the 2014 season, Mathews has proved that he's a good fit long term for the Chargers.
November, 14, 2013
11/14/13
9:25
AM ET
SAN DIEGO --
Ronnie Brown
played the 2010 season with
Richie Incognito
during his six-year tenure with the
Miami Dolphins
.
The two also worked out during the offseason in Arizona. What Brown remembers is a friend who worked and played hard, not the loud-talking, intimidating figure accused of bullying fellow teammate
Jonathan Martin
and has been suspended by the Dolphins, San Diego's opponent this weekend.
"From a personal standpoint, he never did anything disrespectful," Brown said. "He's a different guy. He enjoys life. He plays a lot. So I think sometimes people kind of take it out of context.
"Sometimes you form a persona that people outside kind of view as, so any little thing gets escalated, so you have to be kind of careful sometimes. And I think that's one of those situations."
Incognito has been suspended indefinitely following allegations of harassment and misconduct toward teammate Martin, a second-year offensive lineman drafted out of Stanford. The Dolphins (4-5) have lost five of their past six games, dealing with a major distraction since Martin left the team on Oct. 28 following a lunchroom incident.
San Diego head coach Mike McCoy said the turmoil in Miami will not have an effect on how his team approaches the game.
"The most important thing is it's about us," McCoy said. "That's every week. We have to do a better job first. We can't worry about issues. No one is going to feel sorry for anyone on Sundays. That's the way we are going to approach it, and we are going to go out there and do the best job we can to get a win this weekend and take care of our side of the ball No. 1."
Miami Dolphins defensive back
Jimmy Wilson
put on a good front when asked if he believes the Incognito-Martin situation has affected his team's locker room.
But realistically, a situation that created so much of a national stir has to affect a team's performance on the field.
"I invite everybody in the whole world to come into this locker room and see what type of men we got in here, what type of coaches that we have," Wilson said on a conference call with San Diego-area reporters this week. "This is not a bad locker room. All of us are funny guys, laugh-and-joke-a lot guys. We're about our business, and we want to be a great team.
"Everybody thinks we have a bad coach in here, but it's a joke. We're all a bunch of young guys who like to have a good time."
Dolphins head coach Joe Philbin answered a few questions from reporters on the issue before saying that he would not answer any more questions until a league review on the matter is complete.
"It's all about playing as well as you can at one particular game -- putting your focus and your concentration and your energy into the opponent that you have next," Philbin said. "That's all you control at the present time."
San Diego quarterback
Philip Rivers
said that sometimes issues that appear to be distractions to team from the outside are not an issue inside a locker room.
"I can't speak on this particular distraction that the Dolphins are dealing with, but there are certain things that are perceived as distractions from the outside that are really a nonissue on the inside," Rivers said. "Obviously, the magnitude of what that is and how big of a deal it is -- that's different in every circumstance. When I think of some so-called distractions with us over the years, they really never were inside that locker room or on the practice field."
And as far as the mood inside San Diego's locker room, Rivers says the culture and relationships remain positive.
"I think it's a close group," he said. It's a friendly group. When I say friendly I mean from corner to corner. It's not a very cliquish group in the sense of you don't really see the packs.
"Sure you hang out with your group, understand that, but just in general you'll see [Nick] Hardwick chatting it up with the defensive backs. It's a very friendly, open group. I can't imagine one guy in the locker room thinking the team doesn't have a healthy working environment. They enjoy coming here day to day."
October, 17, 2013
10/17/13
7:10
PM ET
SAN DIEGO -- If
Philip Rivers
' wife, Tiffany, goes into labor over the weekend while he's in Jacksonville for San Diego's game against the Jaguars, he has a 21st-century solution to connect him with his spouse.
Rivers
"FaceTime, I reckon," he said, when asked what his contingency plan was. "Once in Jacksonville, I'm in Jacksonville, if that's what your question is."
Rivers was asked if he has an iPhone.
"I have an iPad," he said. "An even bigger screen, and a better view."
The couple are expecting their seventh child any day now.
A devout Catholic, Rivers and his entire family traveled to Italy during the offseason. There, the group visited the Vatican, where youngest son Peter was blessed by Pope Francis.
Rivers has a portrait of his family prominently displayed in his locker at the team's facility. Rivers and his wife have four girls and two boys. At times after games you'll see Rivers playing catch with oldest son Gunner out on the natural grass of Qualcomm Field.
Rivers has said once his playing career is over, he intends to follow in his father's footsteps and become a high school football coach in his native Alabama.
Notes:
For a second straight day, starting middle linebacker
Donald Butler
did not practice. Butler missed last week's game against Indianapolis with a groin issue. Also not practicing Thursday for San Diego were offensive lineman
Chad Rinehart
(toe) and receiver
Eddie Royal
(toe).
Starting right guard
Jeromey Clary
was a full participant Thursday after not practicing the day before. Outside linebacker
Jarret Johnson
(hamstring) was a limited participant for a second straight day.
Full participants includes running back
Ronnie Brown
(ankle), starting right tackle
D.J. Fluker
(calf), defensive end
Corey Liuget
(shoulder), cornerback
Richard Marshall
(groin) and cornerback
Johnny Patrick
(chest).
October, 2, 2013
10/02/13
4:30
PM ET
SAN DIEGO – When it comes to getting carries, an offensive coordinator is never going to satisfy everyone in the running back room.
Everyone wants their touches. And when a running back is playing in a pass-first offense, those touches can be few and far between. But through four games,
San Diego Chargers
offensive coordinator Ken Whisenhunt has done a nice job of managing the workload between his stable of running backs.
"A lot of it is package-driven," Whisenhunt said. "We go in there with a lot of different personnel groups, and we have different guys playing in different spots within those groups. If we're having success with that group, then whatever the rotation is, those guys are going to get more plays on any given Sunday.
"We're certainly conscious of the fact that
Ryan [Mathews]
is running the ball very well and we're trying to get opportunities for him to do that. But
Danny [Woodhead]
has been playing well for us.
Ronnie Brown
has been playing well for us. It's really a good problem to have to be honest with you."
[+] Enlarge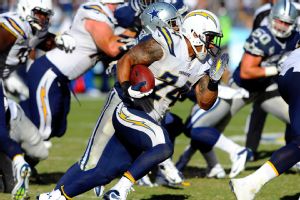 Christopher Hanewinckel/USA TODAY SportsRyan Mathews is the Chargers' top rusher and every-down back, but his role changes near the goal line.
San Diego is running the ball only 41.5 percent of the time (148 passing plays vs. 105 running plays). But when the Chargers have run the ball, they've been pretty effective, averaging 105 yards a contest.
Mathews is the team's every-down back. The Fresno State product has a team-high 226 yards on 64 carries, a 3.5-per-carry average. His longest run is 20 yards. Mathews also has seven catches for 66 yards, including a 14-yard touchdown. But he has not scored on rushing touchdown this season.
According to Pro Football Focus, Mathews has only one carry inside the opponent's 10-yard line this season, and only four of his carries have come inside the 20-yard line. Brown has handled both carries for San Diego from the opponent's 1-yard line this season.
Even though he has not received touches near the goal line, Mathews said he's comfortable with his team's new offense, and his role in it.
"We've got a bunch of great running backs here that can all make plays," he said. "If the personnel is called up, and your number is called up, then you go in the game and do your best on every play."
Woodhead has been used mostly in passing situations and in the red zone. The Chadron State product is the second-leading receiver for the Chargers, with 22 catches for 162 yards. Woodhead had his first, two-touchdown-reception game against Dallas last week, twice beating Cowboys linebacker
Bruce Carter
on wheel routes.
Woodhead also has 90 yards rushing, and is the closest player in terms of skill set the Chargers have had since losing
Darren Sproles
to New Orleans in free agency in 2011.
The unselfish Woodhead said that whenever his number is called, he'll be ready.
"That's the last thing I'm concerned about is how many touches I get," Woodhead said. "I don't want to get into that, because then the focus would be on myself. I want to focus on what we have to do to win the game. And when I'm out there, if I get the touch, I'm going to try and do the best I can with it. But you've got to realize that there's 10 other people helping me if I get yards."
Brown has been used mostly in goal-line and passing situations. Brown has 55 yards rushing, including a 1-yard touchdown. And then there's
Le'Ron McClain
, who at 6-foot and 260 pounds remains one of the most bruising lead-blocking fullbacks in the business.
The diversity of runners the Chargers have on the roster allows them to attack opponents in a lot of different ways, keeping defenses from just focusing on
Philip Rivers
and the passing game.
"I know Ryan would like to get the ball 20 times, but every back would," San Diego coach Mike McCoy said. "Every receiver wants 10 catches. It's a team game. There is going to be games from week to week where certain guys are the best guy for the situation.
"Ryan is the guy we are going to pound the ball with. That's what we put him in there to do, and he did a good job with it running physical and making the most out of his opportunities. We're going to play a number of guys. We not worrying about giving this guy this many touches, we're going to do what's best to win."
September, 23, 2013
9/23/13
12:00
PM ET
An examination of four hot issues from the
San Diego Chargers
' 20-17
loss
at the
Tennessee Titans
:
Offensive line woes:
San Diego headed into Sunday's contest already down an offensive lineman when
D.J. Fluker
was ruled out because of a concussion.
Michael Harris
played solid in place of Fluker at right tackle. But the Chargers potentially lost two more starters up front against Tennessee. San Diego coach Mike McCoy told reporters after the game left tackle
King Dunlap
had a concussion. Left guard
Chad Rinehart
also had a turf toe injury in the second half and did not return. Already thin up front, the Chargers do not have enough quality depth to withstand that many starters being out heading into next week's Dallas game.
[+] Enlarge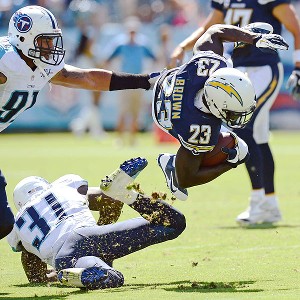 AP Photo/Mark ZaleskiRonnie Brown's touchdown was San Diego's first rushing score in almost a year.
Throw to score, run to win:
While the Chargers have one of the top passing offenses in the NFL through three games, they still have trouble consistently running the ball. San Diego's struggles to move the chains late to close out games can be partially attributed to the team's inconsistent ground game. According to ESPN Stats & Info,
Ronnie Brown
's 1-yard touchdown run in the second half was San Diego's first rushing touchdown since Week 5 against the Saints last year. That's a head-scratching statistic. The Chargers finished with a respectable 102 rushing yards against Tennessee.
Ryan Mathews
led the way with 58 rushing yards on 16 carries. Third-down back
Danny Woodhead
added 31 yards on the ground and had seven catches for 55 yards. But the Chargers failed to successfully run the ball when it mattered most -- at the end of the game.
Turnover drought:
Seahawks coach Pete Carroll says that one of his primary philosophies is "It's all about the ball" -- meaning take care of it on offense and look for ways to create turnovers on defense. Through the first three games, San Diego has struggled in one of the top indicators on whether a team will win or lose: turnover differential. San Diego has created one turnover through three games, which is among the worst in the league. However, the Chargers did create a sudden-change situation when Tennessee punter
Brett Kern
fumbled the snap, recovering his own fumble at Tennessee's 30-yard line. The Chargers turned that opportunity into a
Nick Novak
44-yard field goal. The Chargers have a minus-3 turnover differential through three weeks.
Third down struggles:
Heading into Sunday's contest, the Chargers were converting an impressive 58.6 percent of their opportunities on third down, tops in the NFL. But against Tennessee, the Chargers finished just 3-of-9 on third down, including being 0-for-3 in the first half. Just a week ago, San Diego ran a season-high 79 plays against an up-tempo Philadelphia offense. However, that same offense managed just 53 plays compared to 68 plays for Tennessee. The Titans' ability to effectively run the football also led to a 31:38 to 28:22 edge in time of possession.
September, 1, 2013
9/01/13
8:00
AM ET
The
San Diego Chargers
are not one of the deepest teams in the NFL. They are thin at several positions as they begin a new era.
However, one place where the Chargers seem to be fairly deep is at tailback. The team is going into the season with starter
Ryan Mathews
, and backups
Danny Woodhead
, Fozzy Whittaker and
Ronnie Brown
. All three backups should have a role, starting with Woodhead.
The depth is important considering Mathews' injury history. He has missed 10 games in his three NFL seasons, so it is reasonable to think the backups will play a significant role.
Whitaker is an interesting player. He is a hard, versatile runner, who has potential. He played for new San Diego offensive coordinator Ken Whisenhunt in Arizona and fought his way onto this team.
As the Chargers are likely to go through growing pains in 2013, one area of strength resides in the backfield.