San Diego Chargers:

Seyi Ajirotutu
March, 17, 2014
Mar 17
5:45
PM ET
Add another player to the growing list of returning free agents for the
San Diego Chargers
, as the team announced veteran receiver
Seyi Ajirotutu
will re-join the team on a one-year deal Monday.
Ajirotutu
The Fresno State product finished with a team-high 12 special teams tackles in 2013. Ajirotutu, 26, also made some key plays in limited playing time, including a 26-yard touchdown reception that won the game for the Chargers at Kansas City.
Ajirotutu totaled three receptions for 64 yards and a touchdown, and played 70 offensive snaps during the regular season.
Ajirotutu joins
Donald Butler
,
Chad Rinehart
,
Darrell Stuckey
,
Reggie Walker
and
Richard Marshall
as free agents retained by the Chargers. San Diego also added running back
Donald Brown
, quarterback
Kellen Clemens
, linebacker
Kavell Conner
, tight end
David Johnson
and cornerback
Brandon Ghee
from other teams in free agency.
The addition of Ajirotutu gives the Chargers six receivers currently under contract for the upcoming season --
Keenan Allen
,
Eddie Royal
,
Vincent Brown
,
Malcom Floyd
,
Dontrelle Inman
and
Tobais Palmer
.
The Chargers now have their top seven special teams tacklers from last season under contract for 2014 with the return of Ajirotutu.
March, 6, 2014
Mar 6
3:35
PM ET
In this series, we count down the top 10 impact plays for the San Diego Chargers that helped shape the team's 2013 postseason run.
Situation:
Second-and-15 from the San Diego's 26-yard line.
Score:
Chargers trailed the
Kansas City Chiefs
, 38-34.
Time:
Thirty-one seconds left in regulation.
Williams' take:
The pass play was one of the best throws
Philip Rivers
made all season. Even more impressive is that the 32-year-old quarterback made the play with the game on the line, finding little-used
Seyi Ajirotutu
behind two Kansas City defenders for a 26-yard touchdown and a 41-38 victory on the road at Arrowhead Stadium. Rivers completed 27 of 39 passes for 392 yards, three touchdowns and no interceptions against one of the best defenses in the NFL at the time in Kansas City. Ajirotutu was pressed into duty against Kansas City because
Eddie Royal
was out with a chest injury.
Check out the play here
.
Season impact:
The win ended a three-game losing streak and vaulted San Diego back in postseason contention. The Chargers would go on to win four of their final five games to sneak into the AFC playoffs at 9-7. Ajirotutu had played 10 offensive snaps through 10 games up until the final series against Kansas City but proved he could be counted on in the clutch if the Chargers needed him on offense. The Fresno State product led San Diego in special teams tackles with 12.
Quote:
"It's a route that he's going to run a 15-yard stop, unless he gets some form of Cover 2. So I reminded him when he broke the huddle, not that he needed to be reminded, that if you get [Cover 2], get up the boundary in a hurry." -- Rivers on the touchdown pass to Ajirotutu.
December, 19, 2013
12/19/13
6:00
PM ET
SAN DIEGO -- Blocking for
San Diego Chargers
running back
Ryan Mathews
is an offensive lineman's dream.
[+] Enlarge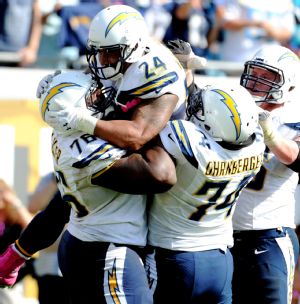 Melina Vastola/USA TODAY SportsRyan Mathews has emerged as a running back this season, to the delight of his linemen.
At least that's the way the team's longtime center
Nick Hardwick
describes it. Hardwick says opposing defenders shy away from contact when Mathews gets his legs churning.
"He is built like a block of granite," Hardwick said. "He is a pretty intense specimen, so when he gets going downhill, he is inflicting some pain on these linebackers and safeties."
Mathews' physical running style is something the rest of the offensive line feeds off of, according to rookie right tackle
D.J. Fluker
.
"I love blocking for Ryan," Fluker said. "Ryan just makes people look bad on the field. DB's don't want to hit him. They're scared of him because he's physical with them. It's great to see him have a great season. And it's been great to see someone go out there and give everything they have for their teammates."
In his fourth NFL season, Mathews has finally emerged from the immense shadow of being drafted as the replacement for
LaDainian Tomlinson
as the No. 12 overall selection in the 2010 draft.
The Fresno State product topped 1,000 rushing yards for the second time as a pro, rushing a career-high 236 times for 1,012 yards, averaging 4.3 yards per carry. Mathews has run for 415 yards after contact, which is No. 7 in the NFL.
"It's been good, really good," Mathews said after the Denver game last week, in which he ran for 127 yards. Mathews carried the ball 58 times in two games over four days.
"I'm sore, but that's what they are asking of me, so that's what I'm going to do. I'm just going to keep grinding, and doing whatever this team needs."
Added receiver
Seyi Ajirotutu
, who played with Mathews at Fresno State: "He's always been tough. But there's just something about this year that has been special. He's running hard, and everyone can see it. He just looks like a different back, and obviously he's running confident."
Mathews has stayed healthy, and is on track to play a full, 16-game season for the first time as a pro. And he's avoided putting the ball on the ground. Heading into the 2013 season, Mathews had fumbled 12 times, losing seven of them through three seasons. But this year, Mathews has fumbled just twice, losing one of them.
Mathews has five 100-yard rushing games this season, which is tied with Minnesota's
Adrian Peterson
and Philadelphia's
LeSean McCoy
for the most in the NFL.
But more than anything, at 26-years old Mathews has shown maturity. He's done a better job of taking care of his body, preparing himself for the rigors of an NFL season with a rigid regimen before the season started, one which included reporting to training camp at the appropriate weight on his 6-foot, 220-pound frame.
"He puts a lot of work in," fellow running back
Ronnie Brown
said. "There's a lot of stuff that's not seen. People give him a hard time. But he runs the ball hard. He prepares hard in the offseason. And he puts in the work that's necessary, and I don't think a lot of people see that, so it's not appreciated."
Chargers quarterback
Philip Rivers
said he first noticed a confident and decisive Mathews during offseason work by watching his feet. Rivers said Mathews benefitted from offensive coordinator Ken Whisenhunt streamlining the team's running playbook, focusing on a steady diet of inside and outside zone running plays.
"There have been less schematic things, which gives him a lot of reps at the run packages that we have," Rivers said. "He has been able to rep them over and over and over again, going all the way back to OTAs. As a runner, much like as a passer, if you run it five times you feel decent, but if we throw it 50 times over the offseason then you feel a lot better.
"It's the same way in the running game. If I run inside zone against every look they have 50 times throughout the offseason, I'm going to feel a heck of a lot better about it than if I get a lot of different ones. I think that is one thing I can see. I felt confidence in his feet, confidence in his vision grow over this whole offseason throughout training camp and all year long."
While Rivers has shown the ability to pick opponents apart through the air, Mathews provides the hammer in the run game, keeping defenses honest and closing out games by grinding out first downs to run the clock.
Once considered a good bet to leave town when his contract ends at the end of the 2014 season, Mathews has proved that he's a good fit long term for the Chargers.
November, 27, 2013
11/27/13
6:37
PM ET
SAN DIEGO -- His name is pronounced SHAY-ee ah-ZHIR-uh-tutu. But San Diego receiver
Seyi Ajirotutu
will just shrug and smile when others mispronounce his name, including a host of national TV personalities over the weekend.
Players and coaches call him "Tutu", which rolls easier off the tongue.
So what tongue-tied TV host stumbled the most on his unique last name?
[+] Enlarge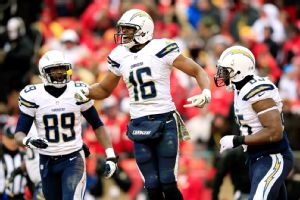 Jamie Squire/Getty ImagesSeyi Ajirotutu has taken advantage of the limited opportunities he's gotten at wideout this season.
"[Chris] Berman," he said. "There were a couple others, but it's all right. They've just got to read the manual and you'll be all right. It's a little challenging seeing nine letters in a last name. It's OK. It's happened since I was in kindergarten."
Ajirotutu is a popular interview subject this week after he hauled in the 26-yard game-winning touchdown against Kansas City. You can see a quiet intensity in Ajirotutu's face as the fourth-year wideout relegated to playing mostly special teams ponders the question: Is he a guy who can stretch the field?
"I feel like I can play," he said. "I feel like I can stretch it. I feel like I can do whatever they ask me to do. I can play."
Ajirotutu signed with the Chargers during training camp, the 26-year-old hasn't received much of an opportunity to prove he can be an impact player on the field.
But his reps likely will increase after making back-to-back impact plays for the Chargers. With slot receiver
Eddie Royal
unavailable due to a chest injury, Ajirotutu subbed in and did not miss a beat in terms of the playbook, catching a 26-yard touchdown pass from
Philip Rivers
on a fade route to seal a 41-38 win for the Chargers.
Two weeks ago with
Keenan Allen
out nursing a knee injury at the end of the game, Ajirotutu was called into duty again, catching back-to-back passes over the middle of the field to help San Diego move into scoring position against Miami. But that San Diego rally fell short, and the Chargers lost 20-16 to the Dolphins.
One thing Ajirotutu proved during both those late-game situations is that the moment is never too big for him.
"He's a pro," Chargers offensive coordinator Ken Whisenhunt said of Ajirotutu. "But more importantly, when his opportunities have come, he's stepped up and made plays. And that's what this league is all about. So I have a tremendous amount of respect for Tutu."
At 6-foot-3 and 215 pounds, Ajirotutu has the prototypical size the Chargers are looking for in a big receiver. He wasn't exactly a speedster coming out of Fresno State, running a 4.58-second time in the 40-yard dash at his pro day. But he was productive for the Bulldogs, finishing with 129 career catches and 12 touchdowns.
Ajirotutu originally joined the Chargers in 2010 as an undrafted rookie from Fresno State. He's played in 13 career games for the Chargers, and 14 for the
Carolina Panthers
in 2011. Last season, Ajirotutu played in three games with one start for San Diego, catching three passes for 45 yards. For his career, Ajirotutu has 17 catches for 311 yards and two touchdowns.
Ajirotutu leads the team in special-teams tackles with nine. But he has just three receptions for 64 yards and a touchdown this season. Ajirotutu would like to see that change. And given another opportunity, he'll be ready.
"I catch balls and work on the scout team," he said. "I'm always working on my craft, and I'm ready to go."
November, 25, 2013
11/25/13
11:20
AM ET
SAN DIEGO --
ESPN's Kevin Seifert
places San Diego Chargers offensive coordinator Ken Whisenhunt on his weekly list of studs and duds for Week 12 of the NFL for his role in the resurrection of Philip Rivers.
Seifert:
"So who gets credit for Rivers' renaissance? Rivers, of course, and surely new Chargers coach Mike McCoy has played a role. But I submit Whisenhunt as a less-obvious recipient. Whisenhunt's work with Rivers and the Chargers' offense has reminded us how good he had the Arizona Cardinals going as head coach when he had competent personnel at quarterback. There will be more than a few NFL teams searching this winter for an offensive-minded head-coaching candidate with a history of elevating the play of quarterbacks. At this point, it's difficult to know how Whisenhunt couldn't qualify as a strong candidate for one of those jobs."
Speaking of Rivers' rebirth, ESPN Insider Louis Reddick breaks down how Rivers has made such an impressive comeback in
this ESPN Insider piece.

ESPN Chiefs beat reporter Adam Teicher
writes that the Chargers exposed some weaknesses in Kansas City's stingy defense, using crossing routes to create some explosive plays.
Former NFL defensive back Matt Bowen writing for Bleacher Report
has an excellent break down of Rivers' winning touchdown throw to Seyi Ajirotutu.
Kevin Acee of U-T San Diego
says against Kansas City we might have seen the beginning of a succession at tight end from Antonio Gates to Ladarius Green.
Michael Gehlken of U-T San Diego
writes that Ajirotutu silenced Arrowhead Stadium with his winning touchdown catch.
Ricky Henne of Chargers.com
recaps the game.
Peter King of Sports Illustrated
places San Diego at No. 15 on his Fine Fifteen list.
King:
"Hat tip to Antonio Gates. Here's a basketball player at Kent State who took a flyer on football because he was the size-speed type of athlete to be a good tight end. Good call. Sunday in Kansas City, Gates became the fourth tight end in NFL history to pass the 700-catch and 9,000-yard plateaus. He now has 701 receptions and 9,006 yards. Don't want to bum him out, but Gates needs only 600 catches to pass Tony Gonzalez."