San Diego Chargers:

Shareece Wright
April, 3, 2014
4/03/14
5:00
PM ET
This week's examination of the top positional needs on the
San Diego Chargers
' roster continues with ESPN NFL insider Matt Williamson taking a closer look at the cornerback group.
Fourth-year pro
Shareece Wright
emerged as a solid player in his first full season as a starter, but San Diego needs to find the long-term answer at the opposite corner position. Ineffective starter
Derek Cox
was released during the offseason, and signed a one-year, prove-it deal with Minnesota.
Wright

Marshall
Richard Marshall
was solid for most part as Cox's replacement, and returns to San Diego for the upcoming season as the projected starter on a one-year deal. But Marshall turns 30 in December.
Chargers cornerback depth:
Starters -- LCB Marshall, RCB Wright. Reserves --
Brandon Ghee
,
Crezdon Butler
,
Marcus Cromartie
,
Steve Williams
,
Brandon Jones
What's your evaluation of San Diego's talent level at cornerback?
Williamson:
"They don't seem to put a premium at the position because they don't ask them to mirror guys across the field like Deion Sanders," Williamson said.
Williamson likes Ghee's potential, but has concerns with his injury history. Like a lot of San Diego's positions on defense, Williamson says the Chargers need to improve the overall depth and talent level at cornerback.
"I do think an advanced pass rush certainly would help," Williamson said. "Dwight Freeney still has something in the tank. And I'm high on
Melvin Ingram
.
"It is a need. I'm not sure I could come up with six or seven teams that are worse off at corner right now than San Diego."
What do they need to accomplish this offseason to improve?
Williamson:
Perhaps not in the first round, but in the first couple rounds Williamson believes the Chargers need to select a cornerback who can come in and play right away.
He mentions Virginia Tech's
Kyle Fuller
, Ohio State's
Bradley Roby
and TCU's
Jason Verrett
as cornerback possibilities at the end of the first round.
"I kind of look at the Chargers and think in Round 1, take the best defensive player or receiver, or guard in Round 1," Williamson said. "Take whoever is your best guy, and do not say 'We have to take a corner' there. And fill the other spots pretty quickly."
December, 26, 2013
12/26/13
8:45
AM ET
SAN DIEGO -- An examination of the snap counts from Sunday's 26-13 win over the
Oakland Raiders
:
OFFENSE
(Based on 72 snaps)
Quarterback
–
Philip Rivers
72.
Running back
–
Ryan Mathews
41,
Danny Woodhead
30, Le'Ron McClain 6
Ronnie Brown
1.
Wide receiver
–
Keenan Allen
71,
Eddie Royal
63,
Vincent Brown
42.
Tight end
–
Antonio Gates
68,
Ladarius Green
30,
John Phillips
5.
Offensive line
–
Jeromey Clary
72,
D.J. Fluker
72,
King Dunlap
72,
Nick Hardwick
72,
Chad Rinehart
72.
Offensive analysis:
Royal's 63 plays is the most he's played in a game this season. ... For the season, Rivers is 140 of 197 (71.1 percent) for 1,680 yards, 13 touchdowns and 5 interceptions on first down. He's been sacked nine times and posted a 108.3 passer rating. ... Rivers has thrown a touchdown pass in 19 consecutive games, dating back to last season. ... Allen (957 receiving yards) needs 43 receiving yards to record the 35th, 1,000-yard season in franchise history, becoming the first NFL rookie to achieve that mark since
A.J. Green
posted 1,057 in 2011.
DEFENSE
(Based on 58 snaps)
Line
–
Corey Liuget
45,
Kendall Reyes
45,
Cam Thomas
17,
Sean Lissemore
16,
Lawrence Guy
16.
Linebacker
–
Donald Butler
58,
Melvin Ingram
34,
Manti Te'o
31,
Reggie Walker
28,
Jarret Johnson
27,
Thomas Keiser
23,
Bront Bird
2.
Secondary
–
Eric Weddle
58,
Richard Marshall
58,
Shareece Wright
58,
Marcus Gilchrist
55,
Jahleel Addae
39,
Darrell Stuckey
27,
Derek Cox
3.
Defensive analysis:
Ingram's 34 snaps is the most he's played in a game all season. ...The Chargers are holding teams to 105 yard rushing a contest, No. 10 in the NFL. .. Stuckey's 27 defensive snaps is the most he's played on that side of the ball all season. ...The Chargers are getting off of the field on third down, with a 31 percent third-down efficiency rate (13 of 42) over the past four games. ... Wright leads the team in pass breakups with 13.
December, 25, 2013
12/25/13
7:45
PM ET
SAN DIEGO -- Running back
Ryan Mathews
was nowhere to be found on the field at the beginning of the
San Diego Chargers
' practice on Christmas day.
But that doesn't mean he wasn't working.
"I'm doing whatever they ask me to do," Mathews said. "Whatever they need me to do. I'm here early, and I'm staying here after."
Mathews did not participate in practice on Wednesday due to an ankle injury suffered against Oakland last week. Mathews left the game in the second half to get treatment on his ankle, but later returned. Mathews wore a protective boot on his left leg as he left the practice field.
San Diego coach
Mike McCoy
indicated once again that Mathews should play on Sunday.
"I expect him to play," McCoy said. "It's as simple as that."
Mathews also was a limited participant in practice last week on Wednesday due to a foot issue, but practiced the next two days and played impressively against Oakland on Sunday.
Mathews said he aims to play a full, 16-game season for the first time in his four-year NFL career.
"100 percent," Mathews said. "That's what I want to do is be 100 percent this year in the games. So that's what I'm going to try for."
Mathews ran for 55 yards and a touchdown in a 41-38 win at Kansas City earlier this season.
Cornerback
Shareece Wright
(foot) and receiver
Eddie Royal
(toe) also did not practice for San Diego. Royal has not practiced on a regular basis since injuring his toe against Indianapolis on Oct. 14, but he's only missed one game since the injury.
McCoy said he expects Wright to play on Sunday.
Guard
Jeromey Clary
was a limited participant due to a hand injury. McCoy said Clary's limited status for practice was more precautionary, and that he could have practiced fully.
Outside linebacker
Thomas Keiser
(elbow) and defensive lineman
Sean Lissemore
(shoulder) were full participants.
December, 10, 2013
12/10/13
6:45
PM ET
SAN DIEGO -- For the first time in many weeks, the
San Diego Chargers
had all 53 players on the active roster participate in practice Tuesday -- a good sign for a team facing the
Denver Broncos
, who are undefeated at home.
"The last couple weeks coming out of games we've been fairly healthy," San Diego coach
Mike McCoy
said. "Every game you're going to have some dings, but nothing serious. So it's been a good couple weeks for us."
Receiver
Eddie Royal
(toe), center
Nick Hardwick
(neck), cornerback
Shareece Wright
(foot) and defensive back
Johnny Patrick
(ankle) were limited in practice.
Receiver
Keenan Allen
(shoulder), tackle
D.J. Fluker
(ankle), defensive end
Lawrence Guy
(toe), linebacker
Jarret Johnson
(hand), defensive tackle
Sean Lissemore
(toe) and defensive end
Corey Liuget
(knee) were full participants.
Royal had not practiced since injuring his toe against Indianapolis on Oct. 14. Royal missed just one game over the past seven because of the injury, against Cincinnati. With less practice time, Royal said he put in more film study and mental reps to make sure he was prepared to play.
"I just had to study more than normal," Royal said. "Because when you're out there running the plays, you don't normally have to go home and look at it for hours. But now that you're not doing it, you want to make sure that you're detailed in what you're doing. There's a lot of little things that you have to pay attention to when you're not out there practicing every day."
November, 21, 2013
11/21/13
8:45
PM ET
SAN DIEGO -- Inconsistent play has defined the first season the
San Diego Chargers
' starting four members of the defensive backfield have played together.
Wright
Gilchrist
Add to that the fact that two of the players are first-time starters in cornerback
Shareece Wright
and safety
Marcus Gilchrist
, and that leads to some undesirable numbers for San Diego's defense.
The Chargers are giving up an average of 276 passing yards a contest and have allowed 39 passing plays of 20 or more yards, both 27th in the league. San Diego has just five interceptions, and opposing quarterbacks have posted a healthy 102.3 passer rating against the Chargers.
Beyond those troubling statistics, San Diego's defense does not pass the eye test. The defense fails to regularly rally to the ball, and left by themselves defenders struggle to make tackles in the open field.
Gilchrist and Wright have heard the criticism and are focused on putting a better product on the field, beginning Sunday at Kansas City.
"I just feel like collectively we have to have that game where we all play our best game," Wright said. "There's been games where I've done better than others, and then other games where [cornerback]
Derek Cox
does well. But I just feel like we've got to come out and collectively play our best games every week. And I feel like we're a good DB group when we can do that. We just have to be more consistent and as a group make more plays."
Added Gilchrist: "One of the things I've learned being in the NFL is how to manage the highs and lows. We've had highs and lows as a secondary. It's our first year together. And I think we're getting to a point where we're kind of learning each other, and understanding how to communicate with each other. There's always going to be room for improvement, no matter how good or bad people may say you're playing."
When questioned about the struggles of his secondary, San Diego defensive coordinator John Pagano is quick to point out his entire unit has to play better. Pagano is right. Defensively, the Chargers have not created a consistent pass rush and have only 26 sacks, No. 17 in the NFL.
And San Diego's linebackers have just as many missed tackles and assignments as the rest of the defensive unit.
"We've got to play more consistent," Pagano said. "And it's about technique, fundamentals and having that effort back there, and playing with the eye discipline and technique that we need to do.
"And you see them on plays growing together. But it's about all 11 [players]. Great pass coverage has always had great rush. And a great rush always has great pass coverage behind it. So those are the things that we're focusing on."
Wright agreed.
"It falls on the secondary because we're in the back end," Wright said. "So if somebody in front of us didn't do something right, it looks bad. If I'm in Cover 2, or if I'm in Cover 2-man and playing underneath, and the receiver catches a fade ball on me and no one knows the safety is supposed to be over the top, then I look bad. So it's just one of those things where we have to play together and have each other's back no matter what."
San Diego's secondary will get a chance at redemption down the stretch of the season, playing against playoff-caliber teams such as the Chiefs, Denver and Cincinnati.
"Confidence is everything," Wright said. "If we can make one big play followed by another big play, and just being confident in ourselves -- we'll know that we are a good core and we can make plays."
"It's a perfect opportunity to really prove ourselves and show who we are, and that we can be a good group."
November, 20, 2013
11/20/13
6:45
PM ET
SAN DIEGO – Maybe
San Diego Chargers
coach Mike McCoy should take note of how his opponent this week handled practice time during training camp.
The Chargers have struggled with poor tackling all season. McCoy said his team missed 12 tackles in the Chargers' loss to Miami on Sunday, allowing 92 yards after contact. He also lamented his defense's poor execution of the fundamentals, including repeatedly jumping offside.
San Diego's opponent this week, the
Kansas City Chiefs
, boasts one of the top-rated defenses in the NFL, and sits tied atop the AFC West standings with Denver at 9-1.
[+] Enlarge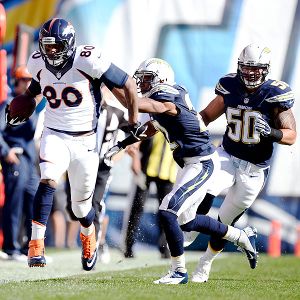 John Leyba/The Denver PostThe Chargers have struggled with poor tackling. Their opponent on Sunday, the Chiefs, has not had that problem.
Kansas City coach Andy Reid set the stage for how his team is playing this season by doing something unusual during training camp – live tackling for 10 to 15 minutes during team drills. Some NFL teams have live-tackling drills during the goal-line period, but few teams are willing to risk injuries with live tackling during the meat of practice time.
"We tackled to the ground in camp," Reid said. "We've always done that. And that's kind of how I was raised in the thing, and that's how we do it."
Reid offered sound reasoning behind his decision.
"In its simplest form, this game is about blocking and tackling," Reid said. "I don't think that part has changed, so it allowed us to work on it and try to get better at it."
Longtime Chiefs linebacker
Derrick Johnson
said Reid's approach during training camp was a wake-up call for a team that suffered through a disappointing 2-14 campaign last season.
"It was very physical," Johnson said. "I've never been to a training camp where certain periods were live. Since I've been here for nine years, we've had a few times where you go goal-line and you go live. But we were going live every other day, so it gets you in the best position to make plays when the real game comes."
Full tackling drills during the regular season are rare. Due to the collective bargaining agreement, the Chargers can hold only a limited amount of padded practices during the regular season. They also have suffered significant injuries to key players on defense.
On Wednesday, San Diego practiced in helmets, jerseys and shorts.
"We've had a tackling circuit on Wednesday every day this year," McCoy said. "So there's certain things you work on every day. And obviously, from last week's game we've got to clean some things up."
Chargers cornerback
Shareece Wright
said better tackling is about having the right mindset and all 11 players getting to the ball.
"It's being sure every time, and not assuming – not expecting a guy to go down because one guy is tackling him," Wright said. "It's just a mindset of everybody getting to the ball and just being furious out there to get the ball carrier down."
Injury update:
Tackle
King Dunlap
(neck), outside linebacker
Jarret Johnson
(hand), cornerback
Johnny Patrick
(concussion) and receiver
Eddie Royal
(toe) did not practice on Wednesday. Johnson had a soft cast on his left hand.
Receiver
Vincent Brown
(shoulder) was a limited participant. Safety
Jahleel Addae
(ankle), receiver
Keenan Allen
(knee), defensive end
Lawrence Guy
(toe), center
Nick Hardwick
(neck), running back
Ryan Mathews
(hamstring) and linebacker
Manti Te'o
(elbow) were full participants.
November, 11, 2013
11/11/13
12:15
AM ET
SAN DIEGO – Even though
Demaryius Thomas
finished with a game-high seven receptions for 108 yards and three touchdowns,
San Diego Chargers
cornerback
Shareece Wright
refused to be in awe of the talented Denver receiver's impressive performance.
Given another opportunity, Wright truly believes he can shut down the physical Thomas, who San Diego coach Mike McCoy calls one of the best receivers in the game.
"When I was able to play man on him, I did a pretty good job," Wright said, following the Chargers'
28-20 loss
. "And lining up against him, I can press him at the line. He's just strong, so he's going to finish a little stronger at the top of the routes. He's got some little tricks to his game, and now I know how to play him.
[+] Enlarge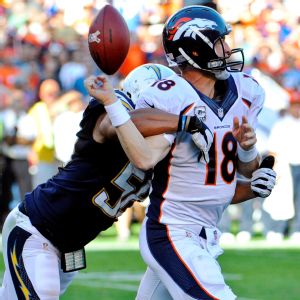 AP Photo/Denis PoroyLike they were able to do against Peyton Manning last season, the Chargers are aiming to pressure opposing QBs more consistently in 2014.
"I'll be ready next time."
While not exactly a reflection of what happened, Wright's words are refreshing. Pro football is a young man's game. And for a San Diego squad that over the years leaned on veterans like
Philip Rivers
,
Antonio Gates
and
Eric Weddle
to lead the way, at some point young players like Wright have to emerge and have an impact in order for the Chargers to once again to be playoff contenders.
A third-round selection in the 2011 draft, Wright finally earned his opportunity to start this season after serving as a backup in his first two years. He's missed three games due to a hamstring injury, but during his time on the field Wright has flashed an ability to develop into a solid, NFL cover corner.
Another young player that made an impact for San Diego was pass-rusher
Tourek Williams
, a sixth-round selection in this year's draft. The Florida International product got his third start with
Jarret Johnson
inactive. And Williams made the most of it, chasing down
Peyton Manning
from behind for a strip sack in the third quarter, forcing a fumble that teammate
Donald Butler
recovered.
The momentum-changing play led to a 7-yard touchdown reception by
Danny Woodhead
, cutting Denver's lead to 28-13.
But Williams wasn't overly excited about the play, showing more concern that his team couldn't find a way to battle back for a victory.
"It feels good," Williams said. "But when you lose a game, I haven't even thought about that play since I left the field. So you've just got to play the game. The next time in that situation, we'll make the game-changing play and we'll finish."
Along with Williams, other players from San Diego's draft class this year have played well. Offensive tackle
D.J. Fluker
and receiver
Keenan Allen
deserve rookie of the year consideration. Middle linebacker
Manti Te'o
continues to improve with each game. And even someone like quarterback
Brad Sorensen
, a seventh-round selection out of Southern Utah, showed promise when he played in the preseason.
At 4-5 on the season, the Chargers are a team that is being developed for success down the road. But that doesn't mean young players like defensive lineman
Corey Liuget
are willing to except moral victories by playing elite teams like Denver tough on their home field.
"We don't care for moral victories," Liuget said. "Those don't get you where you want to be. We've just got to be prepared for the next one, and keep fighting and clawing."
And while the Chargers are building for the future, for guys like Weddle the future is now.
"We've got seven games left," Weddle said. "The whole season is right there in front of us. If you guys on the outside think the season is done, then don't come talk to me because we still have everything there."
November, 10, 2013
11/10/13
7:45
PM ET
SAN DIEGO -- A few thoughts on the
San Diego Chargers
'
28-20 loss
to the
Denver Broncos
.

What it means:
The Chargers (4-5) fall under the .500 mark for the first time since a Week 5 loss at Oakland. San Diego is 0-2 against the AFC West this season.
Comeback falls short:
Down 28-6 in the second half, the Chargers could have easily packed it in and mentally started getting ready for next week. They didn't. San Diego scratched its way back to 28-20 with just over 10 minutes left, but failed to get past midfield on the potential game-tying drive.
Demaryius Thomas thrives:
San Diego's smallish corners had trouble dealing with Denver's big-bodied receiver
Demaryius Thomas
, who finished with seven receptions for 108 yards, including three touchdowns. The Chargers' secondary has struggled with big receivers all year. Denver tight end
Julius Thomas
-- another big, fast player -- finished with three receptions for 96 yards and one touchdown.
Redemption for Mathews:
After gaining just 34 yards on seven carries last week,
Ryan Mathews
rebounded with a solid performance, finishing with 59 yards on 14 carries, including a 35-yard run. Mathews also had a 1-yard touchdown run on a goal-line play that San Diego would have been wise to use last week, when the Chargers failed to get the winning score from a yard out against Washington. The Chargers rushed for 131 yards as a team, but 113 of those yards came in the first half.
Cox benched again:
For a second straight game, San Diego's top free-agent addition, cornerback
Derek Cox
, was benched for poor play. Cox failed to get Denver tight end
Julius Thomas
out of bounds on his 74-yard reception for a score in the opening quarter, and received an earful from defensive coordinator John Pagano on the sideline after the play. Cox later returned to the game after fellow cornerback
Shareece Wright
suffered an apparent leg injury. Cox was benched in the second half of San Diego's overtime loss to Washington last week.
What's next:
The Chargers hit the road and travel to Miami for an afternoon game next Sunday.
October, 4, 2013
10/04/13
4:15
PM ET
SAN DIEGO -- A full participant in practice on Friday,
San Diego Chargers
cornerback
Shareece Wright
likely won't find out until game time if he'll play against Oakland on Sunday.
Wright
"It feels good to be able to run around again and participate in practice," Wright said. "Sitting on the sideline is not a good feeling at all, so it definitely feels good."
Wright will face an Oakland receiver group known for its speed, so the ability to open up and run full speed will be an important test during his pre-game workout with the team's training staff before the game.
"We'll see how these next couple days go -- the rest of [Friday] and [Saturday]," Wright said. "We'll see how I feel, and see if I can do a little workout before the game and open up.
"The key is just being able to hit top speed when I'm running, not feeling anything and making sure I don't re-injure it."
Wright missed the last two games with a lingering hamstring issue. San Diego coach
Mike McCoy
says like any other injury, the team's training staff wants his starting cornerback fully healthy to deal with the grind of an NFL game before he takes the field.
"We want to make sure they're ready to go before you put them out there and expose them, whether it hurts the football team because of the injury they can't go full speed, or they re-injure it and they'reset back longer," McCoy said. "So we've got to do what's right, not only for the football team, but what's right for the player."
Along with Wright, starting right guard
Jeromey Clary
was a full participant on Friday, and is listed as questionable on the team's injury report. McCoy seemed optimistic that Clary, who missed last week's game against Dallas with a clavicle injury, could play on Sunday.
"Yeah, I think he's had a good week from what he's done in practice and everything, and we'll see how it goes," McCoy said.
If Clary is available, that would give San Diego a projected starting line of
Michael Harris
at left tackle,
Johnnie Troutman
at left guard,
Nick Hardwick
at center, Clary at right guard and
D.J. Fluker
at right tackle – the Chargers' fourth different starting offensive line combination in five games.
Reserve offensive lineman
Rich Ohrnberger
(groin) returned to the practice field as a limited participant, and is listed as questionable for Sunday. Running back
Ryan Mathews
appears to have suffered a hamstring injury during practice. Mathews was listed as a limited participant, but is probable for the Oakland game.
Starting left tackle
King Dunlap
(concussion) and left guard
Chad Rinehart
did not practice at all this week. Dunlap has been ruled out, and Rinehart is doubtful.
Reserve cornerback
Johnny Patrick
(chest) also did not practice on Friday, and is listed as questionable. Patrick started the past two games with Wright out.
Linebacker Manti Te'o (foot), cornerback
Derek Cox
(knee) and center Nick Hardwick (not injury related) were full participants and listed as probable on San Diego's injury report.
September, 30, 2013
9/30/13
5:55
PM ET
SAN DIEGO -- Coach
Mike McCoy
confirmed that
San Diego Chargers
pass-rusher
Dwight Freeney
tore a quad muscle during Sunday's game against the
Dallas Cowboys
.
"He does have a torn quad, and we're exploring all of the options," McCoy said. "We're getting all of the medical advice, and [exploring] what is in his best interest moving forward."
He did not rule out the possibility of the team placing Freeney on the injured reserve with a designation to return. Under the injured reserve rules, Freeney will be ineligible for the next eight weeks. He can return to practice six weeks after being placed on the list and be eligible for the Dec. 8 game at home against the
New York Giants
.
McCoy said that
Larry English
would be the team's first option to fill in for Freeney. But he did not rule out going outside the organization to find pass rush help if the players on the roster are not getting the job done.
"Any time you lose a great player like Dwight Freeney it's a blow to your football team," McCoy said. "That's offense, defense or special teams. When you lose one of the great players of all time from your team out with an injury like that during a game, it's tough. But you give a lot of guys credit for stepping up."
Along with English, McCoy said rookie sixth round draft choice
Tourek Williams
played 10 snaps, and did a nice job.
McCoy still does not know the availability of the three starters along the offensive line that missed last week's game. Left tackle
King Dunlap
(concussion), left guard
Chad Rinehart
(toe) and right guard
Jeromey Clary
(clavicle) did not play against the Cowboys.
Rich Ohrnberger
injured his groin during the game while playing right guard, and had to give way to
Stephen Schilling
.
"With the injuries that these guys have, everyone's different," McCoy said. "All three of these guys who missed last week, the severity of their injuries are different -- they're completely different injuries. And we're going to get out there on Wednesday and see who's available."
McCoy did say that he is hopeful to get starting cornerback
Shareece Wright
back. Wright has missed the last two games with a hamstring issue. San Diego's other cornerback,
Derek Cox
, also could miss Sunday's game at Oakland. Cox left the Dallas game with a knee issue.
September, 10, 2013
9/10/13
2:36
AM ET
SAN DIEGO --
Observed in the locker room after the San Diego Chargers' 31-28 loss to the Houston Texans on Monday night
:
Rivers
Quiet, please
: Predictably, this was not a cheery place. It was very quiet. Few players talked among themselves. The Chargers were polite with media, but there weren't many who wanted to rehash the details of blowing a 28-7 third-quarter lead.
A 'sick' feeling
: As always, San Diego quarterback
Philip Rivers
stood to face the questions. The loss was bitter, he said, but he was dealing with it. "There was never a feeling of desperation," Rivers said. "We were in control. We stayed poised. ... We're sick, I'm sick, that we're not 1-0."
Falling short
: San Diego cornerback
Shareece Wright
bemoaned the fact that the Chargers' defense couldn't make many big plays in the second half.
Learning experience
: New San Diego pass-rusher
Dwight Freeney
called it a lesson. That said, Freeney is a newcomer. Many of these Chargers have been here before -- and watched a 24-0 halftime lead turn into a 35-24 loss to Denver last October.
August, 23, 2013
8/23/13
4:55
PM ET
The
San Diego Chargers
' signing of
Richard Marshall
on Friday was a move that smart teams make.

Sure, the Chargers have bigger needs at other positions, including receiver and offensive line. But this is an overall thin roster and they need help at cornerback, as well. When a solid player becomes available, he should be pursued. Kudos to new general manager Tom Telesco to secure Marshall, who was cut earlier this week by Miami.
He signed a one-year deal. Terms were not immediately available, but I am sure they are not detrimental to the team.
Marshall is not a defense-changing player, but he will help. Marshall, 28, could end up starting opposite free-agent pickup
Derek Cox
.
Shareece Wright
is slated to start, but he doesn't have the experience Marshall, who is known for being a strong leader, has. At the least, Marshall should be the nickel cornerback. This addition lengthens the Chargers' talent and depth at the position.
Marshall's signing in San Diego is fairly natural. He played for San Diego head coach Mike McCoy and secondary coach Ron Milus in Carolina and San Diego offensive coordinator Ken Whisenhunt in Arizona.
August, 22, 2013
8/22/13
6:40
PM ET
The
San Diego Chargers
are interested in adding a veteran presence to their young crew of cornerbacks.
The Miami Herald is reporting
that the Chargers on Thursday visited with
Richard Marshall
, who was cut this week by the
Miami Dolphins
and is the best cornerback currently on the market.
The Chargers are thin at the position. If signed, Marshall would likely be the nickel cornerback and would also compete with
Shareece Wright
for a starting spot. Marshall could have the edge because he has experience that Wright does not have. The Chargers lost their two starting cornerbacks,
Antoine Cason
and
Quentin Jammer
, in free agency. They are fine at one spot with free-agent pickup
Derek Cox
.
Marshall, known as a strong locker-room presence, has ties to the Chargers' staff. He was in Carolina with coach Mike McCoy and in Arizona with offensive coordinator Ken Whisenhunt.
In other AFC West notes:
Kansas City coach Andy Reid was on ESPN's "NFL Insiders" show Thursday and said that running back
Jamaal Charles
is ready to go after suffering a minor foot strain on Aug. 12. Reid would not commit to him playing Saturday at Pittsburgh. But the bottom line is this: Charles will be ready for Week 1.
Also, Reid said receiver
A.J. Jenkins
– acquired in a trade for
Jon Baldwin
with San Francisco on Monday – has quickly adjusted well.