San Francisco 49ers:

Carolina Panthers
January, 12, 2014
Jan 12
11:35
AM ET
By
ESPN.com staff
| ESPN.com
Join our ESPN.com NFL experts for playoff football between the San Francisco 49ers and the Carolina Panthers.
Contribute your thoughts and questions beginning at 1:05 p.m. ET. See you there.
January, 10, 2014
Jan 10
10:00
AM ET
Perhaps no two teams in the NFC are more alike than the
Carolina Panthers
and
San Francisco 49ers
, who meet at 1:05 p.m. ET on Sunday at Bank of America Stadium for the right to advance to the NFC Championship Game.
They both have big, physical, mobile quarterbacks.
They both have offenses built around the running game.
They both rely on physical, highly ranked defenses built around stopping the run first.
Their regular-season meeting at Candlestick Park showed just how close they are. Carolina won 10-9 on Nov. 10 in one of the more physical games of the season.
The rematch has all the ingredients to be just as close and physical.
ESPN.com Panthers reporters David Newton and 49ers reporter Bill Williamson are here to break it down.
Newton:
Bill, hope you have thawed out from the trip to Green Bay. The first game between these teams was an old-fashioned NFC bruiser. Do you see the rematch being anything different?
Williamson:
You're right, David, the first 49ers-Panthers matchup was one of the most physical games of the 2013 NFL season. I think we are going to see a similar game. These teams are similar, and are both really good teams. So this is going to be another close, physical game.
I do think more points will be scored. A huge difference for the 49ers is they will have receiver
Michael Crabtree
this time, and you have to assume tight end
Vernon Davis
won't leave this game early, as he did in the Nov. 10 meeting. Crabtree has made this a different team since he returned Dec. 1 from a torn Achilles. He had his best game of the season last week at Green Bay with eight catches for 125 yards. David, do you think the Panthers are prepared to deal with Crabtree?
Newton:
They better be, or it could be a long day. I suspect they will take a similar approach to their Dec. 22 victory over New Orleans, which has talented receivers and Pro Bowl tight end
Jimmy Graham
. And remember, Crabtree was facing a Green Bay defense that was ranked 24th against the pass and 25th overall. Carolina's defense ranks sixth against the pass and second overall. That's a significant difference.
To me it doesn't come down to Crabtree as much as it does to the pass rush. Carolina led the league in sacks with 60 and has 15 in the past two games. The Panthers will try to push quarterback
Colin Kaepernick
out of his comfort zone like they did in the first meeting, when they sacked him six times. The secondary is a huge part of that. They mix things up with complicated zone coverages that make it difficult for receivers. They also are physical with them. To stand a chance, the Panthers have to duplicate the kind of effort they had in the first game. If they pressure Kaepernick that way again, Crabtree won't be as effective.
Speaking of quarterbacks, the 49ers did a nice job on
Cam Newton
in the first game. This will be Newton's first playoff game. Are the 49ers worried about him?
Williamson:
The 49ers certainly respect Newton and are wary of him. But I don't think they are overly fretting about him. The 49ers just beat
Aaron Rodgers
. He's the best quarterback in the NFL. So they can handle Newton.
I think what gives the 49ers confidence that they can continue to have success against Newton is that their defense is so athletic. So it matches up well against Newton. He did come up with some big third-down passes against the 49ers. So San Francisco has to find a way to keep him from making clutch plays. That means the 49ers have to keep pressure on him throughout the down. If Newton athletically beats the 49ers, they will have a tough day.
David, my last question for you is: What do you think the Panthers can do overall to ensure they move on to the NFC title game?
Newton:
Bill, because I see the defense doing its part, for me it all comes down to Newton. As left tackle
Jordan Gross
said this season, as Newton goes, so go the Panthers. This will be his biggest challenge on his biggest stage, but he's a lot more confident now than he was the first time these teams met. He has since engineered last-minute, game-winning drives to beat New England, Miami and New Orleans. I believe you'll see him throw caution to the wind when it comes to running. Having favorite receiver
Steve Smith
back will help as well. If Newton can handle the big-game atmosphere as he did in college, the Panthers have a chance. Having said that, what do the 49ers have to do?
Williamson:
San Francisco has to take advantage of what it has now, but didn't have when it last played Carolina -- and that's better offensive weapons. Crabtree has been back for six weeks, and the offense is much better. Having a healthy Davis makes the 49ers better in this game, as well. But they can't spoil those advantages. San Francisco must find the end zone a couple of times. The 49ers had just three field goals against the Panthers in November, and settling for field goals has been an issue all season.
Because points are going to be at such a premium, the 49ers have to do what it takes to find the end zone, at least two times in this game. If not, another close loss to Carolina might be on the horizon.
.
January, 5, 2014
Jan 5
9:15
PM ET
Three things to know about the
San Francisco 49ers
' matchup at the
Carolina Panthers
in the NFC divisional round at 1:05 p.m. ET Sunday:

1. Rematch:
All
Colin Kaepernick
said about the
Carolina Panthers
on Sunday night, after the 49ers secured their trip there with a 23-20 win at Green Bay was "we owe them." The Panthers beat the 49ers in San Francisco, 10-9, on Nov. 10. It was one of the NFL's most physical games of the season. Both offenses struggled as both teams played brilliant defense. Expect another low-scoring game, although the point total likely will exceed 19 this time around.
2. Young quarterback battle:
This will be a terrific national spotlight game for two of the better young quarterbacks in the league, Kaepernick and Carolina's
Cam Newton
. One of these two quarterbacks is heading to the NFC Championship Game. Newton was the No. 1 overall pick in the 2011 draft. Kaepernick, who already has been to one Super Bowl, was taken in the second round.
3. Great linebacking play:
The first meeting was highlighted by stellar defensive play, particularly by the inside linebackers. San Francisco's
NaVorro Bowman
and
Patrick Willis
and Carolina's
Luke Kuechly
are among the game's best middle linebackers. Bowman and Kuechly are legitimate NFL Defensive Player of the Year candidates. Expect this matchup to be run through these guys once again.
November, 8, 2013
11/08/13
10:00
AM ET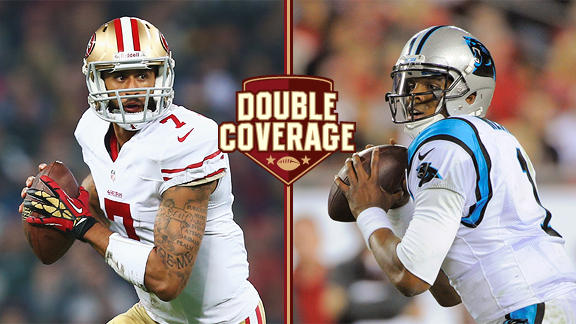 Getty Images, AP PhotoQuarterbacks Colin Kaepernick, left, and Cam Newton highlight a matchup of NFC playoff contenders.
SAN FRANCISCO -- A few weeks ago, this didn't appear to be a premier game.
But the
Carolina Panthers
kept on winning. Now, before the
San Francisco 49ers
have to tangle with potential playoff opponents New Orleans and Seattle in the coming weeks, looms another major NFC test in the form of the Panthers on Sunday at Candlestick Park.
This will be matchup featuring two of the hottest teams in the league. The 49ers have won five straight, the Panthers four straight. ESPN.com 49ers reporter Bill Williamson and Panthers reporter David Newton take a look at the intriguing matchup:
Newton:
These teams appear similar, built around a strong running game, a versatile quarterback and strong defense. Where do you believe the 49ers have the biggest advantage?
Williamson:
They totally believe in what they do. This is a confident team in all phases of the game. San Francisco is deep and focused, and it rarely misfires as a team. The 49ers stick to their plan and have confidence it will eventually wear opponents down. That is particularly true concerning the ground game on both sides of the ball. The 49ers know they are better than most opponents, and they just go out and try to prove it. I think they will try to stuff the Panthers early and get in their heads. David, the Panthers are certainly clicking themselves. Do you think they are up to this task?
Newton:
Because their five wins came against teams with a combined 8-33 record, the critics are wary. So, the Panthers are relishing the opportunity to prove that their winning streak isn't a fluke, that they deserve to be mentioned as a serious contender. The only team they have faced with a record currently above .500 is Seattle, which beat Carolina 12-7 in the season opener. The Panthers believe they should have won that game, too. Like San Francisco, this group is very confident. The Panthers have an attitude and hunger that, with a decent amount of talent, make them dangerous. They won't be intimidated by San Francisco's résumé, particularly Carolina's defense, which is playing as well as any in the league. Just ask the Seahawks, who struggled to score 12 on Carolina, then scored 29 against the 49ers in Week 2. This is a playoff-caliber defense that should keep the Panthers in most games. Their biggest challenge will be stopping
Colin Kaepernick
. He appears to have picked up where he left off last season. How has he improved?
Williamson:
He's a perfect fit for this coaching staff. What coach Jim Harbaugh and offensive coordinator Greg Roman excel at is taking what opposing defenses give them. They will run inside or outside, will use Kaepernick on the ground or through the air and can exploit defenses using receiver
Anquan Boldin
or tight end
Vernon Davis
, depending on what is given to them. Kaepernick plays along perfectly. He is patient and doesn't care about his own stats. He happily executes the game plan. David, do you think Panthers have a chance of frustrating Kaepernick by closing all those gaps?
Newton:
That's the game plan, whether it's a running quarterback such as Kaepernick or a pocket passer. The goal is to stuff the run and make a team one-dimensional, and they've done that well enough to rank second in the league against the run. But running quarterbacks are a concern. Seattle's
Russell Wilson
didn't put up huge numbers in the opener, but he kept the chains moving and completed a high percentage of throws (76 percent, 25 of 33). Buffalo's
EJ Manuel
did the same thing. Carolina had a combined three sacks in those games. The Panthers have averaged more than three a game since. What will the 49ers do to counter the play of
Cam Newton
?
Williamson:
The 49ers respect Newton. They have been talking about how physical Newton is and how they must respect his game. Again, the defense in San Francisco starts with stopping the run. Then, the 49ers tee off on the passing game. This has been a very stingy defense, but Newton is on a roll and will be the best quarterback this San Francisco defense has seen since
Andrew Luck
beat it at home in Week 3. David, do you see Newton succeeding in this game?
Newton:
Most of Newton's success this season has come against defenses ranked in the lower half of the league. Most of it has come because he has gotten comfortable taking what the other team gives him, mostly short stuff, so he's been completing a high percentage of passes the past month. San Francisco has one of the best pass defenses in the league, so I look for Newton to use his legs more early to get into a rhythm, and I look for the Panthers to try to run to take the pressure off Newton. His confidence is at an all-time high, but the 49ers have a defense that can change that quickly.
.