San Francisco 49ers:

2013 Week 14 SEA at SF
December, 8, 2013
12/08/13
11:15
PM ET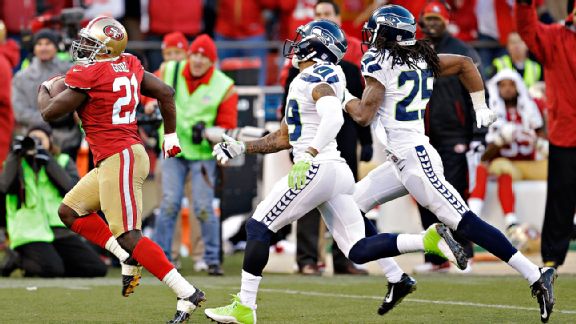 AP Photo/Ben MargotFrank Gore's 51-yard run in the fourth quarter set up the 49ers' winning field goal.
SAN FRANCISCO -- As players dispersed onto the field Sunday afternoon after a physical battle that cemented this as one of the NFL's finest rivalries, many
San Francisco 49ers
had a message for the
Seattle Seahawks
.
"We told them on the field that we will see them again," San Francisco guard
Alex Boone
said after his 49ers
won 19-17
on
Phil Dawson
's 22-yard field goal with 26 seconds remaining. "We said, 'See you up there.' And it's going to be another battle."
Did the Seahawks agree with the 49ers' plans for a future meeting?
"Yes, they said, 'See you again,'" Boone said.
Yes, the 49ers and the Seahawks both have business to do before a potential postseason meeting, but the players are on to something. These two teams are on a collision course for the playoffs.
So the 49ers have about a month to figure out how to win in Seattle.
There is no doubt that San Francisco's win Sunday was important and impressive.
But whether the 49ers won or lost Sunday, what truly matters is whether they can win in Seattle, where it is tough for any team to beat the Seahawks. And at 11-2, Seattle is on pace to have the home-field advantage throughout the NFC playoffs.
The 49ers know this: In losses at Seattle last December and in Week 2 this season, they were outscored by a combined 71-16 margin. However, if these teams meet again, the 49ers will focus on the success they had Sunday.
They 49ers were the better team and deserved to win on Sunday. They made more plays.
"The way they've beaten us the last two times up in their place, this kind of felt like a must-win for us," San Francisco left tackle
Joe Staley
said.
This type of victory has been a long time coming for the 49ers, who are now 9-4. Entering the day, they were 1-4 against teams with winning records and 7-0 against teams with losing records or .500 records. Last month, when the 49ers went from 6-2 to 6-4, they lost to Carolina and to New Orleans by a total of four points. They could have easily won both games.
Had this game gone Seattle's way and ended in a one-point loss for the 49ers, that would have stuck with San Francisco heading into the postseason. The 49ers now know they can beat a good team and get out of a close game with a win.
Perhaps that's why the San Francisco locker room was so raucous afterward. It was, by far, the most boisterous this group has been after a win this season.
"We knew this was going down to the last second," Boone said. "They just had to stay calm and get it done."
The 49ers had started talking about this game as soon as the St. Louis game was over last week. That's unusual. But the 49ers have been looking forward to the chance of redemption since they were crushed in Seattle in September. Boone had said the 49ers couldn't "overthink" the matchup. Tight end
Vernon Davis
said the 49ers couldn't be "overwhelmed" by the task.
Throughout the week, San Francisco appeared relaxed and focused. It paid off Sunday.
The Seahawks took a 17-16 lead with 6:25 to go. Memories of the losses to the Panthers and Saints came rushing back.
However, the 49ers, who were held scoreless in the second half to that point, embarked on a long drive -- fueled by a 51-yard run by
Frank Gore
-- to set up Dawson's game winner.
While the team reveled in the win, 49ers coach Jim Harbaugh was clearly drained. He was asked whether he enjoys this rivalry.
"'Enjoy' is not the word I'd use," Harbaugh said. "It's like going to dentist's chair and getting three hours of root canal … this is only for the tough."
San Francisco is definitely tough. Once again, the 49ers' defense played at a high level. Seattle quarterback
Russell Wilson
was harassed all game and never got comfortable. According to ESPN Stats & Information, Wilson was just 2-of-8 on passes 10 yards or longer.
"They might have a better record than us," San Francisco safety
Donte Whitner
said. "But when playoff time comes, you have to look out for the 49ers."
The 49ers are on pace to be the sixth and final seed in the playoffs. They hold a one-game lead in the chase. San Francisco will play at Tampa Bay in Week 15, then close Candlestick Park against Atlanta on a Monday night before traveling to Arizona for what could be a playoffs-or-bust game.
Although the 49ers are not certain to make the playoffs, another date with Seattle seems inevitable.
December, 8, 2013
12/08/13
7:40
PM ET
SAN FRANCISCO -- A few observations from the
San Francisco 49ers
'
19-17 win
over the
Seattle Seahawks
on Sunday:
What it means:
The 49ers got the stink of two bad back-to-back losses to Seattle off their minds. This was a great game, and it will serve the 49ers well heading into the postseason. They proved they could beat a good team. The 49ers were 1-4 against teams with winning records going into Sunday's game. The 49ers are now 9-4, and the Seahawks fell to 11-2. Could we see a rubber match in Seattle in January? I would be surprised if we don't.

Dawson is hot:
49ers kicker
Phil Dawson
had four field goals, including a 22-yarder with 26 seconds to go. He has made 20 straight field goal attempts, a team record.
Stock watch:
Anquan Boldin
continued to benefit from the presence of
Michael Crabtree
. Boldin had six catches for 93 yards. He had nine catches last week. This could be a key component for the 49ers moving forward.
Gore comes through:
Frank Gore
, who had three straight slow games, had a 51-yard run on the 49ers' final drive to setup Dawson's game winner.
Third-down defense wanes:
The 49ers' defense has been terrific all season, but if there has been an issue, it is the occasional lapse on third down. The Seahawks made three big conversions on third down. It's something the 49ers need to clean up.
Flag day:
This was a physical game and it wasn't always clean. The Seahawks were penalized nine times for 85 yards and the 49ers seven times for 70 yards.
What's next:
The 49ers travel to Tampa to play the Buccaneers. Tampa Bay has improved lately. It is 4-9 and 3-4 at home. The 49ers are 7-0 against teams with losing records.