San Francisco 49ers:

2013 Week 15 SF at TB
December, 15, 2013
12/15/13
8:55
PM ET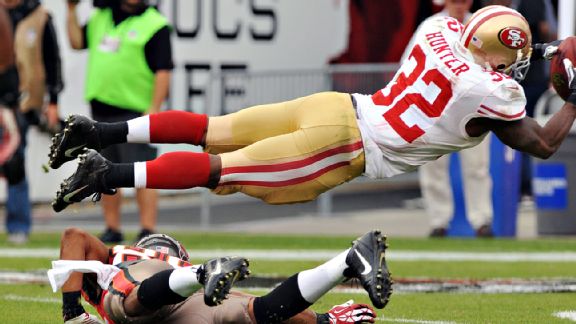 Al Messerschmidt/Getty ImagesKendall Hunter and the 49ers cleared the hurdle posed by Tampa Bay to win their fourth in a row.
TAMPA, Fla. -- If they didn't already have enough warning signs, the
San Francisco 49ers
had one more reason to be leery the night before they boarded their cross-country trip when the
Denver Broncos
, arguably the best team in football, stumbled at home to the lesser
San Diego Chargers
.
"Absolutely," 49ers left tackle
Joe Staley
said. "It's the NFL. Anybody can lose."
But what has happened when the 49ers play a team with a less-than-stellar record? They dominate. It happened again Sunday as the 49ers dispatched the
Tampa Bay Buccaneers
33-14
. San Francisco is now 7-0 against teams with a losing record. None of the games has been close.
Jim Harbaugh's team does not fall for traps.
"We don't let down," San Francisco fullback
Bruce Miller
said flatly after the game.
And there was no bigger chance of a letdown for the 49ers than Sunday in Tampa. This had all the appearances of a stumble game.
They were coming off their biggest victory of the season, a last-second home win over heated rival Seattle. They had to make a five-plus-hour flight from California to Florida to play a team with a losing record. It was their first true early game this season. (San Francisco played Jacksonville in London in Week 8, but the 49ers were in England all week, so their body clocks had adjusted to the time change.)
Throw in the fact that Harbaugh's name was connected to the job opening at University of Texas, and there were enough distractions to make this game particularly scary for San Francisco. But the 49ers kept on cruising.
"We knew if we laid an egg today, the Seattle game wouldn't have meant anything," center
Jonathan Goodwin
said.
The 49ers are now 10-4. They have won four games in a row, an impressive response to a two-game November skid in which they lost to Carolina and New Orleans by a total of four points. That stumble had ended a five-game win streak.
Now, the 49ers are hot once again and can clinch a playoff bid next week.
The 49ers are in position to make the playoffs because they do what good teams are supposed to do -- they beat up on bad teams. It's been a theme all season. Harbaugh and his staff do a masterful job of keeping the players focused. They had the 49ers thinking the Jaguars were 7-0 instead of 0-7 when the teams met in London. This week, the mind game was an easy sell. The Buccaneers came into the game playing well, having won four of their past five games after starting the season 0-8.
However, the end result was the same. The 49ers averted what could have been an inexcusable loss by simply being better than their opponent. They are now 8-2 in games that start at 10 a.m. PT under Harbaugh. They are, by far, the best West Coast team in the NFL when it comes to playing across the country.
It's the mindset that Harbaugh brings. He doesn't let his guys slip mentally. There was no chance he was going to allow the Texas talk to affect his team. It wasn't mentioned, and don't expect it to be. Harbaugh has no intention of leaving. All expectations point to him and the team agreeing on a contract extension (his current deal ends after the 2015 season) to make him one of the richest coaches in the NFL.
Sunday was another reminder of why he is worth the money.
The 49ers came out ready for business. They announced their presence early, jumping to a 7-0 lead and forcing two three-and-outs on defense.
"That was important," said San Francisco pass-rusher
Aldon Smith
, who had two sacks. "It set the tone for the rest of the day."
The game did get close for a bit when the Buccaneers scored a touchdown to make it 20-14 with 14:54 to go. But the 49ers, once again, enforced their will. They embarked on a 17-play drive, culminating in a field goal, that lopped more than 10 minutes off the clock. They then added more 10 more points in the next two minutes to take any intrigue out of it.
"It's a sign of a disciplined team," Staley said. "We buckled down when we had to."
The 49ers dominated on both sides of the ball. Offensively, as usual, San Francisco was not perfect. It had to settle for four field goals for the second straight game, and one of the team's three touchdowns came on special teams. The 49ers must find a way to finish more drives in the red zone.
However, they moved the ball well and continued to reap the benefits of receiver
Michael Crabtree
being on the field. His presence continues to assist quarterback
Colin Kaepernick
, receiver
Anquan Boldin
and tight end
Vernon Davis
. Along with Crabtree, they all had solid games.
Kaepernick used his mobility and had big success outside the pocket. Harbaugh said his quarterback "had a monster game." According to ESPN Stats & Information, Kaepernick had perhaps his best game of the season when facing a standard four-man rush. His season completion percentage coming into the game against that alignment was 58.7. Sunday, it was 71.4.
The 49ers dominated on the ground as usual, gaining 187 yards on 40 carries.
And it was simply another brilliant defensive effort. The Buccaneers were averaging less than a yard per play for most of the first half. The 49ers' defense allowed the Buccaneers to convert on third down once in 10 tries.
The 49ers now turn their attention to what will be an emotional Week 16. They host Atlanta next Monday night in what likely will be the final game at Candlestick Park. It will be a storyline all week, culminating in many tributes.
But if we know anything about Harbaugh's team, it will not affected by the scene.
December, 15, 2013
12/15/13
4:11
PM ET
TAMPA, Fla. -- A few thoughts on the
San Francisco 49ers
'
33-14 victory
over the
Tampa Bay Buccaneers
on Sunday:

What it means:
This was an impressive victory for San Francisco, its fourth in a row. There was concern of a letdown after the big victory over the
Seattle Seahawks
combined with the long flight east. It would have been easy for the 49ers to come in flat. But this is a Jim Harbaugh team; that type of thing doesn't happen. The 49ers stay the course. They are now 7-0 against teams with losing records. Most importantly, San Francisco (on the strength of five- and four-game win streaks) is 10-4. Because Minnesota beat Philadelphia, the 49ers can clinch a playoff berth if Tennessee beats visiting Arizona on Sunday afternoon.
Stock Watch:
Frank Gore
surpassed the 1,000-yard rushing mark for the seventh time in his career. He was instrumental in a long fourth-quarter drive in which the 49ers took several minutes off the clock and sealed the win. Gore's backup,
Kendall Hunter
, also had a good day on the ground and scored a touchdown on a fumbled kickoff with four minutes to go to make it 30-14. The 49ers finished with 187 rushing yards on 40 carries.
Dawson stays hot:
49ers kicker
Phil Dawson
had four field goals for the second straight game. He has made 24 straight attempts. The 49ers need to find a way to get in the end zone more, but Dawson has been terrific.
Crabtree makes up for mental lapse:
On the key drive in the fourth quarter,
Michael Crabtree
hurt the 49ers by throwing a pass he didn't catch into the stands. He was penalized 15 yards. But he saved the drive with a big catch on third-and-12.
What's next:
It's going to be a special week. The 49ers will play their final game at Candlestick Park on Monday night against the
Atlanta Falcons
. They will move to Levi's Stadium in Santa Clara next season. Many tributes are planned.