San Francisco 49ers:

Aaron Lynch
December, 5, 2014
12/05/14
12:20
PM ET
SANTA CLARA, Calif. –-
Justin Smith
is entering the home stretch of his standout 14-year career.
He's just not sure if he'll return to the
San Francisco 49ers
for a 15th season…yet.
Smith
"To be honest, I haven't given it any thought," Smith said this week. "It will be something I think about after the season.
"Hopefully we can get this thing rolling, get back on track and make a run at it."
Smith, who plays end in the Niners' base 3-4 defense, is tied with linebackers
Ahmad Brooks
and rookie
Aaron Lynch
for the team lead in sacks with five. The 35-year-old Smith has also taken advantage of having a veteran's day off on Wednesdays from practice and has been taking Thursdays off as well to keep him fresh.
It's paying off, though defensive coordinator Vic Fangio insists the breaks are not the difference. Smith being healthy is the key.
"Last year, he was playing with half an arm," Fangio said. "I forget which arm it was. I think it was his left. This year, he's playing with a healthy body.
"I actually see a better player than last year because of the health. And I'm sure he's down a decibel or two from where he was in 2011, but not very much. It would be a shame if he did retire for all of us because he's still playing at a very high level. I expect him to make the Pro Bowl again, and expect you guys to lead the charge five years when he's done playing to get him up in Canton."
Yes, as in the Pro Football Hall of Fame, after five (and counting) Pro Bowls and a first-team All-Pro selection. A partially torn triceps late in 2012 hindered him before he suffered a shoulder injury in training camp in 2013.
This year? As Fangio said, Smith has been healthy. And rested come Sundays.
This weekend, the 7-5 Niners will try to steady themselves against the
Oakland Raiders
, who have the worst record in the NFL at 1-11.
"I know I'm going against
Donald Penn
," Smith said, "and he's a heck of a football player. Everybody else can take them lightly, but the players in the locker room know what we're up against."
And Fangio knows how tough the road would be next season if Smith decides to retire. So he's already scheming to bring him back.
"If I have to go to Missouri and drink a beer with him, I'll do that," Fangio said.
Added rookie linebacker
Chris Borland
: "I'll be on the same flight."
The defense, with Smith leading the charge, is already on the same page.
October, 9, 2014
10/09/14
8:00
AM ET
Aaron Lynch
came to the
San Francisco 49ers
as a fifth-round draft pick out of South Florida who was seen as a character risk.
Through five regular-season games, the outside linebacker has kept his nose clean and become a pass-rush specialist.
Lynch
And while the 49ers have led the NFL in arrests the past two years, Lynch credits the veterans in Santa Clara with keeping him on the straight and narrow as his snap count has gone up with
Aldon Smith
serving his nine-game suspension.
"I've definitely matured," Lynch told reporters Wednesday. "I wouldn't say my character was bad, though, like it was put out there to be. And people that know me know that, but I've definitely matured as a man and as a football player. But then, you know, that comes with experience, being around older guys. Not around a bunch of college guys any more, so everybody is more professional. So yeah, I've definitely matured.
"I honestly don't care about what other people say."
The 49ers' selection of Lynch, who transferred to South Florida from Notre Dame, was criticized by then-USF strength and conditioning coach Hans Straub, who tweeted, "Thought an organization with 5 Super Bowl titles would have a stricter draft criteria. Clearly, integrity & character are not a priority."
Straub was suspended by the university and later resigned.
Lynch, meanwhile, put his head down and has replaced
Corey Lemonier
as the Niners' nickel rusher. And while Lynch has just two tackles and has yet to get his first NFL sack, he is making his presence felt in the offensive backfield.
"It's going to be exciting, but a sack is a sack, just like a tackle's a tackle," he said.
The 49ers have credited him with 14 quarterback pressures, second on the team behind four-time Pro Bowl defensive lineman
Justin Smith
.
"I've got great role models around me," Lynch said.
"It's just like a little brother looks up to a big brother. That's how it is in this locker room. When you come in as a rookie, you have no choice but to look up to these older guys and you just feed off what they do. You're not going to be running around here with your head chopped off. You're going to do the same things they're doing because you want to gain their trust and do these things they're doing because they're successful."
July, 18, 2014
7/18/14
11:00
AM ET
Examining the
San Francisco 49ers
' roster:
QUARTERBACKS (2)
Because of heavy competition elsewhere, the 49ers will likely only carry two quarterbacks. They finished last season that way. The competition will be to see if undrafted rookie
Kory Faulkner
can take
McLeod Bethel-Thompson
's spot on the practice squad.
RUNNING BACKS (5)
The fact that the 49ers drafted Hyde in the second round and Lattimore is healthy means some tough decisions will have to be made. Hunter is too valuable to let go. That means 2012 second-round pick
LaMichael James
will have difficulty making the roster.
WIDE RECEIVERS (6)
The 49ers are so much deeper here this year than last. That means they will likely have to keep six receivers. Lloyd may look good and Patton has too much potential to give up on. That means it could be tough for
Kassim Osgood
to make it even though he is a special teams cog.
TIGHT ENDS (3)
If Davis ends his holdout, I can't see the 49ers keeping more than three tight ends because of the glut at receiver. Unless
Garrett Celek
has a big camp, he may be in trouble. Carrier intrigues the 49ers because of his size and speed.
OFFENSIVE LINE (8)
Assuming Boone ends his holdout, this is a pretty nice group of eight players. It's improved from last year. A solid veteran like
Adam Snyder
and a promising youngster like
Ryan Seymour
will have trouble making the team.
DEFENSIVE LINE (9)
This is another power spot. It's deep. Players like Jerod-Eddie and Dial are too valuable to cut. Ramsey has looked good and I have a hunch the 49ers may like him too much to expose him to the waiver wire. That means
Demarcus Dobbs
could be in trouble.
LINEBACKERS (7)
Most teams carry six linebackers but the 49ers are stacked here, especially with
NaVorro Bowman
out for about half the season. Because fifth-round pick Lynch is promising he should make the roster.
Dan Skuta
is an excellent player, but there might not be any room for him. I could see him being one of those later-summer Trent Baalke trade specials because he has value.
CORNERBACKS (5)
This unit is in flux, but I see Johnson making it. Don't be surprised if there is some in-camp jockeying as the 49ers look for the best mix.
SAFETIES (5)
Ward, the 49ers' first-round pick, will play nickel cornerback as a rookie, but projects long term as a safety. Ventrone and Spillman should stick because they are great on special teams.
Craig Dahl
could be in trouble.
SPECIALISTS (3):
This group is set and it's excellent.
July, 17, 2014
7/17/14
10:00
AM ET
»
NFC Preview:
East
|
West
|
North
|
South
»
AFC:
East
|
West
|
North
|
South
NFL Nation's Bill Williamson examines the three biggest issues facing the
San Francisco 49ers
heading into training camp.
The holdouts:
The 49ers, fresh off three straight trips to the NFC title game and seemingly poised for another long postseason run, have the weathered many storms this offseason.
Yes, there are some issues that still linger. The 49ers do not know if tight end
Vernon Davis
and/or guard
Alex Boone
will continue their holdouts into training camp.
Both players stayed away from voluntary workouts, and then became official holdouts when they did not report to mandatory minicamp last month.
Both Davis and Boone want a new deal. There are indications Boone will stay away until he gets a new contract. Davis has wavered, but he could also miss a chunk of camp.
Both players are key to the offense and would be missed. The 49ers would have to rely on youth at both spots if the holdouts linger.
Vance McDonald
would play for Davis and
Joe Looney
would play for Boone. Neither player is the caliber of the player they'd replace.
Aldon Smith:
The 49ers head to training camp not completely sure of the future of the standout pass-rusher. The 49ers are set to start training camp next Wednesday. Two days later, Smith is set to be sentenced for pleading no contest to three felony gun charges. He could face some jail time.
He could also be facing an NFL suspension. If Smith is out, the 49ers will need to find some more pass-rush help, and that's what training camp will be for.
Dan Skuta
and
Corey Lemonier
helped the 49ers go 5-0 last season when Smith was in a treatment center. The team also drafted
Aaron Lynch
in the fifth round. If these players show a pass-rush burst in camp, that will make the 49ers feel better about the prospect of playing a long chunk without Smith.
New firepower:
The 49ers have big potential on offense. Training camp and the preseason will be a time for the unit to gel and figure out the best approach to use all of the talent. The receiving crew is beefed up with addition of
Stevie Johnson
, through a trade with Buffalo, veteran
Brandon Lloyd
and fourth-round pick
Bruce Ellington
.
The depth of this season's receiving group is light years ahead of last year's unit. The thought of Johnson being the No. 3 receiver behind
Anquan Boldin
and
Michael Crabtree
is silly. Ellington, a South Carolina product, gives the 49ers an element they missed last season -- a burner who can take the top of the defense.
At running back -- the heart of the 49ers' offense is still the ground attack --
Frank Gore
will have second-round pick
Carlos Hyde
and
Marcus Lattimore
, who appears to be healthy after missing last season while recovering from a 2012 torn ACL.
Hyde has looked great as a runner and receiver in the offseason. The second-round pick from Ohio State has a chance to make a big impact.
All of these new weapons of course, should help the overall game of quarterback
Colin Kaepernick
, who is entering his second full season as a starter.
The 49ers have big capabilities on offense, but the real work begins now.
June, 23, 2014
6/23/14
8:00
AM ET
Now that the offseason portion of the year is over, let's take a look where each of the
San Francisco 49ers
' 12 draft picks stand heading into training camp, which starts July 24.
First round
Jimmie Ward
: The nickel cornerback has been recovering from a foot injury. But he is expected to be fine once camp starts. He has been doing classroom work and the team is excited about him helping right away.
Second round
Carlos Hyde
: The running back has shined out of the backfield as a runner and as receiver. The Ohio State product is likely to get a chance at playing time right away. He was considered a steal at No. 57 on draft night and is still looking like one.
Third round
Marcus Martin
: The center from USC has been getting praise.
Daniel Kilgore
still has the edge to win the starting job, but I wouldn't be shocked if Martin takes it.
Chris Borland
: The inside linebacker from Wisconsin was a tackling machine in college. The early 49ers' reviews are strong. He could get some playing time early with
NaVorro Bowman
recovering from a torn ACL.
Brandon Thomas
: The guard from Clemson is expected to be out for the year as he recovers from an offseason knee injury.
Fourth round
Bruce Ellington
: The speedy receiver from South Carolina was a star of the offseason. Quarterback
Colin Kaepernick
called his minicamp play "amazing." The 49ers will likely find a role for him as a receiver and as a punt returner early.
Dontae Johnson
: The cornerback from NC State will likely make the roster as depth. He is still a project.
Fifth round
Aaron Lynch
: He earned the praise last week of coach Jim Harbaugh. He's a project, but the 49ers like him. He should make a stacked linebacking unit.
Keith Reaser
: The cornerback is likely out for the year as he recovers from a 2013 torn ACL.
Sixth round
Ken Acker
: The cornerback will have to have a strong camp to make the team.
Seventh round
Kaleb Ramsey
: The defensive lineman from Boston College had a terrific minicamp. The defensive line is stacked, but if he plays well, he could sneak on the 53-man roster.
Trey Millard
: The fullback is likely out for the year as he recovers from a torn ACL.
June, 17, 2014
6/17/14
10:21
PM ET
SANTA CLARA, Calif. -- Prior to the
San Francisco 49ers
' first mandatory minicamp practice, offensive coordinator Greg Roman said he was looking for sharp workouts.
The 49ers didn't exactly deliver.
There were plenty of drops in a mostly mundane workout. However, I wouldn't exactly say it's cause for alarm. It's June and a lot of players were held out or limited. This is not high-intensity times.
It's a time to continue to work on rhythm before the team takes a month break before starting training camp.
The 49ers worked a lot of red zone offense Tuesday. They often stalled in the red zone last season, settling for field goals.
Roman said Tuesday he hopes to see an evolved offense in 2014. With a more experienced
Colin Kaepernick
, deeper receiving core and rookie running back
Carlos Hyde
, Roman likes the potential changes.
"I think it's fair to make the statement that it's a different offense, 2014. Because we've got some new guys in," Roman said. "I think it's definitely evolved from (from when he arrived to San Francisco with coach Jim Harbaugh in 2011) and it'll probably change a little bit this year."
In other camp notes:
Hyde and rookie receiver Bruce Ellington each had their moments Tuesday. Roman praised Hyde for his football knowledge. "Carlos, since he got here from the draft, really impressed me as a guy that football just makes sense to him," Roman said. "If you could just tell him what to do, and you don't have to tell him too much. And that's a beautiful thing in a running back because they have a lot of adjustments to make and protection, etc."
Several veterans such as running back Frank Gore and Justin Smith sat out practices as they did in the voluntary practices. It's just saving older players wear-and-tear. Receivers Michael Crabtree and Stevie Johnson didn't work in team drills as the team is being cautious.
Receiver Brandon Lloyd continued to make some nice catches as he continues to make a push to make the 53-man roster.
Roman was complimentary of young tight ends Vance McDonald and Derek Carrier as they get time with Vernon Davis holding out. McDonald is set to get the most time if Davis stays away. The 2013 second-round pick had some drops Tuesday, which was a problem in his rookie season.
Fifth-round pick Aaron Lynch, who will be a pass-rusher, didn't practice because of a hamstring injury. Seventh-round pick Kaleb Ramsey at defensive tackle looked solid. He will be interesting to watch in training camp and in the preseason.
Harbaugh maintained that he thinks Gore can play three more years. He is 31 and entering the final year of his contract.
Blaine Gabbert has the edge to be to Kaepernick's backup. Harbaugh heaped praise on him. "Very impressed with Blaine mentally, physically -- all attributes that you'd like to see in a quarterback. He's been very good, very solid. (He's) picked up everything very quickly. It's going well. Everything is progressing well. I think you'll watch it when you have a chance to see it today and look at it for yourself. In my eye, it looks very good."
Harbaugh said he is optimistic right tackle Anthony Davis will be ready for the start of training camp. He had shoulder surgery in April.
Running back Marcus Lattimore looked good and he is working full-go. He missed all of last season as he recovered from a torn ACL he suffered at South Carolina in 2012.
In a hint third-round pick Marcus Martin could push Daniel Kilgore for the starting center job, Roman heaped high praise on the rookie. "I think Marcus has done a really good job coming in as a rookie. The center position, there's so much that a center has to do in this league week-to-week," Roman said. "There's just so many different adjustments and whatnot. He's done a really good job so far against our defense, not only physically, but mentally as well."
Roman said he is happy with the play of Joe Looney at right guard. He is working with the starters with Alex Boone holding out.
May, 16, 2014
5/16/14
8:00
AM ET
Prior to the draft, we looked at
several big questions
facing the
San Francisco 49ers
. With the draft in the books, let's review how, or if, these questions were addressed:
Will it be easy to trade up?
There was big talk the 49ers would trade way up in the first round. That didn't happen and they stayed put at No. 30. The 49ers made five trades during the weekend, but none were in the first round.
Is this the year Harbaugh drafts a Stanford player?
No. It was the last full recruiting class for Jim Harbaugh at Stanford. He left after the 2010 season to go to the 49ers. Harbaugh had previously brought undrafted free agents to the 49ers but he never drafted one. It didn't change this year. The 49ers did sign standout linebacker
Shayne Skov
as an undrafted free agent. He was expected to be a mid-round pick.
Will the drafting injured player trend continue?
And how. The 49ers utilized their surplus of picks. They drafted Clemson guard
Brandon Thomas
in the third round. He recently tore his ACL but was previously considered a middle of the second round pick. Later in the draft, the 49ers took cornerback
Keith Reaser
and fullback
Trey Millard
. They are also both recovering from torn ACLs and will likely not play in 2014.
Will the quarterback whisperer get a new charge?
Not in the draft. Harbaugh worked out several quarterbacks, but he didn't draft one. They did sign Southern Illinois quarterback
Kory Faulkner
as an undrafted free agent.
How many picks are enough?
Twelve. Wow. The 49ers entered the draft with 11 picks. With so few needs, the thought was the 49ers would trade several picks. But they kept getting picks in trades and they kept taking players. Not all 12 will make this team, but the 49ers will go to camp with a lot of good competition. That's not a bad thing.
Will they pick a new return man?
Fourth-round pick, speedy South Carolina receiver
Bruce Ellington
, can return kicks and punts. Incumbent returner
LaMichael James
is open to a trade. That likely won't happen, but it is no sure thing James makes the team.
Where does a pass-rusher fit?
In the fifth round. The 49ers took South Florida's
Aaron Lynch
there. There are some character concerns, but Lynch has big ability. The 49ers need to load up on pass-rushers with off-field issues clouding
Aldon Smith
's future.
May, 14, 2014
5/14/14
7:50
PM ET
This is what
Jim Harbaugh
does. He adds quarterbacks.
He did it again Wednesday when the
San Francisco 49ers
signed veteran
Josh Johnson
. He was cut Monday by the Bengals, who had drafted
AJ McCarron
.
The 49ers first cut Johnson, who played for Harbaugh at the University of San Diego, during the 2012 preseason.
Blaine Gabbert
, acquired in a trade in March, is still the favorite to be the backup quarterback to
Colin Kaepernick
.
To make room for Johnson, the 49ers cut defensive lineman
Christian Tupou
.
In other 49ers notes:
In an Insider piece, Mel Kiper calls 49ers fourth-round pick Bruce Ellington "a total steal."
The signing bonus for the four-year deal signed by fifth-round pick Aaron Lynch, a linebacker, is $198,000.
The 49ers signed fifth-round pick, cornerback Keith Reaser. He is coming off a torn ACL and may not play this season. The 49ers have signed three of their 12 draft picks.
May, 13, 2014
5/13/14
9:05
PM ET
The
San Francisco 49ers
have become one of the first teams to start to sign draft picks.
The 49ers signed fifth-round pick
Aaron Lynch
and seventh-round pick
Kaleb Ramsey
. They both received four-year contracts. Lynch is an outside linebacker from South Florida. Ramsey is a defensive tackle from Boston College. Lynch probably has a better chance of making the 53-man roster.
The 49ers have 10 remaining draft picks to sign.
May, 10, 2014
5/10/14
7:30
PM ET
»
NFC wrap-ups
:
East
|
West
|
North
|
South
»
AFC
:
East
|
West
|
North
|
South
SANTA CLARA, Calif. -- A wrap-up of the
San Francisco 49ers
' draft.
Click here
for a full list of 49ers draftees.
[+] Enlarge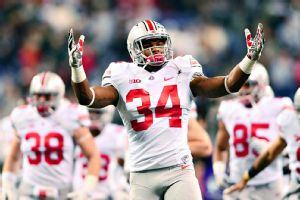 Andrew Weber/USA TODAY SportsWhile more NFL offenses move away from backs as their focus, the 49ers' selection of Carlos Hyde reaffirmed their commitment to the run.
Best move:
Ohio State running back
Carlos Hyde
, who was widely considered the best overall running back available. The devaluation of running backs has become an NFL trend. It has happened in the last couple of free-agency periods and in the last couple of drafts. However, the 49ers are still a run-first offense.
Frank Gore
is turning 31 next week and is entering the final year of his contract.
Marcus Lattimore
, who was taken in the fourth round last year, is still a question mark as he recovers from a devastating 2012 knee injury suffered while at South Carolina. Hyde can help immediately. He is tough and is a perfect fit for this offense. He'll be an instant contributor.
Riskiest move:
Clemson guard
Brandon Thomas
. The risk lies in the fact that Thomas recently tore his ACL -- an injury he also suffered in high school. Taking a player in the third round fresh off of a torn ACL may be considered a risk, but it's a risk the 49ers are used to. They did it last year with Lattimore and defensive lineman Tank Carradine. If he can stay healthy, Thomas can be a long-term starter at guard. He was expected to go in the second round before his injury, so there is a reward factor with this risk.
Most surprising move:
Northern Illinois safety
Jimmie Ward
. We might as well start at the top. When it was announced the 49ers were taking Ward at No. 30, it was stunning. They took safety
Eric Reid
in the first round last year and they just signed
Antoine Bethea
to a four-year, $23 million deal. However, as the smoke cleared, the pick started to make more sense. The highly regarded Ward will play nickel cornerback initially for the 49ers. It is the team's biggest need. Yes, we all expected the 49ers to take a cornerback early to play nickel, but they went with a safety. Surprise.
File it away:
South Florida product and Notre Dame transfer
Aaron Lynch
has big skills, but the fifth-round pick has character issues as well. The 49ers visited with him extensively and have ties to him through South Florida -- coach Willie Taggert is a close friend of 49ers coach
Jim Harbaugh
. Many scouts feel that if Lynch can avoid off-the-field issues, he can be a big-time pass-rusher. Lynch's role model is the late Hall of Fame defensive end Deacon Jones, whom he researched on the internet. It's worth a shot for a team that is deep and had so many picks.