San Francisco 49ers:

Adam Snyder
July, 18, 2014
Jul 18
11:00
AM ET
Examining the
San Francisco 49ers
' roster:
QUARTERBACKS (2)
Because of heavy competition elsewhere, the 49ers will likely only carry two quarterbacks. They finished last season that way. The competition will be to see if undrafted rookie
Kory Faulkner
can take
McLeod Bethel-Thompson
's spot on the practice squad.
RUNNING BACKS (5)
The fact that the 49ers drafted Hyde in the second round and Lattimore is healthy means some tough decisions will have to be made. Hunter is too valuable to let go. That means 2012 second-round pick
LaMichael James
will have difficulty making the roster.
WIDE RECEIVERS (6)
The 49ers are so much deeper here this year than last. That means they will likely have to keep six receivers. Lloyd may look good and Patton has too much potential to give up on. That means it could be tough for
Kassim Osgood
to make it even though he is a special teams cog.
TIGHT ENDS (3)
If Davis ends his holdout, I can't see the 49ers keeping more than three tight ends because of the glut at receiver. Unless
Garrett Celek
has a big camp, he may be in trouble. Carrier intrigues the 49ers because of his size and speed.
OFFENSIVE LINE (8)
Assuming Boone ends his holdout, this is a pretty nice group of eight players. It's improved from last year. A solid veteran like
Adam Snyder
and a promising youngster like
Ryan Seymour
will have trouble making the team.
DEFENSIVE LINE (9)
This is another power spot. It's deep. Players like Jerod-Eddie and Dial are too valuable to cut. Ramsey has looked good and I have a hunch the 49ers may like him too much to expose him to the waiver wire. That means
Demarcus Dobbs
could be in trouble.
LINEBACKERS (7)
Most teams carry six linebackers but the 49ers are stacked here, especially with
NaVorro Bowman
out for about half the season. Because fifth-round pick Lynch is promising he should make the roster.
Dan Skuta
is an excellent player, but there might not be any room for him. I could see him being one of those later-summer Trent Baalke trade specials because he has value.
CORNERBACKS (5)
This unit is in flux, but I see Johnson making it. Don't be surprised if there is some in-camp jockeying as the 49ers look for the best mix.
SAFETIES (5)
Ward, the 49ers' first-round pick, will play nickel cornerback as a rookie, but projects long term as a safety. Ventrone and Spillman should stick because they are great on special teams.
Craig Dahl
could be in trouble.
SPECIALISTS (3):
This group is set and it's excellent.
February, 7, 2014
Feb 7
8:00
AM ET
We are taking a look at the top 60 players in the San Francisco 49ers' program and will rank them from 1-60. We are going to take a look in a 12-part series, moving upward. The ranking considerations are based on 2013 production, future projections, age, and contract status:
36. Running back/returner
LaMichael James
: The 2012 second-round pick still hasn't made a huge impact as a running back, but he hasn't gotten much of a chance, either. However, he proved to be a solid kick and punt returner in the second half of the season. He has ability.
37. Linebacker
Corey Lemonier
: The rookie linebacker has a nice future. He should get more opportunities next season. He is a player to watch.
38. Linebacker
Dan Skuta
: The free agent was a nice addition. He played well when
Aldon Smith
was away from the team seeking treatment for substance abuse. Plus, Skuta is strong special-teamer. A nice player to have.
39. Running back
Anthony Dixon
: Dixon is an interesting player. He is versatile, as he can play running back, fullback and special teams. He is a free agent, though, and I can see him getting some interest from other teams.
40. Guard
Adam Snyder
: An older, experienced player is good to have on the roster. He played in five games when left guard
Mike Iupati
got injured. Depending on the development of younger players, Snyder could be back in 2014.
January, 31, 2014
Jan 31
1:00
PM ET
The
San Francisco 49ers
had good success in veteran free agency in 2013. Let's take a look back at the impact the veteran acquisitions made in alphabetical order
Nnamdi Asomugha
: This one didn't work out. Asomugha had nothing left and the 49ers cut him during the season. He didn't cost much, so it was not a major issue.
Craig Dahl
: A backup and a special teamer. Solid addition.
Phil Dawson
: He was a difference maker. He made 32 of 36 field goal attempts and he made 27 in a row. He was clutch all season. The team wants him back after he signed a one-year deal last year.
Glenn Dorsey
: Another really fine addition. Dorsey, the No. 5 overall draft pick in 2008, came alive in San Francisco. His coaches raved about him as he stood out at nose tackle after
Ian Williams
was lost for season in Week 2.
Colt McCoy
: He was the perfect backup quarterback -- he never played when it counted. I think the 49ers would like to upgrade from him moving forward, though.
Kassim Osgood
: A fine special teamer. A key part of the team.
Dan Skuta
: He was a valuable role player. He played outside linebacker when
Aldon Smith
missed five games to seek treatment for substance abuse. Skuta was also a key special teamer.
Adam Snyder
: A role player who has been in the 49ers' system in the past. He played in five games when left guard
Mike Iupati
was injured.
Bubba Ventrone
: Just like Osgood. A big reason why the special teams improved so greatly.
Eric Wright
: The 49ers had high hopes for him, but he finished the season inactive. He is a free agent. It is far from a sure thing that he returns.
December, 23, 2013
12/23/13
7:55
PM ET
SAN FRANCISCO --
Mike Iupati
is back.
Iupati
The
San Francisco 49ers
' standout left guard is active and is set to start Monday night against Atlanta. Iupati has missed the past four games with a sprained knee.
Adam Snyder
has taken his place.
However, backup receiver
Mario Manningham
is inactive. He has played the past six games after being out since last December with a knee injury. He missed two days of practice last week with a knee issue and because of an illness. Manningham's play has dwindled in the past three games with star receiver
Michael Crabtree
back.
Rookie
Quinton Patton
will get an opportunity. He has played since he broke his foot in Week 4.
Another interesting note about tonight's 46-man roster is tight end
Derek Carrier
is inactive for first time in a month. Newly signed backup fullback
Will Tukuafu
is active. He is 293 pounds. He could be a short-yardage factor.
December, 21, 2013
12/21/13
6:35
PM ET
The
San Francisco 49ers
go into Week 16 -- in which they can clinch their third playoff berth in three seasons with Jim Harbaugh as coach -- with their 53-man roster in fairly good health.

Left guard
Mike Iupati
and receiver
Mario Manningham
are likely the biggest question marks.
Like last week, Iupati was limited all week. He has missed the past four games with a sprained knee. Harbaugh told reporters Saturday that Iupati had a productive week, but no decision has been made whether he will play Monday night against Atlanta.
Adam Snyder
would continue to play for Iupati if needed.
Manningham, the team's No. 3 receiver, missed Thursday and Saturday's practices because of an illness and a knee injury. Mannigham has played sparingly in the past three games since
Michael Crabtree
returned.
Rookie receiver
Quinton Patton
could be active for the first time since Week 4 if Manningham is inactive.
The 49ers can clinch a playoff berth if Arizona loses at Seattle on Sunday or if the 49ers win Monday night. San Francisco can secure the No. 5 seed in the playoffs if it beats Atlanta and then wins at Arizona on Sunday. San Francisco is 10-4 and has won four straight games.
December, 15, 2013
12/15/13
12:05
PM ET
TAMPA, Fla. -- The
San Francisco 49ers
must wait another week before getting their starting 11 offensive players on the field together for first time this season.
Left guard
Mike Iupati
is inactive for the fourth straight game with a knee sprain. He practiced all week on a limited basis. Barring a setback, expect him to play against Atlanta on Dec. 23.
Adam Snyder
continues to play for Iupati. The 49ers have not played a down all season with their full starting offensive lineup.
Cornerback
Tarell Brown
is active for the first time since injuring his ribs Nov. 17 at New Orleans. He is expected to back up
Tramaine Brock
, who took his place.
Rookie tight end
Vance McDonald
is inactive with an ankle injury. It is not expected to be overly serious.
December, 13, 2013
12/13/13
5:25
PM ET
SANTA CLARA, Calif. – It appears the
San Francisco 49ers
will travel to Tampa Bay at near full health.
The biggest injury question is whether left guard
Mike Iupati
will return from a sprained knee. He's missed the past three games. He has practiced on a limited basis all week. 49ers coach Jim Harbaugh said Friday it's possible that Iupati can play Sunday. If he can't,
Adam Snyder
will make his fourth straight start.
Receiver
Michael Crabtree
is probable with an ankle injury that he tweaked against Seattle last week. Crabtree suffered the injury early and he finished the game. He practiced all week.
In other notes:
49ers CEO Jed York
playfully tries to budge
Seattle quarterback
Russell Wilson
to the diamond.
In an Insider piece,
Pro Football Focus ranks

the 49ers as the 12th-deepest roster. I disagree. This team is loaded. It's a top-five roster, in my opinion.
December, 8, 2013
12/08/13
3:30
PM ET
SANTA CLARA, Calif. -- As expected, standout left tackle
Joe Staley
is active and slated to start for the
San Francisco 49ers
against the
Seattle Seahawks
on Sunday.
Staley
Staley sprained his right knee early against the Rams last week and he did not return. It was initially believed Staley would miss a couple of games. But Staley practiced Thursday and Friday and said Friday he would play.
Left guard
Mike Iupati
is out again, however. It's the third straight game he'll miss due to a sprained knee.
Adam Snyder
continues to play in his place.
Rookie receiver
Quinton Patton
continues to be inactive. He hasn't played since he broke his foot in Week 4. Patton is now healthy, but with the 49ers' veteran receivers all healthy, there is no room for Patton.
Tight end
Garrett Celek
is healthy after missing a few games with a hamstring injury, but he remains inactive.
Derek Carrier
, promoted from the practice squad last month, has apparently bypassed him on the depth chart.
December, 6, 2013
12/06/13
3:55
PM ET
SANTA CLARA, Calif. -- A move that caught the attention of the NFL nevertheless will not cost
St. Louis Rams
safety
T.J. McDonald
.
Davis
The NFL did not fine McDonald for his tackle of 49ers tight end
Vernon Davis
by the private area. In a tweet Monday (since deleted), Davis asked the NFL to not allow defenders to tackle by that area.
The only fine in the physical game was given to 49ers guard
Adam Snyder
, who will pay $7,875 for a striking an opponent late.
In other 49ers notes:
49ers left tackle Joe Staley, who suffered a knee injury last Sunday, told San Francisco radio station 95.7 The Game on Friday morning that he expects to play against Seattle. That became evident Thursday when he practiced. More information should be available after Friday's practice, but barring a setback Staley looks good to go.
Joe Montana told The Game that he may not attend the final game at Candlestick Park because of a scheduling conflict. The team is going to honor "The Catch," the famous pass from Montana to Dwight Clark that beat Dallas and sent the 49ers to their first Super Bowl in 1982.
Meanwhile, if you want to attend that final game at Candlestick, it is going to cost you.
December, 2, 2013
12/02/13
4:55
PM ET
SANTA CLARA, Calif. -- There is a chance the
San Francisco 49ers
will have one of their standout offensive linemen back for a crucial game against visiting Seattle on Sunday.
Iupati
Niners coach Jim Harbaugh said Monday left guard
Mike Iupati
, who is undergoing an exam on Monday, could play in the game. Harbaugh said Iupati, who has missed the past two games with a sprained MCL, will likely be monitored throughout the week and the final determination whether he plays will likely be made closer to game day. He has been replaced by
Adam Snyder
.
Harbaugh did not have an update on star left tackle
Joe Staley
on Monday. Staley left Sunday's win against St. Louis with a knee injury. Sources said, after the game, the initial diagnosis was Staley sprained his right MCL. He could miss a couple of games. Harbaugh said Monday the team was hopeful it is not more serious.
Update:
The word on Staley on Monday evening is he's week-to-week. How he responds to treatment will determine how long he will be out, but it likely won't be for an extended period.
With Staley out, right guard
Alex Boone
moved to left tackle and the inexperienced
Joe Looney
took over at right guard. Harbaugh said Monday the makeshift unit played well.
If Iupati misses Sunday's game, the 49ers will have three replacements playing. The 49ers' offense has yet to play a down this season with the starting 11 and that may not happen until Week 16.
ESPN analyst Matt Williamson said playing without so many offensive linemen at their natural spot will catch up to the 49ers if the situation lingers.
"I think Staley is one of the top three or four LTs in the NFL and is especially great in the run game and yes, he will be missed for sure," Williamson said. "But Boone was a LT at Ohio State and came to the NFL as an OT prospect. He certainly has that body type. He might be a better 'band aid' player there for the short term than most teams have if their starting LT were to fall, but still, San Francisco is now weaker at three offensive line spots than when the starters are available."
December, 1, 2013
12/01/13
11:19
PM ET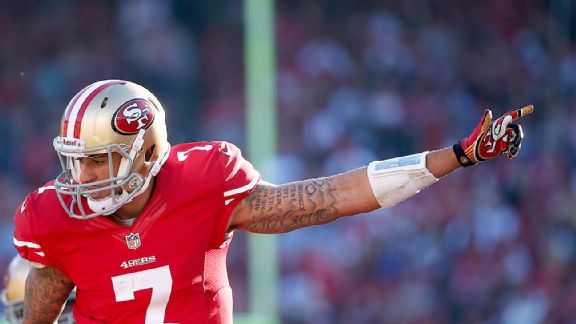 Stephen Lam/Getty ImagesColin Kaepernick had one of his better games this season with a full complement of receivers.
SAN FRANCISCO -- What's wrong with
Colin Kaepernick
?
It has been a common theme this year in media and fan circles.
After seeing him with a full complement of offensive weapons Sunday for the first time this season, that line of questioning may dissipate.
Kaepernick looked calm, cool, confident and efficient in the
San Francisco 49ers
'
23-13 victory
over
St. Louis Rams
on Sunday as San Francisco sent the rest of the NFC an early-December message: A healthy 49ers' offense is a dangerous offense.
It's no coincidence Kaepernick looked far from being a detriment Sunday. Star receiver
Michael Crabtree
made his 2013 season debut after being out with a torn Achilles he suffered in May. For the first time since the Super Bowl, Kaepernick had a full cache of weapons. It was also the first time the team's top three receivers -- Crabtree, tight end
Vernon Davis
and
Anquan Boldin
-- played together.
If this group (as well as fourth option
Mario Manningham
, who played little Sunday because the 49ers used a lot of double tight-end sets) can stay healthy, it will be extremely dangerous down the stretch for the 49ers, who are 8-4 and in control of the sixth and final NFC playoff seed heading into the final quarter of the season.
And it will probably make Kaepernick, in his first full season as the starting quarterback, look as good as he did during last year's Super Bowl run.
"Colin was dynamic," San Francisco offensive lineman
Adam Snyder
said after the game. "He's been good all year, but give him these weapons and he is going to get a lot done."
He did Sunday, going 19-of-28 for 275 yards. There's no doubt, Kaepernick is more comfortable with a full complement of receivers.
In Week 4 against St. Louis (playing without Crabtree and Manningham), Kaepernick went 8-of-15 for 96 yards against the Rams' standard four-man rush. According to ESPN Stats & Information, against the same pressure Sunday, Kaepernick was 15-of-20 for 233 yards and a touchdown pass.
When facing a non-blitzing situation during the first 11 games of the season, Kaepernick completed 57.9 percent of his passes, averaged 7.2 yards per attempt and threw six interceptions. Against a four-man rush Sunday, he completed 75 percent of his passes, averaged 11.7 yards per attempt and was not intercepted.
Kaepernick's success against the Rams' standard pass rush, considered one of the best in the league, will likely force opposing defensive coordinators to consider different approaches and perhaps decide to blitz more often. That could create more opportunities for this offense.
That's the beauty of Crabtree's return for Kaepernick and the 49ers' offense. He opens up schematic advantages and secondary reads for the 49ers that simply were not there earlier in the season and made Kaepernick's job more difficult.
With Crabtree back (he had two catches for 68 yards), the pressure instantly came off Boldin and Davis. Boldin had one of his best games with the 49ers, with nine catches for 98 yards, and he may be the key to this offense in the final weeks.
He will no longer get the brunt of the defensive coverage, as he excels as a second or third option. He showed that Sunday.
"It's about time he gets double-teamed now," Boldin joked, speaking of Crabtree. "When you have a guy like that on the other side, it definitely relieves pressure off of you. It frees you up to just go out and play ball. It's good to have him back."
Last season, Crabtree was targeted on 34 percent of the 49ers' offensive plays. It was the second highest rate in the league. That opened up opportunities for Davis, a star in the final six games of last season. Those chances opened up Sunday as well. Davis had four catches for 82 yards and a touchdown.
Inside the 49ers' walls, the team has supported Kaepernick, feeling good about his play and his field maturation amidst the challenges. Now, after seeing Crabtree's impact on the offense and how he can help Kaepernick, there is serious excitement.
"We can only get better," San Francisco fullback
Bruce Miller
said. "Colin's been great all season and having all of the guys back are just going to make him better."
November, 22, 2013
11/22/13
12:00
PM ET
SANTA CLARA, Calif. – The
San Francisco 49ers
will use a backup offensive lineman in the starting lineup Monday night for the first time since 2011.
However,
Adam Snyder
is not new here.
Snyder
Snyder is pegged to play for left guard
Mike Iupati
, who may miss a couple of weeks because of a sprained left MCL he suffered Sunday at New Orleans. It will be the first time a San Francisco starting offensive lineman has missed a game in nearly two years.
Snyder took over for Iupati at New Orleans, and he should have no problem fitting in Monday night against Washington. The 6-foot-6, 325-pound Snyder is a nine-year veteran who has started 83 games. He played his entire career in San Francisco until he going to Arizona last year. After he was cut by the Cardinals, he came back to San Francisco this season.
The 49ers like Snyder because of his versatility. He can play all five positions on the line. He said he is comfortable at left guard and doesn't expect any issues Monday night.
"The four other [linemen] are All-Pro guys," Snyder said. "I'm expecting to come in and not have any drop-off in production."
There is certainly a drop-off from Iupati, considered one of the best guards in the NFL, to Snyder, but familiarity and experience should help the 49ers get by in the short term.
August, 30, 2013
8/30/13
1:17
AM ET
Looking back on three things discussed here before the San Francisco 49ers closed their 2013 preseason schedule with a 41-6 road victory over the San Diego Chargers on Thursday night:

1. Final QB impressions:
Starter
Colin Kaepernick
, backup
Colt McCoy
and third quarterback
B.J. Daniels
combined for four touchdown passes without an interception. The group made a positive final impression overall, even though McCoy averaged just 3.7 yards per pass attempt while completing 8 of 15 attempts for 56 yards. Daniels, a seventh-round draft choice, tossed two scoring passes on only nine attempts and added a 36-yard run. He looks like a keeper. Veteran backup
Seneca Wallace
did not travel
to San Diego and doesn't appear to have a future with the team.
2. Injury list:
Backup offensive lineman
Adam Snyder
appeared to suffer a wrist or hand injury. Running back
LaMichael James
suffered a knee injury. The extent of those injuries was not immediately known.
3. The spectacular:
The 49ers' receivers deserve credit for making their quarterbacks look good. Rookie
Quinton Patton
turned a short pass from Kaepernick into a 43-yard touchdown. Veteran
Lavelle Hawkins
produced a 45-yard touchdown after breaking a tackle and making defenders miss. He made the grab after the ball bounced off his body high into the air. The 49ers also got spectacular plays from outside linebacker
Cam Johnson
. Johnson made a strong case for a roster spot. He had two sacks and also blocked a punt and recovered it for a touchdown.