San Francisco 49ers:

Brandon Browner
December, 5, 2013
12/05/13
10:00
AM ET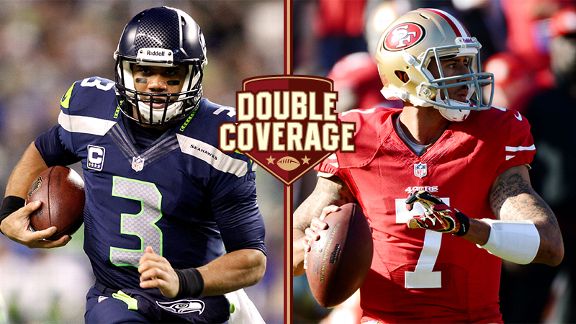 USA TODAY SportsQBs Russell Wilson and Colin Kaepernick meet for the second time this season on Sunday night.
SAN FRANCISCO -- It is not going to be the most important game of the season, as many thought when the schedule was released in April.
The
Seattle Seahawks
, coming off an absolute beat down of New Orleans on Monday night, are 11-1 and the
San Francisco 49ers
are 8-4 heading into their meeting on Sunday, which will be the second-to-last game at Candlestick Park. The Seahawks will clinch the NFC West with a win. The 49ers need a win more because they're holding onto the sixth and final NFC playoff spot by a game.
There is plenty at stake and there is plenty of animosity. Seahawks reporter Terry Blount and 49ers reporter Bill Williamson hash it all out.
Blount:
Bill, almost everyone expected this to be the game that would possibly decide the NFC West title. It still can, but not the way people imagined. The Seahawks can clinch the division crown at San Francisco on Sunday with a victory. Why aren't the 49ers the team everyone thought they would be, and can they still be the team they were a year ago at this time?
Williamson:
Terry, I think the 49ers are fine. They are 8-4 and they have won seven games by double digits, which is tied with Denver for the league high. This is an elite team. Still, there are two issues at play. The 49ers are 2-4 against teams with winning records. They were blown out by the Seahawks and the Colts early in the season and then they lost back-to-back games to Carolina and New Orleans by a total of four points last month. If the 49ers have anything to prove, it's that they can beat a quality team. Another reason why this race hasn't been close is the Seahawks are playing out of their minds. They simply ran away from a good team. Terry, do you think the Seahawks can stay up for this game after the huge win? Or could this be a letdown game?
Blount:
I really thought this was going to be a big letdown game for the Seahawks and a chance for them to come in flat, but now they have the opportunity to clinch the title in the most unlikely of places for them. The Seahawks would love to walk away from this one and be able to tell the 49ers that they clinched the division crown "in your house." So I think they'll be pretty focused, but the short week of preparation and coming off an emotional Monday night game could take a toll.
Bill, the Seahawks had a convincing
29-3 victory
over the 49ers at CenturyLink Field in the second game of the season, but Seattle has lost four consecutive games at Candlestick Park by a combined score of 109-54. Is this a game where the 49ers feel they have something to prove?
Williamson:
Oh, certainly. Players were talking about this game in the locker room Sunday after beating the Rams. I think that was a first for this season. The 49ers want to win this game because I think they want to prove to themselves as much as anyone else that they can end the Seahawks' mini-dominance over the 49ers. The 49ers want to protect their territory in this game. What struck me is players talked about not overthinking this game and not getting caught up in the moment. It's a sign they learned from some previous mistakes. I'm looking forward to seeing it play out. Terry, do you get the sense the Seahawks respect the 49ers as much as they did going into Week 2?
Blount:
Honestly, my sense is most of the Seahawks just really don't like the 49ers, and it's no secret that
Richard Sherman
can't stand
Jim Harbaugh
, along with the fact that Harbaugh and Pete Carroll won't be sending each other Christmas cards. Certainly, the Seahawks realize San Francisco has a lot of very talented players who can beat you in many ways. Publicly, they will say they respect the 49ers. Privately, they can't stand them and respect just doesn't enter the picture.
Bill,
Colin Kaepernick
was the toast of the NFL a year ago as a young quarterback with limitless talent. He's had some rough moments this year, but also has had flashes of brilliance. What's different for him this season and is he as good as he was a year ago?
Williamson:
I think it is a combination of things, including the fact that he is still learning and the offense is still evolving. I think the key was that he lacked all his weapons. It was startling how much better the passing game was Sunday in
Michael Crabtree
's debut. He had just two catches, but it opened up the entire game against St. Louis. Terry, do you think the 49ers can have success against this top-notch Seattle secondary that they didn't have in the past two meetings?
Blount:
Certainly, having Crabtree back makes the 49ers a more formidable receiving corps than the game in September. And the Seahawks are down a man from that game with
Walter Thurmond
's suspension. Some people probably have forgotten that
Brandon Browner
didn't play that night because he had a hamstring injury. But the job backups
Byron Maxwell
and
Jeremy Lane
did against the Saints, as good a passing team as you'll find, showed how much depth Seattle has in the secondary. I think
Vernon Davis
is the key for San Francisco, and I can't see
Anquan Boldin
being shut down this time the way he was in Seattle.
December, 4, 2013
12/04/13
8:00
AM ET
SANTA CLARA, Calif. -- Here is a look at what the
San Francisco 49ers
must do and can't do Sunday at home against the
Seattle Seahawks
:
Must happen:
The 49ers must have success against the Seahawks' secondary. One of the best units in the NFL, the Seahawks are playing without suspended cornerbacks
Walter Thurmond
and
Brandon Browner
. The Seahawks' secondary bottled up the 49ers in the past two meetings between the teams. But with
Michael Crabtree
back and the issues surrounding Seattle, the opportunity is there the 49ers. They must take advantage.
Can't happen:
The 49ers can't allow Seattle to jump out to a big lead. The Seahawks have blown out the 49ers twice in the past calendar year. If the Seahawks jump out to a 14-0 lead, it will get in the heads of both teams. The 49ers can't allow Seattle to get an early edge.
September, 13, 2013
9/13/13
4:55
PM ET
It looks like the
San Francisco 49ers
will be facing another secondary that is not at full strength Sunday.
Seattle Seahawks
coach Pete Carroll said cornerback
Brandon Browner
is doubtful to play with a hamstring injury.
Last week, the 49ers played the
Green Bay Packers
, who were without cornerback
Casey Hayward
and safety
Morgan Burnett
. San Francisco quarterback
Colin Kaepernick
threw for a career high 412 yards in the
34-28 win
.
Browner didn't play last week at Carolina. He is being replaced by
Walter Thurmond
and
Byron Maxwell
. Browner is a big part of a strong Seattle secondary. At 6-4, Browner is matchup issue for teams. Facing the Seahawks without him will be a big advantage for the 49ers.
Update:
Running back LaMichael James is the only San Francisco player on the injury report. He is questionable to play Sunday with a knee injury. He hasn't practiced for the last two weeks. He is expected to miss another week or two.
August, 31, 2013
8/31/13
1:40
PM ET
San Francisco 49ers
and 13
Seattle Seahawks
helped the NFC West account for a disproportionate number of players listed in the #NFLRank project from ESPN.
Sixty-three voters helped rank 100 top players on each side of the ball. NFC West teams accounted for 20 players on defense and 16 on offense. The 36-player total works out to 18 percent representation for the NFC West, above the 12.5 percent expectation for any division.
The chart shows where NFC West players ranked on each list. I shaded offensive players in gray to better distinguish the rankings.
The 49ers' Patrick Willis and the
Arizona Cardinals
' Larry Fitzgerald have long been perceived as the best players in the division. They've got additional competition, but those two ranked higher than anyone else in the NFC West.
There were sure to be oversights in a project of this scope. Defensive end
Calais Campbell
of the Cardinals stands out to me as the most glaring one. I might have placed him between Patrick Peterson and Chris Long in defensive rankings as they stood for this project.
Three Seahawks cornerbacks earned spots on the list even though one of them, Antoine Winfield,
reportedly could be released by the team
Saturday in the reduction to 53 players Saturday.
A quick look at ranked players by team:
San Francisco 49ers:
Patrick Willis (3), Aldon Smith (10), Justin Smith (11), Vernon Davis (18), NaVorro Bowman (18), Joe Staley (25), Mike Iupati (32), Frank Gore (37), Colin Kaepernick (42), Ahmad Brooks (56), Anthony Davis (60), Donte Whitner (64), Michael Crabtree (78), Anquan Boldin (83) and Jonathan Goodwin (92).
Seattle Seahawks:
Richard Sherman (8), Earl Thomas (17), Percy Harvin (26), Marshawn Lynch (27), Brandon Browner (46), Russell Wilson (47), Russell Okung (49), Kam Chancellor (49), Max Unger (57), Bobby Wagner (67), Winfield (70), Cliff Avril (74) and Chris Clemons (85).
St. Louis Rams:
Long (40), James Laurinaitis (57), Jake Long (61), Cortland Finnegan (63).
Arizona Cardinals:
Larry Fitzgerald (7), Patrick Peterson (19), Daryl Washington (59) and Darnell Dockett (79).
Fifteen