San Francisco 49ers:

Cam Newton
November, 8, 2013
Nov 8
10:00
AM ET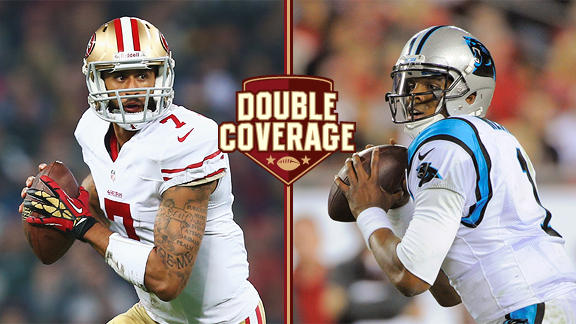 Getty Images, AP PhotoQuarterbacks Colin Kaepernick, left, and Cam Newton highlight a matchup of NFC playoff contenders.
SAN FRANCISCO -- A few weeks ago, this didn't appear to be a premier game.
But the
Carolina Panthers
kept on winning. Now, before the
San Francisco 49ers
have to tangle with potential playoff opponents New Orleans and Seattle in the coming weeks, looms another major NFC test in the form of the Panthers on Sunday at Candlestick Park.
This will be matchup featuring two of the hottest teams in the league. The 49ers have won five straight, the Panthers four straight. ESPN.com 49ers reporter Bill Williamson and Panthers reporter David Newton take a look at the intriguing matchup:
Newton:
These teams appear similar, built around a strong running game, a versatile quarterback and strong defense. Where do you believe the 49ers have the biggest advantage?
Williamson:
They totally believe in what they do. This is a confident team in all phases of the game. San Francisco is deep and focused, and it rarely misfires as a team. The 49ers stick to their plan and have confidence it will eventually wear opponents down. That is particularly true concerning the ground game on both sides of the ball. The 49ers know they are better than most opponents, and they just go out and try to prove it. I think they will try to stuff the Panthers early and get in their heads. David, the Panthers are certainly clicking themselves. Do you think they are up to this task?
Newton:
Because their five wins came against teams with a combined 8-33 record, the critics are wary. So, the Panthers are relishing the opportunity to prove that their winning streak isn't a fluke, that they deserve to be mentioned as a serious contender. The only team they have faced with a record currently above .500 is Seattle, which beat Carolina 12-7 in the season opener. The Panthers believe they should have won that game, too. Like San Francisco, this group is very confident. The Panthers have an attitude and hunger that, with a decent amount of talent, make them dangerous. They won't be intimidated by San Francisco's résumé, particularly Carolina's defense, which is playing as well as any in the league. Just ask the Seahawks, who struggled to score 12 on Carolina, then scored 29 against the 49ers in Week 2. This is a playoff-caliber defense that should keep the Panthers in most games. Their biggest challenge will be stopping
Colin Kaepernick
. He appears to have picked up where he left off last season. How has he improved?
Williamson:
He's a perfect fit for this coaching staff. What coach Jim Harbaugh and offensive coordinator Greg Roman excel at is taking what opposing defenses give them. They will run inside or outside, will use Kaepernick on the ground or through the air and can exploit defenses using receiver
Anquan Boldin
or tight end
Vernon Davis
, depending on what is given to them. Kaepernick plays along perfectly. He is patient and doesn't care about his own stats. He happily executes the game plan. David, do you think Panthers have a chance of frustrating Kaepernick by closing all those gaps?
Newton:
That's the game plan, whether it's a running quarterback such as Kaepernick or a pocket passer. The goal is to stuff the run and make a team one-dimensional, and they've done that well enough to rank second in the league against the run. But running quarterbacks are a concern. Seattle's
Russell Wilson
didn't put up huge numbers in the opener, but he kept the chains moving and completed a high percentage of throws (76 percent, 25 of 33). Buffalo's
EJ Manuel
did the same thing. Carolina had a combined three sacks in those games. The Panthers have averaged more than three a game since. What will the 49ers do to counter the play of
Cam Newton
?
Williamson:
The 49ers respect Newton. They have been talking about how physical Newton is and how they must respect his game. Again, the defense in San Francisco starts with stopping the run. Then, the 49ers tee off on the passing game. This has been a very stingy defense, but Newton is on a roll and will be the best quarterback this San Francisco defense has seen since
Andrew Luck
beat it at home in Week 3. David, do you see Newton succeeding in this game?
Newton:
Most of Newton's success this season has come against defenses ranked in the lower half of the league. Most of it has come because he has gotten comfortable taking what the other team gives him, mostly short stuff, so he's been completing a high percentage of passes the past month. San Francisco has one of the best pass defenses in the league, so I look for Newton to use his legs more early to get into a rhythm, and I look for the Panthers to try to run to take the pressure off Newton. His confidence is at an all-time high, but the 49ers have a defense that can change that quickly.
.
November, 8, 2013
Nov 8
8:00
AM ET
SANTA CLARA, Calif. --
Cam Newton
was the No. 1 overall pick of the 2011 draft. The
San Francisco 49ers
had no chance to move up and get him. They happily took quarterback
Colin Kaepernick
35 picks later.
On Sunday, the two dynamic young quarterbacks will play against each other in the NFL for the first time as the
Carolina Panthers
visit San Francisco.
Kaepernick
Newton
The two were roommates at the NFL combine, and life has been good for both since. Kaepernick has had more tangible success even though, unlike Newton, he didn't become a starter until midway through his second season. Kaepernick has been to a Super Bowl. He has playoff wins on his résumé despite starting only 18 NFL games.
Newton, spectacular as a rookie and helter-skelter last season, has settled down and has the look of quarterback who may soon see postseason success. He has led the Panthers to four straight wins after a rough 1-3 start. Kaepernick is also rolling, leading his team to five straight wins.
"Everything's a competition, from being at the combine to being at practice to being in a game," Kaepernick said. "Everything's a competition."
Kaepernick plays with a chip on his shoulder. He enjoyed beating the Titans in Week 7 and the Jaguars in Week 8. Like Carolina, those teams took quarterbacks in the first round in 2011.
It's difficult to argue the Panthers blew it when they took Newton over Kaepernick. Newton has a big future, and Kaepernick was considered more of a project. But it is clear the 49ers are pleased the way it went down. Kaepernick is perfect athletically and emotionally to run Jim Harbaugh's offense.
While Harbaugh called Newton's talents "plutonium grade," he would surely roll with Kaepernick. Harbaugh played along when a reporter suggested Kaepernick should be the 49ers' scout-team quarterback this week to help prepare to face Newton.
"That's a good idea. That's a very good idea because they are so similar. And in ability, and makeup, and confidence, and in so many ways, talent," Harbaugh said. "They're both great. And that's not a bad idea at all."
I asked ESPN analyst Matt Williamson who he would rather have, Newton or Kaepernick?
"I will say that Newton is playing better [against some suspect teams] than CK right now, but I still take CK, as he is just a better pure passer," Williamson said. "Newton has taken a lot more snaps in the NFL than CK. Just wait until CK has that experience under his belt."
The numbers suggest a team couldn't go wrong with either Newton or Kaepernick these days. They have been the top two rated quarterbacks in the NFL in the past month. Kaepernick's Total QBR since Week 6 is a league-leading 94.1. Newton is second at 83.5.
Ted Ginn
is an authority on both. He played with Kaepernick the past two years and is now teammates with Newton.
"They both have something a lot people don't have, and they use it," Ginn said Wednesday. "Speed. They can run."
On Sunday, the two young quarterbacks will try to outrun, outthrow and outscore each other.
November, 6, 2013
Nov 6
11:00
PM ET
SANTA CLARA, Calif. -- The health of NFL coaches is in the spotlight after two coaches had major medical problems over the weekend.
Denver Broncos
coach John Fox is away from the team after having heart surgery.
Houston Texans
coach Gary Kubiak had what was described as a mini-stroke Sunday on the sideline and he is away from the team.
San Francisco 49ers
coach
Jim Harbaugh
can relate.
He had a minor heart procedure for an irregular heartbeat was discovered last November. He did not miss any games. When he was asked about the situation Wednesday, he answered in typical Harbaugh fashion.
"I was able to walk it off and I'm feeling good," he said. "Thanks for asking."
In other 49ers notes:
The 49ers host
Cam Newton
and the
Carolina Panthers
on Sunday. It is the first meeting between the two teams since the Panthers took Newton with the No. 1 overall pick in the 2011 draft and the 49ers took quarterback Coin Kaepernick with the No. 36 pick.
Harbaugh said his father-in-law was pushing for the 49ers to trade up and take Newton, while his own father was pushing for Kaepernick.
"The two fathers each championing their champion," Harbaugh said.
Harbaugh wouldn't divulge if
Kyle Williams
will be the punt and kick returner Sunday. He struggled in the 49ers' last game.
Anthony Dixon
took over for him as the kick returner and brought his only return back 47 yards. It is conceivable Dixon will return kicks and running back
LaMichael James
will return punts on Sunday.
September, 11, 2013
Sep 11
3:10
PM ET
Could
Colin Kaepernick
make an MVP run in his first full season as a starter?
So far, so good.
In his MVP Watch,
Dan Graziano ranked Kaepernick second behind Denver's
Peyton Manning
. There was no way Manning wasn't going to be ranked first after that seven-touchdown showing against Baltimore.
However, Kaepernick is off to a nice start as well. He threw for a career-high 412 yards in a 34-28 San Francisco win over Green Bay on Sunday.
I have a feeling Graziano will be writing about Kaepernick a lot this season. This kid is not going to get any worse. So, as we stand now, yes, I fully expect Kaepernick to be a serious MVP threat.
In ESPN.com's Hot Read,
Jeffri Chadiha looks at five young quarterbacks who could be big stars. Chadiha ranks
Andrew Luck
, Kaepernick,
Cam Newton
,
Russell Wilson
and
Robert Griffin
III. He looks at several different aspects.
His conclusion that Kaepernick will be the fourth best player in the group behind Luck, Griffin and Wilson. I would rank Kaepernick just behind Luck.
I think Kaepernick has huge potential and his ability to win with his legs and arms make his difficult to beat. Still, this is a power group. So, being ranked fourth here isn't terrible.
August, 30, 2013
Aug 30
11:40
AM ET
Six projected starting quarterbacks played in their teams' final exhibition games of the 2013 preseason. The
Seattle Seahawks
'
Russell Wilson
and the
San Francisco 49ers
'
Colin Kaepernick
were two of them, and both led touchdown drives before exiting after one series. None of the NFL's projected starters got hurt Thursday night.
The chart shows week-by-week snap counts for quarterbacks I singled out as projected starters heading into preseason. NFC West alums
Kevin Kolb
and
Matt Flynn
might not start after all, but I've left them in the chart for context.
St. Louis Rams
coach Jeff Fisher has generally played starters in the final preseason game. He did not this time.
"Typically I have, but I guess in the new world that we're in, it's hard to," Fisher told reporters after the Rams' game against Baltimore. "What that implies is that I'm pleased with where they are right now, those guys that sat. They worked hard. We got a great workout and it allowed them to fast-forward their minds to Arizona."
Fisher could have been alluding to the run of higher-profile injuries around the league this summer. Last year, the Rams lost rookie defensive tackle
Michael Brockers
to a high-ankle sprain in the final preseason game.
The Rams emerged from this preseason healthier than their division rivals. That did not stop the 49ers from playing their offensive starters or the Seahawks from playing starters on both sides of the ball Thursday night. The
Arizona Cardinals
rested most of their starters, though
Michael Floyd
was one notable exception.
San Francisco coach
Jim Harbaugh
offered no explanation for playing his starting offense one series. Kaepernick hadn't gotten many snaps through the first three games, however. Getting additional reps for Kaepernick and the team's group of emerging receivers made some sense on the surface.
Seahawks coach Pete Carroll went into the final preseason game saying he wanted starters to play because the team values this games as competitive opportunities.