San Francisco 49ers:

Craig Dahl
March, 11, 2014
Mar 11
8:00
AM ET
Free agency starts at 4 p.m. ET (1 p.m. PT) Tuesday.
It is clear the
San Francisco 49ers
' plan of attack will be to sign their own top free agents. They secured their top free-agent priority, receiver
Anquan Boldin
, last week. Their other targets are safety
Donte Whitner
, cornerback
Tarell Brown
and kicker
Phil Dawson
. Dawson and Brown both may get quick action on the open market.
If any of these players leave, the 49ers will likely have to go find a replacement in some form. Let's take a look at who they may be:
Safety
Possible free-agent options:
Mike Mitchell
(Panthers),
Malcolm Jenkins
(Saints),
James Ihedigbo
(Ravens).
Summary:
The free-agent market is thin, and, in my opinion, signing Whitner is, by far, the best option. If not, one of the above-mentioned players could be a suitable, but not equal signing. If Whitner's market doesn't get crazy, the 49ers need to try to keep him. In-house potential replacements are
C.J. Spillman
and
Craig Dahl
, but neither are considered top options.
Cornerback
Possible free-agent options:
Nolan Carroll
(Dolphins),
Antonio Cromartie
(released by Jets),
Champ Bailey
(released by Broncos),
Walter Thurmond
(Seahawks),
Asante Samuel
(released by Falcons),
Antoine Cason
(Cardinals),
Charles Tillman
(Bears),
Captain Munnerlyn
(Panthers).
Summary:
Replacing Brown may be easier than replacing Whitner. There are a ton of decent cornerbacks. Carroll is one of the players the 49ers have checked in on. If the 49ers lose Brown, they could wait out the market and get a decent player or two here. A wild card could be
Darrelle Revis
, who reportedly either is going to be traded or released, as soon as this week, by Tampa Bay. He will likely be pricey but if something crazy happens, perhaps the 49ers could get involved.
Kicker
Possible free-agent options:
Steven Hauschka
(Seahawks),
Adam Vinatieri
(Colts),
Josh Brown
(Giants),
Dan Carpenter
(Bills).
Summary:
There are some decent kickers available, but I think Dawson is the best fit and I expect him to be back. If not, any of these kickers could be the fix. Just a guess, but I don't think it gets to that point.
February, 28, 2014
Feb 28
8:00
AM ET
Free agency starts in 11 days. Along with every other team, the
San Francisco 49ers
are putting together their final plans. The 49ers are in pretty nice shape. They are poised to be $15-16 million under the salary cap.

The team has gained cap room by reducing deals for backup safety
Craig Dahl
and backup receiver
Jon Baldwin
. They want cornerback
Carlos Rogers
back at a much reduced salary from the $6 million he is due. If he doesn't accept a pay cut, he will likely be cut. General manager Trent Baalke has said he doesn't think the team needs to reduce the salary of running back
Frank Gore
, who is set to make $6.4 million.
The deadline giving a player the franchise tag is Monday. The 49ers are not expected to use the tag. They have been close to a deal with receiver
Anquan Boldin
. Boldin, 33, is likely looking at a two- or three-year deal. He could be paid up to $17 million if it is a three-year deal. The team's other priority free agents are safety
Donte Whitner
, kicker
Phil Dawson
and cornerback
Tarell Brown
.
The 49ers extended the deal of
Daniel Kilgore
on Thursday. He was set to be a free agent next year. That means he is in line to start next year and that the 49ers likely won't re-sign
Jonathan Goodwin
, who started at center the past three years.
The team is not expected to give the restricted free-agent tender to backup defensive lineman
DeMarcus Dobbs
and cornerback
Perrish Cox
. That would make them unrestricted free agents.
February, 24, 2014
Feb 24
8:10
PM ET
I've spent the day in meetings at ESPN headquarters.
As I catch up on the day's events, I am not surprised by the primary topic: Yes, the Jim Harbaugh situation.
As I wrote in a previous post
, this type of attention is to be expected after a bombshell story such as the one involving the
Cleveland Browns
' interest in Harbaugh that surfaced Friday.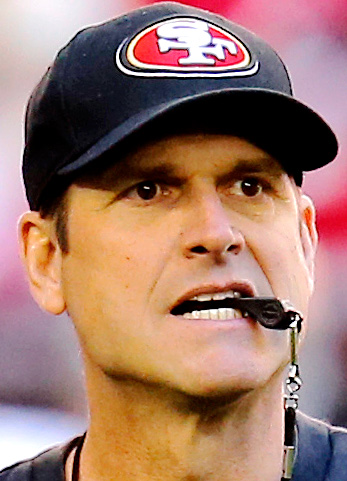 Harbaugh
All the speculation about Harbaugh's issues with the 49ers' front office have bubbled up to the surface.
Perhaps closing out the Cleveland portion of this tale (I have a feeling, though, the Harbaugh story is far from over) 49ers' owner
Jed York told the Sacramento Bee that the Browns had interest and the 49ers quickly scuttled talks
. That is in line with what I've heard all along.
Look, we all review the film of our decisions, but I think the 49ers may regret not initially telling their side of the story Friday. It could have quickly ended the talk.
The most intriguing aspect of the York interview with The Bee was that he said he expects contract talks with Harbaugh to resume after the May draft. I guess there is no hurry to do it, but a deal must get done this calendar year or Harbaugh's future will be a feeding frenzy next year as teams try to make a deal for him entering his final season.
Meanwhile, the Harbaugh-49ers saga is now Topic A in the NFL. Hey, it's February. Juicy talk rules.
Here are some topics for your 49ers' hand-wringing pleasure:
ESPN's Ashley Fox believes
the 49ers' success starts with Harbaugh. He has led a team that was irrelevant before he got there to three straight NFC title games.
ESPN Insider Mike Sando thinks
the draft is the key for the 49ers to continue to their success

.
Grantland's Bill Barnwell
tries to make sense of the entire saga.
In other 49ers' related-news:
Backup safety
Craig Dahl
took a $600,000 pay reduction to stay with the team. It has been in the works for several days. The open big remaining pay-cut question is cornerback
Carlos Rogers
. The team is not expected to pay his $6 million salary. If he doesn't take a large pay cut he will likely be released.
February, 20, 2014
Feb 20
8:00
AM ET
February, 5, 2014
Feb 5
8:00
AM ET
We are taking a look at the top 60 players in the
San Francisco 49ers
' program and will rank them from 1-60. We are going to take a look in a 12-part series, moving upward. The ranking considerations are based on 2013 production, future projections, age, and contract status:
46. Linebacker
Nick Moody
: The rookie was hurt and inactive most of the season but the 49ers have high hopes for him. He will get a chance to play on special teams in 2014.
47. Safety
Craig Dahl
: He's one of those players good teams have on their roster. Reliable insurance on defense and a solid special teamer. I could see the team keeping him in 2014.
48. Defensive line
Demarcus Dobbs
: He is a restricted free agent, who likely will not be tendered. The 49erds are young and deep at the defensive line, so it's no sure thing Dobbs will be brought back.
49. Guard
Joe Looney
: He was forced to play against St. Louis on Dec. 1 because of injuries. His coaches and teammates raved about him. He has a chance to be really good as he further develops.
50. Fullback
Will Tukuafu
: The 294-pound converted defensive lineman impressed the team when he played fullback late in the season because of
Bruce Miller
's injury. I could see Tukuafu getting a chance to stick around. He gives the offense options.
January, 31, 2014
Jan 31
1:00
PM ET
The
San Francisco 49ers
had good success in veteran free agency in 2013. Let's take a look back at the impact the veteran acquisitions made in alphabetical order
Nnamdi Asomugha
: This one didn't work out. Asomugha had nothing left and the 49ers cut him during the season. He didn't cost much, so it was not a major issue.
Craig Dahl
: A backup and a special teamer. Solid addition.
Phil Dawson
: He was a difference maker. He made 32 of 36 field goal attempts and he made 27 in a row. He was clutch all season. The team wants him back after he signed a one-year deal last year.
Glenn Dorsey
: Another really fine addition. Dorsey, the No. 5 overall draft pick in 2008, came alive in San Francisco. His coaches raved about him as he stood out at nose tackle after
Ian Williams
was lost for season in Week 2.
Colt McCoy
: He was the perfect backup quarterback -- he never played when it counted. I think the 49ers would like to upgrade from him moving forward, though.
Kassim Osgood
: A fine special teamer. A key part of the team.
Dan Skuta
: He was a valuable role player. He played outside linebacker when
Aldon Smith
missed five games to seek treatment for substance abuse. Skuta was also a key special teamer.
Adam Snyder
: A role player who has been in the 49ers' system in the past. He played in five games when left guard
Mike Iupati
was injured.
Bubba Ventrone
: Just like Osgood. A big reason why the special teams improved so greatly.
Eric Wright
: The 49ers had high hopes for him, but he finished the season inactive. He is a free agent. It is far from a sure thing that he returns.
November, 11, 2013
11/11/13
4:40
PM ET
SANTA CLARA, Calif. --
San Francisco 49ers
coach Jim Harbaugh didn't offer much in the form of updates Monday on the concussions suffered by star tight end
Vernon Davis
and standout rookie safety
Eric Reid
in a 10-9 home loss to Carolina on Sunday.

Harbaugh did say the thought of adding a tight end to the roster for Sunday's game at New Orleans is an "option." In addition to Davis, backup tight end
Garrett Celek
left the game in the first quarter with a hamstring injury. It is likely he will be out longer than Davis, even if Davis can't play at New Orleans.
The first option the 49ers look at could be Derek Carrier, who is on the team's practice squad. The highly athletic Carrier is on his third NFL practice squad since entering the league in 2012. He has no NFL game experience.
Both Davis and Reid will go through the NFL's concussion protocol before being able to play. Reid's situation is complicated because this is his second concussion of the season. He suffered one in Week 2 against Seattle, so his return could be delayed some.
Craig Dahl
finished the game for Reid.
Meanwhile, asked Monday if receiver
Michael Crabtree
could be activated this week, Harbaugh said, "We'll see." Crabtree began to practice last week. He must be activated by Nov. 26. Playing Sunday at New Orleans would be considered a long shot.
However, Harbaugh said he anticipates rookie linebacker
Nick Moody
will be activated this week. So, if the 49ers activate Moody and add a tight end, two players will have to be removed from the roster. It will be interesting to see what the 49ers do with special- teamer
Kassim Osgood
, who is on his second stint with the 49ers this season. He was inactive Sunday, and the special-teams coverage units appeared to miss him.