San Francisco 49ers:

David Fales
May, 6, 2014
May 6
8:00
AM ET
With the NFL draft two days away, let's look at some questions surrounding the
San Francisco 49ers
:
Will it be easy to trade up?
Reports indicate the 49ers are expected to be one of the most aggressive teams attempting to move up. The 49ers have the No. 30 overall pick and six in the first 100. They will likely start considering a trade once the draft gets into the No. 12-14 range and then they work on it until it works.
Is this the year Harbaugh drafts a Stanford player?
This is the fourth draft for coach Jim Harbaugh in San Francisco since he was hired away from Stanford. The 49ers have yet to draft a player from Stanford with Harbaugh. Eleven Stanford players have been drafted in the past three years. Perhaps this year -- the last Cardinal class Harbaugh coached -- will be the year. Stanford has several draft prospects, and perhaps players' like
Shayne Skov
,
Trent Murphy
,
Ed Reynolds
or
Ben Gardner
will end the drought.
Will the drafting injured player trend continue?
Last year, the 49ers took advantage of a surplus of picks and few needs by taking injured players Tank Carradine and
Marcus Lattimore
. The two were essentially redshirted and are now expected to play. Again, the 49ers have a lot of picks and few needs. Perhaps injured players such as Florida defensive tackle
Dominique Easley
, Oklahoma cornerback
Aaron Colvin
and Clemson guard
Brandon Thomas
could attract the 49ers.
Will the quarterback whisperer get a new charge?
Harbaugh has made it clear in his three NFL seasons that he loves working with young quarterbacks. The 49ers are candidates to draft a quarterback in the mid-round as they try to develop a backup for
Colin Kaepernick
. Harbaugh has studied several quarterbacks this spring. Among the candidates are Virginia Tech's
Logan Thomas
, San Jose State's
David Fales
and Clemson's
Tajh Boyd
.
How many picks are enough?
I wouldn't be shocked if the 49ers trade up a few times. This is a loaded roster. There aren't that many -- maybe five to seven -- rookies who will make this 53-man roster. So, expect the 49ers to lean toward quality over quantity.
Will they pick a new return man?
Incumbent returner
LaMichael James
is working out on his own and is open to a trade. Even if James isn't dealt this week, the 49ers may look to replace him. I wouldn't be shocked if one of the receivers and/or cornerbacks the 49ers look at early doubles as a returner.
Where does a pass-rusher fit?
Aldon Smith
's future is clouded by legal issues. The 49ers might decide to try to find a pass-rusher. If so, they may have to do it fairly early. ESPN draft expert Todd McShay thinks the run on impact pass-rushers may be over in the first 50 picks.
April, 26, 2014
Apr 26
9:00
AM ET
The
San Francisco 49ers
are considering taking a quarterback in the middle rounds of the draft and San Jose State product
David Fales
has to be considered a potential fit.
Fales was one of the headliners at the 49ers' pro day workout for local prospects Friday. The 49ers have taken a long look at Fales this spring as they have other quarterbacks. A card-carrying quarterback aficionado, coach Jim Harbaugh has personally worked out several quarterbacks this spring.
Harbaugh said Friday he thinks Fales is a top-five quarterback in the draft. The 49ers may get a chance to draft him to be Colin Kaepernick's long-term backup when they want it use a pick on a quarterback
. Many scouts think Fales is a late-round prospect.
General manager Trent Baalke agrees with Harbaugh about the local signal-caller.
"I like a lot of things about David. He's very composed. He's a very smart football player," Baalke said. "You look at him statistically, he's won a lot of games. He won a shootout at Fresno which I happened to be at. He's got good arm talent. He can make all the throws. He's very accurate, especially in the short to intermediate game. There's a lot to like about him."
March, 27, 2014
Mar 27
7:00
AM ET
Like he did three years ago when he nabbed
Colin Kaepernick
in the second round, San Francisco 49ers' coach Jim Harbaug
h
is spending a portion of this offseason working out quarterback draft prospects.
The odds are the 49ers will use one of their 11 draft picks, likely in the mid rounds, on a quarterback to groom as a backup behind Kaepernick. Harbaugh has already personally worked out Virginia Tech's
Logan Thomas
and Eastern Illinois'
Jimmy Garoppolo
. He has upcoming workouts with Fresno Sate's
Derek Carr
(who will likely be taken earlier than the 49ers want to take a quarterback) and San Jose State's
David Fales
.
Harbaugh indicted he could work out more quarterbacks prior to the May 8-10 draft. Harbaugh, who was a quarterback in the NFL for 14 years, likes to play catch with the prospect during his private workouts.
"(I want to) see how he throws the football, more how they throw than the look in their eye," Harbaugh said. "You're always sizing somebody up as a player and so I kind of just use that in coaching as well to evaluate guys, try to size them up."
He said the private workouts are an invaluable way to access a quarterback.
"Like to play catch with them. Like to see them throw," Harbaugh said. "Go through their workout, see what kind of condition they're in, and meet with them, talk to them. Talk football with them, protections. Try to get a feel for how much they know football-wise. Basically just talking football. Things you can't do from watching the tape of a pro day."
March, 26, 2014
Mar 26
12:58
PM ET
Thanks to
Jacksonville Jaguars
NFL nation reporter Michael DiRocco, I have some notes to pass along from Jim Harbaugh's breakfast media session.
The
San Francisco 49ers
considered adding a veteran receiver in free agency, and they likely will use an early round pick at the position. The 49ers ran the fewest three-receiver sets in the NFL in 2013. It is clear Harbaugh is looking to change that.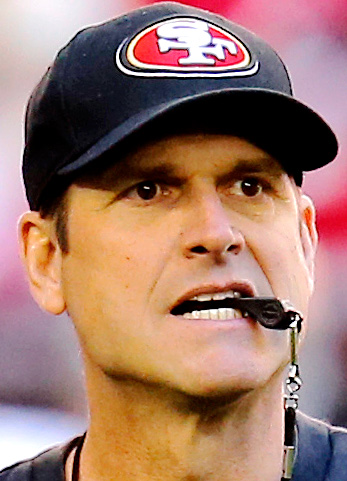 Harbaugh
"Yeah. No. 3 receiver, a third guy that can get open, make plays, another option for the quarterback to go to," Harbaugh said. "A chance to attack areas of the field. A playmaker. That's what we're looking for."
Harbaugh will continue to look at rookie quarterbacks. He said he will work out
Derek Carr
of Fresno State and
David Fales
of San Jose State soon. Carr could be a first-round pick, which would likely take the 49ers out of consideration. Fales could be a mid-to-late-round pick. The 49ers will likely add a quarterback in the draft. Harbaugh has been looking at other quarterbacks this spring.
Harbaugh said trade addition
Jonathan Martin
could be used some at guard. Martin, a tackle, has said he's never played guard, but he is willing to try. Martin will be the team's swing tackle. However, in 2015, the team might be looking for a new guard if
Mike Iupati
leaves in free agency. So Martin could be a possibility there.
Harbaugh said he believes running back
Frank Gore
has three more good seasons in him. Gore, who will be 31 in May (ancient in running backs years) had another outstanding season in 2013. He ran for 1,128 yards.
Harbaugh repeated that he is happy in San Francisco.
"Yeah, I mean I love coaching this team," Harbaugh said. "I love the players, I love the coaches and the organization they serve, and want to be here for a very long time."
Harbaugh has two more seasons on his contract. Ownership has made it known it would like to extend his deal soon.
March, 19, 2014
Mar 19
5:33
PM ET
Among the rule changes to be considered next week at the NFL owners meetings is one inspired by a controversial call in the
San Francisco 49ers
' NFC title game loss at Seattle, in which star linebacker
NaVorro Bowman
tore the ACL in his knee.
Bowman
The owners will vote on whether to expand replays to include the recovery of a loose ball in the field of play. The current rule is that those such plays are not reviewable to keep officials from reviewing routine post-fumble scrums. Bowman appeared to have stripped the ball during the play at the goal line in the fourth quarter at Seattle. The play was not reviewed and Bowman was hurt on the play.
Niners coach Jim Harbaugh called the lack of a review on the play a "loophole." Now, it may be part of the rule book. Of course, if passed, like any other reviewed play, there will have to be overwhelming evidence that the recovery was made to warrant the overturn.
In other 49ers' notes:
" The 49ers are reportedly interested in receiver
Josh Morgan
, who played in San Francisco from 2008-11. He had 20 catches for the Redskins last season. He would likely be a bottom of the rotation receiver.
" San Francisco general manager Trent Baalke was at Florida State's pro day, where the star attraction was receiver
Kelvin Benjamin
, who could be available late in the first round. The 49ers have the No. 30 overall pick and they need a receiver.
" Harbaugh was at Virginia Tech's pro day Wednesday. The 49ers could show interest in cornerback
Kyle Fuller
in the first round and quarterback
Logan Thomas
in the middle rounds.
" San Francisco quarterbacks coach Geep Chryst was at nearby San Jose State's pro day Wednesday. Spartans quarterback
David Fales
is considered a mid-to-low-round prospect.
" Speaking of Thomas and Fales, in an insider piece, Mike Sando
thinks the 49ers should draft a quarterback.

I think they could do so in the mid-rounds.
UPDATED NOTES:
Receiver Mario Manningham received $65,000 in bonus money with $25,000 of it guaranteed in his one-year deal with the Giants, his original NFL team. The 49ers had no plans to bring him back.
As expected, defensive coordinator Vic Fangio finalized his deal with the 49ers. He will be given a nice raise and his contract with the team goes with 2015 along with Harbaugh.
February, 25, 2014
Feb 25
8:00
AM ET
The
San Francisco 49ers
will likely consider adding a quarterback in the mid rounds of the draft.
The team would like to develop a backup to young star
Colin Kaepernick
. His 2013 backup, veteran
Colt McCoy
, is a free agent. The team also has
McLeod Bethel-Thompson
, who could compete for the job.
Still, this is a deep draft, and the 49ers have a surplus of picks. And coach Jim Harbaugh is a huge fan of young quarterbacks. The 49ers looked at several last season. Here is a look at some of the quarterbacks who could attract interest in the mid-rounds:
Tajh Boyd
, Clemson: Once considered a top-10 pick, Boyd could be tempting if he is available late in the third round.
David Fales
, San Jose State: The local kid has the look of becoming a competent backup.
Jimmy Garoppolo
, Eastern Illinois: He dominated at a low level. Could be worth a shot.
AJ McCarron
, Alabama: He's smart and a winner. Those are two wonderful quarterback traits.
Aaron Murray
, Georgia: coming of an injury. Could be an interesting guy to stash.
Logan Thomas
, Virginia Tech: He has all the tools. Could be worth developing.