San Francisco 49ers:

DeMarcus Dobbs
February, 28, 2014
Feb 28
8:00
AM ET
Free agency starts in 11 days. Along with every other team, the
San Francisco 49ers
are putting together their final plans. The 49ers are in pretty nice shape. They are poised to be $15-16 million under the salary cap.

The team has gained cap room by reducing deals for backup safety
Craig Dahl
and backup receiver
Jon Baldwin
. They want cornerback
Carlos Rogers
back at a much reduced salary from the $6 million he is due. If he doesn't accept a pay cut, he will likely be cut. General manager Trent Baalke has said he doesn't think the team needs to reduce the salary of running back
Frank Gore
, who is set to make $6.4 million.
The deadline giving a player the franchise tag is Monday. The 49ers are not expected to use the tag. They have been close to a deal with receiver
Anquan Boldin
. Boldin, 33, is likely looking at a two- or three-year deal. He could be paid up to $17 million if it is a three-year deal. The team's other priority free agents are safety
Donte Whitner
, kicker
Phil Dawson
and cornerback
Tarell Brown
.
The 49ers extended the deal of
Daniel Kilgore
on Thursday. He was set to be a free agent next year. That means he is in line to start next year and that the 49ers likely won't re-sign
Jonathan Goodwin
, who started at center the past three years.
The team is not expected to give the restricted free-agent tender to backup defensive lineman
DeMarcus Dobbs
and cornerback
Perrish Cox
. That would make them unrestricted free agents.
February, 20, 2014
Feb 20
8:00
AM ET
February, 5, 2014
Feb 5
8:00
AM ET
We are taking a look at the top 60 players in the
San Francisco 49ers
' program and will rank them from 1-60. We are going to take a look in a 12-part series, moving upward. The ranking considerations are based on 2013 production, future projections, age, and contract status:
46. Linebacker
Nick Moody
: The rookie was hurt and inactive most of the season but the 49ers have high hopes for him. He will get a chance to play on special teams in 2014.
47. Safety
Craig Dahl
: He's one of those players good teams have on their roster. Reliable insurance on defense and a solid special teamer. I could see the team keeping him in 2014.
48. Defensive line
Demarcus Dobbs
: He is a restricted free agent, who likely will not be tendered. The 49erds are young and deep at the defensive line, so it's no sure thing Dobbs will be brought back.
49. Guard
Joe Looney
: He was forced to play against St. Louis on Dec. 1 because of injuries. His coaches and teammates raved about him. He has a chance to be really good as he further develops.
50. Fullback
Will Tukuafu
: The 294-pound converted defensive lineman impressed the team when he played fullback late in the season because of
Bruce Miller
's injury. I could see Tukuafu getting a chance to stick around. He gives the offense options.
January, 22, 2014
Jan 22
2:00
PM ET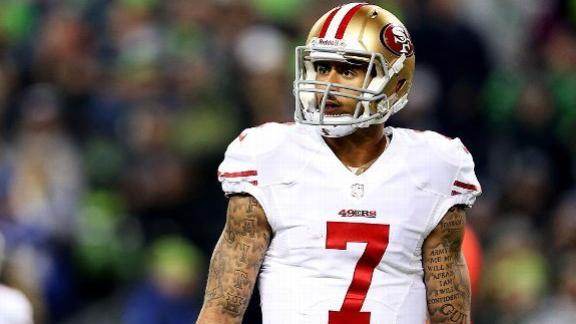 Arrow indicates direction team is trending.

Final Power Ranking:
4
Preseason Power Ranking:
2
Biggest surprise:
The impact that
Michael Crabtree
's injury and then his return had on the team. When Crabtree suffered a torn Achilles in May, the 49ers knew it would affect their offense. But his absence was felt dramatically during the 11 games he was out. The 49ers had essentially nothing behind receiver
Anquan Boldin
and tight end
Vernon Davis
in the passing game. However, when he returned Dec. 1, the 49ers were instantly a better, more varied, dangerous offense. Quarterback
Colin Kaepernick
was more confident. The difference was stark.
Biggest disappointment:
The loss at New Orleans on Nov. 17. The 49ers appeared to have sealed the game when linebacker
Ahmad Brooks
sacked and forced New Orleans quarterback
Drew Brees
to fumble late. But Brooks was called for a questionable personal foul. The Saints rallied to win. It was a major storyline in the NFL that week. Had the 49ers won, they would have finished 13-3, won a tiebreaker over Seattle in the NFC West and would not have had to play at Seattle in the playoffs.
Biggest need:
The 49ers are deep. They don't have many holes. But they can use another young receiver. Boldin is 33 and a free agent. Fourth-round pick
Quinton Patton
looks promising, but San Francisco will likely take a speed receiver early in the draft. Expect the team to take a cornerback fairly early as well. The 49ers need to develop a young player there.
Team MVP:
Inside linebacker
NaVorro Bowman
. The 25-year-old had an amazing season. He is an NFL Defensive Player of the Year candidate. He was dominant in virtually every game. He is a special playmaker. It was a sad sight seeing him being carted off in the fourth quarter of Sunday's loss at Seattle with a major knee injury. Bowman is expected back next season. The 49ers need him.
January, 9, 2014
Jan 9
5:00
PM ET
SANTA CLARA, Calif. --
Carlos Rogers
is missing practice for the fifth straight practice with a hamstring injury.

Rogers
The
San Francisco 49ers
cornerback said Thursday that he hopes to play Sunday against the
Carolina Panthers
. However, he must practice if he is going to play. San Francisco defensive coordinator Vic Fangio said he doesn't expect Rogers to play against the Panthers if he doesn't practice. That means Rogers must practice Friday before the 49ers fly to North Carolina.
Rogers has been running this week.
"I have to be smart," he said. "I don't know if I will be ready, but I am trying."
All indications are that if Rogers can't play, Perrish Cox will be the nickel cornerback. He played virtually the entire game at Green Bay over veteran Eric Wright. Fangio said the team went with Cox, who was signed earlier in the week, because he had a better week of practice than Wright.
Rotational defensive tackle DeMarcus Dobbs (knee) returned to practice after missing Wednesday's session.
In other 49ers notes:
Fangio said he has had no contact with any teams about a head-coaching job. ESPN reported that the Redskins were interested in him. However, they hired Jay Gruden on Thursday.
Offensive coordinator Greg Roman called talk that he interviewed for the Penn State job "speculation." The school reportedly will hire Vanderbilt coach James Franklin. Roman's name has also been attached to the open Minnesota Vikings job.
In an Insider piece,
Matt Williamson thinks 49ers quarterback
Colin Kaepernick could be a weak link at Carolina. He certainly was the last time these two teams played. But will it happen again?
ESPN Stats & Information has a matchup to watch in the game.
January, 8, 2014
Jan 8
8:05
PM ET
SANTA CLARA, Calif. -- While cornerback
Carlos Rogers
' hamstring injury continues to linger, the
San Francisco 49ers
head into their NFC divisional playoff game at Carolina in solid overall health.
Earlier Wednesday, 49ers coach Jim Harbaugh said he liked his team's overall health going into the game and the team's injury report confirmed the 49ers are in solid shape.
The following San Francisco players missed practice Wednesday: defensive tackle
Demarcus Dobbs
(knee, shoulder), center
Jonathan Goodwin
(not injury related), defensive tackle
Justin Smith
(shoulder) and Rogers.
Smith and Goodwin routinely don't practice on Wednesdays and Dobbs is a backup. If Rogers, who didn't play at Green Bay, can't play Sunday,
Perrish Cox
and
Eric Wright
will play the nickel spot for him.
In other 49ers notes:
Harbaugh said this when asked to explain how much fun he's having coaching in the playoffs: "This is as much fun as you can possibly have in football and as much fun as you can have in life, yeah."
Harbaugh said he thought the 49ers matched up well physically against the tough-and-tumble Panthers in Carolina's 10-9 win in San Francisco on Nov. 10.
Harbaugh complemented the Panthers' defensive front seven by saying it was the most talented group the 49ers have played this season.
November, 17, 2013
11/17/13
3:30
PM ET
NEW ORLEANS -- As expected, star tight end
Vernon Davis
and standout rookie safety
Eric Reid
have been cleared to play Sunday at New Orleans.
Both players suffered concussions last week against Carolina. They both quickly recovered and showed strong progress through the week.
The 49ers need both players. Davis has been the catalyst to the offense. Reid has been outstanding all season and he will be needed against the pass-happy Saints.
Meanwhile,
Demarcus Dobbs
will start for defensive tackle
Ray McDonald
, who is out with a high left ankle sprain. Dobbs will rotate with
Tony Jerod-Eddie
.
Rookie defensive tackle
Tank Carradine
is inactive. He has been on the 53-man roster for two games but he hasn't played yet. As expected, tight end
Derek Carrier
is active. He was promoted from the practice squad Sunday. Tight end
Garrett Celek
is out with a hamstring injury. Carrier will play in some alignments.
November, 4, 2013
11/04/13
11:00
AM ET
SANTA CLARA, Calif. -- It's time to dust off the NFL cobwebs with the San Francisco 49ers' bye week now in the books. The 49ers are 6-2 and have five straight wins going into their home game against Carolina on Sunday. Here are some things to watch for this week:

Smith's progress:
The big story of the week, and perhaps the second half of the season, will be pass-rusher
Aldon Smith
. He was activated during the bye week from the Non-Football Illness list. He spent five weeks in an alcohol treatment center. The team will ease Smith back into football as his personal life remains the focus. Still, if Smith can get back into football shape (his first practice is a walk-through Tuesday) he will likely play some Sunday.
Manningham, Wright up:
Rookie Tank Carradine and Smith were activated last week. Receiver
Mario Manningham
and cornerback
Eric Wright
will both be activated in the next day. Manningham will start as soon as he is ready to give much-needed relief.
Anquan Boldin
has been the only reliable receiver for San Francisco. Wright will be a backup. Among the candidates to get cut to make room for Maanningham and Wright are cornerback
Nnamdi Asomugha
, defensive tackle DeMarcus Dobbs and No. 3 quarterback
McLeod Bethel-Thompson
. Rookie receiver
Quinton Patton
could be put on injured reserve with a foot injury.
Returner switch?
We may see new punt and kick retuners.
Kyle Williams
struggled badly against Jacksonville in London.
LaMichael James
may get a chance to show what he can do at punt returner. The team wants to find a way to get the 2012 second-round pick involved.
Anthony Dixon
took over for Williams at kick returner and he got a big return in London. I could see him staying there. If that happens, Williams could get buried at receiver as well with Manningham coming back.
October, 28, 2013
10/28/13
3:00
PM ET
LONDON – The
San Francisco 49ers
roster is about to change.
The 6-2 49ers -- who have won five straight games going into their bye week -- are poised to get much better. They have six players who are likely to come off various different injury/illness lists including linebacker
Aldon Smith
, receivers
Mario Manningham
and
Michael Crabtree
, cornerback
Eric Wright
, rookie defensive lineman Tank Carradine and rookie linebacker
Nick Moody
.
The 49ers will have to subtract from the 53-man roster with each activation. It will be interesting because this is a deep roster and some good, young players will be out. But that's the trouble with having a good team. There's no doubt the 49ers will get markedly better with the return of most of these players.
Here are some candidates to be removed from the roster: Cornerback
Nnamdi Asomugha
, receivers
Marlon Moore
and
Quinton Patton
(only if he is put on the injured reserve because his foot is not responding), linebacker
Jermaine Cunningham
, No. 3 quarterback
McLeod Bethel-Thompson
and defensive lineman
Demarcus Dobbs
.
The most likely to go are Asomugha, Moore and Cunningham. They have not had a role in the past several weeks.
Complicating matters (again, which is a positive in the big picture) is the special teams coverage units are much improved. So players like
Kassim Osgood
, Bubba Ventrone,
Darryl Morris
,
Nate Stupar
and
Anthony Dixon
will be difficult to cut even though their role is nearly all special teams. The 49ers know improved special teams make them much more dangerous and that's difficult to tinker with.
The roster roulette will likely start to occur next week. Manningham, Wright and Carradine all must be activated by early next week.
September, 23, 2013
9/23/13
7:46
PM ET
SANTA CLARA, Calif. -- Now that linebacker
Aldon Smith
is out for likely a month
as he seeks treatment for a personal matter
, where does that leave the
San Francisco 49ers
' defense?
Smith is on the reserve/non-football-illness list. He can return when cleared by physicians. The 49ers (1-2) play Jacksonville in London in Week 8, on Oct. 27; their bye week follows. Smith can come off the reserve list at any time -- something that is only allowed during the season if the player has substance-abuse issues. The NFL Players Association is also keeping abreast of the matter, as is customary in these situations.
Smith is a supreme pass-rusher. He had 37 sacks in 35 games since the beginning of his rookie season in 2011 (tops in the NFL during that span), including 3.5 this season. The 49ers will have to pick up the slack elsewhere.
San Francisco coach Jim Harbaugh said linebackers
Ahmad Brooks
,
Dan Skuta
and rookie
Corey Lemonier
will be called on; Skuta is listed as the starter in Smith's absence.
Defensive lineman
Demarcus Dobbs
can help in nickel-defense situations. The team could also sign a pass-rusher. Regardless, it will be tough for any of those players to have Smith's impact. He was a sack threat on nearly every passing down.
The team will need a complete defensive effort without Smith. ESPN analyst Matt Williamson believes Smith's absence could expose the 49ers secondary.
"They definitely have problems and I do worry about their pass rush quite a bit," Williamson said. "I think it has masked a very average secondary over the past few seasons."
The San Francisco defense allowed 84 points in three games with Smith and it has been vulnerable, especially in the running game. Now without Smith, San Francisco has to find a way to hold defensively. But there are no easy answers.
September, 20, 2013
9/20/13
6:05
PM ET
Should we be surprised the
San Francisco 49ers
plan to play star pass-rusher
Aldon Smith
on Sunday at home against Indianapolis?
Smith
San Francisco coach Jim Harbaugh said Friday he expects Smith to play. Smith was arrested Friday morning on suspicion of driving under the influence and marijuana possession. He was booked into county jail. He posted bail in time to practice with the team Friday. It is Smith's second arrest for DUI and he's had other legal issues since being drafted No. 7 overall in 2011.
Still, it's hardly a shock the 49ers plan on playing Smith -- who has 3.5 sacks this season and 37 sacks in 34 NFL games -- Sunday against the Colts. Teams pay players to play.
These things happen all the time in sports. It's routine.
Smith will very likely get a league suspension. Perhaps the 49ers are figuring they will lose Smith for a time because of this arrest, so why add to it?
Yes. The 49ers didn't bring along
Demarcus Dobbs
on a trip last season after a similar incident. Unlike Smith, Dobbs is not a star. Is there a double standard at play? Of course there is, but that's the way the NFL works.
I am not condoning anything here. But the fact that Smith is likely to play Sunday is just a fact of life in the NFL.