San Francisco 49ers:

Dom Capers
January, 3, 2014
Jan 3
10:00
AM ET
The
Green Bay Packers
and
San Francisco 49ers
have met so often of late that they're becoming like division rivals.
Sunday's NFC wild-card playoff game at Lambeau Field will be the fourth meeting between the two teams in the past 17 months. They played in Week 1 of the 2012 season and again in the divisional round of the playoffs that season. They opened the 2013 season against each other again.
The 49ers won all three games.
ESPN.com 49ers reporter Bill Williamson and Packers reporter Rob Demovsky discuss what, if anything, might be different this time around.
Demovsky
: Bill, the Packers have seen quarterback
Colin Kaepernick
beat them with his feet like he did in last year's playoff game, when he rushed for 181 yards, and also beat them with his arm, like he did in the season opener this year when he threw for 412 yards. What has he been doing better lately, running or throwing, and how do you think coach Jim Harbaugh will try to attack the Packers' defense this time around?
Williamson
: Rob, he's been a pass-first quarterback all season as he showed in Week 1. That was his best game of the season. But Kaepernick has been playing at a high level in the past five games with
Michael Crabtree
back on the field. Kaepernick's Total QBR during the past three weeks is the highest in the NFL. Rob, I'm intrigued to see what the offensive attack is going to be. We all remember the cat-and-mouse game in Week 1 about the read-option attack that never materialized. I could see the 49ers hitting the Packers with it early to get them off-balance and try to go back and forth throughout the game.
Rob, what do you think the Packers are expecting from Kaepernick this week?
Demovsky
: I'm not sure they know what to expect. Defensive coordinator Dom Capers pointed out that last year, the 49ers had the bye week in the first round of the playoffs and therefore had plenty of time to tinker with their game plan and install new looks like the read-option. They don't have that luxury this time around. That said, maybe Harbaugh didn't use much read-option during the season because he wanted to keep his quarterback from getting hit. Now that it's win-or-go-home time, maybe he'd be more willing to risk it. Either way, the Packers know they have to limit the big plays -- whether on the ground or through the air -- that have killed them in the previous meetings.
In the opener this year, receiver
Anquan Boldin
dominated the Packers. Now that Crabtree has returned, what dimension has he added to the offense?
Williamson
: It's changed everything. This is a much better, varied, dangerous offense. Crabtree is not 100 percent, but he is still able to help. It makes Boldin even more dangerous. He was double- and triple-teamed because the 49ers didn't have many weapons. With a trio of Crabtree, Boldin and tight end
Vernon Davis
, Kaepernick has some firepower.
Rob, do you think the Packers are giving Boldin extra thought this week because of the damage he caused in Week 1?
Demovsky
: I'm sure they are, but they've changed the way they cover since that game. They're more willing to match up
Sam Shields
on the opponent's best receiver now, whereas early in the year they simply played Shields on one side of the field and
Tramon Williams
on the other. They're also cognizant of what the return of Crabtree means for the passing game. Also, the Packers didn't have safety
Morgan Burnett
in the Week 1 game and although Burnett has had an inconsistent year, they're hoping his presence on the back end helps slow down the 49ers' passing game.
From here, the 49ers look as though they have one of the NFL's best group of linebackers with
Patrick Willis
,
NaVorro Bowman
and
Ahmad Brooks
. What makes those guys so effective and how can the Packers attack the heart of the 49ers' defense?
Williamson
: And don't forget
Aldon Smith
. The young star has been playing at a high level for the past month-plus. He came back in November after missing five games while receiving treatment for substance abuse. But you are right; Bowman, Willis and Brooks all made the Pro Bowl. They are dominant. Bowman has been playing out of his mind and he is a legitimate NFL Defensive Player of the Year candidate.
Rob, do you think containing the linebackers is the key for offensive success from
Aaron Rodgers
' unit?
Demovsky
: That's certainly going to be one of the keys, because they could impact both the passing game when their ability to pass rush and the running game because of how they can clog up the middle, where
Eddie Lacy
likes to churn out yards. The Packers' second-level blocking is going to be more critical in this game than perhaps at any time all season. If they let those linebackers get loose, it could spell trouble.
September, 9, 2013
9/09/13
6:45
PM ET
GREEN BAY, Wis. -- So this is how a rivalry builds.
Play three times in a 12-month stretch, including twice on opening day and once in the playoffs in between. Make comments about hitting the opposing team's quarterback. Then hit the opposing team's quarterback. And then listen to that quarterback's head coach suggest that defensive player is dirty.
That's where things stood on Monday between the
San Francisco 49ers
and the
Green Bay Packers
. The only problem, from the Packers' perspective, is that they failed to win any of those games, including Sunday's 34-28 loss in the opener at Candlestick Park.
[+] Enlarge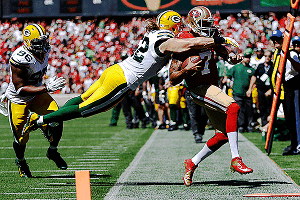 AP Photo/Ben MargotThis late hit on 49ers QB Colin Kaepernick led Jim Harbaugh to suggest that Packers LB Clay Matthews might be a dirty player, to which Matthews took umbrage: "I think my résumé is pretty good right now. I think we're doing all right."
By now, you know three main parties involved. There's Packers outside linebacker
Clay Matthews
, who was penalized for hitting 49ers quarterback
Colin Kaepernick
late after he ran out of bounds on a second-quarter scramble -- a play Matthews
admitted was not smart
.
And then there's 49ers coach Jim Harbaugh, who
on Monday criticized Matthews
for his hit and then mocked him for the way he scuffled with 49ers tackle
Joe Staley
after the play, saying Matthews threw a punch and a slap.
"I think that young man works very hard on being a tough guy," Harbaugh said Monday of Matthews. "He'll have some repairing to do to his image after the slap."
Those comments did not sit well with the Packers.
Coach Mike McCarthy called the hit on Kaepernick a "bad decision by Clay" but defended Matthews by saying he is "not a dirty player, by no means." McCarthy also said he addressed Harbaugh's comments during Monday's team meeting and added, "as always, we'll stay above it."
Matthews' penalty overshadowed what was a strong individual performance that included eight tackles and one sack.
"It was unfortunate, the sideline play," Packers defensive coordinator Dom Capers said Monday. "But I think he just misjudged where he was, really. We have to make sure that doesn't happen. But I like the aggressiveness Clay plays with. He plays with his heart and a lot of emotion. I've been with Clay now, this is five years. I certainly don't believe that [he is a dirty player]."
When asked whether Matthews' hit on Kaepernick was a dirty play, Packers cornerback
Jarrett Bush
said: "Yes and no."
"I thought it was the heat of the moment," Bush said. "Clay went for the hit. You never know if the quarterback is going to continue running down the sideline, and he made sure that he didn't come back in bounds. I'm pretty sure he wouldn't take it back. He finished the play. That's what we call finish, you know, fight, finish and focus. I'm pretty sure a lot of their players, they've done some of the same things. It's a heated rivalry, and he kind of got after it a little bit too much."
As for that rivalry, Bush admitted it has become one-sided.
"We've fallen short, but we'll get there," Bush said. "I feel like we've just got to put the pieces together, and I believe we will. Like I said, a lot of the coaches, even the players are like, 'We'll see them again in the playoffs.' We've just got to make it count."
September, 6, 2013
9/06/13
7:01
PM ET
GREEN BAY, Wis. -- Only Dom Capers knows exactly how much time he spent this offseason studying the read-option offense and devising ways to defend it.
But we know the
Green Bay Packers
defensive coordinator and his staff
made a trip to Texas A&M in March
to listen to the Aggies coaches philosophize about it.
And we know Capers spent a day this offseason
talking to Wisconsin defensive coordinator Dave Aranda
about it.
[+] Enlarge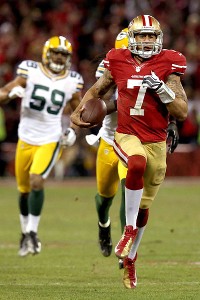 Stephen Dunn/Getty ImagesThe Packers are determined not to let 49ers QB Colin Kaepernick run wild again.
And we know he
dedicated at least a portion
of almost every training camp practice to working against it.
His offseason work was shaped largely by what happened in the Packers' 45-31 loss to the
San Francisco 49ers
in last season's NFC divisional playoff game. Capers' defense, which had improved from dead last in the league in 2011 to a respectable 11
th
last season, allowed the 49ers to pile up 579 yards.
Colin Kaepernick
rushed for 181 of those yards, the most ever gained on the ground by an NFL quarterback.
According to ESPN Stats & Information, the 49ers ran the read-option on just 16 of their 75 total snaps in that playoff game and gained 176 yards. Perhaps more remarkable was how easily those yards came. A total of 149 of them came before contact.
But here's something worth considering: What if the 49ers, knowing full well how much time the Packers dedicated to stopping their read-option in advance of Sunday's season opener at Candlestick Park, decide not to run it?
The question was posed to Packers players and defensive coaches on Friday.
"Then we'll have to resort back to our scheme and our instincts and our play-making ability," Packers defensive tackle
B.J. Raji
said.
Capers was quick to point out the read-option is just one part of the 49ers offense.
"That's just one phase of it," Capers said. "The goal is to win the game, so hopefully you're ready for whatever phase they give you. It's just another element you have to prepare for, and we've invested our time. Hopefully we're prepared."
The Packers were caught off guard by the read-option last January. Now, it's worth wondering if they've spent too much time preparing for that one aspect, albeit an important one, of the 49ers game.
"We haven't just said this is a total read-option team," Packers defensive line coach Mike Trgovac said. "They have other runs and other schemes in their game plan. We haven't just said everything we're doing is read-option. We haven't done that at all because, how many runs did they have against us, 39? (Actually 43). And 16 of them were read-options, so obviously not even half of them were read-options. You have to prepare for their other things as well."