San Francisco 49ers:

Gary Horton
November, 6, 2013
11/06/13
8:00
AM ET
SANTA CLARA, Calif. -- The
San Francisco 49ers
' practice field is an amazingly talented place these days.
In what has a chance to be one of the more compelling stories in the NFL in the second half, the 49ers are getting several reinforcements.
The 49ers (6-2) had their bye in Week 9 following a five-game winning streak, and the off week was not a quiet one.
[+] Enlarge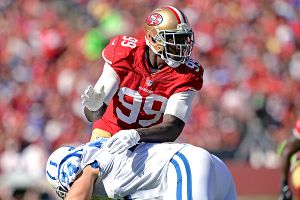 AP Photo/Greg TrottAldon Smith, who has 38 sacks since entering the NFL in 2011, has been activated by the 49ers.
They activated four players who could have an impact: pass-rusher
Aldon Smith
, receiver
Mario Manningham
, cornerback
Eric Wright
and rookie defensive lineman
Tank Carradine
. Also, standout receiver
Michael Crabtree
was cleared to practice this week, and barring a setback from a torn Achilles, he will be ready to play by the end of the month.
Has a contender ever had this type of firepower come back to a team for the stretch run? Barring setbacks, they will all have major roles. The additions will deepen every aspect of a team that was already hot, one that outscored its opponents by a combined score of 174-61 during its win streak.
Linebacker
Ahmad Brooks
said Tuesday it's special to get all the players back and that it will allow the team to hit its stride when it counts most.
"I think San Francisco has weathered the storm, and right now, they would be my pick to come out of the NFC," ESPN analyst Matt Williamson said.
Williamson and fellow ESPN analyst Louis Riddick said the key additions will be the receivers and Smith. Getting more out of the receiving crew beyond
Anquan Boldin
is paramount.
"Most importantly, the big-play weapons on the outside," Riddick said. "[It's] going to make them more multiple in what they can do, which they will need ultimately to deal with the divisional nemesis Seattle."
Smith brings serious pass-rush presence. His 38 sacks since entering the league in 2011 is second in the NFL.
ESPN analyst Gary Horton said the additions will have an effect on the entire team.
"It makes them so deep," Horton said. "Their 45th-53rd players are strong. You won't see that around the league, but that's what you have in San Francisco."
October, 9, 2013
10/09/13
8:00
AM ET
SANTA CLARA, Calif. --
Alex Smith
's
Kansas City Chiefs
are 5-0.
Colin Kaepernick
's
San Francisco 49ers
are 3-2.
Smith is a good fit in Andy Reid's offense. He is playing game manager and helping the Chiefs stay perfect.
Smith
Kaepernick
Kaepernick's numbers are down this season after his spectacular 2012 run that culminated in a Super Bowl appearance. He is clearly suffering from injuries to receivers
Michael Crabtree
and
Mario Manningham
, but he has been far from horrible.
Some have questioned whether the 49ers would be better off with Smith, who was traded to the Chiefs in the offseason, as their quarterback. San Francisco got hot last season when Kaepernick took over after Smith was sidelined by a concussion.
The 49ers were good with Smith but believed they could be great with Kaepernick. I wanted to know what the experts thought: Is Kaepernick or Smith the better fit for the 49ers? I selected a panel of ESPN analysts who have professional scouting experience to discuss the topic. Here is what they had to say:
Gary Horton:
"I find that argument absolutely ridiculous and frankly, embarrassing. Yes, we are not seeing the explosiveness from the 49ers and Kaepernick we saw last year but that's because of the injuries and plus, they can turn it on when they need to. The comparison is not even close. There are no limitations to where Kaepernick can go in his career. Alex Smith is good, but this is it. I can't see anyone making the argument in favor of Smith."
Louis Riddick:
"Really, it is a matter of your personal taste when choosing a QB, as with any other position. Andy has always coveted Alex due to his intelligence, his conservative approach to playing the position in terms of valuing taking care of the football over taking chances, and his ability to make plays with his feet when needed. With Colin, I think you get the intelligence and ability to handle volume as far as the amount you can put on him mentally that gives you a lot of options week to week game-plan wise as well, with the difference being that he is willing to take more chances at pushing the ball vertically down the field, and not being so quick to simply take sacks or take off every time the read isn't clean initially. There is no question the upside lies with Colin in terms of who has the higher ceiling, and with both given equal weapons/protection, Colin would be the more explosive player, and the player I would choose.
Matt Williamson:
I would way, way rather have Kaepernick. He is capable of extreme greatness. Smith is not. I am not worried about Kaepernick long-term. His weapons are really lacking.
My thoughts:
Any talk that the 49ers would be better with Smith than Kaepernick if off base and a bit silly. The fact that the Chiefs are 5-0 has nothing to do with the 49ers. There is little doubt Kaepernick is the right quarterback for the 49ers now and beyond.