San Francisco 49ers:

Gerry Austin
December, 20, 2013
12/20/13
1:30
PM ET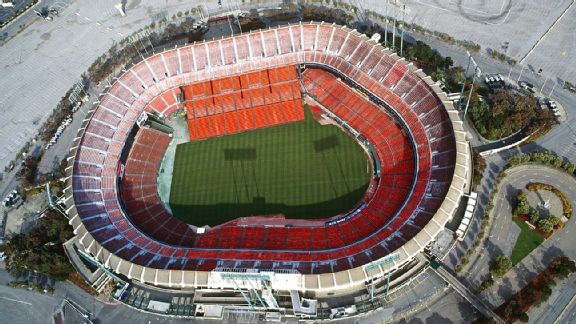 Hoberman Collection/UIG/Getty ImagesOn Monday night, San Francisco 49ers fans will empty out of Candlestick Park for likely the final time.
SANTA CLARA, Calif. – The odds are strong that Monday night will see the final game at Candlestick Park when the
San Francisco 49ers
host the
Atlanta Falcons
.
Barring a complete breakdown by first-place Seattle, the best the 49ers can do as a playoff seed is No. 5. In that scenario, the only way there could be another game at Candlestick – the 49ers move to Levi's Stadium in Santa Clara in 2014 – is if they host the No. 6 seed in the NFC Championship Game.
Don't count on it. According to ESPN Stats & Information, since 1990, a No. 5 seed has never hosted the No. 6 seed in a title game. So prepare to say goodbye to Candlestick on Monday night.
With that in mind, let's take a look at some remembrances of the historic but uncomfortable hunk of cement by the bay, as compiled by ESPN:
[+] Enlarge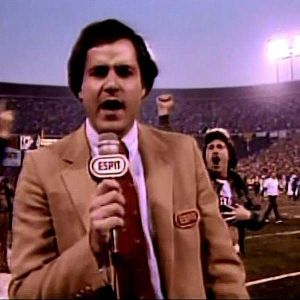 ESPNChris Berman reported from the field after "The Catch" game in 1982 at Candlestick Park.
"It was not the greatest-played game, but you couldn't have had more exciting a game. … The ball looks like it's going into the stands and Dwight Clark leapt like a basketball player, made the catch. But the game wasn't over. There was still a minute to go almost. … It caught even the city by surprise. It was fresh and it was fun, and who knew what they were building at the time. The whole thing sends shivers down my spine, that I was fortunate enough to be there and see it. It's an iconic game in pro football history, let alone Candlestick. That's what Candlestick will be remembered for more than anything else: that play, that game, even though there were some unbelievably great games, all the playoff games the 49ers have had there."
-- ESPN's Chris Berman, who covered "The Catch" from Joe Montana to Dwight Clark in the 1981 NFC Championship Game
"I have a plethora of memories, phenomenal memories of championship games won and lost, Monday night games, big games, December games, games that decided the home-field advantage almost every year it seemed like. The locker room dripping down from condensation. The high tide would come in and you'd get that smell on the field, really soggy when it started to rain. The infield, when the Giants were playing there, with crushed rock, you'd get skinned up all through September and early October. The wind, obviously, early in the season, was always a factor. The stadium needs to close. She's gone as far as she can go, it needs to be done. But for me, obviously it's hard to see her go, it's hard to see it end, and I'll always miss playing at Candlestick Park. I missed it the second I left the 49ers, and I still miss being in that park. It will be fun to be there Monday night and see the last game."
-- ESPN NFL analyst and Hall of Fame 49ers quarterback Steve Young
"When the 49ers beat the Giants on 'Monday Night Football' at Candlestick in 1990, I had this old, beat-up car, a Delta '88. I bought it for $500. It was the worst car you've ever seen. The players all made fun of me. They called me 'Uncle Buck.' This Giants game is huge, and before we leave for the stadium from the team hotel
Charles Haley
says to me, 'I need to ride over with you in that car to the stadium. I've got to get in the right state of mind.' I told him my car might not make it – it was that bad a car. He insisted on riding with me. So he didn't take the team bus. It's the biggest game in my life, and my car's going to break down on the way to the stadium. I don't have a parking pass or anything. So Haley is out the window yelling at security to let us in. I am a nervous wreck. I think Mike Holmgren and George Seifert are going to fire me – my coaching career is over. Even when we got to the stadium, I was scared to go in the locker room. Fortunately, we won 7-3 and Haley played his tail off."
-- ESPN MNF analyst and Super Bowl-winning coach Jon Gruden, who started his NFL coaching career as a 49ers assistant in 1990
[+] Enlarge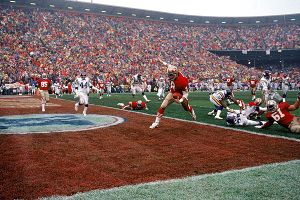 George Rose/Getty Images"I'll always miss playing at Candlestick Park," Steve Young said. "I missed it the second I left the 49ers."
"My first NFL start was at Candlestick against Steve Young's 1994 49ers team -- and I was pathetic. But it was going home to the Bay Area, close to where I grew up, buying 75 tickets for family and friends. At the time, you try not to get caught up in the nostalgia, the history and who you are playing because they were just awesome. Though I didn't play well, it's still a great memory that I was able to have my first NFL start there."
-- ESPN NFL analyst Trent Dilfer, a Northern California native and resident who played his first NFL game with Tampa Bay at Candlestick in 1994
"I remember going onto the field at Candlestick and warming up. I would go to every corner of the field and throw the football because the wind was different in every area of the stadium. You think it would go right, and it would go left. Some areas you think it would knock the ball down, it would take the ball up. You wanted to know what the wind was going to do to the football, and I always felt that was to the quarterback's advantage, knowing the wind current in Candlestick Park."
--ESPN NFL analyst Ron Jaworski, who played at Candlestick as a member of the Los Angeles Rams and Philadelphia Eagles
"The Eagles played the 49ers the last game in the final week of the 1993 season on 'Monday Night Football.' So we play the game and it ends up tied. They played a full 15 minutes of overtime, and with four seconds left Philadelphia was going to try a field goal. The kicker hooks it. He's going to miss the field goal but the defender came in and roughed the kicker. So the game is over, the overtime period is over, but with a foul on the last play of a period, you extend the period. The Eagles re-kicked and won the game 37-34. It was the longest regular-season game in NFL history -- a full game, a full overtime, plus one play."
--MNF rules consultant and former NFL official Gerry Austin, who refereed the longest regular-season game in NFL history at Candlestick on Jan. 3, 1994