San Francisco 49ers:

Hakeem Nicks
June, 13, 2014
Jun 13
2:50
PM ET
Friday,
we looked at
where
Michael Crabtree
ranks on a list of the top 10 potential free-agent wide receivers in 2015.
Crabtree
It's a strong class. In
ESPN Insider Mike Sando's ranking

, based on the opinions of NFL general managers and coaches, the
San Francisco 49ers
standout is No. 3 on the list.
If Crabtree isn't re-signed or given the franchise tag, he would be very popular on the open market. So, it begs the question: What would the 49ers do if Crabtree leaves?
With the free-agent class being strong, the 49ers would likely consider using any money earmarked for Crabtree on a replacement in free agency. To help bring along the what-if game, I enlisted the help of ESPN analyst Matt Williamson.
Williamson reasons the top two receivers on Sando's list -- Dallas'
Dez Bryant
and Denver's
Demaryius Thomas
-- would be too expensive for the 49ers. If they can't get a deal done with Crabtree, they probably won't be able to accommodate Bryant or Thomas, either.
Williamson also eliminated Denver's
Wes Welker
(No. 7) and Atlanta's
Roddy White
(No. 9) because of wear-and-tear. So, that is half the class off the table.
The others are Green Bay's
Jordy Nelson
(No. 4), and
Randall Cobb
(No. 5), Baltimore's
Torrey Smith
(No. 6), Jacksonville's
Cecil Shorts
(No.8) and Indianapolis'
Hakeem Nicks
(No. 10).
Williamson thinks Nelson could be the best fit for the 49ers because of his overall skills. He also likes Smith as a fit because he can stretch the field.
Williamson thinks Cobb is too much of a slot receiver to replace Crabtree, and Shorts couldn't fill the bill. He thinks Nicks, who the 49ers looked at this offseason, has too many injury concerns to be a reliable No. 1.
In the end, it appears the 49ers' best approach is to extend Crabtree. They probably couldn't do better, all things considered, by replacing him with a free agent.
April, 2, 2014
Apr 2
7:00
AM ET
The
San Francisco 49ers
' interest in
DeSean Jackson
ended the same way as their other pursuits of veteran wide receivers this offseason. Jackson is heading elsewhere.

ESPN's Adam Schefter reported
Jackson agreed to a three-year deal with the
Washington Redskins
late Tuesday night. The 49ers reportedly made a late run at Jackson. The only way the 49ers were going to be able to land him if is the Redskins didn't come through with a big offer. That didn't happen.
It was no surprise the 49ers were interested in Jackson, who was cut by Philadelphia on Friday. He is a field-stretching receiver and that is one of the 49ers' few needs. However, it was difficult to fathom the 49ers would win the Jackson sweepstakes because of a lack of salary-cap room. The 49ers currently have just $4.1 million under the cap with some big-money deals looming in the next year.
The 49ers looked at receiver
Julian Edelman
,
Hakeem Nicks
and
Emmanuel Sanders
to no avail this spring. As with Jackson, it all came down to finances.
The 49ers will no doubt turn their attention to the draft where they are expected to take a receiver as early as the first round.
March, 14, 2014
Mar 14
8:45
PM ET
The
San Francisco 49ers
said goodbye to another fixture in their secondary Friday afternoon as
Tarell Brown
bolted across the bay for more money.
Brown
Refusing an offer from the 49ers, the cornerback instead agreed to a one-year deal worth $3.5 million with the
Oakland Raiders
. The 49ers wanted Brown back but weren't winning to overpay for him.
The 49ers are hoping to get a deal done with Seattle free-agent
Walter Thurmond
, who has the same agent as Brown. Thurmond, considered a comparable player to Brown, is currently visiting the 49ers.
In a conference call with Oakland media, Brown said it sounded as if the 49ers didn't make a big play for him.
"It was always something I would have loved to work out, but everything happens for a reason, and I understand that it's a business," Brown said. "They are looking to get younger or they are really looking to bring in other guys, so I can't fault those people for that. So, I understand it's a business and I treat it as such. Like I said, I look forward to being here and starting a new culture here."
Earlier Friday, the 49ers signed ex-
Minnesota Vikings
cornerback
Chris Cook
. He is expected to be a bottom-of-the-rotation player, although at 6-2 he has a chance to make an impact with the team.
"They want me to be the press guy," Cook said in a conference call Friday. "And that's what I like to do. I feel like I'll fit in well with the one-high [safety] scheme that they like to run. I came from a two-high scheme. And I feel like a one-high scheme and a man-to-man scheme fits me well."
Right now,
Chris Culliver
, who missed all of last season with a torn ACL, is set to be a starter along with
Tramaine Brock
. However, Thurmond can play outside. The 49ers are also expected to draft a cornerback in the early rounds, and they also have
Eric Wright
.
If the team doesn't sign Thurmond, among the other cornerbacks on the shrinking market include
Dominique Rodgers-Cromartie
and
Antonio Cromartie
. But their price tags may be high for the 49ers, who have under $4 million of salary-cap room.
Meanwhile, take
Hakeem Nicks
off the 49ers' wish list at receiver as he signed with the Colts. The 49ers visited Friday with New England's
Julian Edelman
and will visit with Pittsburgh's
Emmanuel Sanders
on Saturday.
Also, running back
Anthony Dixon
tweeted that he will sign with Buffalo on Saturday morning. Dixon, who was a solid special teams contributor and popular in the locker room, was not expected back.
The 49ers have a crowded backfield, so this isn't considered a difficult loss.
March, 14, 2014
Mar 14
3:30
PM ET
The
San Francisco 49ers
' net for another veteran wide receiver is getting wider.
Sanders
Pittsburgh's
Emmanuel Sanders
is set to visit the 49ers on Saturday, according to a report by ESPN's Adam Schefter. Sanders is also visiting with the Chiefs on Friday. The Sanders' visit follows a San Francisco visit by New England's
Julian Edelman
.
Also, the 49ers are reportedly interested in Giants' free agent
Hakeem Nicks
. Both Edelman and Nicks are getting a lot of interest in the free-agent market.
While Sanders may not have the name recognition as Edelman or Nicks, I think he might be a better fit for the 49ers than the other two. He is a speedster and, thus, he is more of a field stretcher than the other two receivers -- all of which is the 49ers' biggest need. I think he'd fit in well with San Francisco starting receivers
Anquan Boldin
and
Michael Crabtree
. The group would surely be an upgrade from last season's receiving crew in San Francisco.
Sanders also may be more cost effective for the 49ers than Edelman and Nicks. That is important for a team that has less than $4 million in salary cap room and a team that's also trying to find a veteran cornerback.
In early February,
ESPN NFL Insider Adam Caplan pegged Sanders
as a good fit for the 49ers. Sanders, who will turn 27 on Monday, had 67 catches for 740 yards and six touchdowns last season. It was Sanders' best season in four NFL campaigns.
If the 49ers don't sign Edelman, Nicks or Sanders, other available free agents include
Steve Smith
,
James Jones
,
Santonio Holmes
and
Sidney Rice
.
March, 14, 2014
Mar 14
12:57
PM ET
The
San Francisco 49ers
' interest in free-agent receivers
Julian Edelman
, who is visiting the team today fresh off a 105-catch season in New England, and
Hakeem Nicks
, says this: the team is clearly interested in using more three-receiver sets.
After all, it's not like
Anquan Boldin
(who just signed a two-year, $12 million extension) and
Michael Crabtree
(who is in his prime) are going to see decreased roles in the offense.
The NFL is a league of three-receiver sets, although the 49ers did not subscribe to that theory. According to ESPN Stats & Information, the 49ers were last in the NFL using three-receiver sets in 2013. They ran three-receiver sets on just 205 snaps. Green Bay ran the most in the NFL with 817 three-receiver sets.
The interest in Edelman and Nicks, both impact players, shows the 49ers want to get closer to Green Bay in that regard.
March, 14, 2014
Mar 14
9:00
AM ET
Let's look deeper into the San Francisco 49ers'
interest in free-agent
receivers
Julian Edelman
of New England and
Hakeem Nicks
of the
New York Giants
.
Odds of landing them:
There is competition. The Patriots want Edelman back and Cleveland has been connected to him as well. Nicks is visiting Indianapolis on Friday. Carolina is also interested. The 49ers don't have a ton of salary-cap room, so they have to get creative in a deal with either player.

Nicks
Edelman
Who else is out there if Edelman and Nicks don't end up with 49ers:
The top available receivers include
Steve Smith
,
James Jones
,
Santonio Holmes
,
Sidney Rice
,
Emmanuel Sanders
and
Jerome Simpson
.
Who is the best fit?
Probably Nicks because he is an outside receiver. Landing him on a short-term deal to see if he can become a top-notch player again could be smart. Don't get me wrong; Edelman is good as well. You don't catch 105 balls in a season if you're not talented. But
Anquan Boldin
is essentially a slot guy as well. Still, I'm sure the 49ers could find ways to make it work.
How Crabtree, Boldin and the draft figure:
Crabtree is a free agent next year and Boldin is 33. So, even if the 49ers sign Edelman or Nicks, I can still see them taking a receiver early in the draft.
Kaepernick factor:
I'm sure quarterback
Colin Kaepernick
is paying attention. This passing offense could be nasty with Boldin, Crabtree, tight end
Vernon Davis
and Nicks or Edelman. It would open it up. It could also behoove Kaepernick to wait to get his contract done until next year. He could put up big numbers with another top weapon.
Should Seattle worry?
Yes. The 49ers must get better on offense to beat Seattle. That was the reason why the 49ers couldn't overtake Seattle in 2013. A big-time offensive weapon could even the playing field.
Scout's thoughts:
"I was a little surprised to be honest, especially after the re-signing of Boldin.
Quinton Patton
also shows some promise, but this would be a heck of a receiver corps if is Patton is your No. 4. I would think if they were in the market for WR though, that they would be looking for a pure speed guy, which isn't Nicks or Edelman." -- ESPN analyst Matt Williamson
March, 13, 2014
Mar 13
10:30
PM ET
On
Wednesday night
, we looked at reasons why it appeared the
San Francisco 49ers
were exploring the wide receiver market in free agency.
However, ESPN's Adam Schefter dropped a bit of a bombshell on Thursday. Schefter reported that New England slot receiver
Julian Edelman
will visit the 49ers on Friday. Schefter also reported the team is interested in Giants receiver
Hakeem Nicks
.
Both players will likely be fairly costly and the 49ers don't have a ton of salary-cap room. But Perhaps the market is dropping and the 49ers are looking to see if they can get a relative bargain.
Nicks may fit better because he is an outside guy.
Anquan Boldin
, although he is a starter, thrives as a slot man. However, adding either Nicks or Edelman would give the 49ers another strong weapon as the 49ers try to catch up with Super Bowl champion Seattle in the NFC West.
A passing offense featuring
Michael Crabtree
, Boldin,
Vernon Davis
and one of these two players would be daunting and it would certainly help quarterback
Colin Kaepernick
stay on the upswing.
It will be interesting to see how these pursuits play out and whether the 49ers can find a way to fit one of these two receivers into the offense.
March, 12, 2014
Mar 12
9:55
PM ET
The
San Francisco 49ers
likely aren't going to spend much more money in free agency, but I would not be surprised if they consider adding a veteran receiver to help with their depth.
While the 49ers will surely address the position early in the draft, there has been enough whispers around the league to suggest they are not averse to bringing in a receiver earlier.
Golden Tate
told a Seattle radio station, after he signed with Detroit, that the 49ers showed interest. It is doubtful they were willing to pay big dollars, though. Tate reportedly received $31 million over five years from the Lions.
The 49ers also had some interest in
Dexter McCluster
before he signed with the Titans and there has been some interest in Minnesota's
Jerome Simpson
.
There could be some decent receivers available over the next several days. Among the top receivers who could potentially be signed at a reasonable price include
Hakeem Nicks
,
James Jones
,
Santonio Holmes
,
Sidney Rice
and
Emmanuel Sanders
. Then there's the possibility
Steve Smith
could
soon be free.
Again, the 49ers may not be big free-agent players at a position they will address in the draft, but they have been looking. And if the price is right, there could possibly be a connection.
October, 25, 2013
10/25/13
9:25
AM ET
LONDON -- The
San Francisco 49ers
have been connected to most of the top receivers that could be available through trade.
Gordon
San Francisco has been linked to Cleveland's
Josh Gordon
, the
New York Giants
'
Hakeem Nicks
, and Tennessee's
Kenny Britt
. The 49ers have a need at receiver and have a surplus of draft picks, so the connection is easy.
Predictably, 49ers general manager Trent Baalke had little to say on the matter Friday. He would not confirm interest in any receiver, but he did say they would acquire a player if it thinks it will help the team win.
If I had to guess, I'd think Gordon, considered a No.1 receiver by many teams, would be the 49ers' top choice of the available group. However, it is unlikely a deal gets done by the deadline, which is 4 p.m. ET on Tuesday. It will be difficult logistically. The 49ers will fly back from London Monday. That will give Baalke less than 24 hours to complete deal.
Also complicating matters -- the 49ers have
Mario Manningham
and
Michael Crabtree
coming back from injuries in the second half of the season. So, the need for a receiver will soon not be as dire.
Baalke also said the team isn't planning to trade running back
LaMichael James
. The 2012 second-round pick has been a healthy scratch in recent weeks. Baalke said James will have a role on the team.
"We're not interested in trading LaMichael," Baalke said. "LaMichael's a key player."
October, 22, 2013
10/22/13
4:35
PM ET
LONDON -- The NFL trade deadline looms in seven days. However, realistically, it's just a couple of days away for the
San Francisco 49ers
.
The 49ers are in London preparing for Sunday's game against the
Jacksonville Jaguars
(1 p.m. ET, FOX). Thus, if the they plan to acquire someone to play in Week 8, they'd likely have to do it pretty quickly in order to get the player overseas, acclimated to the team, and not to mention, deal with all the logistical obstacles.
But is a trade likely to still happen, despite the logistics?
Well, the 49ers are going to be connected to available receivers until the deadline passes. There have already been rumblings about interest in Cleveland's
Josh Gordon
, the Giants'
Hakeem Nicks
and Tennessee's
Kenny Britt
.
One reason the 49ers are reluctant to move forward on a trade is because
Mario Manningham
will likely soon be activated from the physically unable to perform list and
Michael Crabtree
is expected back by the end of next month. Though, it still may take Crabtree some time to shake off the rust after tearing his Achilles in May.
This is the second practice week for Manningham, rookie defensive end Tank Carradine and cornerback
Eric Wright
as they try to transition off of the PUP list. They all must be put on the 53-man roster or be placed on injured reserve by Nov. 5. All three are on pace to be activated by the deadline.
In other 49ers' notes:
" Coach Jim Harbaugh told San Francisco radio station KNBR that injuries to starting safeties
Donte Whitner
(knee) and
Eric Reid
(ankle) don't
currently appear overly serious.
That was the indication Sunday night after the win in Nashville.
" Harbaugh told the Sacramento Bee about how he is getting
in the spirit of playing in London this week.
October, 14, 2013
10/14/13
12:18
AM ET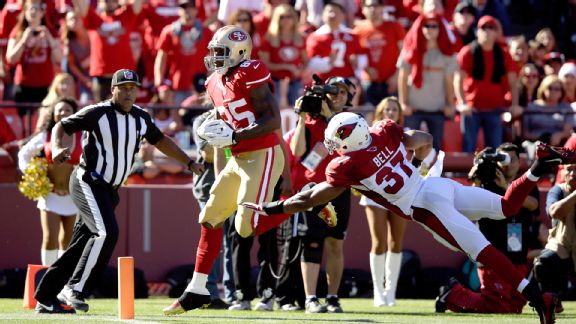 Ezra Shaw/Getty ImagesVernon Davis caught eight passes for 180 yards and two TDs, but the 49ers need more receiving options.
SAN FRANCISCO -- One of the best games by a tight end in NFL history is proof the
San Francisco 49ers
may need to go get themselves another receiving option.
Just think how good quarterback
Colin Kaepernick
could look with a full complement of weapons.
Vernon Davis
' 180 receiving yards in San Francisco's
32-20 win
over the
Arizona Cardinals
on Sunday was tied for the third-most yards by a tight end in the NFL in the past 20 years. It was another indication that there is nothing wrong with Kaepernick, who had thrown for fewer than 180 yards in each of the previous four weeks after passing for a career-high 412 yards in Week 1 against Green Bay.
"Vernon, when he plays like this, he doesn't have to say anything," Kaepernick said. "Everybody on the team feels it. I know it, the coaches know it, and we've got to put the ball in his hands."
The problem for the 49ers is that Kaepernick has only Davis and receiver
Anquan Boldin
. That why the team has been linked to receivers such as
Hakeem Nicks
,
Josh Gordon
and
Kenny Britt
. With
Michael Crabtree
and
Mario Manningham
injured, the 49ers don't have another legitimate, reliable receiving option. While Davis went bonkers, doing 171 yards of his damage in the first half Sunday, Boldin was held in check.
Boldin finished with three catches for 28 yards. Just 72 of Kaepernick's 252 passing yards went to targets other than Davis. While Davis had eight catches, six players combined for Kaepernick's other eight completions. Davis was the target on just three of Kaepernick's 14 incomplete passes. Kaepernick, who saw his offense fail to get a first down on its first four drives of the game, didn't connect with a wide receiver until 1:20 remained in the first half.
While the 49ers and Davis should celebrate this magnificent performance, it is another reminder that this team needs more receiving help. Because if they get that help, the 49ers can win the Super Bowl. It's that simple.
This offense -- which grinded out 149 yards on the ground and which has scored 101 points during a three-game winning streak -- can be wicked if it is truly multidimensional. If not, all it can do is try to move the ball on the ground and hope either Boldin or Davis goes off.
It has worked so far, but one of these weeks both Davis and Boldin will be taken away. Then what?
Manningham (knee) might come off the physically unable to perform list and be able to start practicing this week. Once he starts practicing, the 49ers will have a three-week window to activate him. Last week, San Francisco coach Jim Harbaugh said Crabtree, who suffered a torn Achilles in May, might be ready to play in mid-November. He could come back for the Nov. 17 game at New Orleans that could have huge NFC playoff ramifications.
But there are no guarantees either player will be back anytime soon. There is also no telling how quickly either player would knock off the rust. It's reasonable to assume the 49ers will be at full strength in December. Crabtree would instantly be a top target and make Boldin more valuable because he would see fewer double-teams. (He said last week this is the most double coverage he's seen in his career.) Boldin can be a major weapon as a No. 2 receiver. Manningham also would give the 49ers much-needed depth. The team's current No. 2 and No. 3 receivers,
Kyle Williams
and
Jon Baldwin
, each had one catch Sunday. That is not going to cut it.
That brings us to the trade dilemma: Do the 49ers sit and wait for their injured players to come back, or do they get aggressive and make a deal?
You could make an argument for both sides. But seeing Sunday's display might tempt the 49ers to load up now and worry later about having too much depth or losing a draft pick. If San Francisco adds the right receiver, Kaepernick would have more options in the immediate future, and the team could be nearly unstoppable come playoff time.
CBS Sports reported Sunday that the 49ers are considering trading for Nicks. The Giants are 0-6, and Nicks probably will leave as a free agent. He'd likely be a rental for the 49ers. They have several contracts to address in the near future with free agents. But he could be a special rental.
ESPN NFL Insider Adam Schefter has reported the 49ers have considered acquiring Gordon from Cleveland, but that likely won't happen because of the soon-to-return statuses of Manningham and Crabtree. Britt, whom the 49ers will face in Tennessee next week, is also on the block. Gordon and Britt both have had off-field problems, and with the 49ers already dealing with the
Aldon Smith
situation, they may not want to add another player with issues.
Nicks might make the most sense. There are financial and draft-pick questions to be answered, but there is no question he'd make the 49ers better for the rest of the season and take pressure off of Kaepernick.
Led by Davis Sunday, the 49ers showed they can be dangerous. But Super Bowl winners need to be more than dangerous. They need to be multilayered. That's why adding offensive weapons has to be tempting for San Francisco.
October, 13, 2013
10/13/13
3:40
PM ET
SAN FRANCISCO --
Patrick Willis
is an active San Francisco 49er again.
Willis
The star inside linebacker is expected to start. He hasn't played since Week 3 against the Colts when he suffered a groin injury.
Defensive lineman
Ray McDonald
is also active as expected. He suffered a biceps injury last week and did not practice Wednesday and Thursday. But the team doesn't think he is at risk of suffering further damage to the bicep if he continues to play.
McDonald
Cornerback
Nnamdi Asomugha
and running back
LaMichael James
are healthy but still not active. Asomugha lost his No. 3 cornerback job when
Tramaine Brock
played well the past two weeks while Asomugha was out with a knee injury.
James missed the first three games with a knee injury. But the 2012 second-round pick did play the past two weeks. There have been signs that the team is not confident in James in pass protection. Thus, he may have a difficult time getting back on the field.
Asomugha and James potentially could be in danger when the 49ers starting bringing back several players from injured lists in the coming weeks.
Meanwhile, CBS Sports is reporting that the 49ers have interest in Giants' receiver
Hakeem Nicks
. It makes sense the 49ers are in need of a receiver and they have been also linked to the Browns'
Josh Gordon
and the Titans'
Kenny Britt
. The trade deadline is Oct. 29.
Tampa Bay signed guard
Patrick Omameh
off the 49ers' practice squad. They now have an opening on the eight-player squad.